Agganis Arena's New Sensory Room Debuts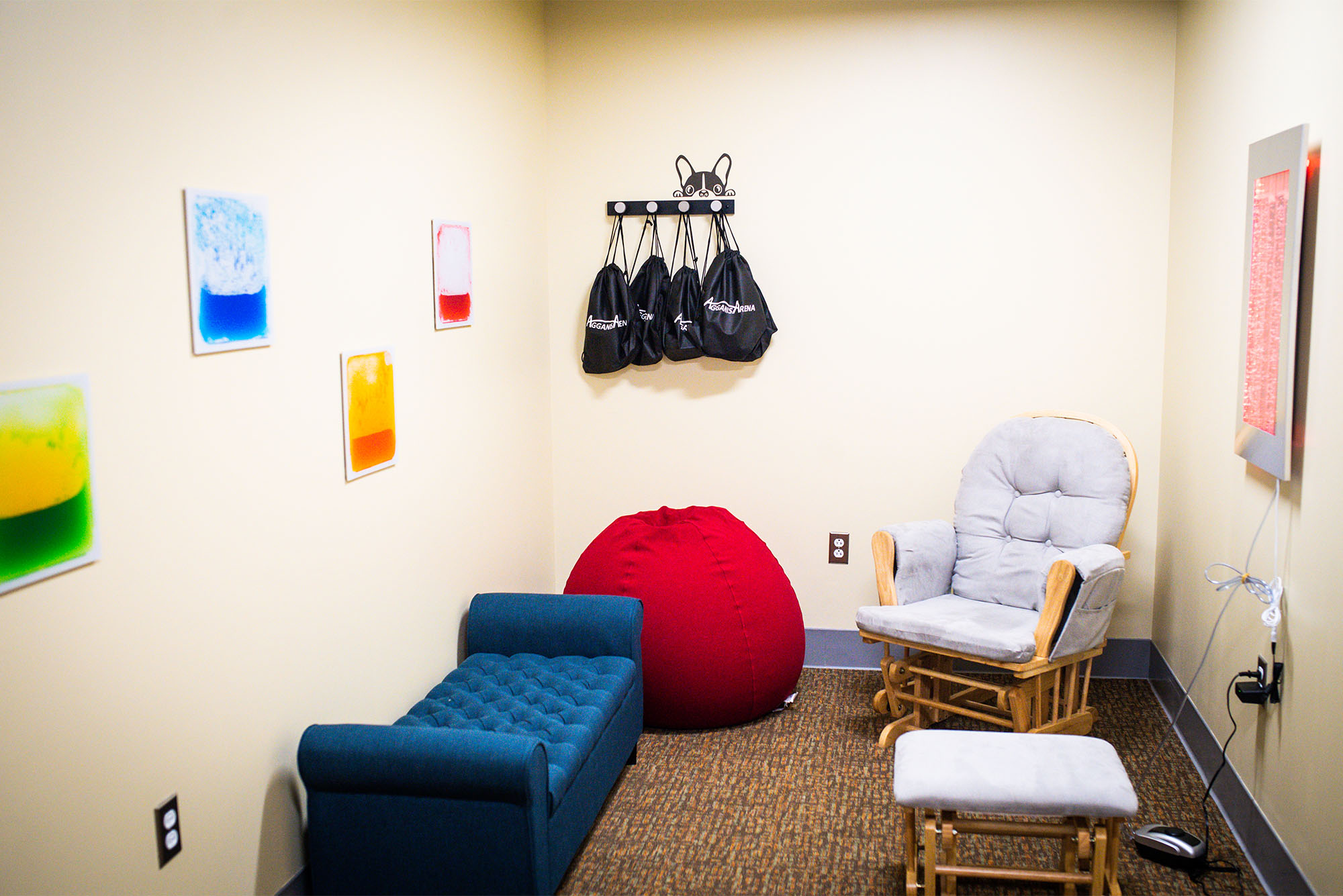 Mental Health
Agganis Arena's New Sensory Room Debuts
Space will now be available for those experiencing sensory overload during Disney on Ice, hockey games, other events
Anyone who has attended a BU hockey game or a concert at Agganis Arena knows just how exciting and noisy, even frenetic, the arena can be—loud cheering, dramatic lighting, and an often raucous crowd. But for attendees with sensory processing challenges, the visit can be jarring and overwhelming. Agganis Arena's new sensory room is designed to help those experiencing sensory overload decompress.
Located away from the performance space and rink, the room is aesthetically calming, with muted colors, adjustable lights, and an LED light-up bubble wall water fixture. It's also stocked with fidget toys, weighted lap pads, a rocking chair, and a TV that streams the current game or show directly to the room. Children must be accompanied by an adult when using the room.
Charlotte Powers, Agganis assistant marketing manager, says the arena had been getting inquiries about a quiet room at almost every event they've had, especially at the family-friendly shows. "We sometimes had families that actually had to go home because there wasn't a dedicated space," Powers says. "We had a conference room they could visit, but I think they felt as though they were impeding on our space and [they saw it as] embarrassing."
"The new room is geared toward anyone that has sensory processing disorder, and that can include post-traumatic stress disorder [PTSD], fibromyalgia, Tourette's syndrome, autism, or others," says Rebecca Reid, former event manager at Agganis, who co-spearheaded the planning (she recently left for a job with the Cleveland Cavaliers). "It's really open to everyone, those with invisible challenges and those with outward ones. Our staff is trained in what to do when a situation occurs."
The room, which is in the hockey office suite, opened in late October and has been used during every event since, according to Kristoffer Brassil, Agganis general manager.
These types of accommodations are slowly being added at other arenas and stadiums around the country, including those of the Baltimore Ravens and the New York Mets. The Agganis staff believes their room is the first of its kind at any sports or live event venue in the Greater Boston area. The room had been in the works for years and was delayed because of the pandemic, but this summer Powers and Reid started in on the project again in earnest.
To plan the room, the Agganis team sought advice from Sensational Spaces, which consults with occupational therapists, and the Asperger/Autism Network (AANE). Agganis brought in AANE to train all full- and part-time staff on how to help those who might be experiencing a sensory overload. They also tapped experts at the University, including Lorre Wolf, director of Disability & Access Services, Gael Orsmond, a Sargent College of Health & Rehabilitation Sciences professor of occupational therapy, Steve Burgay, senior vice president for external affairs, and Colin Riley, executive director of media relations.
"We also had a great partnership with the Common Room in Brighton, which is a group of autistic adults that love to go out into the community and go to these different live events with live music or shows," Powers says. "We were able to get some authentic voices into this space to see what worked and what didn't."
One eye-opening lesson came from a man with Asperger's who visited from the Common Room. "He said that having all of these different shapes—square tiles on the walls, oval shapes on the furniture, the TV is a square inside the room—was really calming for him," Powers says.
In addition to the sensory room, Agganis offers two other services designed to help those with sensory processing disorders. The first is a social narrative guide, printable PDF slides that break down each step of a visit to Agganis, starting with security, and then detailing things like the smells at concession areas, noises to expect when the show starts, a trip to the bathroom, and more.
"Something we talked about in our training was that a person can go into an event so excited for the game or a show, but if the trip to the bathroom is going to deter them from the entire thing, they might just not go, and [instead] stay home," Powers says. "So making Agganis as inclusive as possible, and making everybody feel as comfortable as possible, even prior to getting here, was really the point for the social narrative stories. I didn't understand how many different triggers there could be in just the first 10 seconds when you walk into a venue." The social narrative guide is available in English and Spanish, and Powers hopes to partner with the BU cultural clubs on campus to help translate it into more languages.
The second service is a sensory bag, available for pickup at the guest services booth on the concourse level, at section 101. Each bag comes with a pair of noise-canceling headphones, a mood card for those who are or may become nonverbal, fidget toys, and a pair of sunglasses to help with bright lighting. They can be returned after the event.
"The feedback has been really overwhelming," Brassil says. "We always want to be an inclusive space for folks to come and have a great time and feel safe."