Aces! BU Table Tennis Club Heads to Nationals
Club Sports
Aces! BU Table Tennis Club Heads to Nationals
Tournament in Texas will test players against some top competitors
There are two types of people: those who play ping-pong, and those who play table tennis.
Luke Zheng (SPH'24) says there's a term for those casual, inexperienced players: "basement heroes"—people who play ping-pong for fun, but have never witnessed competitive table tennis.
Can basement heroes be converted? "That's what I've been trying to do for 10 years," Zheng says.
There's nothing wrong with enjoying the sport in a Warren Towers common room, though. Zheng says playing for fun can lead to something much bigger. "For a lot of great players, that's exactly how they start out. There's a huge world out there in table tennis and the skill levels get really high."
This week, Zheng and other competitive players from the BU Table Tennis Club will test their talents against the nation's best when members travel to Texas to participate in the national tournament, April 8 to 10.
For a club that recruits new members through student activity fairs, online, and the Fitness and Recreation Center introductory table tennis courses offered to students, going to Nationals in Texas is quite a distance from the tables around FitRec—both geographically and competitively.
"It's great to be going there," women's team captain Yongjun Lu (ENG'23) says. "This is our first time, so we are very excited about it."
Lu will be playing alongside Helen Gan (ENG'26), Yawei Huang (Wheelock'25), Yulin Li (GRS'23), Meha Prabhu (CAS/MED'26), and Yiqi Zou (LAW'22) in women's team play, and Zou will also compete in singles play. Zheng represents BU as an individual in the men's bracket, and will be supporting his teammates on the women's side from afar.
"I'm optimistic for the women's team," he says. "I think they'll place in the top 10 or top 12."
As for his own performance, Zheng plans to be a tough out for any adversary. "I am not going to go down without a fight. Who knows? I've seen some crazy things happen."
There is good reason for his optimism. The women's team won first place at the Lower New England Divisionals and had another strong showing at the Northeast Regionals to qualify for the national tourney. Zheng is playing on behalf of the men's team, which also performed well in the regional.
Getting to this point has been a solo journey for most players, now climaxing in team competition. Lu says she has been a competitive player since childhood, when an interest became a passion. "I was just really interested in it, and I was sent to competitions when I was really young. That's how I grew," she says.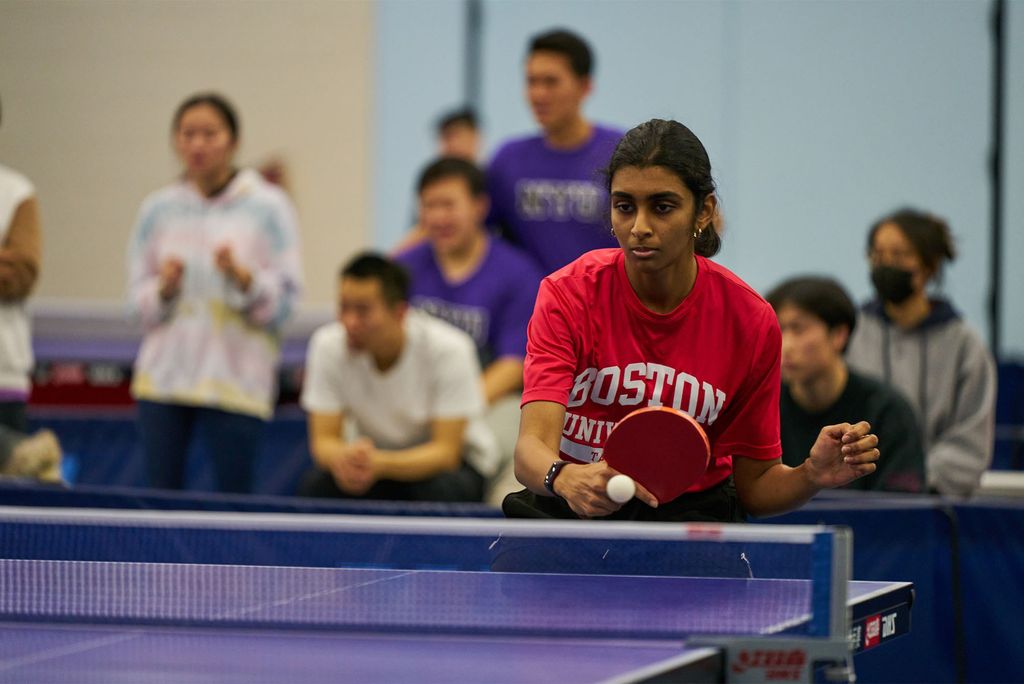 Zheng's love for the sport developed somewhat by accident. His middle school cafeteria had a table with a net, where he played daily against friends and classmates. Eventually, he and his father, who was once a competitive player, were encouraged to play in a local tournament.
"He took it as a sign that maybe he should start playing again, so he dragged me along," Zheng says. "After that tournament, we joined a formal club, and I started getting lessons from there."
The organized development that comes with joining a club can help players learn the nuances of the game. For example, players can tailor their paddle to their preferences: the type of wood can affect feel, and the type of rubber can impact control and spin. Zheng says this is a critical part of the game.
"The aspect of spin is sometimes not really applicable for a lot of people who play recreationally. They don't quite realize how much you can actually impact the spin, how much you can add yourself, and how much you can implement it into a point's strategy."
As complex as the sport may be beneath the surface, it remains one of the most accessible to play.
"Of course we'll try our best to get a high position," Lu says, "but the point is to enjoy the experience and see something different there."
Supporters can donate to help the BU Table Tennis Club travel to the Nationals in Texas here.
The National Collegiate Table Tennis Association (NCTTA) is hosting the tournament, and fans can find information, from match results to live videos, here. Follow the NCTTA on Twitter, @CollegeTT.