A Celebration of the Best Student Employees on Campus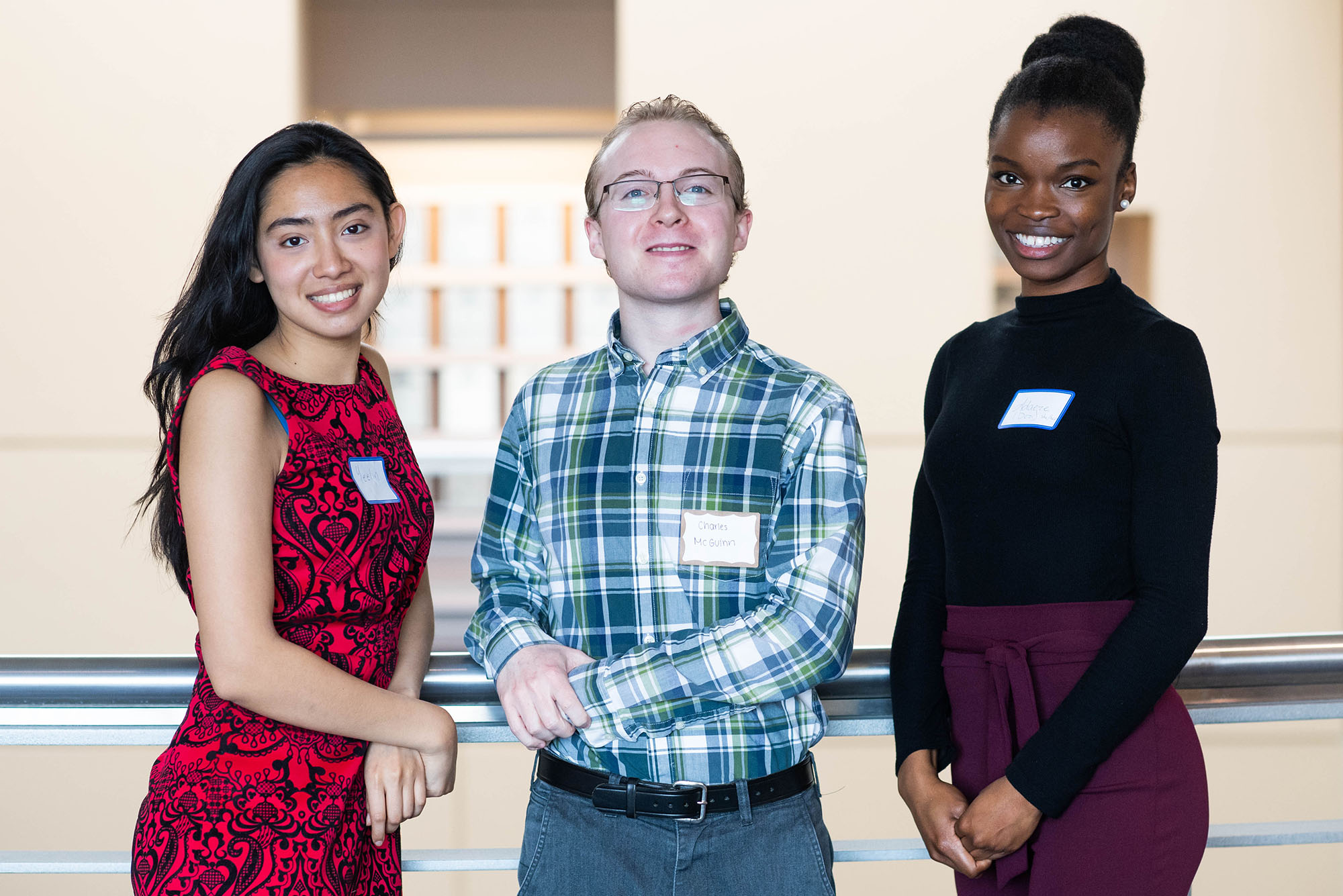 Awards
A Celebration of the Best Student Employees on Campus
Plaques and cash prizes awarded at annual ceremony; supervisors also honored
While juggling strenuous classes, club commitments, and time with friends, BU's student employees also have to dedicate time and energy every week to their on-campus jobs. Roughly 10,000 student workers fit all this in every year.
On April 11, four students were honored at the Student Employee and Supervisor of the Year awards ceremony in the Photonics Center building. Student supervisors were also recognized.
"Everything we're doing today is to celebrate the phenomenal work that our student employees and their supervisors do for the University," said Jim Rivera, senior assistant director of student employment, at the kickoff of Monday's ceremony. "I can't wait to reward them for all their successful attributes and accomplishments."
Yeelin Bacchus (Sargent'22) accepted the Undergraduate Student Employee of the Year award, and Adaeze Okorie (SPH'23) earned the Graduate Student Employee of the Year award. Both students received a plaque and a $300 cash prize. Charles McGinn (ENG'23) and Darius Haghighat (MED'22) received the Undergraduate and Graduate Outstanding Service Awards, respectively, as well as $100 and a certificate.
Nominations are based on the student's reliability, initiative, quality of work, and leadership skills, and are read by a panel of five judges from departments around campus. Judges rank the nominations, and the winners are determined by the judges' scores.
Bacchus was hired as one of the first student research assistants for the C-K-READY research study and the CRADLE (Childhood Research to Advance Developmental-Health Learning and Equity) Research Lab. She helps investigate the impact of group well-being and child health and development outcomes by administering surveys, writing reviews, and aiding in data quality control.
However, she has gone far above her required workload, taking on the responsibility of helping interview survey participants and coleading presentations with national research partners. And she is the first and only research assistant to be promoted to senior research assistant.
"Through her exceptional collaboration and teamwork, she became a role model and a mentor to her peers," wrote Renee Boynton-Jarrett, a School of Medicine associate professor of pediatrics, in her Student Employee of the Year nomination letter. "Her dedication to the team has also extended as far as offering extracurricular support."
"I feel really happy and really honored to be among all these people who have done such great work for their community," Bacchus said at the ceremony.
After graduation, Bacchus plans to get her master's degree in public health and immerse herself in maternal and children's health to help underserved communities.
Okorie joined the BU Center for Antiracist Research team as the advocacy intern in June 2021. Her main duty is to hold relationship-building calls with grassroots and national organizations and then analyze the data from those calls.
"I quickly came to lean on her as a thought partner, rather than an intern, and she continues to play that role for me," said Rachael DeCruz, associate director of advocacy at the center. "I always learn something from her when she shares her thoughts and feedback."
"We've been growing a lot because the center is new," said Okorie. "I'm bringing wonderful new people onto our team and further connecting with additional organizations, trying to iron out the role that [the BU Center for Antiracist Research] plays in this space."
Okorie, influenced by her Christian faith, said she works at growing professionally one day at a time. She is especially interested in studying the intersection of race and public health.
Interning in the office of Digital Learning & Innovation, McGinn's supervisors said he has gone above and beyond improving old BU-specific documentation (written steps and guides) for the Blackboard Ultra system, Gradescope, and Kaltura (MyMedia). He has created new ideas for the design of the documentation himself.
In addition to this job, McGinn manages being on two e-boards, being a teaching assistant for an engineering course, and volunteering. He said that genuinely enjoying his work allows him to balance his duties with his mental and physical needs.
"I like that each week, when I'm doing an assignment, it means helping the Boston University community," said McGinn. "It's a great learning experience, and it's a great life experience."
After BU, McGinn said he hopes to use what he learned during his internship to help others in a dynamic, collaborative work environment, while applying his engineering and problem-solving knowledge. "Our only regret is that at some point he will graduate and move on to other things!" said Amod Lele, lead educational technologist at Educational Technology.
Haghighat is the marketing and communications assistant for graduate medical sciences in the School of Medicine, responsible for creating newsletters, calendar updates, homepage posts, and other marketing posts. Theresa Davies, the assistant dean of graduate medical sciences, said in her recommendation letter that Haghighat has never turned down a single assignment at work.
Dedicated and always willing to help, Haghighat has been a BU student employee for the last four years. He feels his time management and communication skills have excelled since working and learning to balance classes, clinical rotations, and a capstone.
Haghighat plans to pursue genetic counseling in the Boston area post-graduation.
Student employees, in return, nominated their employers for the Supervisor of the Year award. The nominations factor in the supervisor's contributions and impact made on their student employees. This year's Supervisor of the Year was Milos Popovic, a College of Engineering associate professor of electrical and computer engineering. The runners-up were John Porco, a College of Arts & Sciences professor of chemistry and director of BU's Center for Molecular Discovery, and Mary Yang, a College of Fine Arts assistant professor of art and graphic design.