Women's Soccer Enters Playoffs with New Take on Familiar Blueprint
Varsity Sports
Women's Soccer Enters Playoffs with New Take on Familiar Blueprint
It's Terriers vs Army in Thursday's Patriot League semifinals at Nickerson, with aim of hosting championship Sunday
Few soccer coaches would dare deploy their star forward on defense or swap goalkeepers in the middle of their games. But Nancy Feldman, now marking her 27th season as women's soccer head coach, is challenging the playbook—and it's paying off: her league-topping Terriers are just two wins away from another Patriot League championship.
Feldman's squad will put its eight-game unbeaten streak on the line when they host Army in the Patriot League women's soccer semifinals tonight, Thursday, November 4. It's the team's longest stretch without a loss since 2018, when the Terriers claimed their most recent conference title.
The saying "defense wins championships" rings true at BU. The program's 2018 trophy-winners conceded less than a goal per game on average in Patriot League play, and this year's Terriers have done the same. But the way they accomplished it may be more impressive than the statistic itself.
Jenna Oldham (Questrom'22), voted Patriot League Preseason Offensive Player of the Year in August, was coming off a junior campaign where she led BU in points and assists and was named to the All-Conference First Team.
But this fall, Feldman asked Oldham to try something new.
"She's never been a back before," Feldman says. "We asked her to make that shift. I don't know if it's a coincidence, but we started to be a little bit more secure when she moved into the back."
The change worked. From a defensive position, Oldham contributed to six shutouts and continued to produce offensively, tying for the team lead in goals and pacing the Terriers in assists and points. Her accomplishments recently earned her 2021 Patriot League Defensive Player of the Year honors.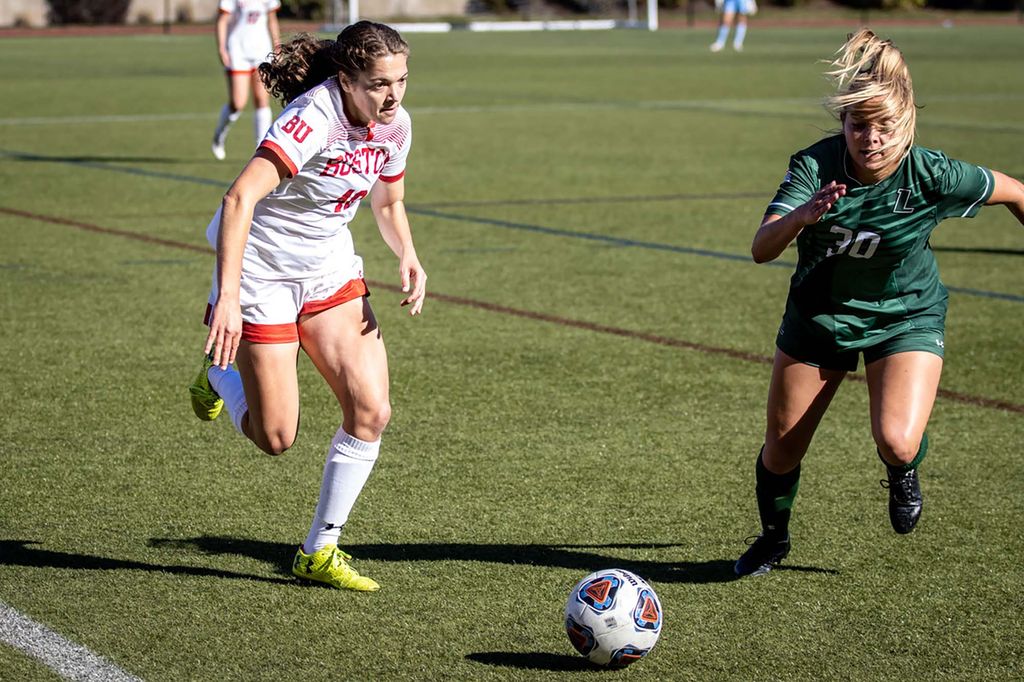 "I'm glad she was recognized by the coaches, because I think that that says it all," Feldman says. "She has stepped up big-time."
Oldham attributes her success to her fellow players. "It's all my teammates around me, helping me out. I'm just playing the role that the team needs me to play," she says.
Elle Conlin (Questrom'22) has defended alongside Oldham all season. The pair of seniors are the top-two Terriers in minutes played, and the only players to start every game for BU this season. Conlin, a Patriot League Third Team honoree, says the whole team has contributed on defense.
"The coaches really emphasize defense all over the field," she says. "The commitment to defending from our forward line down the field has been really key to our success."
The squad's defensive effort has been backboned by two goaltenders who entered the season without any NCAA experience. Gretchen Bennett (Sargent'23) and Celia Braun (CAS'25) have replaced each other at halftime for every game, and Feldman says what started as a competition has turned into a partnership.
"At the beginning of the season, we were collecting information. Entering conference play, I didn't want to mess with it," the coach says. "They're in it together. They embrace the role of both having a hand in games."
It's this team-first attitude that Oldham says defines this BU squad. "That's how we've taken the whole season so far—playing in the moment, leaving it all out there for your teammates, and playing for one another," she says.
It's a mantra that has been reflected across the lineup. The deep roster has yielded six Terriers with five points or more, and eight BU representatives across the three All-Patriot League teams.
Abigail McNulty (Sargent'24) joined Oldham on the Patriot League First Team, and midfielders Lily Matthews (CAS'24) and Julianna Stureman (Questrom'23) placed on the All-League Second Team. BU dominated the Third Team, with Amy Thompson (CAS'22), Geovanna Pereira (Sargent'23), and Ashley Buck (Sargent'22) alongside Conlin.
Feldman was chosen 2021 Patriot League Coach of the Year, her 12th time earning that title in nearly three decades at the program's helm. Her game plan heading into the championship is simple: "We have to be ready to come out on the front foot," she says. "If we play our best game, we're confident that we'll put ourselves in a position to be successful."
"This is the week that we prepare for, beginning in the summer," Conlin says. "We're really excited for the challenge."
The top-seeded Terriers host Army in the Patriot League semifinals tonight, Thursday, November 4, at 7 pm, on Nickerson Field. If they win, BU will host either Navy or Bucknell on Sunday, November 7, at a time to be determined. Watch all the action live on ESPN+, and @BUGameDay on Twitter will provide live updates. Fans can also stay informed throughout the playoffs on goterriers.com and patriotleague.org.