Women's Hockey Team Hoping to Make Noise as They Launch 2021–2022 Season This Weekend
With new faces and new leaders, Terriers look to start season strong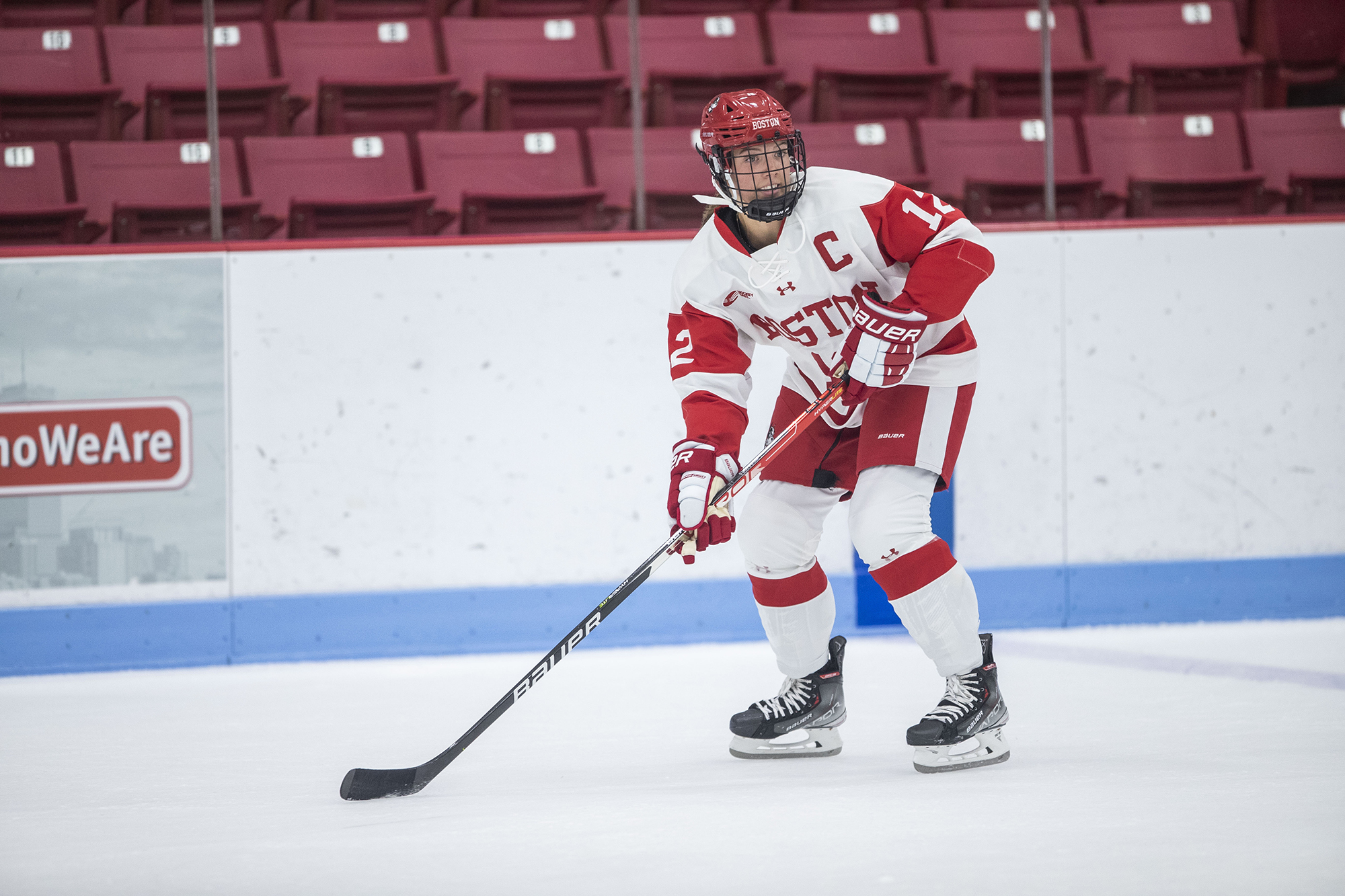 Varsity Sports
Women's Hockey Team Hoping to Make Noise as They Launch 2021–2022 Season This Weekend
With new faces and new leaders, Terriers look to start season strong
The Terrier women's ice hockey team begins its regular season tonight with a home-and-home series at Durham against the University of New Hampshire, carrying the expectations of a storied program with the unpredictability of a young team. There are 13 underclassmen on this year's squad, the most since the program's current seniors were freshmen three seasons ago.
"Everybody's fighting every day, pushing each other, and making us better," says head coach Brian Durocher (Wheelock'78), who is marking his 17th year helming the team.
With the graduation of stars like Jesse Compher (SHA'21) and Corinne Schroeder (Sargent'21) last May, the team is looking for new difference-makers to emerge.
Kaleigh Donnelly (CAS'22), the squad's lone captain and one of the team's eight seniors, says that she and fellow upperclassmen have been stressing the importance of unity.
"I think it's the first step in making sure the team is a cohesive unit," she says, noting that players have made it a point to spend more time together off the ice this fall, after the pandemic prevented that last year. The Terriers played just 12 games in a 2020–2021 season ravaged by COVID-19, posting a 6-6 record and finishing sixth in Hockey East.
"Last year was definitely difficult," Donnelly says. "I thought the coaching staff and the whole athletic community in general really helped us through it all."
---

Everybody's fighting every day, pushing each other, and making us better.

---
Preparing for a more-familiar 34-game schedule this season, the Terriers hosted an exhibition game against conference foe Holy Cross on September 25. BU won 2-0, outshooting the Crusaders 46-15 and adding a third goal in a situational three-on-three session.
Julia Nearis (COM'23) was the first player to score for BU, hitting the ground running after she had to miss the final nine games of last season. Durocher says he expects her to be an x-factor for the BU offense. "She can help any line," he says. "When she's been here, she's put up points, and we expect that again."
Liv Haag (CAS'25) and Jesse DeVito (CAS'22) also lit the lamp in the game, making a positive impression in their first scarlet-and-white appearance. Haag is one of several highly regarded recruits, while DeVito transferred to BU from reigning NCAA champion Wisconsin.
Donnelly has nothing but praise for the newcomers. "We have a bunch of new kids. I thought they really stepped up, and I think as a team we did pretty well," she says about the exhibition game.
In net, Nicole McGuigan (Sargent'22) and Callie Shanahan (CAS'25) combined to post a shutout, staking their claim to earning time in the crease alongside Kate Stuart (Questrom'22), who did not play in the exhibition game.
"I was super excited today for Nicole and Callie, who played really well and made some big saves. They're as big a part of the team as anybody else," the coach says.
Stuart has the most NCAA experience of the trio, serving as a very capable backup for Schroeder for the previous three seasons. During her opportunities, she has recorded a career save percentage of 94.1, earning 14 wins and with just 3 losses over the last three years.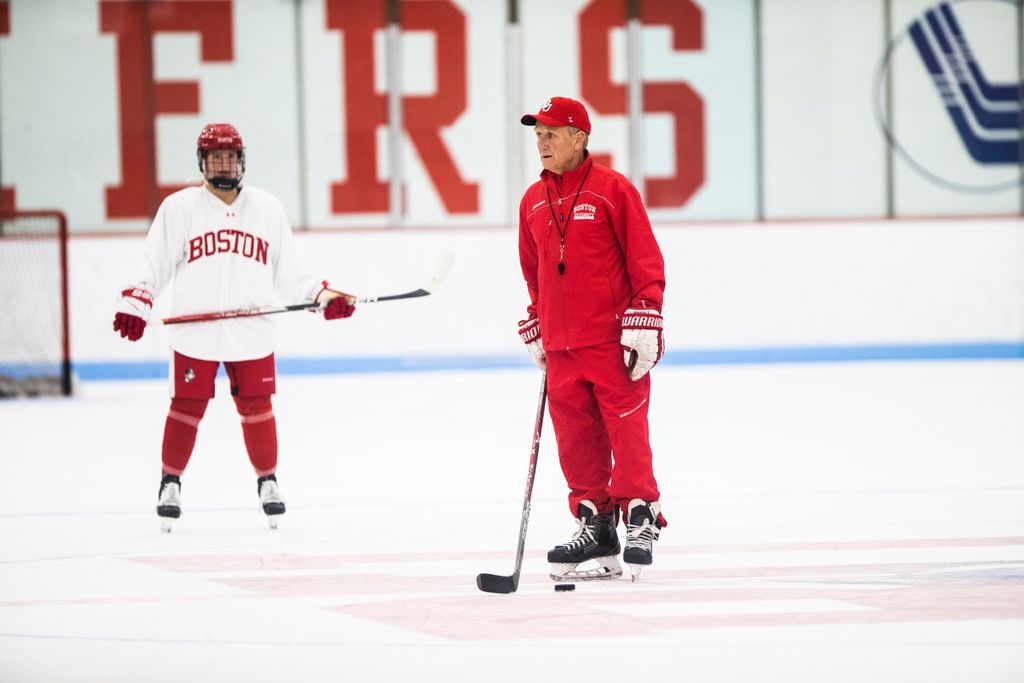 Durocher expects Stuart to be a big part of the team this year. "If you look at her track record," he says, "she's put up All-American numbers."
After this weekend's UNH series, the Terriers will face an early test on October 8 against rival Northeastern, which has won four consecutive Hockey East titles and skated in last year's NCAA championship game. BU will meet Harvard in the first round of the 2022 Beanpot on February 1, following an appearance in the annual Battle at the Burgh Tournament in January.
With the return of a more typical season, Donnelly says the team is "just trying to really focus on the little details this year, and if we clean up those, I think it'll really transfer to some wins."
The coach says he hopes that having fans back in the stands at Walter Brown Arena will be a boost to his squad as well. COVID barred spectators from games last year.
"It really is nice to have a little bit of energy," Durocher says. "There's nothing like being at the rink when you can be."
The Terriers will visit the University of New Hampshire for their season opener on Friday, October 1, at 6 pm, then will host UNH Saturday, October 2, at 2 pm, at Walter Brown Arena. Admission is free for students with a sports pass. Single game tickets are $8 for the general public, $5 for faculty, staff, and students without a sports pass, and can be purchased in advance online or in person at the Agganis Arena ticket office, 925 Commonwealth Avenue, Monday to Friday, from 10 am to 5 pm. Note: fans attending games at Walter Brown Arena are required to wear masks. All games can be streamed for free at collegesportslive.com/hockeyeast, and fans can also follow all the action on @BUGameDay and goterriers.com.