What You Need to Know About Updating Your Vaccination Status for Fall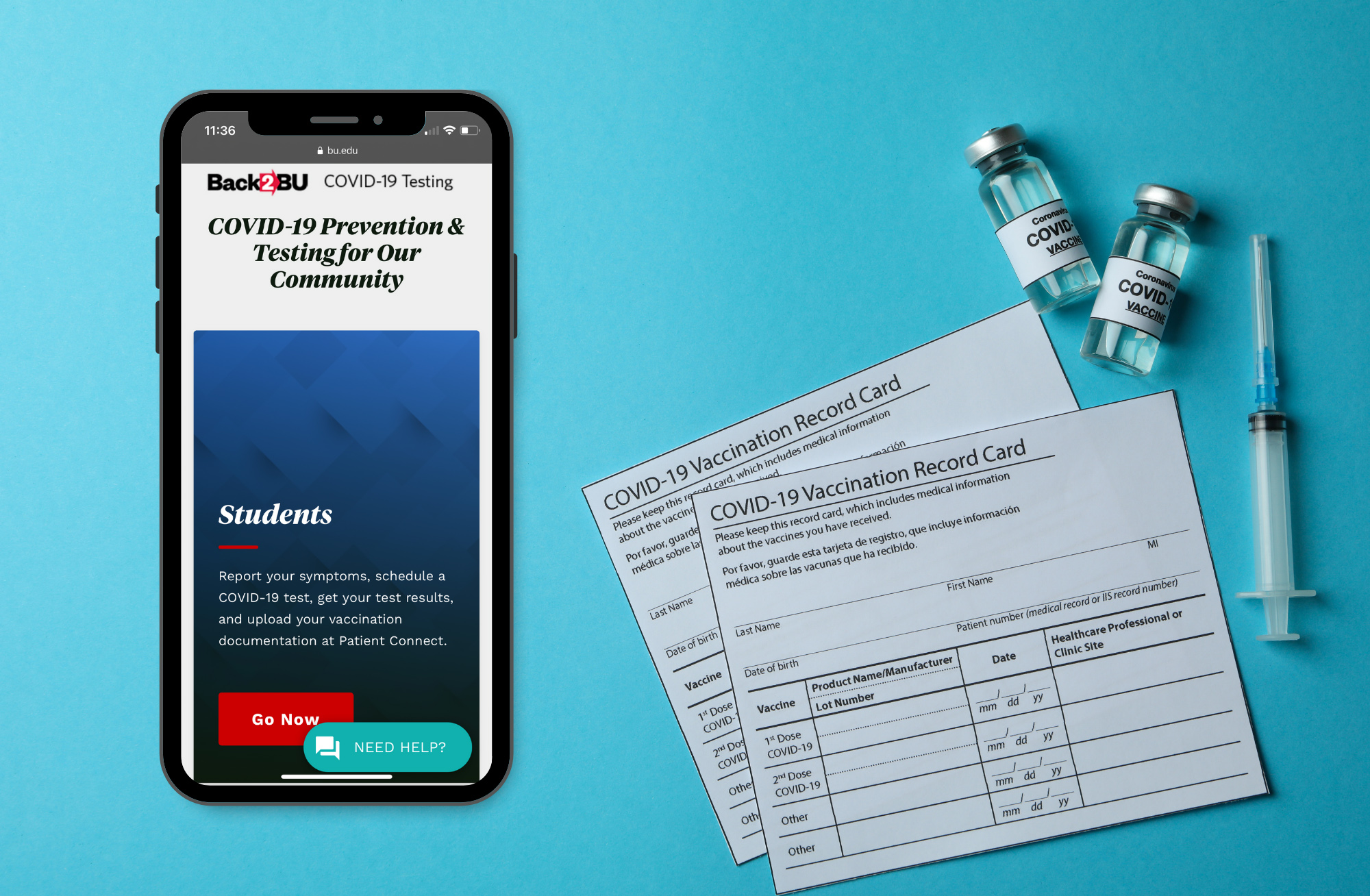 Student Health
What You Need to Know About Updating Your Vaccination Status for Fall
Upload your documentation or let BU know your plans by August 1
With COVID-19 cases at an all-time low in Massachusetts, we're all looking forward to a new normal on campus this fall—including a much-needed break from Zoom classes, making new friends and seeing old ones, and being able finally to hold in-person campus social events. But of course, COVID-19 isn't completely gone, so we need to make sure we're taking steps to ensure our community is as safe as it can be.
One big step is making sure you upload proof of vaccination or letting BU know your plans for vaccination by August 1, 2021. Whether you're an incoming or returning student, make sure you add this important task to your checklist for July.
---
Wait, so what do I need to do by August 1 again?
1. Upload your vaccine documentation:
If you've had both doses of a two-dose vaccine or received a one-dose vaccine (for example, Johnson and Johnson), once you upload your documentation, you're good to go.
If so far you've received only one dose of a two-dose vaccine, that's fine too—upload it now so you'll be compliant, and you can upload your completed documentation once you've gotten your second dose.
or
2. Request an exemption or extension—more on that below.
What happens if I miss the deadline?
It's not ideal. You won't be able to schedule your move-in, attend classes, or participate in other campus-sponsored activities like sports or any other gatherings. No one wants to experience FOMO, so be sure to make the deadline to avoid the headache. We also understand that some situations are out of your control. Keep reading if this applies to you.
How do I let BU know I got my vaccine?
It's easy—just follow these steps:
1. Log on to Patient Connect.
2. Select the "Medical Clearances" option on the left side.
3. Click on the "Update" button to the right of "COVID-19 Vaccines."
4. Scroll down and click the "Upload" button to add your COVID-19 vaccine documentation.
5. Scroll down to the "Doses of COVID-19 Vaccine" section to enter the date and manufacturer of each COVID-19 vaccine dose you received.
6. Click "Done" once completed. That's it!
P.S. If you upload documentation after just one dose of a two-dose vaccine, be sure to upload documentation once you've received your second dose. Please note that it can take up to three business days for your documentation to be reviewed. If more information is needed for approval, Healthway will reach out to you via Patient Connect.
What if I can't get a vaccine by August 1?
We get it. There may be some circumstances outside of your control. Maybe you live in a community where the vaccine is not readily available. If that's the case, you can get the vaccine once you arrive in Boston in August. Just let us know your plans by August 1 by following these steps:
1. On Patient Connect, select "Messages," then "New Message."
2. Select "COVID-19," and then "I request an extension to be able to receive my COVID vaccine once I arrive in Boston" from the "COVID-19 (Coronavirus)" message options.
Once you arrive in town, look for vaccine clinics hosted by BU (we'll announce these closer to the date). Follow BU Student Health Services on Instagram and Facebook or check the website for updates. There are also many other locations in Boston where you can easily get a vaccine—for example, pharmacies such as CVS and Walgreens. Check out the MA vaccine finder site to find one in the Boston area.
What if I can't get the vaccine because of medical or religious reasons?
You can file an exemption request for medical or religious reasons by following these steps:
1. On Patient Connect, select "Messages," then "New Message."
2. Select "Request for COVID-19 Vaccine Exemption" from the "COVID-19 (Coronavirus)" message options.
Have questions? You can contact Healthway by sending an email to healthwayhelp@bu.edu or calling 617-353-0550.
---
Looking forward to seeing you in the fall, Terriers.