Poems of Healing for These Troubled Times
Arts & Culture
Poems of Healing for These Troubled Times
Virtual reading Thursday evening celebrates new anthology edited by BU's Karl Kirchwey
Karl Kirchwey was already well into work on his latest project, an anthology of poems about illness and recovery from some of literature's most famous poets, when the COVID-19 pandemic struck. Suddenly, a book that had grown out of his own experiences dealing with several minor illnesses took on a new resonance. The finished work, Poems of Healing (Penguin-Random House, 2021) has just been published. And while none of the 100 plus poems in the collection address COVID-19, the themes they explore—illness, recovery, healing—will speak to readers with an intimacy and urgency they might not have had pre-pandemic.
"I had no idea that within three months, the coronavirus pandemic would begin to infect millions, kill hundreds of thousands, and cause worldwide economic devastation," Kirchwey, a College of Arts & Sciences professor of English and associate dean of the faculty, humanities, writes in his forward.
To celebrate the anthology's publication, the University's Creative Writing Program is hosting a virtual reading by more than a dozen poets and translators, many from BU, tonight, Thursday, April 8. Some have chosen to read their own works, some works by other poets. The event is free and open to the public and begins at 7 pm.
The poems Kirchwey selected for the anthology are based on his own experience that "poetry can provide a unique distillation, both of suffering and of comfort." And while Poems of Healing was not conceived as a response or reaction to the pandemic, he says, the poems address what it is to be human, alive, and mortal.
"My hope is the usual one," says Kirchwey, himself a noted poet: "that readers will find one or more poems here that resonate."
The anthology, the latest in the popular Everyman's Library Pocket Poets series, is divided into four sections—illness, diagnosis, remedy, and healing—and contains poems dating as far back as the seventh century BC (the Greek poet Sappho of Lesbos) to the present day.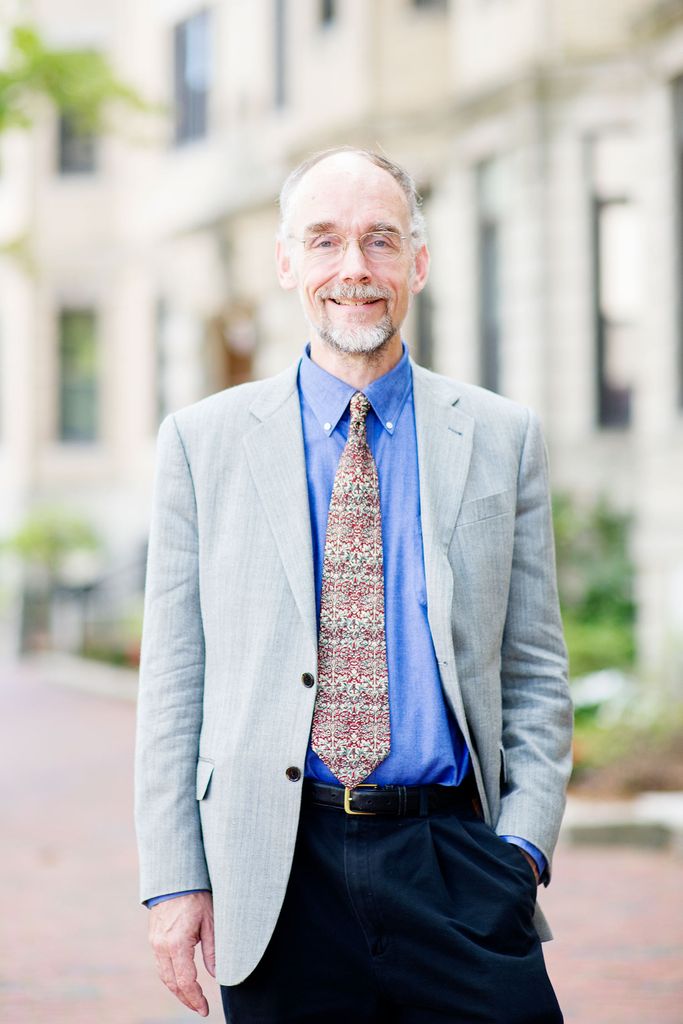 "I wanted a structure that would follow an arc of change, from illness to diagnosis to treatment to healing," Kirchwey says.
Many of the volume's poets will be familiar to readers: John Donne, John Milton, Emily Dickinson, Dylan Thomas, Sylvia Plath, Robert Lowell, and recent Nobel laureate Louise Glück. But there are also many poets and poems less familiar to a general audience: Yehuda Amichai's "The Amen Stone," Abba Kovner's "He Stood There," and Wislawa Szymborska's "The End and the Beginning," to name a few.
"I had a great deal of freedom in determining the sequencing of poems within each section, and it was fun to experiment with juxtaposing poems on the page that I have always associated with each other in my mind—poems commemorating the death of a spouse, for example, by Christina Rosetti, Milton, Richard Wilbur, Longfellow, and Grace Schulman, or sanitarium/asylum poems: Charlotte Mew, Louise Bogan, Plath, Lowell," Kirchwey says.
The collection is striking, too, for the number of BU poets whose work is included, among them three-time US poet laureate Robert Pinsky, a William Fairfield Warren Distinguished Professor and a CAS professor of English ("Dying," "ABC"); Rafael Campo (GRS'91) ("Antidote" and "From Phone Messages on Call"); and Alissa Valles (GRS'21) ("Discharge"). A number of additional BU faculty are represented through their translations—Herbert Golder, a CAS professor of classical studies, James Uden, a CAS associate professor of classical studies, and J. Keith Vincent, a CAS associate professor of Japanese and comparative literature and of women's, gender, and sexuality studies. In the anthology is also Kirchwey's own poem "Blood and Light," dedicated to a family member who died at a young age.
"This anthology benefited from sending out an all-points bulletin to friends, colleagues, and fellow poets, soliciting ideas and works," Kirchwey says. "I began with my colleagues at BU." It was particularly gratifying, he says, to include "so much work by the talented writers, scholars, and translators who are affiliated with the University."
Among readers at Thursday's event will be Kirchwey, Pinsky, Campo, Golder, Uden, Vincent, and Valles, along with Kate Daniels, Dorothy Kelly, a CAS professor of romance studies, Mary Jo Salter, Nicole Sealey, a Creative Writing Program visiting professor, Sassan Tabatabai (CAS'88, GRS'94,'15, UNI'00), a CAS master lecturer in world languages and literature, and Rosanna Warren, formerly BU's Emma Ann MacLachlan Metcalf Professor of the Humanities.  
Kirchwey invited the readers to curate their own readings, with the hope of presenting poems from all four sections of the anthology. Each was invited to choose two poems to read. Some of the translators will read poems in their original languages as well as in translation.
"Given the distortions that illness inflicts on our lives, we must commemorate our losses somehow," Kirchwey says. "Remembering not only our losses, but also what we love in the world is one way of doing this. And one of poetry's most important functions is as a charm, a cure, a prescription for remembering."
Event Details
Poems of Healing: A Reading
Celebrating the publication of the new Everyman's Library Pocket Poets volume, edited by Karl Kirchwey, a College of Arts & Sciences professor of English, the Creative Writing Program is hosting a virtual reading of the collection's poems.