Terrier Tennis Teams Optimistic Heading to Patriot League Tournaments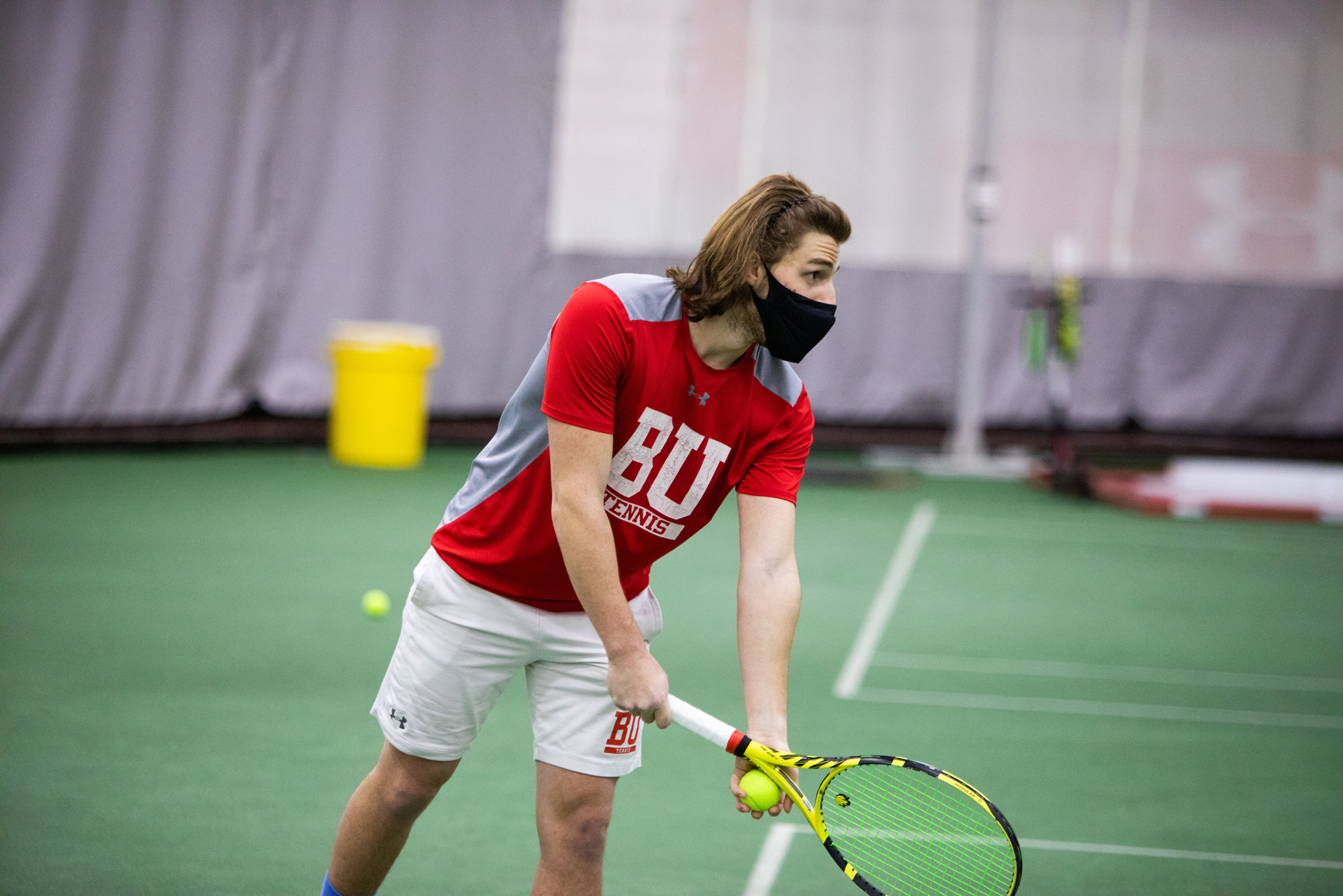 Varsity Sports
Terrier Tennis Teams Optimistic Heading to Patriot League Tournaments
Playoffs begin this weekend for men, next weekend for women
It's the home stretch for Boston University's men's and women's tennis teams. This weekend, the men will vie for a Patriot League title, with the women's tournament to follow a week later.
Men's captain Pete Siozios (ENG'21) says his team is ready for the postseason. "We've put a lot of work in this whole year, and we're excited to go out and leave it all out there," he says. 
Instead of the typical January start date, the COVID-truncated season began in late February. To date, the women hold a record of 6-1 overall, 2-0 in Patriot League play, while the men are 3-5 overall, 1-2 in conference action.
After losing much of the 2020 season to the pandemic, women's captain Lily Burchell (Questrom'21) says she and her teammates have embraced every opportunity to compete in 2021. "Last year, our season was taken away from us," she says. "I think we've really done a nice job of making every match count."
Burchell is one of six seniors on the women's squad, making up half of the roster. Head coach Lesley Sheehan (CGS'82, Wheelock'84) says the veteran players have been a driving force behind the team's success.
"They want to make their senior year the best it can be," Sheehan says. "They're all really motivated, which is great."
In contrast, the men have a young team, with 6 of the 14 players freshmen. After dealing with a series of injuries and COVID-related absences, head coach Dejan Stankovic (Wheelock'08,'11,'15)  says his team is peaking at just the right time.
"The fact that we have everybody back is going to be a huge bonus," he says. "That should be enough for us to do really well in the tournament."
Among those leading the charge for the men's team, which has reached three consecutive Patriot League semifinals, is David Bogatin (Questrom'21), who holds a team-best 6-1 record in singles play this season. The doubles pairing of Jose Maria Robalino (CAS'24) and Owen Lu (Questrom'21) is 5-3 on the year.
On the women's side, Burchell is 5-1 in singles action, tied for the most wins on the squad with Emily Kim (Sargent'21). Kaitlin Tan (Sargent'24)  has distinguished herself in doubles play, posting six wins with four different partners.
Given her team's success so far this season, Burchell has high hopes for the tournament. "I think we have a really good opportunity this year," she says. "I'd love to go out on a high note, and continue our success in the Patriot League."
Stankovic is equally optimistic about his team's chances for a conference title. "We have a great group of guys. Our team cohesiveness is better than it's ever been."
The 6th seed BU men's tennis team plays against No. 3 Lehigh in the Patriot League quarterfinals at Lehigh University in Bethlehem, Pa., on Friday, April 23, at 3 pm, with the eight-team single elimination tournament continuing through Sunday. The Terrier women's team plays the final match of the regular season at Navy Saturday, April 24. The women's tennis Patriot League tournament will be held at Navy, in Annapolis, Md., April 30 through May 2. Get updates at GoTerriers.com and @BUGameDay on Twitter.