Sujin Pak, LGBTQI+ Advocate, Becomes School of Theology Dean ahead of Possible Methodist Church Schism over Gay Rights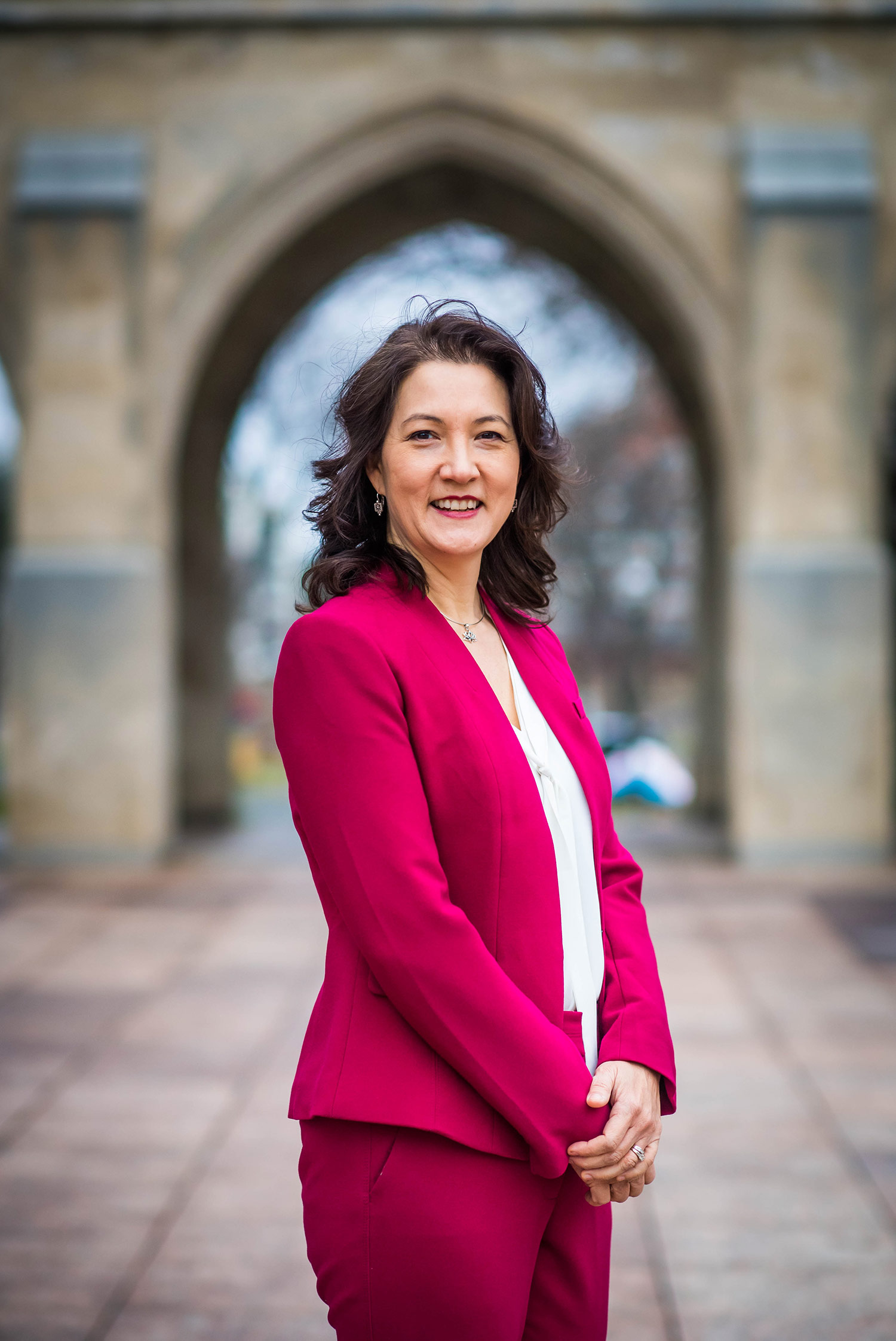 University News
Sujin Pak Appointed New  Dean of BU's School of Theology
A Protestant Reformation scholar and advocate of modern inclusiveness, she will lead the University's oldest school
Methodism courses through Sujin Pak's DNA—"I am the granddaughter, daughter, and niece of multiple United Methodist elders and deacons on both the Korean and American sides of my family," she says. Yet the church "was also my crisis of faith."
"I too often saw a gap between what I understood to be the Christian message of love, hope, peace, and justice and the actual actions of various expressions of the church across time," says Pak. As a vice dean at Duke University's Divinity School, her alma mater, she tried to address that gap by, for example, welcoming LGBTQ+ students, faculty, and staff.
Pak will continue that work as the new dean of the School of Theology, the oldest United Methodist Church seminary in the United States. She takes the helm just months before her beloved Methodist Church may splinter over gay rights, an animating focus of her career.
At its August-September General Conference, the church may vote on a plan to split the denomination, creating at least one new, traditionalist branch opposed to same-sex marriage and gay ordination. The vote, following years of emotional debate, would rend what is now the second-largest Protestant church in the United States, accounting for about one half of the globe's 13 million Methodists.
The divisions are a source of pain for Pak.
"There is need today for prophetic witness to support all persons of faith in their calling to ministry and/or religious leadership," she says. "I am proud of this legacy of the United Methodist Church and can only hope that it will be on the right side of history in support of LGBTQIA+ persons." Lack of humility, listening, and condemnation, she says, "too often have been the stumbling blocks to churches' abilities to bear faithful witness to the Christian message of reconciliation and justice."
---

I am proud of [the] legacy of the United Methodist Church and can only hope that it will be on the right side of history in support of LGBTQIA+ persons.

---
At Duke Divinity School, Pak oversaw all degree programs, admissions, financial aid, student affairs, field education, and ministerial formation.
In an email sent Thursday to the BU community announcing Pak's appointment, Jean Morrison, BU provost, wrote: "She thoughtfully led Duke Divinity School through significant transitions, advancing efforts to enhance diversity by providing greater flexibility to students of limited means, and to improve inclusiveness, particularly for LGBTQIA+ students, faculty, and staff." Additionally, Morrison noted, she had "a major role in successfully adapting the school's curriculum to remote teaching and operations amid the start of the pandemic last spring.
"It was clear early on that Dr. Pak's scholarly credentials, her gift for building community through consensus and collaboration, and her ability to provide vision and steady, clear-headed leadership through periods of change have prepared her well to lead the School of Theology."
STH is BU's oldest school, started in Vermont in 1839 as Newbury Biblical Institute. It relocated to New Hampshire and then, in 1867, to Boston, two years before BU's founding. Its history is one of the things that attracted her to the deanship, Pak says: "The School of Theology at Boston University has an incredible legacy of advancing women and minorities in leadership, academia, and ministry—from the first woman to earn her doctorate in the nation to such key [Black] leaders in its history as Howard Thurman [Hon.'67] [dean of Marsh Chapel from 1953 to 1965] and Martin Luther King, Jr. [GRS'55, Hon.'59]."
Pak says her to-do list as she begins her deanship includes reviewing the rollout last year of remote learning. "I will seek to explore with faculty, staff, and students opportunities, discoveries, and silver linings that have emerged from their experiences," she says.
She also hopes to enhance the STH faculty's visibility in its academic and social justice work. In particular, "With a notable number of Latinx scholars," she says, "the School of Theology is positioned as a trailblazer in cultivating Latinx theology and fostering Latinx church and community leaders."
Morrison's email said Pak, who was also appointed to the STH faculty, is "recognized among the world's leading scholars of Christianity in late medieval and early modern Europe," with research focused on the Protestant Reformation's theology, its relationship to Jews and women, and the history of biblical interpretation. Pak has authored two books, both published by Oxford University Press: The Judaizing Calvin: Sixteenth-Century Debates over the Messianic Psalms (2009) and The Reformation of Prophecy: Early Modern Interpretations of the Prophet & Old Testament Prophecy (2018).
In 2018, Pak won the United Methodist Church General Board of Higher Education and Ministry Exemplary Teacher Award and has been recognized as an "Emerging Woman in Leadership" by the Association of Theological Schools. She is a lay preacher and teacher in the United Methodist Church.
As for nonacademic interests, Pak says that in her "much younger years," she was an athlete, particularly in basketball and volleyball. "Sports taught me invaluable life skills, such as self-discipline, perseverance, stamina, and teamwork," she says. "I carry these gifts into my daily work and continue to look to athletic activities for leisure—plus, they are a great way to manage stress."
Pak succeeds Mary Elizabeth Moore as dean. Moore, the first woman to serve as dean of STH, led the school for 12 years.
Correction: This story has been amended to reflect that the church's General Conference will take place in August-September, not May.