Stephen Kurkjian Featured in This Is a Robbery Netflix Series on Gardner Museum Heist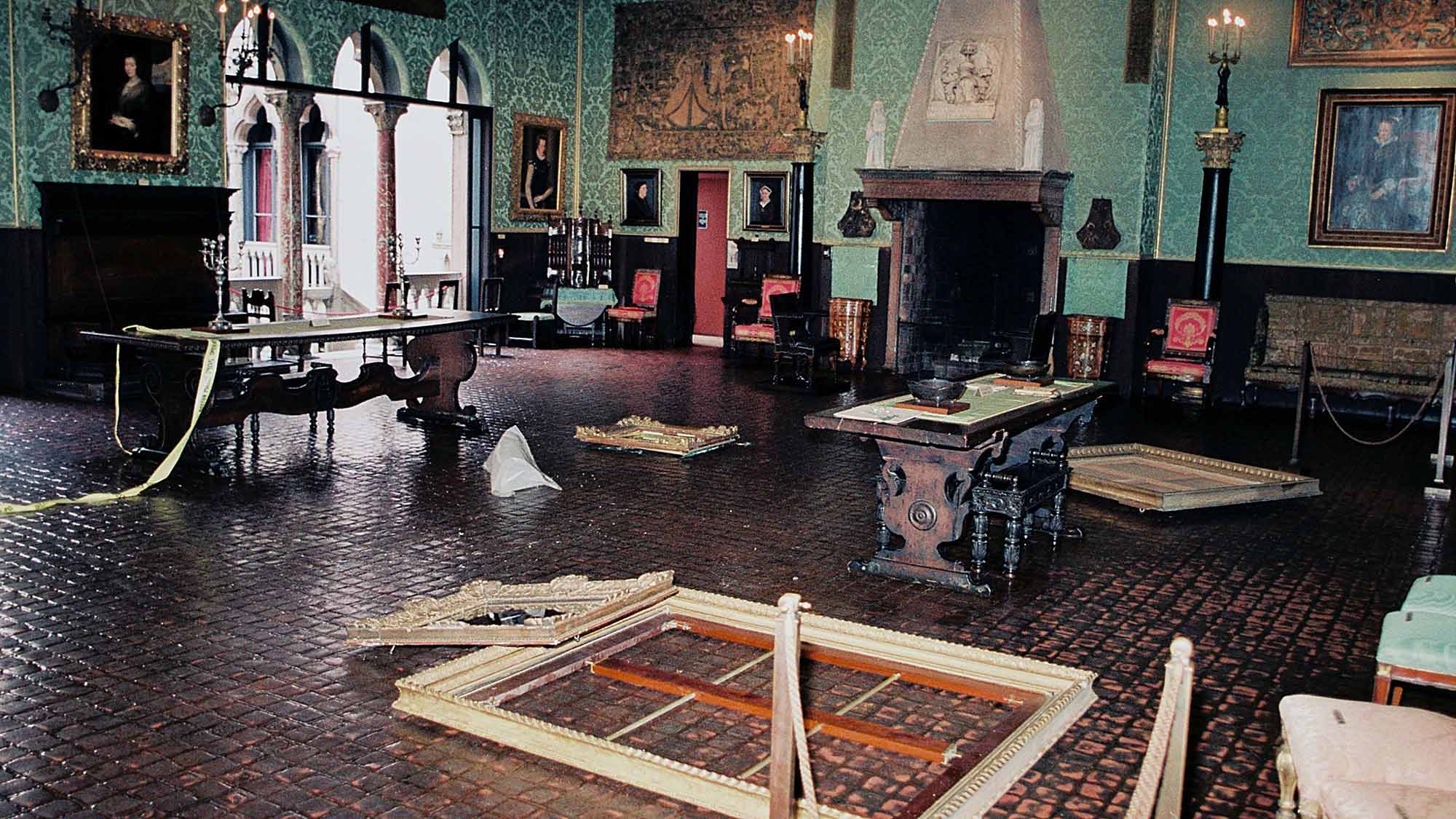 Alumni
BU Alum Stephen Kurkjian Featured in Netflix Series on Gardner Museum Heist
30 years later, This Is a Robbery delves into the theft of 13 missing artworks valued at $500 million
For a single crime to get 30 years of nonstop media coverage, a 10-part podcast, a handful of books, and on top of that, a four-part Netflix miniseries, it has to be some kind of riveting, mysterious criminal act. The world's largest art heist—the theft of 13 works, valued at $500 million, from Boston's Isabella Stewart Gardner Museum in 1990—apparently qualifies.
That Netflix series, This Is a Robbery, was released this month, and no one knows the story of the infamous heist better than Stephen Kurkjian (CAS'66). The legendary journalist and three-time Pulitzer Prize winner, who spent most of his career with the Boston Globe and in 2015 wrote the book Master Thieves—which then led to the WBUR podcast Last Seen—is one of the key interview subjects in This Is a Robbery.
Bostonia caught up with Kurkjian to talk about the Netflix project, the crime, and whether, 30 years after the heist, he thinks the most notable stolen paintings—by Rembrandt, Vermeer, and Manet—are long gone. Or are they still out there, waiting to be turned in for the $10 million reward and returned to the empty frames still hanging in the museum?
As Kurkjian says of the crime in the Netflix trailer: "It's mind-blowing!"
This interview has been condensed and edited for clarity.
Bostonia: So much has been written and said about the heist. Is there anything new left and how does the Netflix series handle it?
Kurkjian: I think they did a good job of working the entertainment factor, both from the art side and art appreciation, and from the history side. Boston history is epitomized by this crime. The mystery side, you can't beat this story. And the mob side—people are still interested in that, too. All those sides, this story pays attention to them. One other thing I like about it is that they followed my advice. I said, don't try to solve it. Try to tell the story, without trying to solve it.
Why do you think that made more sense for the storytelling?
Because every path they go down has a bit of exhilaration and excitement to it. When you see it's a dead end, you are not disappointed, and you immediately have a new path. They do a good job of keeping anticipation high. That's why I am very enthused by it.
How did you get involved in the project?
They reached out to me. We met at [legendary South Boston pub] Amrheins. They saw that beyond my book, I still had some enthusiasm for the story. I gave them some contacts, they would call me and ask about different people.
You know this story so well. What's your opinion of their including dramatizations of the crime?
They told me they were not going to do a voiceover. And they were going to do some dramatization. And just let the story tell itself. I have heard some criticism. But they got some video and other stuff that I never knew existed. They got stuff from people like Rick Abath who let the guys in. He used to have rock and roll parties to raise money for rent, and they got incredible footage from those parties.
Anything you didn't like about the series?
One minor criticism. There were so many ups, but you don't get a sense of what's real and what's important. There was a video that was released of the night before [at the museum]. It shows somebody suspicious walking in the night before, and you come away believing that's a walk-through [by the robbers] the night before. But it's not a suspicious character. You should put everything out there. A voiceover would have helped with important conclusions.
Is there any chance, after all these years, that a Netflix series could help lead to a breakthrough in the case?
I certainly hope so. This goes into a half a billion homes. I think it's a dark movie, a collision of the lowbrow criminal world with the highbrow world. Ultimately, people want to see a recovery, and we don't have that. The movie should be about the clash of these two worlds. I do think the opportunity will be there. But the way you get a recovery is you play on the public with the haves and have-nots. You play off their generosity of spirit. My kids haven't seen those paintings. My grandchildren need to see them. You're not breaking any code [if you help return the paintings]. These paintings belong to Boston.

Mrs. Gardner wanted the world to have an appreciation for art. She wanted all of Boston and the world to see these paintings. She knew they would arouse us and inspire us.
So you believe the paintings are still out there somewhere.
I don't think they've been willfully destroyed. I think they are out there and can be restored. Somebody knows somebody. There is a $10 million reward. No prosecution if you bring them in. There's got to be a big puzzle why that has not unlocked this mystery. The more publicity this gets, the more possibility there is. It's a terrific Boston story.
Last question: The title of the Netflix series, This Is a Robbery. Is that really what the robbers said to get into the museum?
That's what they said to Abath. Actually they said, "Gentlemen, this is a robbery."