Schitt's Creek Star Dan Levy Shares Memories of the Award-Winning Show with BU Students
Film & TV
Schitt's Creek Star Dan Levy Shares Memories of the Award-Winning Show with BU Students
Actor, writer spoke about the importance of gay representation at Friday event
Students who stayed in on Friday night were rewarded with a virtual visit with Schitt's Creek cocreator, showrunner, and star Dan Levy. The multi-Emmy winner, fresh off his Saturday Night Live appearance earlier this month, spent an hour chatting about topics like writing gay characters, the formative experience of being part of Schitt's Creek, and what he's working on next.
Speaking from his parents' house in Toronto ("Notice the illustrations of fruit in the background?" quipped Levy, who was sporting his signature thick-rimmed glasses and scruff), he was interviewed by Ryan de Kock (CAS'22), BU's Queer Activist Collective's outreach coordinator. The event was hosted by the Student Activities Office and co-planned by the BU Arts Initiative and the Queer Activist Collective. About 800 students registered, organizers say.
Levy was funny and insightful and had much to say about his love for his costars, how the industry could benefit from more gay characters, and how he viewed working to make sure that kind of storytelling happened on Schitt's Creek. "As a gay man, I wanted to tell a story that reflected the nuance of my own experiences that I hadn't necessarily seen explored before," he said about the quirky Canadian comedy. "For the sake of entertainment, sometimes [people's] experiences get reduced or the edges get softened a little bit. So it was really important that the opportunity I was given be used for good…[and] I knew my younger self would have really benefited from seeing that."
Levy cocreated Schitt's Creek in 2015 with his father, well-known comedic character actor Eugene Levy (Best in Show, American Pie), who played his father on the show. Schitt's Creek ran for six seasons on the Canadian Broadcasting Company before gaining popularity stateside when it started airing on Netflix. For the uninitiated, the show is about a wealthy family who loses all their money and moves to the small town of Schitt's Creek (the father once bought the town as a joke because it had a funny name) to start over. The series was lauded by critics, and it picked up nine Emmys for its sixth and final season, setting a record for most awarded comedy series in a single year. Levy collected individual honors for supporting actor, writing, and directing.
Emcee de Kock kicked off the event by asking Levy what it was like hosting Saturday Night Live on February 6. Levy called it a mind game, something that you "don't want to screw up," and said he tried to not get in his own head too much and just have fun. One of the skits that night, a parody on the It Gets Better Project, went viral. The project, launched in 2010 to encourage those struggling with coming out, featured gay people talking about how their lives improved after they came out. The skit spawned promotional pins that have since raised $10,000 for the project.
Turning to Schitt's Creek, Levy described the "family dynamic" among him and his costars and how they sobbed when it was time to wrap up a year and a half ago. "I didn't know at the time how rare that kind of dynamic was—to work in a space where everyone felt really kind of valued and excited to be there," he said. "It was truly the greatest seven years, give or take, of my life and truly the most transformative."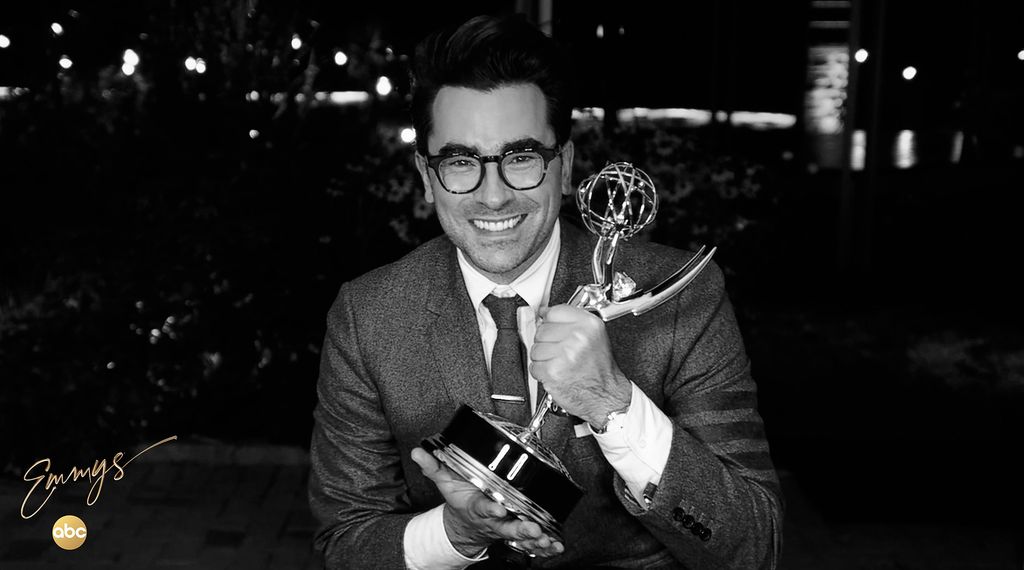 Speaking about the series finale, "Happy Ending," which (spoiler alert) culminated in Patrick (Noah Reid) and David (Levy) getting married, but not before David received an accidentally adulterous massage, Levy explained that its title was more than just a nod to the sexual act. "It was a proclamation that two men can have a happy ending at the end of a series, and a response to the majority of queer stories that are told in film and television ending in tragedy, sadness, or heartbreak," he said. "It was really important that we stake that claim [referring to the "Happy Ending" title] that these characters deserved it, and the viewers deserved it."
Levy spoke of movies where queer characters are constantly struggling, and whenever they fall in love, there is a hiccup or tragedy. "So for me, it was really important that we tell a story, a love story that was completely free of the presumption that so many of us put on queer relationships that we see on screen, [where] we're just like almost waiting for something bad to happen," he said. "And it was a freedom for me to say that is [not] going to happen."
For the same reason, he didn't want those living in the small town of Schitt's Creek to fall into the trope of stereotypical small-minded, ignorant characters. Instead, the town and its residents are accepting, progressive, and supportive. In fact, it was a decision by the writers to never show homophobia at all. He acknowledged that it was a risky decision, "because there is the discussion of, well, if you're not showing it, are you erasing it?
"And I kind of felt like there are films and television shows that I so admire that are handling the tragic side of queer relationships and queer people in a way that is so respectful and thoughtful and beautiful," Levy said. "I wanted to take up a space that was only going to show a kinder projection of our world, a town where nobody had to worry about who they were in order to be accepted or to fit in… It was remarkable to see the response to that, because what we didn't know at the time was that by holding a mirror up to people's lives and saying, this is how it can be, this is how life can be when you are not judgmental of other people or bigoted or intolerant or homophobic or racist, this is how people can succeed. This is how people can grow, this is how people can find love. And this is how ultimately, a community can be built around something positive."
In 2019, Levy received GLAAD's Davidson/Valentini Award, given to an LGBTQ media professional who has made a significant difference in promoting acceptance for the LGBTQ community.
Levy, who most recently starred in the Hulu holiday romantic comedy Happiest Season, starring Kristen Stewart as a gay woman about to propose to her girlfriend when she realizes her girlfriend hasn't told her family they are a couple, talked about how wonderful it was to be a part of something that "allowed someone the space and the confidence to come out, or vice versa, allowed a family a level of understanding of their own children that they then created a space within that home for those parents to apologize to their queer or gay child."
In fact, during the run of Schitt's Creek, Levy fought to have an image of Patrick and David kissing included in a promotional billboard. "I had never seen two men kiss on a billboard before. So if I have any power in this situation, I'm going to make that happen, not just for myself, but for everybody who drives by that billboard and sees themselves on it. So those are the kinds of things that you realize in a lot of executive positions: there are not queer voices, there are not voices of people of color. And that's where things slip through the cracks."
Although a multiple Emmy winner (he also shared the award for best comedy series), Levy said he hasn't had many acting opportunities cross his desk post Schitt's Creek, and he believes that's because they just don't exist for gay actors. For that reason, he is writing his own.
"You just realize that the parts aren't there, in the same way that straight parts are there for straight actors," he said. "So all I'm trying to do now with the opportunities that I've had, with the success that I've had, is to continue to write interesting queer stories for queer characters and do my part to hopefully fill the space with opportunities so that actors can be hired."
On a lighter note, Levy was asked how the Schitt's Creek characters would deal with the pandemic (not well, Levy admitted, noting that they would definitely miscommunicate about who was in which pod). He said he's open to a future Schitt's Creek special or movie. "We all are desperate to work together, so I think eventually when the dust settles on all of this, and if people might begin to miss us at some point, I do hope that maybe we'll get an idea that that will bring us all back together again."
Levy ended the chat by thanking emcee de Kock for the great interview, noting how thoughtful the BU junior's questions were.
"I just wanted to make sure I highlighted questions about being queer in Dan's industry, since, as he mentioned, that's not an easy thing to do," says de Kock, a biochem major with no journalism experience. He says he started off the night feeling super nervous, but soon fell into a groove and the anxiety went away. It also helped, he says, that Levy was so pleasant and forthcoming and gave thorough responses.
"I'm very happy with how the event went," de Kock says, "and I'm glad to have had the opportunity to talk about queerness in film and TV with someone experienced in the topic."