Alum Roseann Bongiovanni Is Helping One of the Hardest-Hit COVID Cities Get Vaccinated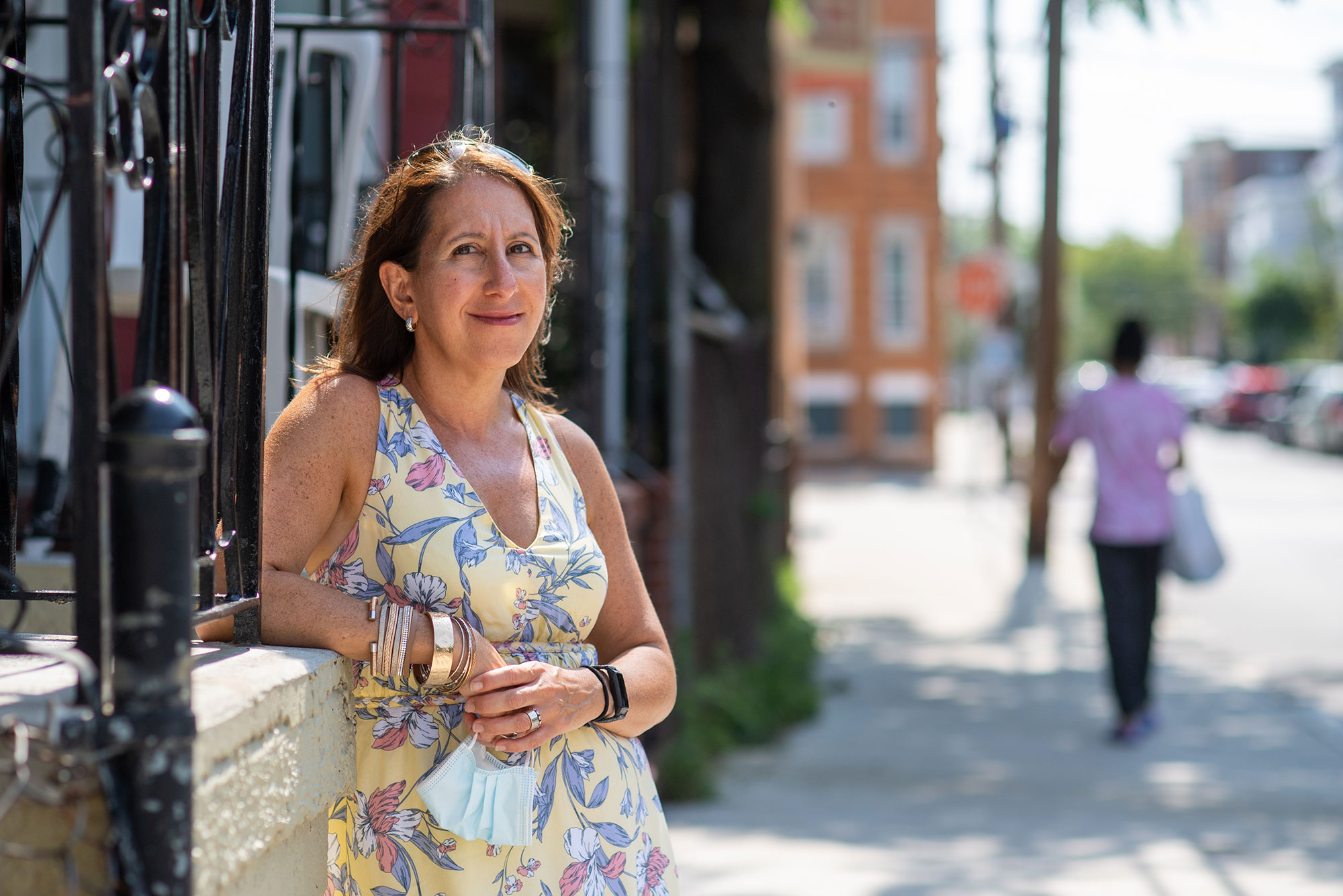 Public Health
Alum Roseann Bongiovanni Is Helping One of the Hardest-Hit COVID Cities Get Vaccinated
Third-generation resident of Chelsea, Mass., oversees door-knockers who answer questions, arrange appointments
With COVID-19 descending last year on Chelsea, Mass., third-generation resident Roseann Bongiovanni's big worry was how her disadvantaged neighbors could provide for themselves during two-week quarantines.
As the crisis ground on, two-week quarantines came to seem almost a trifle.
"We didn't understand that…it was going to be a much longer pandemic affecting our community," says Bongiovanni (CAS'99, SPH'01). "Chelsea's rates were skyrocketing. We were six and seven times the state's rate of infections, and our community had a higher per capita infection rate than even the hardest hit boroughs in New York City."
Last March, with vaccines rolling out, GreenRoots, the environmental and public health advocacy group that Bongiovanni directs, sent out trusted community members as door-to-door ambassadors. They informed residents where to get vaccinated, addressed questions, booked appointments, and in some cases took people to get their shots. GreenRoots and two nonprofit partners, La Colaborativa and Chelsea Black Community, have knocked on more than 18,000 doors and made 3,900-plus informational phone calls to residents. The city is now over 70 percent vaccinated, Bongiovanni says.
Bongiovanni doesn't knock on doors herself, but "I'm in the field because I live in the field," she says. "There isn't a time that you go to Market Basket where you're not running into a community member and you're talking to them." She spoke with Bostonia about GreenRoots' efforts.
Q
&

A
with Roseann Bongiovanni
Bostonia:
What's the reason you started the ambassador program?
Roseann Bongiovanni: When the vaccines became available, we were partnering with other organizations in Chelsea to say, "You need to make these vaccines readily accessible for Chelsea residents." Over 80 percent of our community is dependent on public transit; they're not going to be able to get to Gillette Stadium [in Foxboro, one of the state's since-shuttered mass vaccination sites]. They need to have vaccines here in Chelsea if you want to stop the spread of this virus and invest in BIPOC [Black, indigenous, and people of color] communities like you've said. 

With La Colaborativa and Chelsea Black Community, we applied for state funding to hire local folks to door-knock and get the hardest-to-reach residents, to connect them with vaccines. We have four now; we had [a fifth], a 75-year-old woman who was just out there killing it every single day, and then in the summer said, "I can't do this anymore." Intergenerational, multilingual, multiracial ambassadors who are Chelsea residents, who know the neighborhoods, who know the languages spoken.

They're talking at businesses, community events, organizing festivals and activities, really trying to get folks to get the shot. They're out there with tablets [recording], "I knocked on Maria's door, this is what she said." They've taken them, scheduled appointments for them. They've walked them to vaccination clinics.

It likely will end in September or October, depending on how many folks need to be vaccinated. We're proud the data show that Chelsea is over 70 percent vaccinated.
Bostonia:
The ambassadors' funding, although distributed by the state, is federal money passed as part of President Biden's COVID plan back in the winter?
Roseann Bongiovanni: Right. We pay $22 an hour.
Bostonia:
What is the biggest reason residents give for not being vaccinated?
Roseann Bongiovanni: At first, it was inability to access vaccines. Folks didn't know where to go, how to get it, if they were eligible, if they were going to be asked for documentation status, about the rollout at [mass sites like] Foxboro. We have two prominent health centers in the city that people feel really connected to; [vaccine] was taken away from those centers.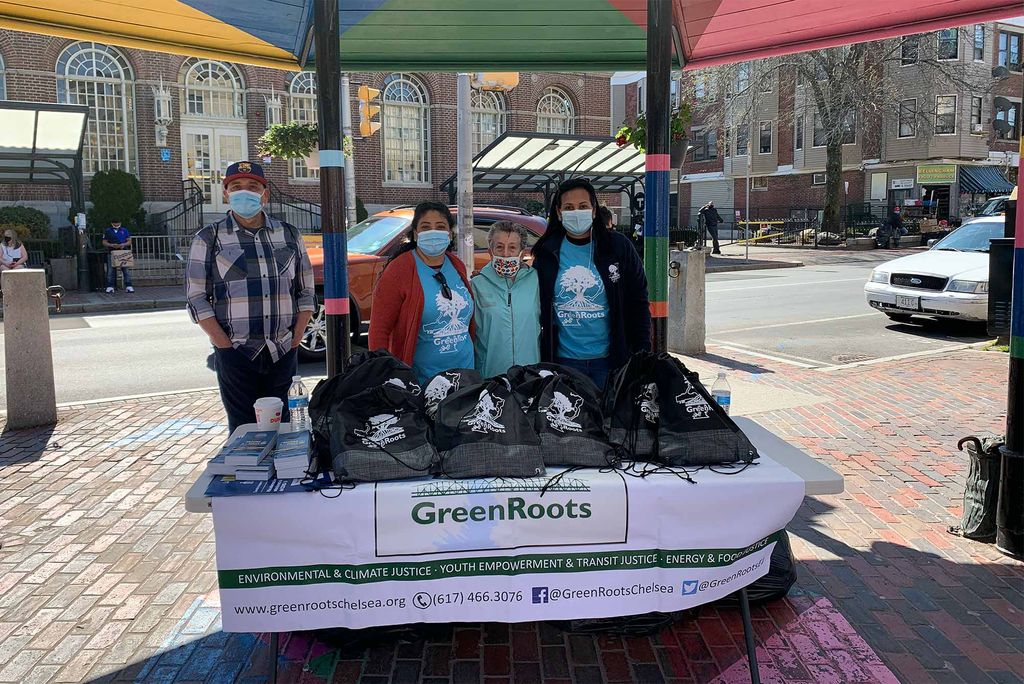 I will say that the vaccination clinic that was set up with the city and East Boston Neighborhood Health Center was amazing. It was at an organization that people know and trust. It was on the bus line. That was available almost from the beginning. And pretty quickly thereafter, they started to make the vaccines available every weekend at the senior center, where anybody in Chelsea could sign up. There were lines out and down around the corner.
Bostonia:
The problem now is vaccine hesitancy?
There's misinformation in English media, Spanish-language media, on social media. There are a lot of things shared on WhatsApp with our community. Fear of side effects, of long-term health impacts, and just disbelief. It's larger sources—internet feeds or social media posts. They're not created in Chelsea, but they're shared in Chelsea. For a long time, folks were saying, "They're injecting me with a microchip so that the federal government can follow me and know my immigration status." We're like, "No, that's not true." There was misinformation about the vaccines being created with [recently] aborted fetuses. People are thinking, "Oh my God, somebody aborted their baby a week, two weeks ago."

Then a lot of folks, because of structural racism, haven't been able to access health care in a way that feels fair. Why am I putting my trust in a health care system or pharmaceutical companies?
Bostonia:
How are ambassadors dealing with that?
We're connecting with [unvaccinated residents] through [a sense of] community: Don't you know somebody who's had COVID? Well, I do. Or, I had COVID, this was my experience, you don't want to have this experience. Chelsea had the highest per capita infection rates in the nation; do we want to be the ones who are being hospitalized or [do we want to] take the shot? At least three of our ambassadors either had COVID or know folks with COVID, so they can speak from personal experiences.
Bostonia:
Do you know people who have gotten sick or passed from COVID?
Absolutely. Our staff members and friends have gotten it. We helped get funding to St. Luke's [Episcopal Church]; they were starting a funeral fund, because people were passing away.
Bostonia:
Are you hopeful about convincing most of the holdouts?
I think there will always be some people that we won't reach. But I think we're going to get many more that we will be able to reach. It's not outside folks coming into Chelsea saying, "You people should do this." It's us saying, "We need to do this as a community. Don't come into our community and tell us what we need to do. We know what the solutions are, we just need the resources to implement those solutions."