Red Hot Hockey: Terriers, Big Red Clash at Madison Square Garden This Weekend
BU to face off against Cornell Saturday in biennial series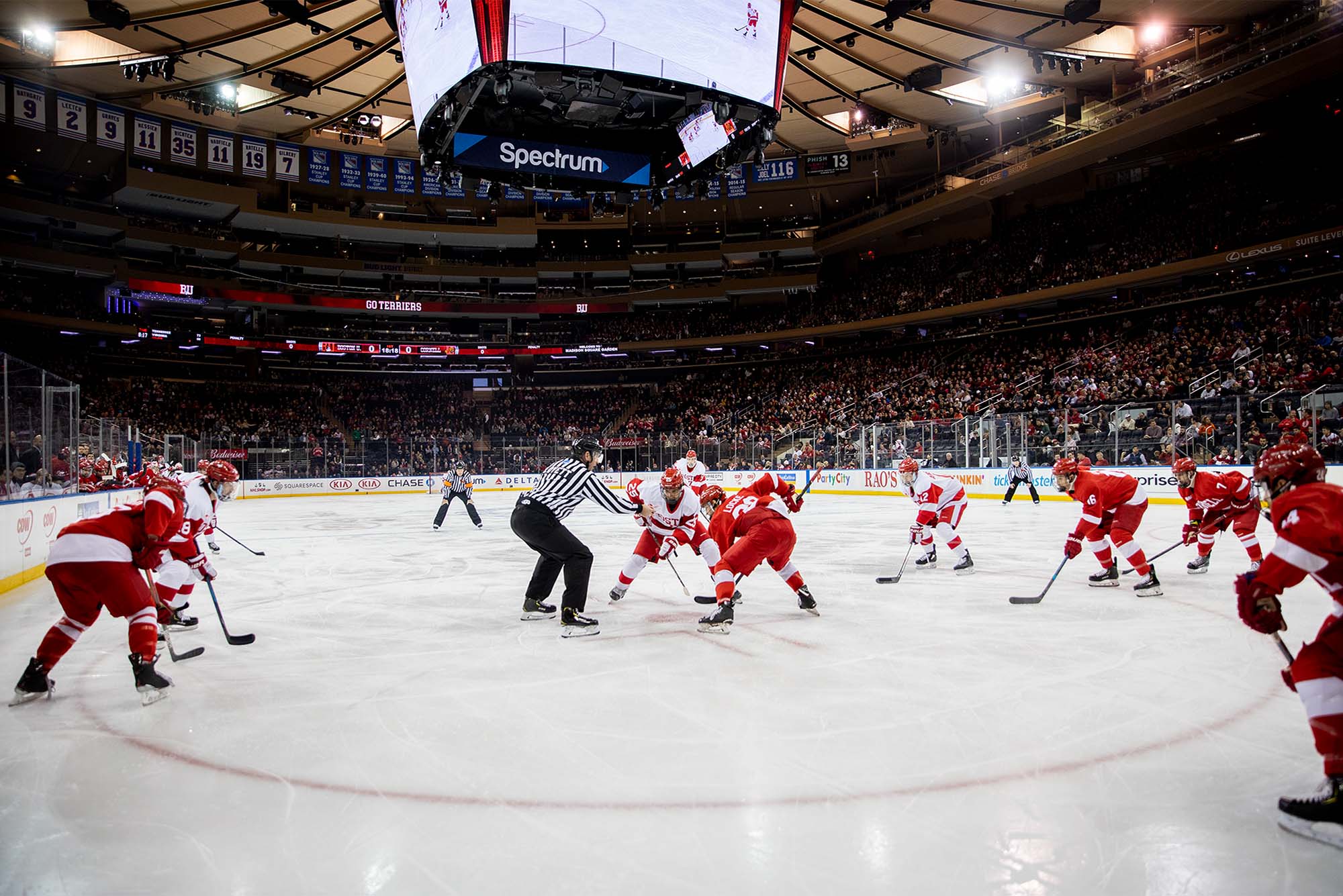 Varsity Sports
Red Hot Hockey: Terriers, Big Red Clash at Madison Square Garden This Weekend
BU to face off against Cornell Saturday in biennial series
The Big Apple's historic Madison Square Garden will be awash in scarlet this Saturday, November 27, when Red Hot Hockey, the biennial face-off between men's collegiate ice hockey rivals Boston University and Cornell, returns. 
"I've heard it's going to be a great crowd," says New York native Max Kaufman (SHA'22), Terrier assistant captain. "It's great seeing so many people come out and support college hockey teams in probably the most iconic arena in the world."
BU blueliner and New York Rangers fan Dom Fensore (SHA'23) played in the most recent edition of Red Hot Hockey, in 2019, when Cornell prevailed in front of more than 15,000 fans. "It was a lot of fun," Fensore says, and although the result didn't go BU's way, "I remember the crowd was going nuts. Going to Ranger games as a kid, playing on the Garden ice was a dream of mine. I was so excited to be there. It was pretty special."
Now, two years later, Fensore leads the Terriers with eight assists through the first 14 games, and is eager to make an impact under the Garden's bright lights. "Just being a junior now, there's a lot more confidence," he says. "Hopefully we win this time, and hopefully I get a goal."
Eight current BU skaters played in that game, so there will be plenty of like-minded Terriers aiming to draw even after the 2019 loss, BU's second consecutive defeat in the competition after winning three times and tying twice in the first five matchups with the Big Red. (This year marks the event's eighth iteration.) 
Cornell remains as formidable an opponent as ever, holding a 7-1 record thus far this season, while BU's stands at 4-8-2. "The record may not show it," Kaufman says, "but our state of mind, mood, and confidence level are the highest they've been all year. We're coming out, working really hard in practice, and learning how to play for each other—continuing on that right path is where we want to be."
The Terriers have taken ranked opponents to overtime in four consecutive games, twice against the University of Massachusetts and twice this past weekend against Northeastern.
Head coach Albie O'Connell (CAS'99) says the excitement of the Madison Square event is a win-win for both players and spectators. "It's a great opportunity for our guys and the fans," O'Connell says. "That sort of venue, and that game, and that stage—the guys will be ready to go for that, for sure."
Along with the chance to compete against a top-tier opponent, Red Hot Hockey gives players who have family in the New York metro area a chance to gather over the Thanksgiving weekend.
"I've got a lot of family and friends trying to make it to the game," Fensore says. "My grandparents don't get to see me play live a lot, so I think they're going to be there."
It's also an opportunity for alums around the area to come together and celebrate a storied BU tradition. The BU Alumni Association is hosting a pregame party for all Terriers at Stout NYC, a popular restaurant/bar less than a block from the arena, starting at 6 pm. Tickets to the event are sold separately from tickets to the game, which can be purchased online here.
The eighth installment of Red Hot Hockey begins at 8 pm on Saturday, November 27. All Madison Square Garden guests age 12 and older are required to provide proof of COVID-19 vaccination; vaccinated fans are not required to wear a mask at the arena. Fans at home can follow the action at @BUGameDay on Twitter. The game will also be streamed live online.