This BU Alum Might Have the Best Job in the World
TV & Film
This BU Alum Might Have the Best Job in the World
As cohost of Lucky Dog on CBS, Rashi Khanna Wiese (CAS'06) finds forever homes for LA's "unadoptable" shelter dogs
Rashi Khanna Wiese never had pets growing up. That's not so strange—until you consider her line of work.
As the new cohost of the CBS show Lucky Dog, the California-based former social worker makes a living rescuing shelter dogs on TV alongside her husband, Eric Wiese. The two also own and operate a dog boarding and training facility, Happy Puppy L.A., and are parents to five rescues (Winston, Archy, Rupert, Enzo, and Ella) who make frequent cameos on the show.
"I've always had an interest in animals," says Wiese (CAS'06), "but my family never had pets growing up. It wasn't until I met Eric and his shepherd, Archy, that I became interested in animal rehabilitation."
There's a story there, of course. Archy had been rescued from a dog-fighting ring in downtown LA and adopted by Eric, a longtime dog trainer. When she and Eric started dating, Wiese says, he and Archy were "kind of a pair." Because of Archy's trauma, he didn't trust humans; initially, Eric was the only person he would let get close to him. But after working with Eric, who practices and is certified in positive-reinforcement training, Archy overcame his fears to become a sweet, friendly pup.
After watching Archy's transformation, Wiese began rethinking her own career. She'd studied psychology at BU and had gone into social work. "Seeing Archy's resilience was very profound for me," she says. "I just fell in love with dogs, and I realized that I wanted to be an advocate for them and their welfare." She quit her job and joined Eric in his training and behavior-consultant business.
That was in 2014. A couple of years later, the couple—who married in July 2016—opened Happy Puppy L.A. They were in the process of expanding the facility when they were approached by the Lucky Dog producers. The longtime host was leaving the show: would they be interested in taking over?
They couldn't say no. But they considered it, Wiese acknowledges. Living in LA, Eric had received plenty of TV offers in the past, but there had always been a catch, like prioritizing drama over a dog's well-being. This time, however, the Wieses couldn't seem to find one: Lucky Dog—an educational, family-oriented show about rehabilitating and rehoming "unadoptable" shelter dogs—was exactly what it seemed.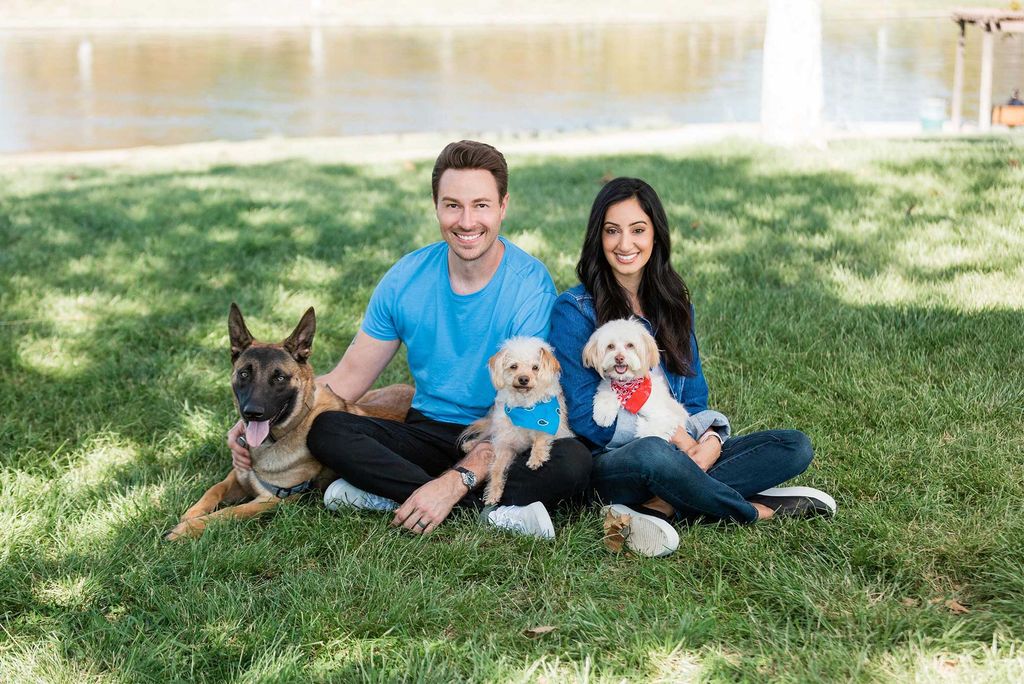 Plus, the producers loved the idea of a trainer and social worker husband-and-wife team. More important, they were on board with Eric's positive-reinforcement training—which was crucial, because using any other kind of training could cause Eric to lose his license. "Positive reinforcement training means we never do anything that physically or psychologically harms an animal; everything is reward-based with treats or praise," Wiese explains.
The Wieses took over for season eight, in 2020, and things are going smoothly. "I'm Eric Wiese, and this is my wife, Rashi," says the voiceover that plays at the beginning of each episode. "We've dedicated our lives to saving the lonely, unwanted dogs that are living without hope." (Cue B-roll of Eric on a motorcycle with a goggles-sporting mutt in the sidecar.) "Our mission is to make sure that these amazing animals find a purpose, a family, and a place to call home."
Lucky Dog's premise is straightforward. Every episode, the Wieses pick up their titular lucky pup from an LA-area shelter. After a visit to the vet, they head to the show's facility, Lucky Dog Ranch, where Eric works with the rescue on what he calls the six classic cues: sit, stay, down, come, leave it, and loose-leash walking. While the two of them are in training, Wiese puts on her caseworker hat and searches for the perfect adoptive family.
Finding the right match takes time. This is where Wiese uses her social-worker and psychology skills; as she interviews potential adopters, she finds out everything she can about their lifestyles and what they're looking for in a dog. Once she locks onto the right family or individual, she relays that information to Eric to work into his training.
For example, on a recent episode, Wiese matched a family of four with London, a sweet-but-shy hound mix. After finding out that the family's two young daughters loved to Rollerblade, Eric strapped on his own Rollerblades and headed to the boardwalk with London in tow to make sure she could handle the action. (Spoiler alert: she could, and the end of the episode featured an especially cute handoff to the little girls.)
Sometimes the training needs are more intensive. On another episode, a Bakersfield couple was searching for a companion for Lynnlee, their seven-year-old special needs daughter. They were looking for a dog on the smaller side, one who wouldn't disrupt the cords on Lynnlee's medical equipment. Enter Zoe, a young and cuddly Maltese-terrier mix Eric trained to lay down in her dog bed whenever she heard the "beep" of Lynnlee's feeding pump.
"It's like Zoe knew that Lynnlee was going to be her best friend," the girl's mom, Nicole, told the camera after Eric brought Zoe to them. "She was trying to jump out of [my husband's] arms trying to kiss all over her. [Lynnlee's] smiles were so big…it was an emotional moment, for sure."
Those kinds of matches keep the Wieses committed to their work.
"There's something about rescues that makes me feel like they're all one of a kind," says Wiese. "They each have a story and their own set of experiences, and they can go through trauma, just like humans do. Being able to help a dog that doesn't have a voice and give them a loving home—there's no feeling like it."