Audio Versions of Plays by Shakespeare and Tennessee Williams on Offer from Alum's Local Drama Company
Theatre
Audio Versions of Plays by Shakespeare and Tennessee Williams on Offer from Alum's Local Drama Company
Tickets on sale now for Psych Theatre Company's Macbeth and Cat on a Hot Time Roof 
"I believe, as a psychologist, that technology and immediate gratification and all the stimulation that we get have taken away from our ability to fantasize, to use our imaginations," Wendy Lippe says. "A radio drama encourages people to use their imagination while they listen."
A clinical psychologist with offices in Brookline and Cambridge, Lippe (GRS'93,'96) says she's been busier than ever during the pandemic. She is also producing artistic director of the decade-old nonprofit Psych Drama Company. Last year, the company had planned to stage James Goldman's The Lion in Winter, but then COVID came along and they turned it into an audio-only "radio play" last December.
"It went fantastic, we got really good reviews, and we thought, this is kind of cool," Lippe says. "We never thought we'd really enjoy doing audio dramas, but we did, and we don't know how long COVID is going to be here, so let's keep going."
So this month Psych is debuting audio versions of two classic plays that have more than a little psychology: William Shakespeare's Macbeth and Tennessee Williams' Cat on a Hot Tin Roof. "Both Shakespeare and Tennessee Williams—in their own different forms of poetry—write beautifully about the human condition, and that's what the Psych Drama Company is about," Lippe says.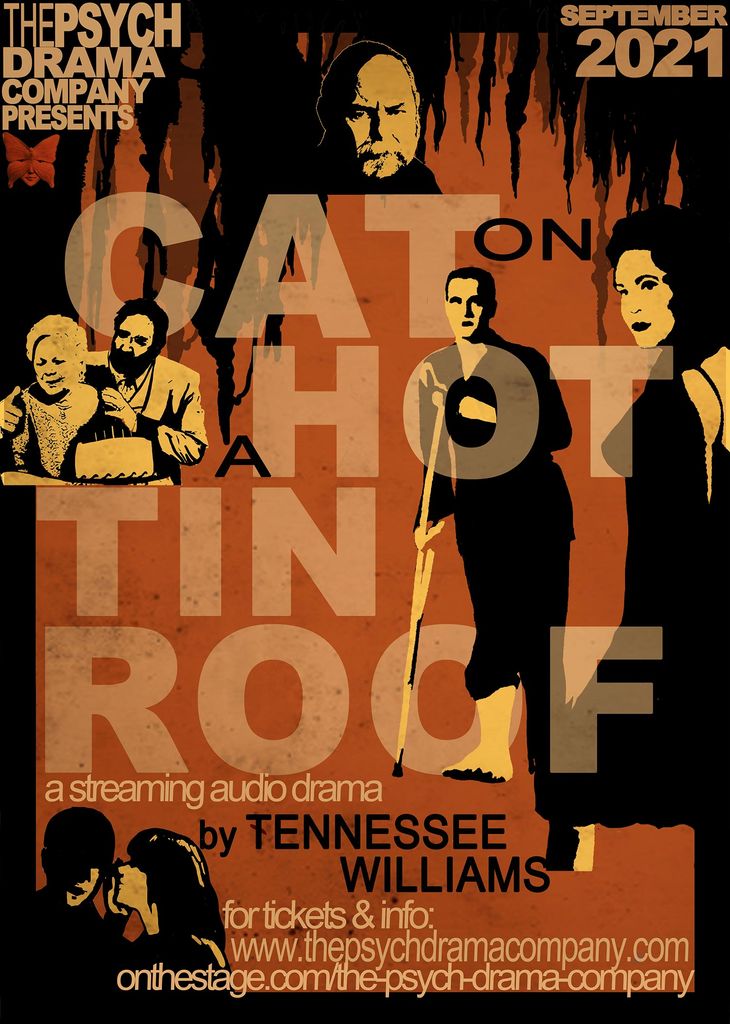 Shakespeare's tragedy, believed to have first been produced in 1606, tells of the bloody ambition of the Scottish general Macbeth and his wife, Lady Macbeth, to ascend to the Scottish throne, what they do to achieve their goal, and the price they pay. The Psych version "is all Shakespeare's language, but reimagined to delve even deeper into the psyches of Macbeth and Lady Macbeth," says Lippe, who cut the play to run about 75 minutes, plus intermission.
Williams won the Pulitzer Prize for drama for Cat, first produced in 1955, which traces one long evening in the life of a wealthy, deeply dysfunctional Mississippi cotton-growing family, chief among them the dying patriarch Big Daddy, his son Brick, and Brick's wife, known as "Maggie the Cat." Asked why Cat, Lippe laughs. All Williams plays are "just chock-full of psychological richness and themes, and the writing is deeply psychological and poetic at the same time," she says.
"We didn't think we were going to get the rights," she adds. "Many of the major American playwrights and/or their estates were just not giving virtual rights. And it fell into our laps. So we decided, let's do two! We were rehearsing both at the same time."
And both feature women who want to stir their men to action in one way or another. Lippe plays both Lady Macbeth and Maggie the Cat. A psychological nexus? "That is so brilliantly insightful," she says, laughing. "Even though consciously I'm aware of that, I had not put it together for myself. I'll have to think about that."
Most of the others involved in the project are local theater veterans. Macbeth, directed by Lippe, stars Mark Prokes as Macbeth and Michael Blunt as Banquo. Directed by Larry Segel, Cat's stars are Eric McGowan as Brick and David Lee Vincent as Big Daddy, also experienced local actors.
In her private practice, Lippe uses both cognitive therapy and psychodynamic psychotherapy. From 2000 to 2019, she was an adjunct faculty member or a visiting researcher at the BU Center for Anxiety & Related Disorders, but basically functioned as a clinical supervisor for students in the clinical psychology doctoral program, she says. She stopped teaching in 2019, because the time demands were simply too much on top of her private practice and the theater company, but now she consults as needed and gives guest lectures in the psychological and brain sciences department.
The two new productions are not script readings, but fully rehearsed audio dramas that were each in rehearsal for over three months prior to being recorded in August.
"I couldn't believe Macbeth was written after Hamlet, which is his masterpiece in the creation of the inner landscape of the human psyche, of the internality of the characters," Lippe says. "I've been struck by the two-dimensionality of Macbeth and Lady Macbeth in comparison. As a psychologist, I felt they were not as fleshed-out in terms of their internal landscape. What I wanted to do in my adaptation was experiment with ways of creating more internal conflict for them using just Shakespeare's text." She uses sound design and fragments of the text to give viewers what she hopes is an expanded insight into their internal struggles.
The two new shows also include some "really cool collaborations," she says. Traveling in Croatia to attend a workshop a year before COVID, Lippe met theater-focused musician and composer Zarko Dragojevic, of Audiovisual Center Dubrovnik, who was a workshop copresenter. The two wanted to collaborate, and then pandemic life on Zoom made it seem more sensible to work together long distance. "I said we're doing virtual theater, doing these audio dramas now; what are you doing?" she says. "And he said, 'Not much of anything. We're also in a bind. Maybe this is the time to collaborate.'"
He provided an original score and "soundscape" for Psych's production of Macbeth, which also features sound design by Zachary McConnell, who plays Duncan and Malcolm and provides narration. Macbeth also includes a streaming art exhibition by Nick Morse, of Boston's ArtLifting organization, during intermission. (That's his art on the Macbeth poster.)
Lippe was so moved by the struggles all of these artists faced during the pandemic that this production will have profit-sharing, she says, after Psych covers its costs.
The Psych troupe is also planning live performances of The Lion in Winter in November, venue TBA. Arrangements are still under discussion, but the troupe is already rehearsing. Performing for a live audience again, Lippe says, she will feel "fully alive, exhilarated, like I'm home again. My eyes are filling up with tears thinking about it."
Tickets are on sale now for Macbeth and Cat on a Hot Tin Roof, via OnTheStage.com. You can activate your ticket for any 24-hour period between September 10 and 24 for Macbeth and September 11 and 25 for Cat. Once you activate your link, you have 24 hours to watch it. Any profits from these ticket sales will go directly to the artists involved in the productions. Individual tickets are $30 and family tickets are $40, on the honor system. "People know artists have been underemployed and unemployed and we trust people will be honest," Lippe says.