POV: With Chauvin Found Guilty, "We Must Keep Our Eyes on the Prize"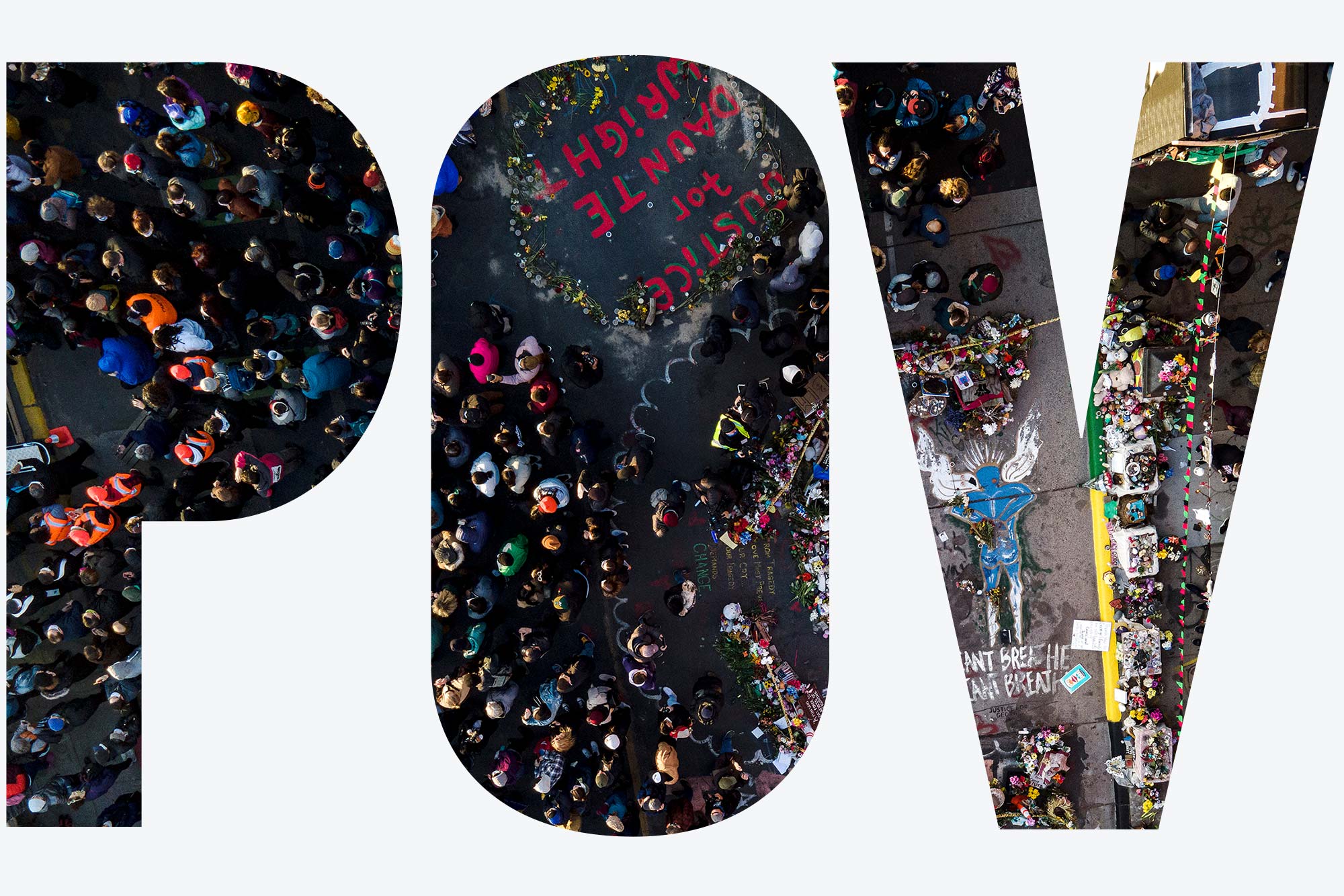 Voices & Opinion
POV: With Chauvin Found Guilty, "We Must Keep Our Eyes on the Prize"
Andrea Taylor, BU's senior diversity officer, says the verdict is not the end of the journey—it's the beginning
Once again, the nation has been forced to look into "the face of history" during the trial of Derek Chauvin, the former Minneapolis police officer found guilty Tuesday on all three counts of murder by a jury of his peers. This is good news after decades of racial injustice resulting in the wrongful deaths of countless Black men, women, and children by law enforcement officers who have not been held accountable. Indeed, it's the first conviction of an officer in Minnesota under these circumstances.
Let's be clear, though. This is a bittersweet moment. I, like many others in this country and around the world, had been riveted by the trial.
The decision, made by the diverse group of seven women and five men in the Hennepin County Courthouse, will not bring George Floyd, who was 46 when he died, back to his family, friends, and community. Neither will it change the reality of the profound losses endured by the families of Daunte Wright—killed by police four days ago in a nearby town, Breonna Taylor, Ahmaud Arbery, Philando Castile, Eric Garner, Michael Brown, Trayvon Martin, Tamir Rice, and many, many other Black and brown people who also did not survive encounters with law enforcement officials who were not convicted and/or held accountable for their crimes.
However, in a moving statement in Minneapolis Tuesday by Floyd's brother following the conviction, he declared: "Justice for George Floyd means freedom for all. We can't bring him back, but we can make a difference." This was his message to the crowds that gathered in George Floyd Square to celebrate the victory. Tears of joy and powerful emotions were distinctly detected among many of the speakers, who also included local and national community leaders, statewide elected officials, and ultimately a televised statement from the nation's capital by Vice President Kamala Harris and President Joe Biden, who had pledged his support of police reform during the election campaign.
Vice President Harris, an early proponent of the George Floyd Justice in Policing Act while she was a US senator, urged passage of the Act Tuesday, making it clear that this is not just an issue for people of color, but a problem for every American. She warned that it's keeping us from fulfilling the promise of liberty and justice for all and holding us back from realizing our full potential.
The George Floyd Justice in Policing Act of 2020 has broad support from leading civil rights and social justice organizations and individuals, including survivors of victims. It passed the House of Representatives by a bipartisan vote of 236 to 181 on June 25, 2020—the first-ever bold, comprehensive approach "to hold police accountable and change the culture of law enforcement, empower our communities, build trust between law enforcement and our communities by addressing systemic racism and bias."
---

Most informed observers, community organizers, and changemakers recognize that there's a lot more work to be done.

---
Amidst the celebration of yesterday's victory, the central question remains: where do we go from here?
The whole world was watching this trial and awaiting a verdict that they hoped would recognize the injustice that occurred on May 25, 2020, when George Floyd's life was snuffed out in front of eyewitnesses, young and old, black and white. Indeed, this horrific event became a global tragedy amidst a pandemic, due to COVID-19, that heightened awareness of racial, economic, and health inequities at home and abroad.
Jerry Blackwell, prosecuting attorney, cited two contributing factors surrounding the trial: first, "justice by video" that documented the reality of the case that was captured by a civilian witness. Second, the fact that the quarantine "trapped everyone into reality."
Where does the community go from here? Amid all the celebration and the collective sigh of relief that the jurors' decision may have avoided the inevitable burning, looting, and potential violence in the Twin Cities and across the nation, and perhaps around the world, what comes next is the central question. Realistically, most informed observers, community organizers, and changemakers recognize that there's a lot more work to be done. Black Lives Matter and other civil and human rights groups, as well as youth and adults in many parts of the globe, played a key role in maintaining the visibility of the issue with protests and rallies.
Amidst the celebration of yesterday's victory, we must keep our "eyes on the prize" and demonstrate a commitment to addressing systemic racism, eliminating bias, and creating a future that fulfills the promise of liberty and justice for all.
I want to close with a salute and thanks to Darnella Frazier, the teenager who used her cell phone to record George Floyd's arrest in front of Cup Foods in Minnesota. Although she was initially harassed online and criticized for filming the video and not intervening, it's widely believed that the ex-officer may never have been prosecuted without her footage. Though she testified in the trial about the guilt she lives with, saying, "It's been nights I stayed up apologizing and apologizing to George Floyd for not doing more," she is largely being hailed as a hero for making sure Derek Chauvin's actions did not go unpunished. The nation is indebted to her foresight in using the tools of technology to capture this horrific moment, and upon receiving the news about Tuesday's verdict, she exclaimed:
"George Floyd, we did it!! Justice has been served."