POV: What We Need to Do to End Anti-Asian Racism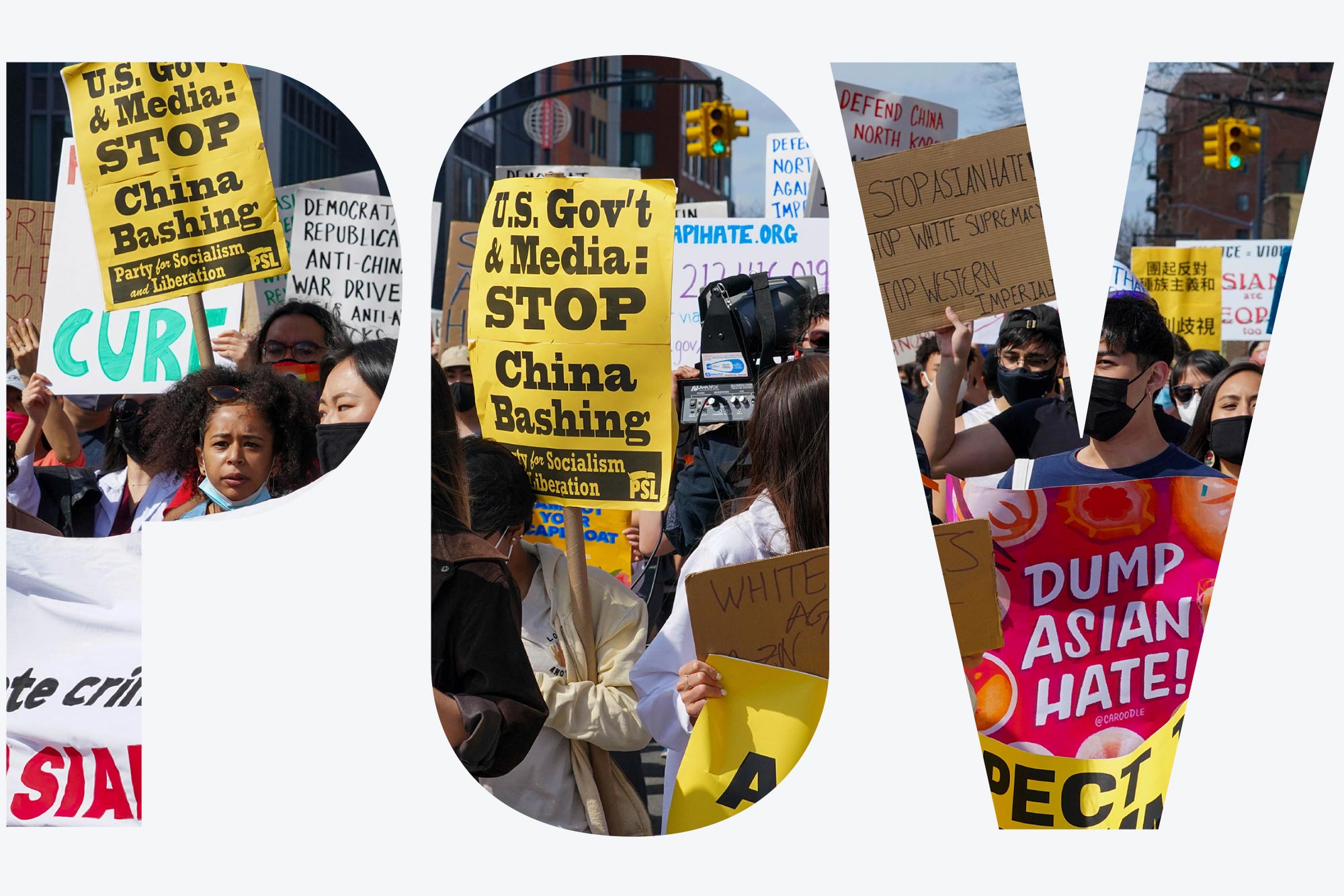 Voices & Opinion
POV: What We Need to Do to End Anti-Asian Racism
How to build 미국 (美國), a beautiful America
"America" in Korean is written as 미국 (Miguk), based on two Chinese characters. Mi (美) means beauty and guk (國) means country. When put together, America becomes a "beautiful country."
Growing up in Seoul, South Korea, I had a fantasy about America. I imagined a beautiful country with charming people and captivating economic opportunities—the land of democracy, justice, and equity.
The COVID-19 pandemic, however, has revealed the ugly side of America. People of Asian descent have been subjected to surges in overt racism since the health crisis began: dehumanizing racial slurs and jokes, references to the "Chinese virus," verbal harassment, shunning, spitting, workplace discrimination, and violence. According to my recent research, nearly 70 percent of Asian American young adults surveyed reported that they or their family members have experienced COVID-19–related discrimination. Disturbingly, 15 percent reported verbal or physical assault within the first three months of the pandemic.
On March 16, six women of Asian descent were killed when a man went on a shooting rampage at three spas in Atlanta, taking the lives of eight people and instilling fear in every Asian community across the country. Hate crimes against Asians continue to be on the rise globally, and the lack of acknowledgement of such heinous acts has resulted in a continual escalation of these racially charged crimes. 
Unfortunately, anti-Asian racism is not new. From the Chinese Exclusion acts and Japanese internment camps during World War II to the Yellow Peril and "model minority" stereotypes, Asian Americans have faced a "perpetual foreignness," feeling unwelcome in their own country. These biases and stereotypes have been reinvigorated as a result of the vitriol of the previous presidential administration.
Regardless of how long they have lived in America, those of Asian descent are often perceived as foreigners who are unfamiliar with American language or culture. This false perception has hindered the development of a healthy racial identity for many Asian Americans, making many feel like an invisible minority. Asian Americans will continue to silently suffer this "race trap" of ongoing prejudice and racial discrimination if we fail to take action.
The Boston Globe reported findings from an online survey of 2,766 American adults published earlier this month by Leading Asian Americans to Unite for Change (LAAUNCH). Despite the surge in news reports of anti-Asian violence during the past year, 37 percent of white Americans, 30 percent of Black Americans, and 24 percent of Hispanic Americans reported that they were unaware of the increase in assaults, hate crimes, or other forms of racism against Asian Americans. The LAAUNCH survey also found that less than one in 4 Asian Americans feel respected in this country. Meanwhile, close to one in 4 white Americans do not believe that anti-Asian racism is a significant enough problem to be addressed. Equally telling, that same survey revealed that when asked to name a well-known Asian American, the most common answer among participants was "Don't know" (42 percent). 
In order to put an end to the perception of Asian Americans as "perpetual foreigners," we first must do more to encourage and empower Asian communities to build solidarity within the community. Despite enormous efforts to strengthen ethnic identity, building solidarity among Asian Americans has been challenging due to vast cultural, linguistic, and historical diversity. Additionally, of all races, Asians are among the most diverse in terms of socioeconomic status. By promoting a Pan-Asian mentality, a collective power can be built and economic and political visibility will be created.

Asian Americans need better visibility in vocalizing support for civil rights movements such as Black Lives Matter. Supporting other communities of color in their fights for justice will help dismantle a common adversary: white supremacy.

Sharing Asian American voices in movements for change is critically important, especially for the more than half of the Asian American population who are immigrants. While attending town halls, city council hearings, and parent teacher organization meetings may be considered nonessential activities, these time investments are necessary for Asian visibility and representation. 
Education policy must be reformed to incorporate Asian American history in grade school curricula in order to prevent future implicit bias and prejudices. It is critical to start early to educate individuals on the richness, diversity, and complexity of Asian American history, examining the lived experiences of immigrants and their contributions to American society. Teaching about the diversity within Asian American communities will also help dispel pervasive "model minority" stereotypes. The insidious and inaccurate model minority stereotypes assume that all Asian Amerians are wealthy, living the American dream, and free from mental health problems—which is far from the truth.  
The model minority myth has contributed to an inequitable allocation of resources for Asians in research and social services. For the last 26 years, the National Institutes of Health has spent less than 0.2 percent of its total budget for clinical research on Asian Americans, Native Hawaiians, and Pacific Islanders, despite Asian Americans being the fastest growing population in the United States. In 2017, although the Asian population comprised 13.5 percent of the population in New York City, Asian American organizations were granted only 1.4 percent of total spending for social service contracts. These monetary inequities prevent Asian communities from having the opportunity to improve their health and quality of life.   

Even now, young Asian Americans continue to deal with poor mental health status. According to a Health and Human Services report in 2019, Asian American adolescent girls in grades 9 to 12 were 20 percent more likely to attempt suicide compared to white females. Compared to all other racial groups, young adult Asian American women (ages 20 to 24) had the highest proportion of deaths caused by suicide (27.8 percent). Despite this overwhelming mental health crisis among young Asian Americans, their mental health utilization rate is the lowest compared to other racial groups. A big and bold step to reduce health disparities and improve mental health among Asian Americans is urgently needed.
Last week, President Biden signed a bill addressing the widespread increase in violence against Asian Americans. This bill aims to create a position at the Justice Department to accelerate investigation of hate crimes and promote multi-language services to make it easier to report incidents of violence against Asians. In order to further reduce unconscious bias and prejudice against Asians, officers will be trained and educational campaigns for the public developed. This bipartisan law is an important first step in acknowledging that crimes against Asian Americans are crimes against Americans. It carries the message that Americans should no longer be silent and apathetic.
My hope for the future is that through these actions, the cycle of anti-Asian discrimination will end, and we can together build a more unified Miguk (미국, 美國)—a beautiful country that we all dreamed of for its democracy, justice, and equity.
Hyeouk "Chris" Hahm is a School of Social Work professor and chair of social research; she can be reached at hahm@bu.edu.