Patriot League Favorite BU Men's Basketball Opens at Home Today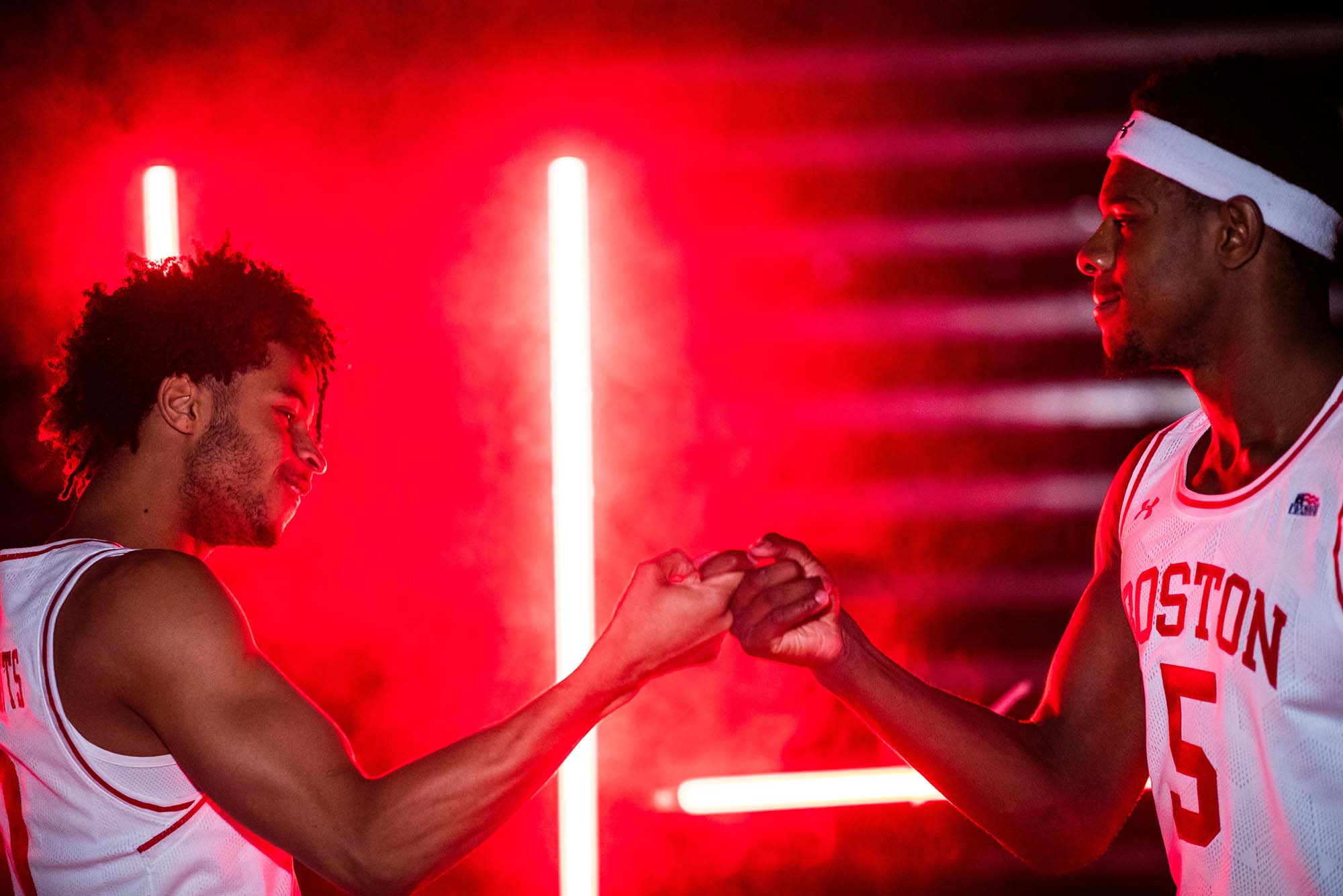 Varsity Sports
Patriot League Favorite BU Men's Basketball Opens at Home Today
Terriers top league for second year in a row
When the 2020-2021 COVID-shortened college basketball season ended last spring, the NCAA gave graduating student-athletes the chance to play another year (if accepted into a grad school program), at either the same school or another one.
Graduating Terriers Javante McCoy (Questrom'21, SHA'22) and Sukhmail Mathon (CAS'21, Wheelock'22) had a decision to make.
"We all talked about it," McCoy says. "We all talked about how special of a team we have."
McCoy and Mathon ultimately decided to return to BU after graduation and play a fifth season, reuniting with a 17-man roster that boasts 11 upperclassmen, the second-most in the Patriot League this season.
"We really enjoy each other," McCoy says. "We enjoy being around each other. We really care about each other. That type of chemistry and that type of atmosphere goes a long way."
The two were juniors when BU upset Colgate 64-61 on the road to win the Patriot League Championship in 2020. Hours later, the national tournament was canceled by the onset of COVID-19, depriving the Terriers of their much-anticipated opportunity to participate in March Madness.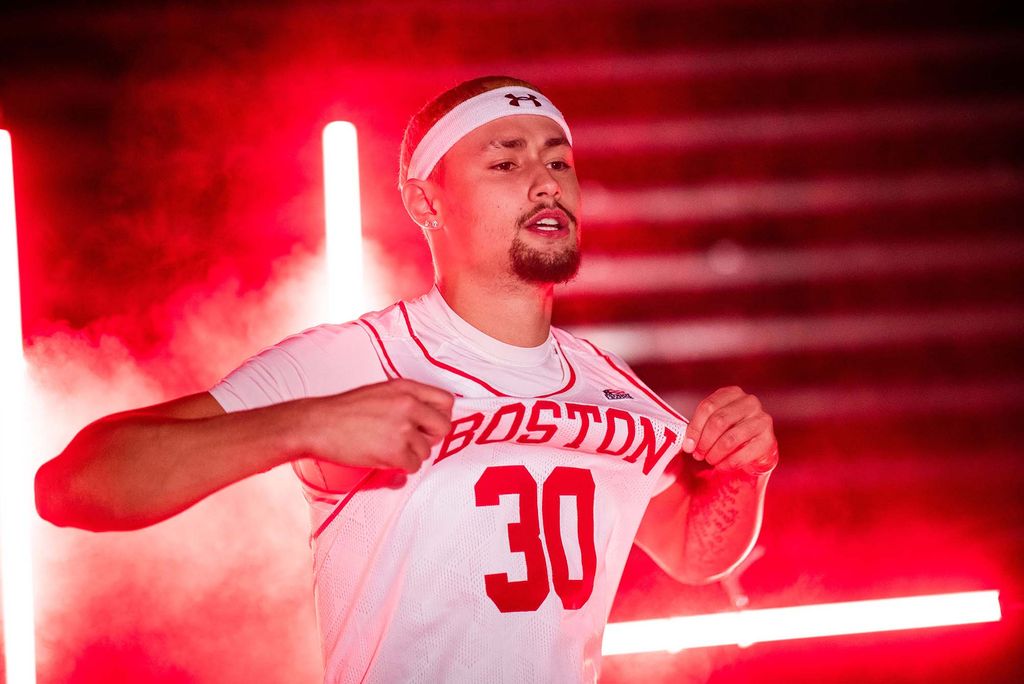 The pandemic's effects continued into last year's truncated season, which didn't launch until January. When it finally began, it didn't look like any other season: Patriot League teams were split into mini-conferences, meaning BU played just 18 games against only five unique opponents, wrapping up quietly with a 77-69 defeat at Colgate in the quarterfinals.
"I knew how strong of a team we were, and just how the season ended last year and the year before that," McCoy says. "I definitely didn't want to go out like that."
McCoy was voted Patriot League Preseason Player of the Year last month, and Mathon was named to the All-Conference Defensive Team last year. As the duo prepare to chase another trophy—this season's home opener is tonight, Friday, November 12—head coach Joe Jones says the team is rallying around them.
"I think those guys have both taken a step in terms of leadership," Jones says. "They've done a good job of leading by example, and also being vocal."
When the Terriers tipped off their new campaign at the University of Rhode Island on November 9, McCoy, Mathon, Walter Whyte (CAS'20, SPH'22), and Jonas Harper (CAS'22) claimed their usual spots in the starting lineup. All four Terriers started at least 15 games last season and led the team in points. 
Jones says he wants to build the team around his stars. "Those guys are really vital to our success," he says, "but I really think the development of our bench is going to play a key factor in our success this year."
Two BU newcomers who could make an impact are USC Upstate transfer Nevin Zink (Questrom'23) and Malcolm Chimezie (CAS'25), the lone freshman on the roster. Both made their Terrier debut in the 71-62 defeat at URI.
"Both guys are very tough, physical, competitive kids that give us an attitude in the paint, which has been good," Jones says. "Both guys compete really hard, and I think that will really help us."
Other Terriers to watch: Ethan Brittain-Watts (CAS'23), Fletcher Tynen (COM'22), and Garrett Pascoe (Questrom'21, COM'23)—all have appeared in the BU starting lineup before and entered off the bench in the URI game.
"It's good to have an experienced team." Brittain-Watts says. "It definitely helps us whenever adversity hits because we've all been there."
People around the Patriot League obviously believe in the Terriers. BU ranked top in the conference's preseason poll for the second year in a row, one vote ahead of reigning champion Colgate. McCoy and Whyte were the only teammates on the Preseason All-League Team.
With high expectations for the team and the clock ticking for the veteran-heavy lineup, Jones says his players are eager to rise to the occasion.
"I think our guys are motivated more than ever to have success this year as a team."
The Terriers play their home opener at Case Gym tonight, November 12,  at 5 pm, against Gordon College; nonconference action continues until Patriot League play begins in January. Tickets are free for students with a sports pass, $5 for students without a sports pass, $7 for faculty and staff, and $12 for the general public. Note: fans attending games at Case Gym and any other BU indoor venue are required to wear masks and must show proof of vaccination or of a negative COVID test within the last 72 hours. All home games and conference contests can be streamed on ESPN+, and fans can keep up with BU on GoTerriers.com and @TerrierMBB on Twitter.