One of the Last Surviving Tuskegee Airmen on Being Part of Famous All-Black Air Squadron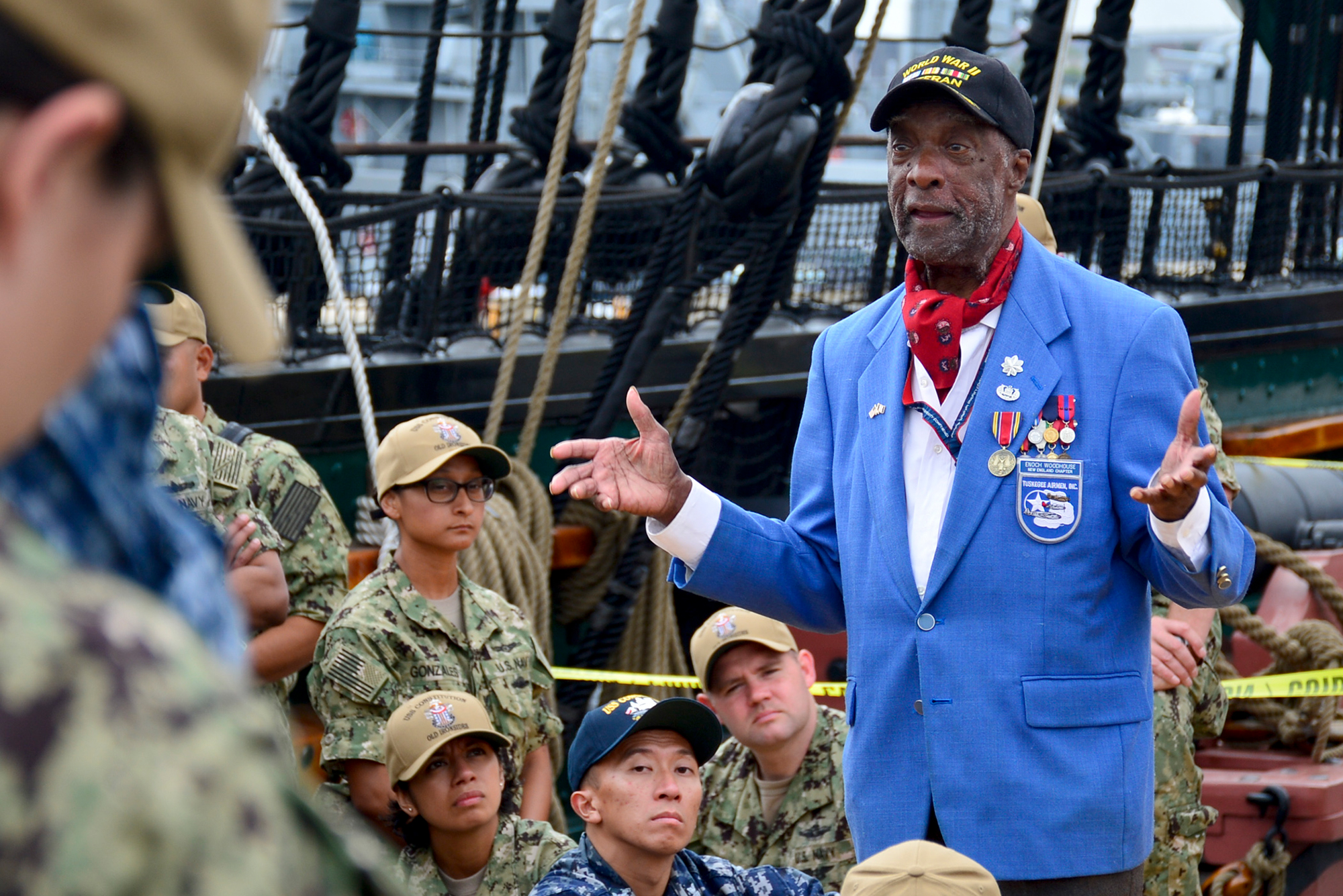 History
One of the Last Surviving Tuskegee Airmen on Being Part of Famous All-Black Air Squadron
"Local guy" Enoch Woodhouse II (LAW'55) shares memories, discusses racism he encountered during World War II
Lieutenant Colonel Enoch Woodhouse can still recall how he would greet another Black soldier during his days in uniform during World War II: two fingers held up, raised in a V. It stood for "Double Victory"—victory over fascism and victory over racism in America, he says.
Woodhouse (LAW'55) is one of the last surviving Tuskegee Airmen, America's first all-Black combat flying unit, which flew during World War II. Unit members weren't even allowed to be trained alongside white soldiers. Now 94 and living in the Boston area, Woodhouse was raised in Roxbury and was encouraged to serve in the military by his mother following the 1941 attack on Pearl Harbor. He enlisted in the US Army Air Corps in 1944, at the age of 17, later serving as finance officer (also called a paymaster) for the Tuskegee Airmen from 1946 to 1948. Woodhouse and the Tuskegee Airmen played a pivotal role in the early integration of the US Armed Forces.
"Blacks were told, and it was publicized, that they lacked intelligence," says Woodhouse, who says he still keeps in touch with his fellow Tuskegee Airmen. "We were thought to be skilled for and were utilized only in support positions. That means truck drivers, laundry people, oil fillers for airplanes. Even though we were trained in basic training, when we got into the army, we were all relegated to service functions."
That changed with the Tuskegee Airmen. Black soldiers trained as aviators under segregated conditions in Tuskegee, Ala., during World War II and proved themselves among the most accomplished pilots in the US Army Air Forces during missions in Sicily, Normandy, the Rhineland, and elsewhere in Europe. Their distinguished record played a huge role in President Harry Truman's decision in 1948 to end discrimination in the military.
Woodhouse describes himself as a "local guy" who grew up in nearby Mission Hill in a family of Black preachers. Religion "our family business," he says. After graduating from Boston's English High School in 1944, he enlisted in the Army with about 20 of his classmates. His brother became one of the first Black Marines at Montford Point Camp in North Carolina.
Woodhouse was commissioned as a second lieutenant two years later (he was too young to fight in the war) and eventually became the Tuskegee Airmen's paymaster, meaning it was his job to dole out paychecks. "I had the most important job on base," he says. "You didn't write checks out, you paid in cash. Everybody knew me."
While in officer training school at Sheppard Field in Wichita Falls, Tex., he recalls a formative experience, one he never forgot. He was waiting to be seated for dinner one day, when he saw patrons coming in and out of the dining hall. He estimates he waited 40 minutes. "And, of course, I don't see any Blacks," he says. He asked the waiter, who was also Black, where everyone was. "And the reason why I didn't see any Blacks was there were no Black officers on the base."
Eventually, the white maître d' was called over and told Woodhouse that while he could eat in the dining hall, he would need to do so with a screen blocking him off from the rest of the room.
"But you know, I couldn't eat that steak, I just couldn't," Woodhouse says. Instead, he ate at the snack bar, surviving on hot dogs, milkshakes, and hamburgers for eight weeks. And he said that it stung that his classmates didn't ask why he wasn't dining with them.
"I was one of the youngest officers on the base," he recalls, when asked why he didn't become an airman overseas. "I was scheduled for flight training, but after passing the exams, they were terminating all training because the training was nine months."
When discharged from active duty in the Army Air Corps in 1949, he joined the Air Force Reserve. While a reservist, Woodhouse earned his undergraduate degree from Yale in 1952 and then went on to BU School of Law. He worked as a trial lawyer in private practice in Boston and as an attorney in the US State Department and for the city of Boston for more than 40 years.
In recent years, Woodhouse has spoken extensively about his experience with the Tuskegee Airmen and about the nation's current racism.
His military service has earned him numerous awards, most notably the Congressional Gold Medal, the highest honor bestowed by the US Congress on individuals or institutions for distinguished achievements and contributions. He and the other Tuskegee Airmen received the medal from President George W. Bush in 2006.
"I would like to offer a gesture to help atone for all the unreturned salutes and unforgivable indignities," Bush said during the ceremony. "And so on behalf of the office I hold, and a country that honors you, I salute you for the service to the United States of America."
Woodhouse says that despite civil rights gains made during his lifetime, he thinks that "racism in America will never die."
"We still do not have civil rights, the voting rights intact," he says. "Our voting rights for federal elections are still in jeopardy. They moved the mailboxes on us, we have long lines to vote. We're still challenging."