NFL's Carl Nassib Comes Out: A Watershed Moment for Pro Sports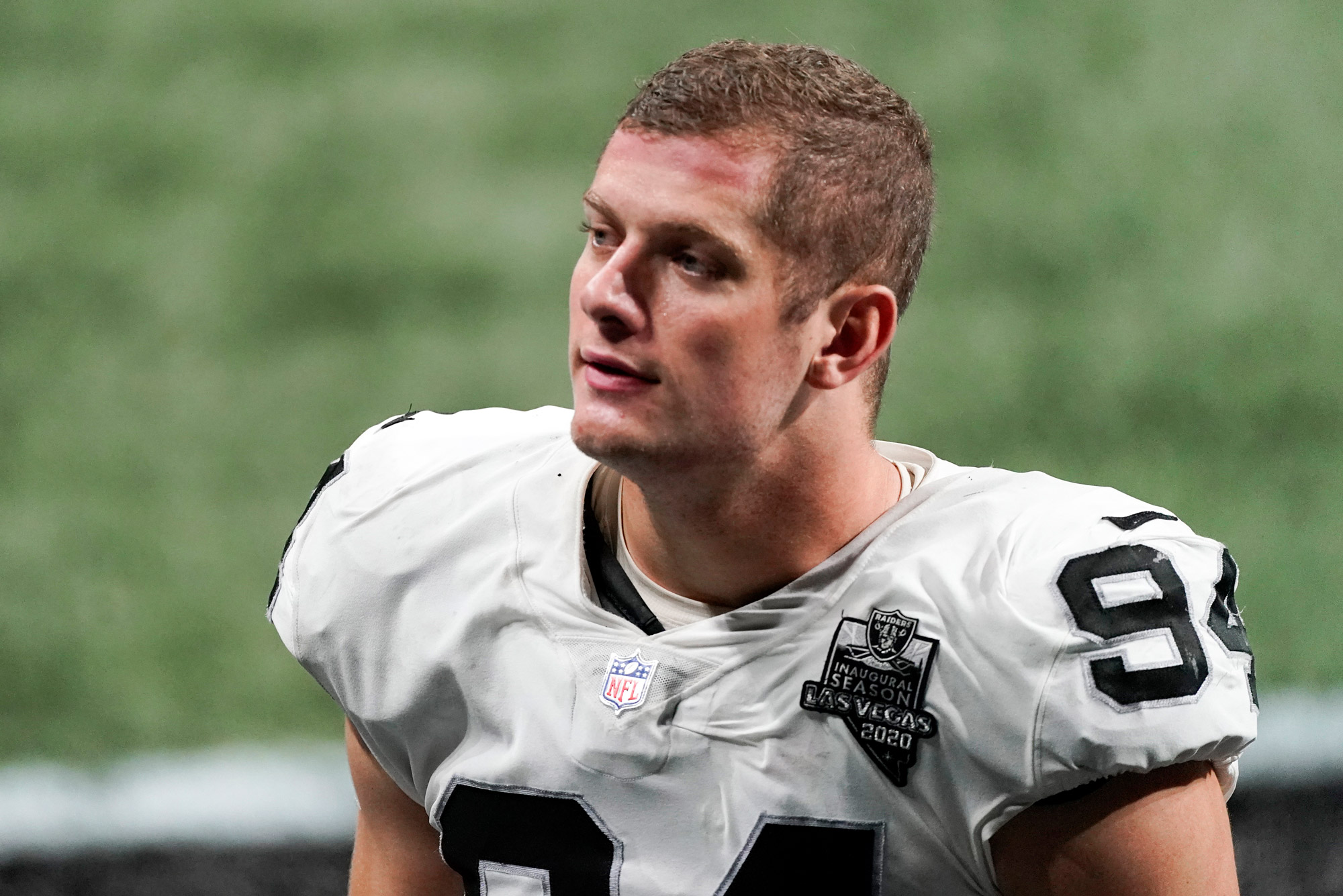 National Sports
NFL's Carl Nassib Comes Out: A Watershed Moment for Pro Sports
Wheelock's John McCarthy on the significance of the announcement by Raiders defensive lineman
With one casual, 59-second video posted to his Instagram account, well-respected Las Vegas Raiders defensive lineman Carl Nassib made LGBTQ+ history as the first active NFL player to announce that he was gay.
"I've been meaning to do this for a while," the 28-year-old, who joined the NFL five years ago, said in his June 21 video. He said that for 15 years he had agonized over coming out publicly: "I finally feel comfortable enough to get it off my chest." In his post, he thanked the NFL, his coaches, and his colleagues in the league for their support and acceptance, and noted the many people who came before him, who, he said, "paved the way for me to have this opportunity." He went on to say, "I actually hope that one day, videos like this and the whole coming out process are not necessary." Nassib also announced his desire to "cultivate a culture that's accepting and compassionate."
Nassib's announcement was met with words of support from the Raiders, the NFL, and current and former players. "Representation matters. We share his hope that someday soon statements like his will no longer be newsworthy as we march toward full equality for the LGBTQ+ community," said Roger Goodell, NFL commissioner.
BU Today spoke about Nassib with John McCarthy, a Wheelock College of Education & Human Development clinical associate professor and director of BU's Institute for Athletic Coach Education. McCarthy oversees the coaching specialization in the Physical, Education, Health, and Coaching graduate program. He spent 15 years coaching at the high school and college levels and was regional coordinator for the NFL's Coaching Academy Program.
BU Today: Do you support the idea of athletes making this sort of announcement? Do you think there's a risk that making it into a news story makes it seem like they were living a secret life?
John McCarthy: Any person trailblazing will encounter hate and ignorance. But they must follow their own conscience. As Nassib noted in his announcement, he wishes that it will not be necessary in the future.
Of the four major professional sports—baseball, basketball, hockey, and football—is there any special significance to Nassib being an NFL player?
The NFL is one of the most financially successful and powerful sport institutions in the world, and it holds a tremendous platform to shape cultural norms. In the hypermasculine culture of the NFL, Nassib's announcement offers an enormous opportunity for coaches, players, and management to be more accepting and move away from homophobia. The NFL has recently made progress, providing a more inclusive and supportive environment for those players who have historically been marginalized. Their more recent embracing of #BlackLivesMatter (the league announced last June, following the death of George Floyd, that it would commit $250 million over the next decade to a fund to combat systemic racism) demonstrates a growing willingness to embrace thorny, persistent issues that have long been ignored.
How has the NFL changed in recent years to make Nassib comfortable now? If anything, the political climate today seems so charged.
Michael Sam was a previously openly gay player who was drafted, but did not end up making the NFL. It was only a matter of time that others would come out and come forward in the discussion. What remains to be seen is how the Raiders and the fans and the league will treat Nassib moving forward. Will they accept and support him or shun him? When he comes out to the field will people boo him? Will they pay him less?
What impact do you think Nassib's announcement will have on young gay football players and other gay teenage athletes contemplating a career in professional sports?
If there are young players out there that have NFL aspirations, Carl Nassib may be a sign of possibility and hope for them.