Supporting Those Who Support Students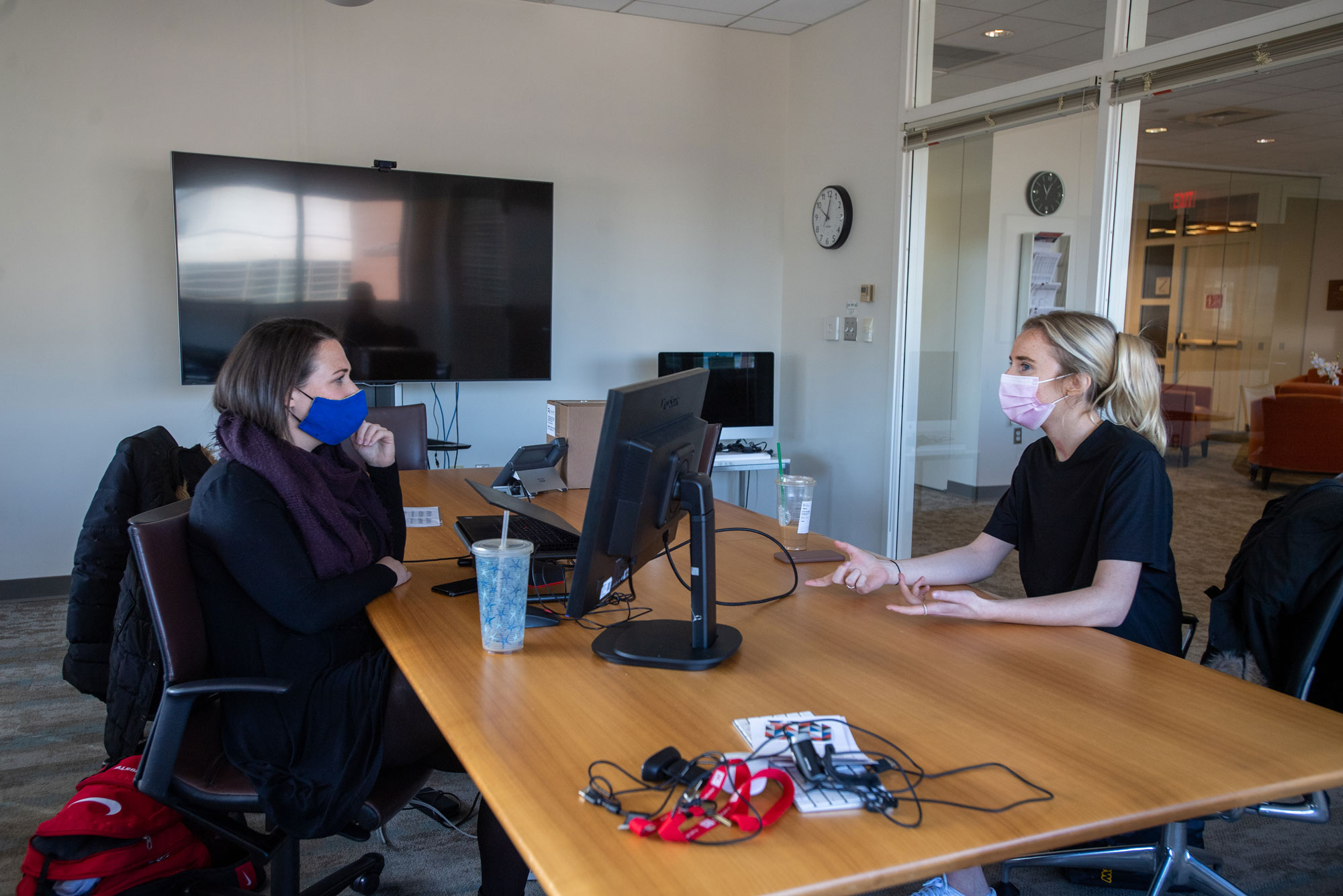 Wellness
Supporting Those Who Support Students
New wellness series offers resilience training for academic advisors
Academic advisors need help remaining resilient just like the students they help, especially during the pandemic.
One of the most difficult parts of being an advisor "is having really hard conversations with students about challenges we can't fix," says Taryn Andrea, a College of Arts & Sciences advisor.
Challenges such as losing a loved one and not being able to have services or grieve together with family. Dealing with a new role at home, like helping younger siblings with remote schooling while also trying to do BU coursework. Or facing financial insecurity because a parent has lost their job because of the pandemic. Or, for many international students, challenges with travel restrictions, time zone differences, and sleep schedules.
"Advisors love to fix things," says Andrea, who chairs the Brown Bag Lunch Subcommittee for the BU Advising Network, a standing committee of the provost's office that connects advisors across campus. "We love to have solutions. 'Here's a great resource for you!' 'Here's a program for that, that you might not know about!' Listening to a lot of these difficult scenarios and not being able to fix them can be really challenging."
That's the impetus behind a new series of virtual events for BU advisors, Pause for Wellness, a collaboration between the Advising Network and the BU Center for Psychiatric Rehabilitation, which launched in February. The second event in the series, Building Resilience and Empathy, is today at noon. Advisors can learn more at the Kerberos-password-protected "For Advisors" section of the Undergraduate Advising website. And any faculty or staff who work with students in this way can email advising@bu.edu to access the event. The next event, Fostering Hope and Navigating a New Normal, is scheduled for April 26.
There's always psychological and emotional labor involved in an advisor's work, says Laura Johnson (GRS'95,'02), assistant provost for undergraduate advising, who oversees the Advising Network. "You're engaged in a relationship and expressing empathy for students and trying to see things from their perspective and help them make well-informed decisions. And yet you try not to take that on and take it home with you.
"We were hearing that a lot of advisors were feeling a need to talk about their own wellness" during the pandemic, Johnson says, so last fall the Advising Network joined with the Center for Psychiatric Rehabilitation to schedule a listening session. "What we heard from the people who attended was that there were advisors on campus who were feeling deeply the pain that their students were feeling, and needing to think about how to work on their own resilience so they could continue to be there and be present for these students."
Pause for Wellness is the result. At today's session, two Center for Psychiatric Rehabilitation staff, college mental health programs program director Courtney Joly-Lowdermilk and programs senior training associate Paul Cherchia, will present an overview of paths and tools for resilience and empathy, followed by small group breakout sessions for practicing technique.
"As advisors, we often focus on building our empathy skills with the goal of better supporting students," says Andrea. This session "is going to shift the focus to how we can practice empathy as a tool for our own self-care and resilience, how we can use these skills to support others without carrying their difficulties on our shoulders day in and day out."
BU's Advising Network supports more than 1,100 advisors on campus, both faculty members and full-time professional advisors. While the advising model in each school or college works differently, with some schools relying more on faculty advisors and others more on professional advisors, most students ultimately work with both. The Advising Network focuses on undergraduate advising, but graduate advisors are welcome to participate in the events.
Most advising is happening remotely during the pandemic. When the University moved back to a hybrid model with some in-person classes, it turned out that most advisors' offices were simply too small to allow for six feet of social distancing, although some have enough space to offer students a choice.
At its most basic, academic advising means helping students navigate class schedules, prerequisites, and workloads. When students are dealing with one of these problems, of course, it often bleeds into their academics—how they're doing in their courses, their ability to focus, their ability to manage their time. The University has ramped up its advising program in the last few years, adding positions, most notably Johnson's, and moving to a more holistic approach. More and more that means helping students to leap the hurdles that life throws in their path and to identify their values, interests, and goals.
On February 26, about 200 advisors gathered for the annual symposium on advising to hear from Florida State University Distinguished University Scholar Karen Oehme, principal investigator of the FSU Student Resilience Project. Oehme told advisors that skills such as impulse control, flexibility, and patience are necessary to cope with pandemic stress, and that advisors need to normalize what students are feeling. Positive affirmations—such as identifying obstacles they have already overcome—can help students manage a "positive adaptation" to conditions.
Today the advisors will be turning the focus on themselves.
"It's about utilizing empathy," Andrea says, "really being in the moment and hearing what that student is experiencing—without, hopefully, carrying it with you for weeks afterward, to the point where it continues to bother you or it's impacting your own mental health.
"We really excel at giving of ourselves, a lot of our time and our energy and our care, to the students we work with every day," Andrea says. "We aren't necessarily thinking about, how do we take care of ourselves? Students really do pick up on if you're just saying this is a great thing as opposed to actually practicing it yourself."