My Big Idea: A Website That Sells Swanky Swag
Entrepreneurship
A Website That Sells Swanky Swag
Jeremy Parker (COM'07) (left) and Josh Orbach (Questrom'09) offer advice on how to be entrepreneurs
In our new series "My Big Idea," we bring you interviews with BU alums and other members of the University community who have launched a business, built a new product, or solved problems big and small. We ask them how they got the idea, what were their biggest stumbling blocks, and what's next for their big idea.
What's one of the best things about going to a trade show? The free swag ("stuff we all get") you walk away with, of course: water bottles, T-shirts, notebooks, and if you're lucky, maybe even high-end backpacks or headphones.
Swag.com cofounder Jeremy Parker (COM'07) was introduced to the $28 billion promotional products industry at his first job after graduating from BU with a degree in film and television. After a few years working for start-ups, Parker had the idea of starting his own swag e-commerce site. In 2016, he reached out to an old friend from BU Hillel, Josh Orbach (Questrom'09), who had a background in financial auditing, accounting, and acquiring domain names, to help launch the business.
They knew a hot domain name would be a huge get and decided to go after the website Swag.com. Its owner at the time wanted more than $1 million for it, money that the duo didn't have. Undeterred, they started their business anyway, pitching to prospective clients like WeWork. Parker handled branding, user experience, and design, while Orbach dealt with operations, managing vendors, financing, and funding. They eventually were able to buy the website—and the domain name—for $200,000.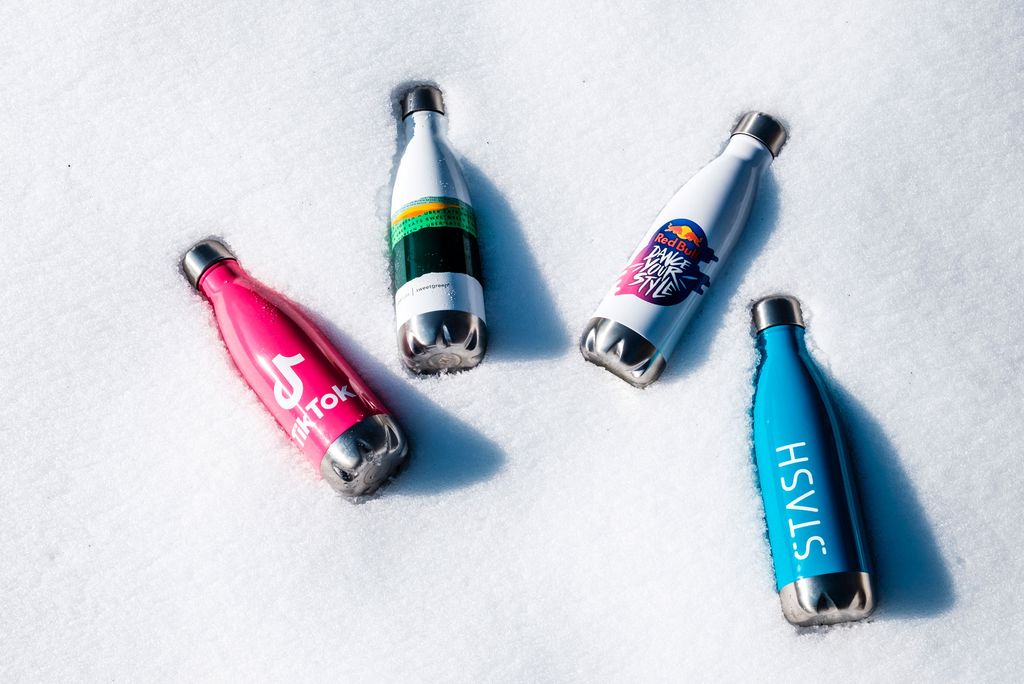 Despite the fact that trade shows have been halted by the COVID-19 pandemic, leading to a 40 percent decrease in the industry, Swag.com had its best year ever in 2020, breaking $15 million in sales. Parker and Orbach's business is now the fastest growing company in the promotional product space, and Inc. recently included it on its list of fastest growing companies in the country. Swag.com's 5,000 customers include corporate giants like Facebook, Google, Amazon, Netflix, Spotify, and TikTok.
"The big vision that we had at day one is not ultimately where we are right now," Parker says. "We had to consistently navigate and learn from our customers, and build features and test those features. Some features worked, some failed, and so we doubled down on the features that worked. Our business is a constant iteration."
Q
&

A
With Jeremy Parker and Josh Orbach
Bostonia: How did you get the idea for Swag.com?
Jeremy Parker: Right after I graduated from BU, I started to work for a company called MV Sport, and I learned how fragmented the industry is. Buyers want things to be completely automated online, not have to talk to people on the phone. They want to be able to search for thousands of products. So what we've done is curated the best of what's out there, and we really try to streamline the process.

I had this idea for a while. I reached out to Josh because what I learned over my last 10 years of being an entrepreneur is that when you start a business, you should do it with somebody who has very different skill sets, because you want to be able to attack different problems. And I felt like Josh would be the perfect fit to start this business.
How did your previous jobs and experiences influence you as you started Swag.com?
Parker: I had some successes with start-ups, but also some failures. The last start-up before Swag.com was a social networking app. I spent about three years building this platform, and it got 100,000-plus users.

That sounds big, but it didn't have the virality and mass adoption that you need for a social networking app, because you need to be able to sell advertising. And when you start a business, you should try to make money from day one. Launch something very quick, even if it's in beta [limited release of a product or service to identify bugs before final release], so that you can learn as much as you can. Listen to your customers and keep adapting and innovating.

Josh Orbach: In the first year of the business we had over $300,000 in sales. We were just calling, we would go show up in offices, just bring swag in a bag, and pitch to customers. It wasn't just to make money, it was also to learn what we needed to build.
How hard was it to secure funding at the start?
Parker: Swag.com was a very expensive domain to buy, and we obviously didn't have that money. So what we did was work out a creative solution with the owner of the domain to exclusively license it for a period of time. And once we were able to prove our model and make those sales, then we were able to raise money and acquire the domain from the owner.

Then we really built out the company. We did about $365,000 the first year of business. That first year was me and Josh, knocking on doors, showing up at different offices. The second year we launched the first version of our e-commerce site, and did about $1.1 million in sales. The third year, we did about $3.1 million in sales. The fourth year we did $6.9 million, and now we're over $15 million.
What's the most popular swag people want?
Parker: What we usually recommend are the staples that people are going to use every day and get value out of. Things like jackets, notebooks, water bottles. A lot of people are now gravitating towards branded products like Patagonia.
How has the pandemic affected business?
Parker: The whole industry is pretty much down compared to last year. Marketing teams are no longer going to trade shows, HR managers are no longer buying for onboarding new hires. An office manager is not really buying for the office because there isn't anyone in the office. But we've actually grown. Our last five months have been the best five months we've ever done. And the reason for this is because of our quick pivot to a distribution platform.

About two years ago, we noticed that there was a shift to a work-from-home culture. People might not be going to the office every day, but they want to send swag in the mail to remote employees, to their best customers, or to leads to close sales.

Now with the pandemic, everyone's feeling so disconnected. How do you make a client or employee feel more connected? You need to send something in the mail, give them a gift to show that you care. So our business really took off because we had this whole distribution platform set up and we keep putting money into it and developing it.
What's your favorite part of the job?
Orbach: Since we started, different things are enjoyable. At this point, it's very enjoyable to see our team solve problems on their own, sometimes without having us involved. There was a point, maybe two years ago, when our team was small, where Jeremy and I would have to be involved in everything. But there was a point [we reached] where we hired the right people, and we could step back from certain things and watch it grow, which is really fun for me.
What's your advice for someone looking to start their own business?
Parker: I would say just start, because a lot of people get in their own head and get fearful that their idea is going to fail. There's a famous quote that says: "Fear kills more dreams than failure ever will." People get in this mindset that when they start a business, they have to make it perfect. It's never going to be perfect, and you're never going to know [all] the right answers. So if you have a vision for something, most likely your idea is not going to be the one that will ultimately end up winning. So put yourself out there, start it, learn from your customers, and adapt.

Orbach: I would say something similar. A lot of people look to the news, and, for instance, see Elon Musk changing and revolutionizing the industry. Because of that, they overvalue the idea stage of things and therefore get afraid because they feel like they have to disrupt. But it's okay to compete in a business and have your own spin on things. Just hustle and get started.