Men's Hockey Returns to the Rink on a Winning Streak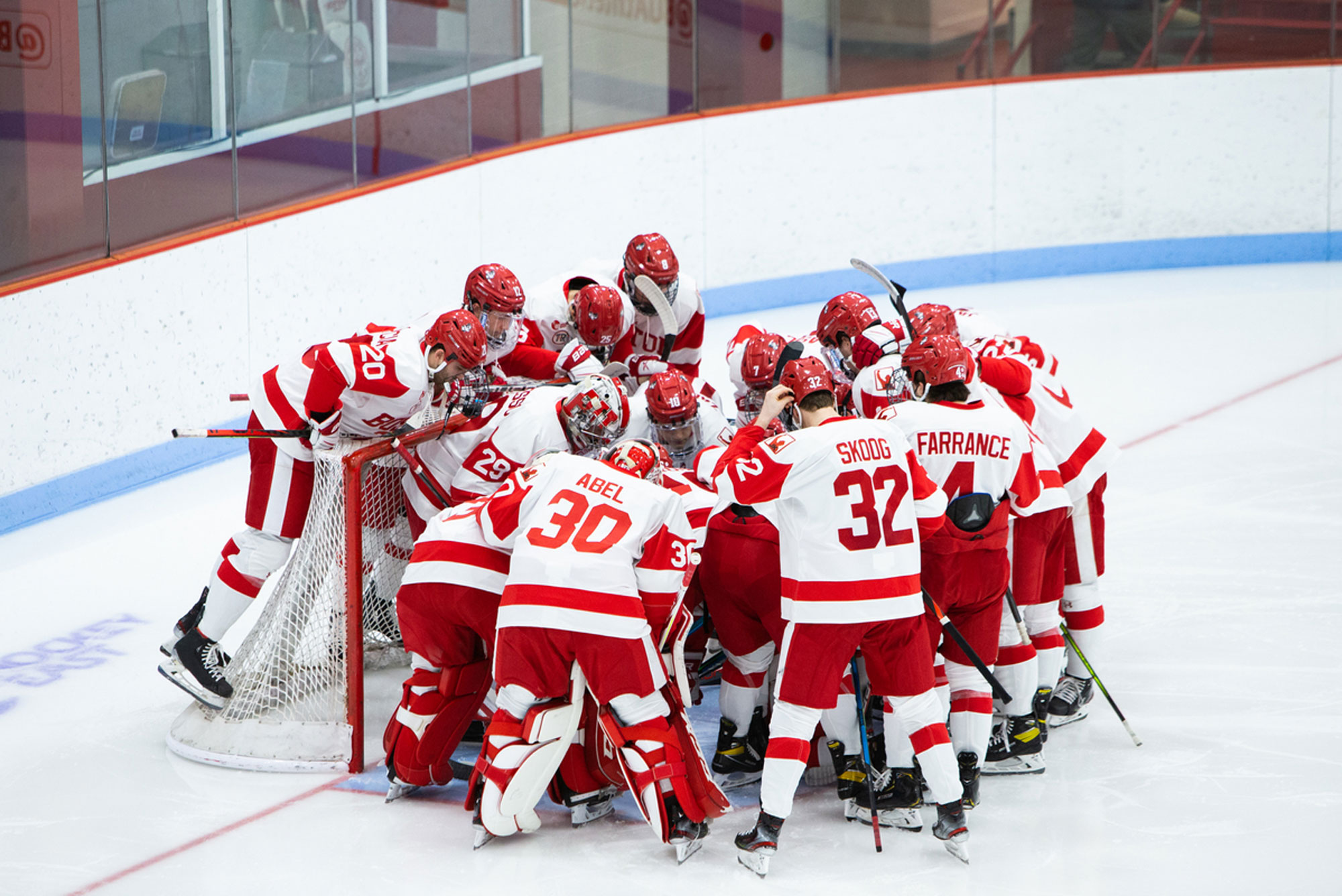 Varsity Sports
Men's Hockey Returns to the Rink on a Winning Streak
Terriers have won five in a row for the first time since 2018
Boston University men's hockey had one of the longest off-seasons of any Division 1 program in action this season. Delayed by COVID-19, the Terriers laced up for their first game January 8, more than three months later than usual—but the wait was worth it. With six games in, they have posted five wins—their best start since 2014.
The team opened its season with a home loss to the Providence Friars. Since then, they have defeated the Friars on the road, taken down eighth-ranked University of Massachusetts twice, and two weekends ago, swept the University of Maine, before sitting out last week as part of BU Athletics department-wide pause.
Head coach Albie O'Connell (CAS'99), now in his third season helming the team, says the hot start has been all about effort.
"There's been buy-in," he said after the team's January 23 (5-1) win over the Black Bears. "The guys are really committed to winning, committed to each other."
Last season, the Terriers went 10-9-5, conference, and 13-13-8 overall, placing sixth entering the Hockey East Tournament, another pandemic casualty. With the team out of game action for 10 months, O'Connell says, creating effective practice plans proved critical, especially amidst COVID-related restrictions.
"We tried to prepare the group as we progressed to getting on the ice as a full team," O'Connell said prior to the season's launch. "As coaches, we needed to have discipline and creativity on how we managed the group and managed practices with small numbers."
The preparation has paid off so far, thanks in part to the team's senior leadership. Captain Logan Cockerill (SHA'21) and assistant captain David Farrance (CAS'21) lead the team this season with four goals each. Farrance in particular has drawn national attention as the only NCAA D1 player averaging more than two points per game—and as a defenseman, no less.
Like Cockerill and Farrance, other upperclassmen have helped fill the gap left by last season's leaders, among them team captain Patrick Curry (SHA'20) and Patrick Harper (COM'20), who both graduated. Curry led BU in goals (19), with Harper tied for second (14) last year. BU also lost 2020 Hockey East All-Rookie Team honoree Trevor Zegras to the National Hockey League.
Another veteran making a difference this season is graduate transfer Max Kaufman (MET'21). Kaufman was named an assistant captain by his teammates just four games into his BU career.
"We've had great leadership," O'Connell says. "With some of the upperclassmen and just how hard they play, that's translated through our team."
On the other end, BU's young talent is shining early as well. Luke Tuch (CAS'24) and Dylan Peterson (CAS'24), both previously with the USA Hockey National Team Development Program (USNTDP), and fellow newcomer Jay O'Brien (CAS'23) have all scored multiple goals this season. A deep sophomore class has also grown into bigger roles across the lineup.
Even before the season began, Cockerill was confident that BU's depth would be key. "We've got four lines we can play that we can roll one after the other, and guys on each line that can make a difference in the game," Cockerill said in December.
The results have proven him right.
While the offense has impressed, the defense has been equally strong. Farrance headlines the roster, returning as last season's leader in assists (29) and points (43), but the talented sophomores and promising preseason additions make this blue line the engine of the team, O'Connell says. "We're chipping away, and I think a lot of it's led by our D. It's nice to be a forward on this team with the way some of those guys move the puck."
Behind them, Drew Commesso (CAS'24) has claimed the BU crease. The Massachusetts native, a product of the USNTDP and a lifelong BU hockey fan, was the first Terrier goaltender since Matt O'Connor (Questrom'15) in 2012 to win three of his first four collegiate starts. Ashton Abel (CAS'23) is BU's most experienced netminder, appearing in nine games last year.
O'Connell says he's excited by this season's group of goaltenders, despite their relative inexperience. "It's a young group, experience-wise, but highly talented," he says. "We feel it's the best goaltending group we have had in a long time."

Across the lineup, the Terriers have had to make adjustments throughout this unique season based on the available players. The coach credits the team's flexibility and ability to make the most of the circumstances. "I think our guys have done a good job of relishing some opportunities," he says. "It is kind of a next-man-up mentality."
Six games in, the Terriers have already solidified their status as one of this season's top teams in Hockey East, despite their late entry. While other teams in the conference have played as many as 19 games to date, BU isn't threatening the best win totals just yet, but their .833 win percentage leads the conference.
"We've got a pretty good thing going right now, so I'm just pretty excited about where we're at," O'Connell says.
The Terriers are scheduled to be back in action this weekend against Comm Ave rival Boston College, the top-ranked team in the nation. Even without fans in the stands, O'Connell says, the BU-BC rivalry will be as strong as ever.
"Once the games get going, the intensity is there. Guys are competitive and passionate, and at the end of the day, points are on the line."
Friday's series opener in Chestnut Hill at 7 pm will air live on NESN+, and outside the Northeast, on CollegeSportsLive.com. Saturday's 7 pm rematch at BU's Walter Brown Arena will be broadcast live across the country on CollegeSportsLive.com. Both games can be heard live on the Terrier Sports Radio Network.