Meet Three Remarkable Class of 2021 Master's Degree Grads
Graduate Students
Meet Three Remarkable Class of 2021 Master's Degree Grads
From an Army officer to an attorney-turned-screenwriter, these students are eager to make a difference
It's not out of line to call earning a graduate degree during a pandemic an extraordinary accomplishment. Like this year's BU graduating seniors, the 3,205 master's, JD, MBA, and PhD students picking up diplomas May 16 faced lockdown restrictions, virtual and hybrid classes, and a vastly changed job market. But many also had to balance full-time jobs, career changes, family duties, and more as they worked to complete their degrees. That's challenging enough during the best of times, but add in a pandemic? It becomes pretty remarkable.
"This year's class of grad students is truly special," says Leora Lanz (COM'87), a School of Hospitality Administration associate professor of the practice and chair of the Master of Management in Hospitality program. "Each student not only tackled the rigorous academic program that a master's degree presents, but they succeeded, and even exceeded, expectations while overcoming any personal challenges or emotional needs that this pandemic brought upon us all." 
As Commencement 2021 approaches, BU Today is celebrating three of the thousands of Class of 2021 graduate students. They hail from Mattapan, Houston, and Jakarta, and are among the soon-to-be grads who have been studying in fields ranging from dentistry and arts administration to theology and criminal justice.
Meet this trio of graduating Terriers intent on making an impact and paying it forward in their communities.
An Army ROTC cadet
Victoria Ho (MET'21) spends plenty of weekends on the Cape.
But not quite how you might think. Instead of eating fried clams and tanning at Nauset Beach, Ho plans raids, conducts ambushes, and shoots military-grade weapons at a gun range. All for practice, of course—learning infantry tactics is a crucial part of her Reserve Officers Training Corps (ROTC) education.
Ho joined the Army right out of high school, and came to BU two years ago. An officer encouraged her to take advantage of a program that allows service members to pursue a master's degree, which required her to join the ROTC. So since 2018, Ho has been balancing work on a criminal justice master's degree with early morning drills and weekend training trips to Joint Base Cape Cod in Buzzards Bay.
She loves it.
"I've had a really, really good time," Ho says.
But she didn't always intend to go the military route. Growing up, the Houston native figured she'd go into emergency medicine. Once she got to high school, however, she joined the school's Junior ROTC (JROTC) program. The more she heard about the Army and its career opportunities, the more it appealed to her. "I like structure," she explains. So in October 2013, Ho enlisted as a medical lab technician, shipped out to Fort Jackson S.C., for basic training, and never looked back.
Then there's the fact that Ho's parents are Vietnam War refugees. Displaced by the war, both came to the States at a young age. They became US citizens when Ho was in middle school. Is it surprising, then, that two of their children decided to join the military? (Ho's younger brother serves in the Army's Air Defense Artillery Branch.) Not to Ho. For her, entering the military was a natural extension of the patriotism she's always felt as a first-generation American.
"I was proud to be an American and felt a firm obligation to serve," she says. "My parents came here with nothing, and they worked really, really hard to make a better life for their family—like many people in this country. My JROTC officers were always reminding us, 'Don't forget where you came from.' I serve because I wanted to give back to not only my parents, but to my community, and most of all, to my country."
In the almost eight years since enlisting, Ho has been stationed in South Korea, Kansas, and Texas, among other locales. She's provided medical care to service members and their families, sharpened her leadership and public-speaking skills, and met lifelong friends and mentors. In 2018 she earned a bachelor's degree in criminal justice online from Purdue University Global. Now, with a master's in criminal justice under her belt, Ho wants to use her education to reform the corrections system.
"BU was one of the first universities to offer some form of education to the incarcerated population," Ho says. "That was one of the things that drew me to it in the first place. I'm passionate about corrections—yes, someone committed a crime. The question is, how can we help them better themselves during their incarceration so they can integrate back into civilian life?"
For now, though, she'll report to Fort Sill, Okla., at the end of May for artillery training. After that, she'll report to Fort Carson, Colo., as a field artillery officer.
"I want to give artillery a try," Ho says. "My personal aspiration is to work in criminal justice, but I don't have that technical experience yet. I hope that the military will give me the opportunity to do that one day. I'll just have to see where it takes me."
In the meantime: "I want to grow as a leader, and take care of my soldiers and their families. And most of all, to accomplish our missions and make sure we all come back."
A Haitian multi-hyphenate
Sara Horatius (COM'21) wants to be the Black Pixar.
Or the next Issa Rae or Lin-Manuel Miranda—the branding isn't important, just as long as she's writing and producing her own content, and has hiring power.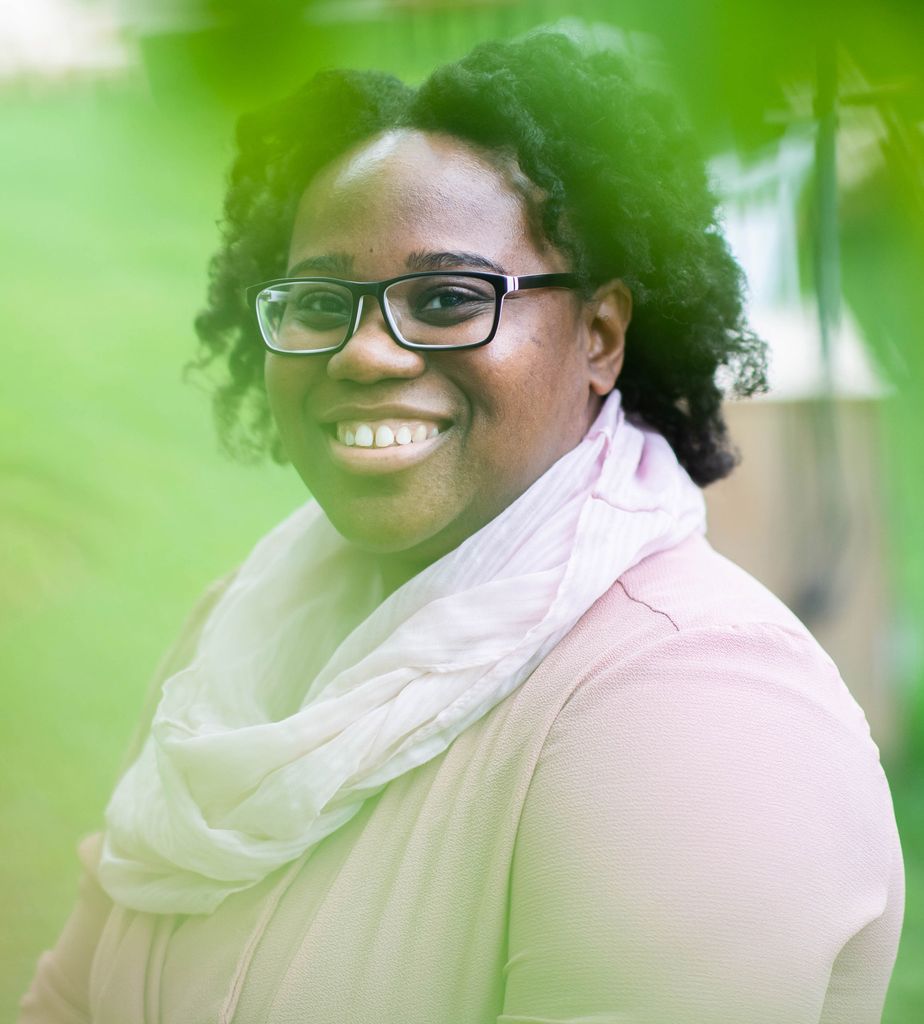 The lawyer-turned-screenwriter has a few ideas of what that might look like. She'd like to start a production company that does animations for studios, or a training program for teens of color who want to join the industry. More immediately, however, says Horatius, who's graduating on Sunday with an MFA in screenwriting, "I want someone to pick up my pilot and let me be the showrunner! My goal is to have a full room where the writers, animators, and people directing are all people of color."
The pilot in question? An animated adult show about a single-mom cockroach raising two kids in a rapidly gentrifying city. "I like writing things that amplify diverse voices, women, or Haitian, and anything weird," Horatius explains. "I want people to read my stuff and go, what…?"
Getting to the point of having a pilot was a journey. Growing up in Mattapan, the child of Haitian immigrants, Horatius says she basically had three career options: doctor, engineer, or lawyer. "I don't like blood and I'm not that good at math, but I like to argue and one of my favorite shows growing up was Ally McBeal," she says. So she headed to Temple University for a degree in philosophy with a pre-law emphasis before graduating from Widener University Delaware Law School in 2013.
But practicing law never felt right. Horatius liked helping her clients, but she didn't like court. She started thinking about what she did like to do, and thought back to the plays and short stories she would jot down as a kid. But a chorus of voices in her head told her that a career in screenwriting was impossible—that Black Haitian girls don't write plays or get on TV—so she began teaching law at Roxbury Community College instead, taking some client work on the side.
By 2017, however, she was thinking about writing again. She applied for a workshop for writers of color taught by Pulitzer-winning novelist Junot Díaz, and was accepted. A year later, she joined a playwrights group at Boston's Company One Theatre for a couple of months. This time, she made a list of schools with screenwriting programs she'd like to apply to. But then the voices came back, and she deleted the list.
It wasn't until she got an email from BU in February 2019 reminding her of the application deadline for the College of Communication screenwriting program that she began to push back on the voices. Horatius decided why not, sent in her app, and applied for a scholarship. By September, she was enrolled in the COM program with a full scholarship.
As a COM grad student, she's interned for Antiques Roadshow on WGBH, as well as for PatMa Productions, founded by Nina Tassler (CFA'79, Hon.'16), and Baboon Animation in New York. She also launched a podcast, The Black Screen, through COMLab, where she and guests dissect cult-favorite films made for or by people of color. (The thesis of the first episode: Friday is the Black Seinfeld.)
"It's been a great experience," Horatius says of her time at BU. "Seeing all the work I've done and the progress I've made throughout the past two years, this was the year when that whole battle between should I or should I not? silenced a little bit.
"There was always another little voice that said, 'You need to do this; this is something you're passionate about, and you can be successful.' I'm not gonna lie—it's been tough. But I know I would have had more regrets if I didn't give this a try."
A hospitality pro
Growing up in Jakarta, Calvin Juwono (SHA'21) knew Indonesia was special. The island country comprises nearly 17,000 islands, each with its own distinct population and character. And of course, the country is unbelievably beautiful, with miles of pristine beaches and mountain terrain. But what really stuck out to him was the warmth of the people, something he wanted to share with the outside world one day.
But first: art school.
In 2016, Juwono jetted off to California to study photography at ArtCenter College of Design in Pasadena. He'd always loved photography; there was something about being able to capture a moment in time that felt special to him. Plus, he enjoyed that a camera allowed him license to explore, and meet new people, and—cars. "I love cars, and I love shooting cars," he says, with a laugh. "So I put two and two together." (His website has an entire section on automobiles.)
Eventually, Juwono found his way to marketing. When the pandemic hit during his senior year, he'd been working as a photo intern at an LA ad agency. He realized there that hospitality marketing would be the perfect bridge between his current trajectory and promoting travel to Indonesia. And who offers a one-year master's in precisely that specialty? BU's School of Hospitality Administration.
In SHA's Master of Management in Hospitality (MMH) program, Juwono learned from hotel CEOs and real estate professionals—and those were just his fellow students. He honed in on digital marketing and practiced creating content for social campaigns through his work in the SHA dean's office. (His photo and video work earned him a Service Award from the MMH program, which will be presented at the school's convocation.)
Juwono says his dream job would be to scout locations throughout the Indonesian islands, as well as produce promotional content and photography. That might require him to open his own marketing firm, which isn't off the docket—running his own agency is one of his long-term goals. So is starting his own sustainable luxury brand in his country, ideally in the form of a hotel.
"There's so much potential for building something in Indonesia," he says. "There are so many islands that haven't really been discovered by tourists yet, and have such diverse and friendly cultures. There's an opportunity for me to jump into these small islands to start my brand, but also bring more exposure to Indonesia."
And by exposure, he means geographically. "When I first came to the States, whenever I would take an Uber or a taxi, people would ask where Indonesia is," Juwono says. "It would be nice to expose people to the untouched nature and the food, but first, I'd like them to know where it is!"
Whatever he does, he says, he wants to promote his home country and the people who live in it. "My parents were always telling us how lucky we were to have the opportunities we did, because not everyone gets them," Juwono says. "Indonesia's infrastructure is still lacking, but it's getting there slowly. I would love to support locals, especially throughout the islands."