Syringes, Oranges, and Faculty Help Train More Than 100 Volunteer COVID Vaccinators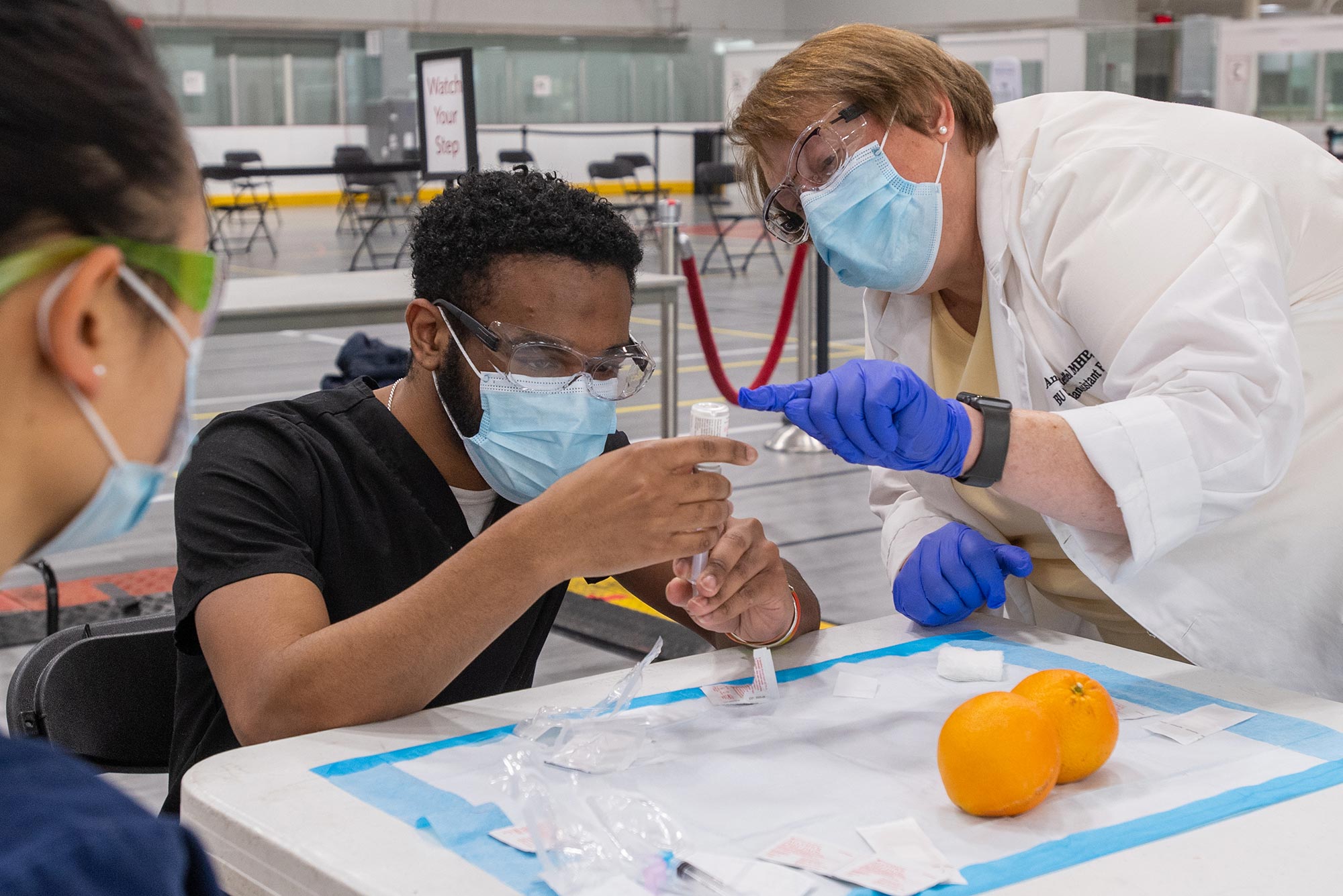 Student Vaccinators
Syringes, Oranges, and Faculty Help Train More Than 100 Volunteer COVID Vaccinators
Medical Campus physician, dental, and physician assistant students eager to pitch in and help area communities
With thousands of COVID-19 vaccines being administered every day across the state, there is an urgent need for people trained to give shots. That explains why on Sunday morning, Boston University Medical Campus students Aesha Patel and Tucker Berk were not outside enjoying the springlike weather, but inside the FitRec gym sticking syringes into oranges—and then into each other's arms.
Patel (MED'23), Berk (MED'24), and 119 other future physicians, physician assistants, and dentists were an all-volunteer army in scrubs. They had enlisted as soon as the call went out in early February for vaccinators, and now they were reporting to FitRec for the hands-on part of their training.
"It's important to give back to the community," said Patel.
And from Berk: "We need to get more people vaccinated."
The number of coronavirus vaccines administered in Massachusetts has increased in the past week with the arrival of the one-shot Johnson & Johnson vaccine. The total number of doses administered went up by 330,801, from 1,813,992 on March 2 to 2,144,793 on March 8, according to state officials. This includes 1,428,657 first doses of Moderna or Pfizer, 700,741 second doses of Moderna or Pfizer, and 14,395 doses of Johnson & Johnson.
There at FitRec to train the future vaccinators was a team of faculty and staff from BU's Occupational Health Center, the School of Dental Medicine and School of Medicine, a group of BU medical students who had already been trained, and a contingent from the University of Massachusetts Medical School Graduate School of Nursing, which has been working with the UMass Medical School since January to create a volunteer vaccinator corps. All trainers and trainees had already been vaccinated, and their practice syringes were filled with a saline solution.
"This is hopeful," said Jill Terrien, an associate dean of the UMass Medical School Graduate School of Nursing, who was at FitRec Sunday. "We just need to get more vaccine. We want to have enough trainers for whenever that will be."
Terrien had just finished training Kendall Mulvaney (MED'21), a student in the MED Graduate Medical Sciences Physician Assistant Program, and Kirollos Bisheet (SDM'22). "Kick Covid to the side—good luck!" Terrien said to the pair of newly minted volunteer vaccinators.
"I just want to do something to help the community with the pandemic, and it was fun learning something new," Bisheet said. "This has been a great experience."
Mulvaney nodded. "I gave vaccines all day every day," she said, having spent two years as a pediatrics medical assistant before enrolling in the GMS program. "I just want to make sure I'm up to date."
Circulating among the rows of tables in her white coat, and projecting her usual cheerful calm through her mask, was Ann Zaia, director of BU's Occupational Health Center. The three-hour training session began at 9:30 am, and it took about 20 minutes to put each pair of students through their paces. "It's going amazingly well," said Zaia, who wore a red BU button with the slogan I'm Smiling Through My Mask. "Everyone's so energized and engaged. We are so excited that the vaccine is here."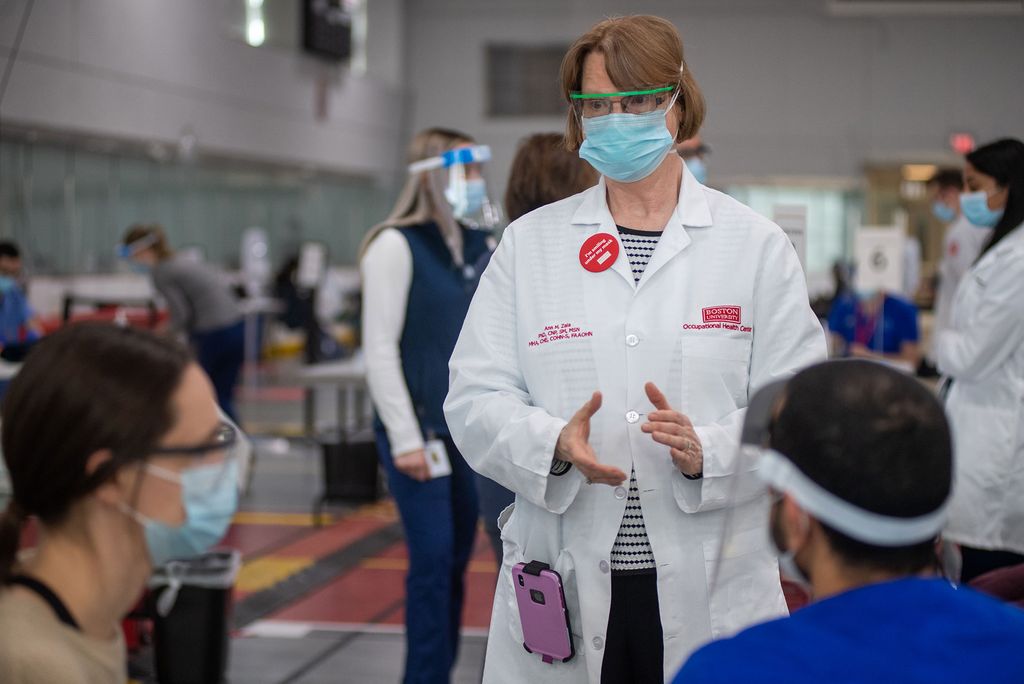 Zaia had broached the idea of training student vaccinators to Karen Antman, dean of MED and provost of the Medical Campus, in early February. Antman was immediately enthusiastic, as was Jeffrey Hutter, dean of SDM. (It would take some effort to convince Governor Charlie Baker to allow dental students to be among the healthcare workers trained to administer the vaccine.) Angela Jackson, MED associate dean of student services, Suzanne Sarfaty (MED'88), MED assistant dean of academic affairs, Joe Calabrese, SDM associate dean of student affairs, and Judy Platt, director of Student Health Services, all jumped in to help work out the details. Brent Hamula, an athletic trainer with Student Health Services, and Ilana Pavlotsky, a registered nurse with Occupational Health, also pitched in.
It took only a single email back in February to recruit more than 200 medical students and another 200 dental students (additional training sessions will be conducted on the Medical Campus). "Our students had already been sending us emails asking how they could help," Jackson said. "They were champing at the bit to do something. All student activities have been on hold."
"Our students are used to going at hurricane speed, and then all of a sudden, you pull the emergency brake, and they can't do anything," Calabrese said. "They're dying to do stuff."
Great weekend training 122 BUMC students on how to give vaccines. These students will be able to support efforts and clinics in the community. @budental @BUMedicine @BUPAProgram @BUmedical @BU_Tweets pic.twitter.com/g2ZSgJ5ixc

— Joe Calabrese, DMD (@DrC_BUDental) March 8, 2021
In advance of the hands-on session at FitRec, the student volunteers were required to complete two hours of online training. Jackson said she expects the students to be dispatched to vaccine clinics in Revere and other communities in the next few weeks, as the vaccine supply—and the demand for volunteers—surges.
Hutter, who recently announced that he was retiring as dean on March 31, was there in his white coat, greeting students as they arrived. Surveying the gym, and the masked trainees, in their green and navy blue scrubs, working in pairs at rows of white tables, Hutter beamed. "This is a great day. This is the first opportunity dental, medical, and physician assistant students have to work together," he said. "They all train separately."
Hutter had brought the oranges—50 California navels. "They've been training on navel oranges for decades," he said. "Navel ones are the best. They have thicker skin."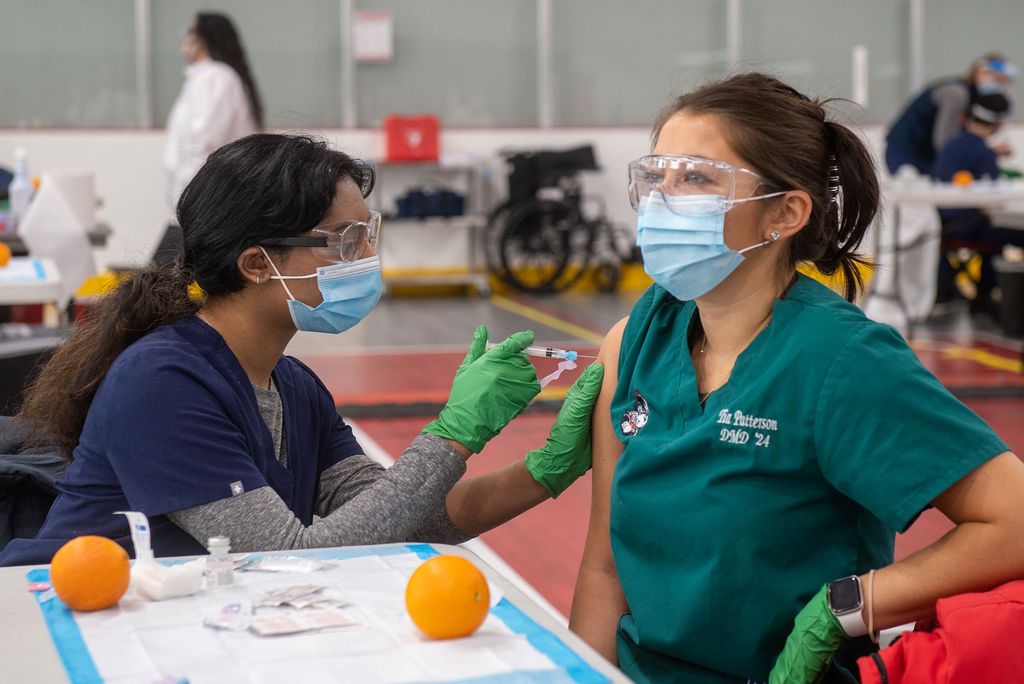 At a table in the middle of the gym, Tia Patterson (SDM'24) and Alekha Kolli (MED'23) had finished practicing on their orange under the tutelage of Michael Smith, PA Program associate director of clinical education, and Riley Kolus (MED'23), who had already undergone the training.
"Ready to practice on each other?" Smith asked.
Patterson rolled up the sleeve on her right arm. "I hate shots," she informed Kolli.
"No pressure," Smith said.
Kolli swabbed Patterson's arm and administered the shot. Patterson didn't flinch. "She did very well," Patterson said of Kolli. "This is so exciting. I hate getting shots, but I love giving them."
And that's a good thing, Smith said. "This tells me she's going to be great at what she does. You have to understand you're going to cause temporary pain to people if you're going to heal them."
On a bright, sunny morning toward the end of a long winter, Smith and fellow trainer Kolus were just where they wanted to be. "I used to be a paramedic; I love doing this," Smith said, looking around the gym, where no one has dribbled a ball in months. "I'm here so everyone can play basketball again. I believe Biden when he says everyone is going to get a dose by the end of May."
Kolus has been volunteering recently at Fenway Park, one of the state's vaccine sites. "I'm a second year medical student," he said. "A lot of the medicine we're learning is on a laptop and very book-based. Through the whole pandemic, I feel I've been sidelined from helping. Now I get to do something."