BU Women Upset by Lehigh, 64-54, in Patriot League Basketball Title Game
Basketball
BU Women Upset by Lehigh, 64-54, in Patriot League Basketball Title Game
Terriers' impressive season ends with disappointing loss at home
Playing in their first Patriot League championship game after an impressive 12-2 regular season earned them the tournament's second seed, the women's basketball Terriers came up just short against underdog Lehigh on Sunday, falling 64-54 at BU's Case Gym.
"It's obviously not the outcome we were looking for, but I think we left everything we had on the floor," head coach Marisa Moseley (CAS'04) said following the game.
The loss ended a strange, pandemic-shortened season for the Boston University women, Moseley's third leading the program. Per University protocols, BU played its entire season in masks because of COVID-19 and required all visiting teams to wear them as well, which made the televised championship game a rare matchup of two teams playing in masks.
BU and Lehigh did not meet during the 2021 regular season, but had split their season series during the 2019-2020 campaign. The Mountain Hawks were scheduled to visit Case Gym for the 2020 Patriot League semifinals, but the pandemic halted the postseason before the matchup.
With all the off-court challenges during the last year, Moseley says, she was inspired by her team's resilience through it all—including in defeat.
"This has been such an incredibly challenging year," she says. "I wanted to make sure I conveyed to them how proud I was, but I also want them to feel how they're feeling. They get to feel those feelings, because I think that's part of the experience too."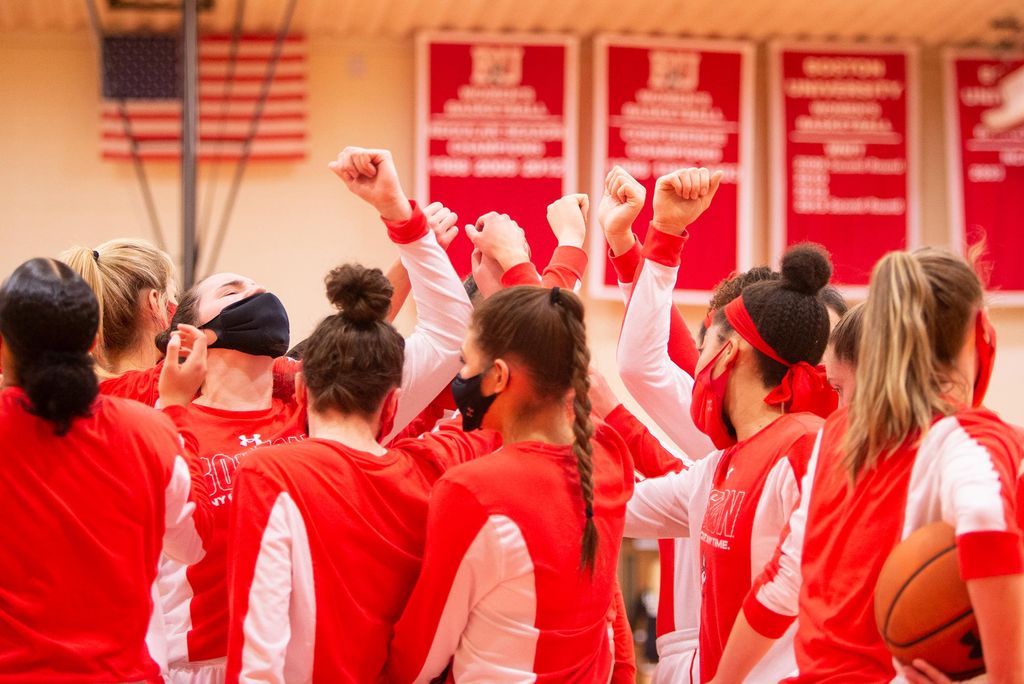 The two teams eventually got the postseason battle they waited a year for, and Lehigh's third Patriot League title—its first since 2010—deprived BU of its first-ever Patriot League championship and its first appearance in the NCAA Tournament since 2003.
Sydney Johnson (CAS'23) led the Terriers in scoring throughout the postseason and had a team-high 16 points for BU in the title game, with Emily Esposito (COM'22) scoring 11 off the bench. The Mountain Hawks were paced by sophomore forward Frannie Hottinger, who had a game-high 21 points.
Lehigh held the Terriers 12 points short of their scoring average of 66.4 going into the game, and committed only two shooting fouls through the game. BU also kept Lehigh below its typical output of 67.6, but the Mountain Hawks shot at a 41.1 percent clip, while BU converted just 32.9 percent of its shots.
Moseley says her team's shooting struggles were the difference. "We've seen this kind of story before. When shots aren't going in for us, it's a lot harder for us to win."
After BU took the initial advantage, Lehigh ran up an 11-2 run to pull ahead. The Terriers trailed 23-13 after 10 minutes, but fought back in the second quarter, while holding Lehigh to just two baskets in open play. BU seemed to take the momentum into halftime when Esposito banked in a long three-pointer at the buzzer to cut the deficit to two, down 31-29.
BU jumped ahead momentarily at the start of the third, but Lehigh quickly regained the lead on the ensuing possession. Both offenses cooled off, but the Mountain Hawks knocked down four triples on eight attempts to take a 47-39 advantage into the fourth quarter.
Lehigh's lead grew to as much as 11 early in the final frame, before BU got back within a basket on an 8-0 run to make it 54-51 with four minutes left. That would be the closest the Terriers would come, as the Mountain Hawks countered with 10 straight points to put the game away.
"They fought, they competed, they really earned the chance to be in this championship game," Lehigh head coach Sue Troyan said of her players after the game ended. Her team upset top-seeded Bucknell in Thursday's semifinal and the second-seeded Terriers Sunday to win the league championship. "I thought we could handle them, we were prepared to handle them," Troyan said.
It's now time to begin looking forward to next season, Moseley said. "We all—myself included—need to take a step forward this summer. You hate to try to turn the page, but you can't go back."
Moseley is proud of what her players have accomplished in just three years.
"When I got here, our team was picked ninth," she said. "Two years in a row now, we've finished second. We're building a program. We're not just a flash in the pan."