Kevin Nylen Begins His First Season (Finally) as Men's Soccer Head Coach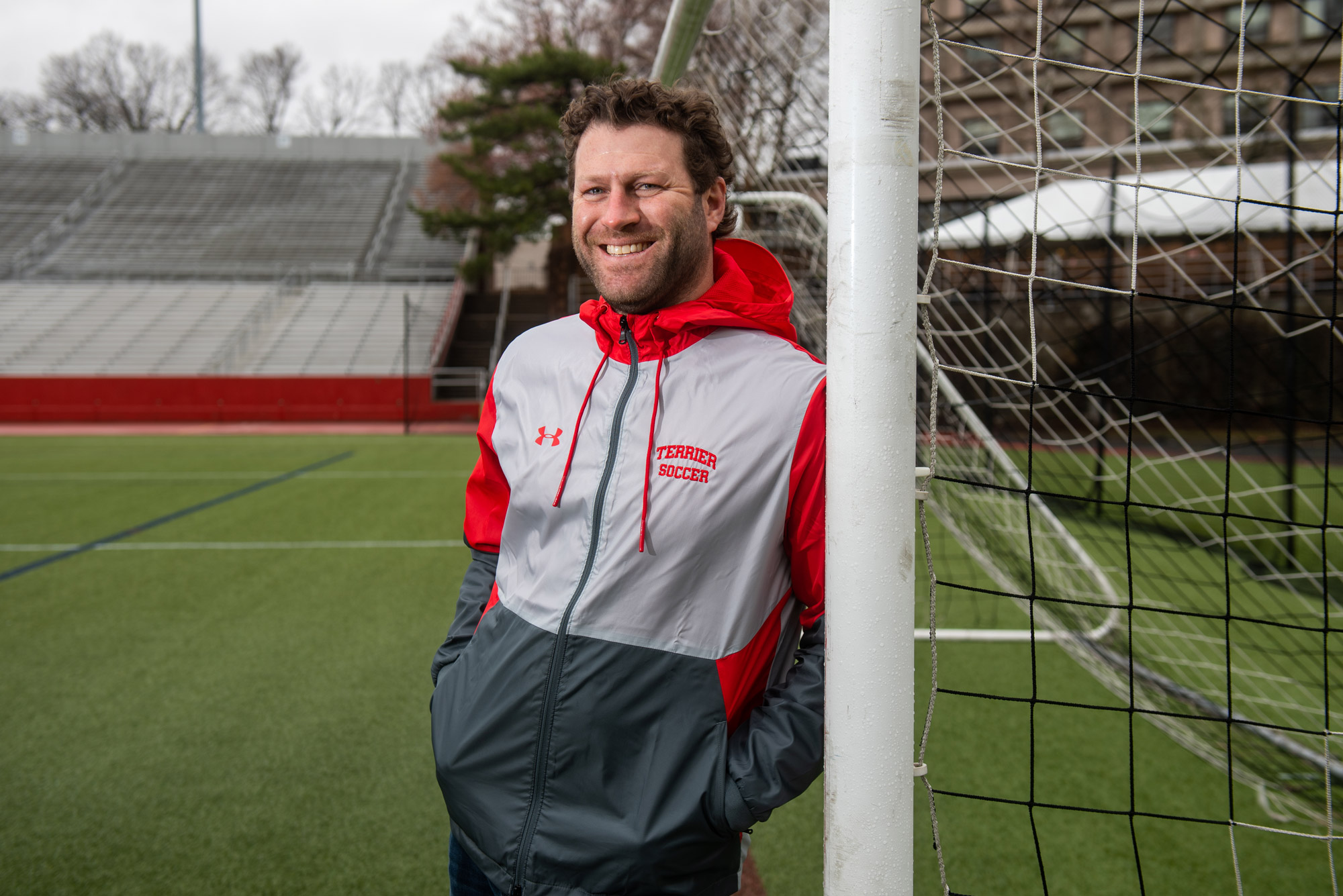 Varsity Sports
Kevin Nylen Begins His First Season (Finally) as Men's Soccer Head Coach
His plans interrupted by the pandemic, the Massachusetts native is now ready to build on the program's legacy
Kevin Nylen was named Boston University's new men's soccer head coach on January 16, 2020, after a three-year stint as the head coach of Florida International University's men's soccer team. One year and two months later, his first season with the Terriers is finally here.
COVID-19 derailed the beginning of his tenure, and his team had not played a match in more than a year before the March 13 season opener at Colgate University, a 3-0 win for the Terriers. The team had plenty of time to prepare on the training field under COVID-19 guidelines, practicing in masks and socially distanced groups of 10 players during the fall semester.
Nylen grew up in Ipswich, Mass., and played Division II soccer at Saint Anselm College in New Hampshire, where he led his team in scoring as a defender, with 7 goals in 17 games his senior year. After graduating in 2002, he began a professional career that spanned six seasons with the Wilmington Hammerheads and the Charleston Battery. The sixth head coach in BU men's soccer history, he replaces Neil Roberts, who led the 70-year-old program for 35 years before retiring in 2019.
"You say 'BU men's soccer,' and you immediately think of Neil Roberts," Nylen says. "I have big shoes to fill, and I am fully aware of that and ready to accept that role. But I think Neil would agree with me in saying that it's not about following in his footsteps—it's continuing the legacy of BU men's soccer."
When his playing career ended, Nylen took on jobs as an assistant coach for Amherst College and for Boston College. He went to FIU in 2012 as an assistant coach and then spent a few months in 2016 in Major League Soccer with the Orlando City Soccer Club as the chief scout of the Youth Academy and coach of the under-16 team. He returned to FIU in 2017 to take over as head coach. The FIU team qualified for the Conference USA tournament in all three of his seasons and made the NCAA Tournament his first season in charge. He saw five of his players drafted by Major League Soccer teams during his tenure.
Nylen is married and has a two-year-old and a four-year-old, so the first part of his day ends when he gets home from coaching. Once the kids go to bed, it's off to watch games from 8 to 11 pm. He says his assistants, Ben Mallue and Patrick Lopez, spend the same amount of time as he does studying films, sometimes more.
Watching films helps Nylen prepare for games, make informed recruiting decisions, and find new tactical ideas. His notebooks look like reams of paper connected with binder rings. He holds two or three 15-minute film sessions per week before training so he doesn't overload his players with info, and he makes sure each clip ties into the following practice.
"The game is constantly changing," he says. "It's a game of decisions and adapting because it's not the same thing every time like a football set or a basketball set."
He has other challenges, too. Leading scorer Matt McDonnell (Questrom'20) graduated and transferred to Syracuse University for his final year of NCAA eligibility. McDonnell scored seven goals in 16 games in the 2019 season, and the coach hopes several of the team's players will work together to replace his production.
The forward duo of Zion Balogun (Questrom'21) and Ronaldo Marshall (CAS'23) have started both of this season's games. Marshall, who played under Nylen at FIU last season before transferring, scored in both matches.
Marshall says he had a great experience on and off the pitch under Nylen and his staff at FIU, and because of familiarity with the staff and the academics at BU, it was a "no-brainer" to follow his coach north. He and defender George Abunaw (COM'21) both appreciate the atmosphere the new coaching staff brings to every training session.
"This is one of the most professional types of environments you can find in the college game," says Abunaw. "When we come out to practice, everything is laid out for the entire practice. Everything flows and you can see the training plan."
Marshall enjoyed the attacking mindset the FIU team had under Nylen, another factor in the Ontario native's decision to transfer to BU. Even after a year under the new coach's guidance, the team has just begun to see their coach's game plan form.
"Other teams are going to see that it's a new era and that the coaching staff came with their own ideas," Abunaw says. "Something that's very exciting is how no one knows who we are. Last year, we didn't do as well as we wanted to and finished 9 out of 10″ in the Patriot League. "They're probably not expecting a lot out of us. If you look at our roster, we have so many new names. [Other teams] can look at film from the 2019 season and it's not going to mean anything, because we are not even close to being the same team."