These BU International Chinese Students Haven't Been Home in Almost Two Years
Three students from China share what it's like to be so far from family for so long
International Student Life
These Terriers Haven't Been Home in Almost Two Years
Three students from China share what it's like to be so far from family for so long
When COVID-19 forced Boston University to all but shutter its in-person operations in March 2020, most students simply went home to wait for further directives. But for some international students that wasn't possible. Forced to grapple with closed borders, expensive flights, restrictive travel policies, and strict quarantine policies driven by fear of catching the coronavirus, many of them, especially those from China, decided to ride out the pandemic in the United States rather than return home.

Here are the stories of three Terriers who have not been home to see their families since the pandemic started.
---
"You have so many great resources."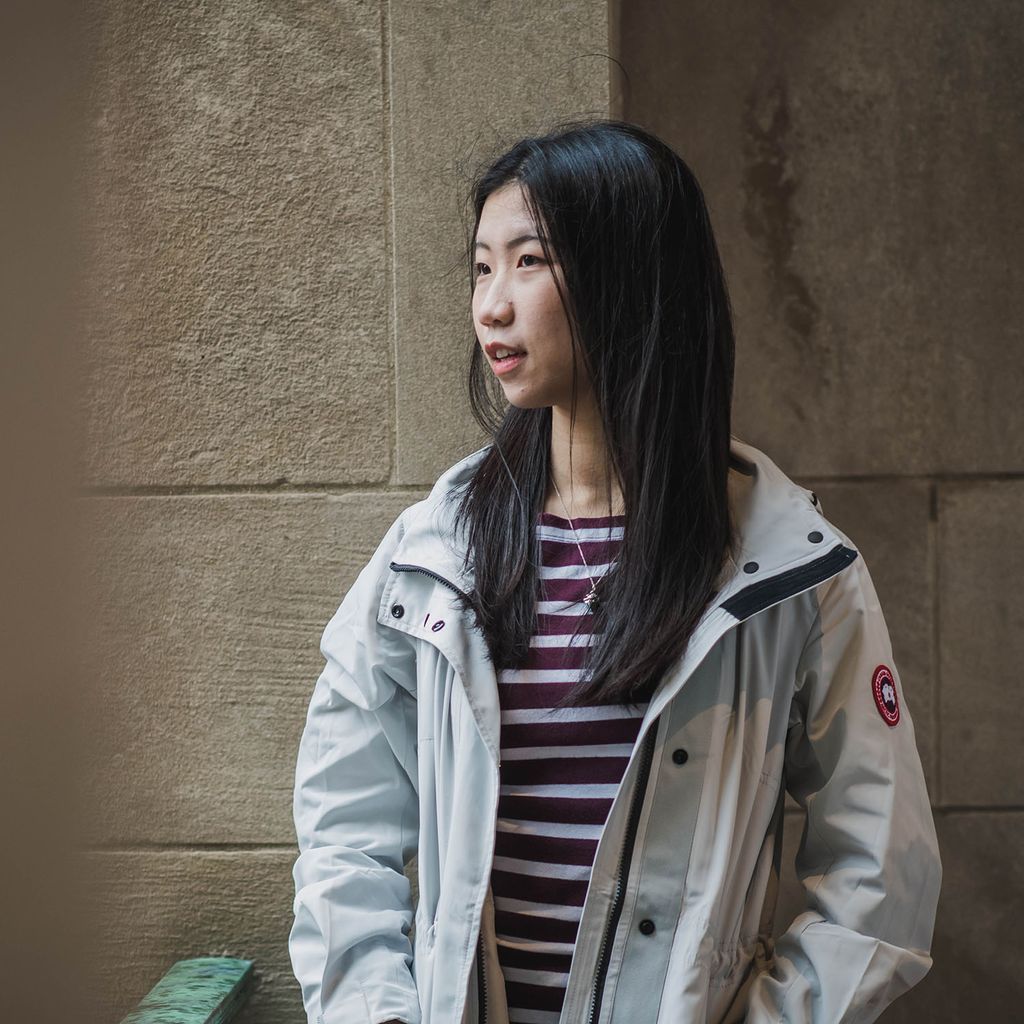 By her own account, Shilu Wang was mostly lucky. When BU went into pandemic mode 20 months ago, a friend opened their Allston apartment to her as BU's dorms were shutting down. Online classes were easy to adapt to, and she didn't mind spending endless hours inside. She also didn't have that much to miss: as a freshman, she didn't have the deep familiarity with BU and campus life that she thinks made quarantine so difficult for many upperclassmen.
"I didn't have much to compare things to," Wang (Sargent'23) says. "For people who were used to that wonderful in-person BU experience, I'm pretty sure they had a harder time adjusting to COVID-19."
Back home in Fuzhou, her family supported her decision to stay. But they worried about her. And she worried about them, too—her aunt had been diagnosed with an aggressive form of breast cancer in 2019, right before Wang left for BU. Wang's parents became her aunt's caretakers, which meant they weren't able to bring Wang to college for Move-in or come visit her in Boston during winter break that year. That was especially difficult, she says.
In addition to missing her parents, "I was pretty sure I was never going to see my aunt again," Wang recalls. "That was hard to take."
When the pandemic hit, Wang and her parents video chatted every day over WeChat. Her aunt, who refused to get on camera as she got sicker, sent voice messages. The information gap between China and the States made it complicated to gauge how bad things were in either country, but both she and her parents tried not to stress each other out by panicking, she says. On her parents' end, that meant making frequent use of BU's COVID-19 resource pages instead of bombarding her with questions. On her end, that meant downplaying things like the toilet paper and mask shortages.
But her aunt's diagnosis weighed on her. As the months went on, Wang found herself increasingly preoccupied with her own health. She became a frequent flyer with Student Health Services, booking a physical and later reaching out when she started feeling depressed. Luckily, that was a quick fix: vitamin D supplements and regular therapy sessions soon meant "problem solved," she says.
By the end of her first year at BU, she was back on track. She'd begun exploring the city as restrictions loosened, and even made it to New Hampshire's White Mountains with friends. She moved into her own apartment in Allston in September 2020, just as classes were resuming, taking advantage of the hybrid model and going to as many in-person classes as she could. When club sports resumed, she joined the badminton team.
Wang's aunt died this past October. She was unable to return home for the funeral. "That will be a pity for me probably forever," she says. The loss is fresh—she can't listen to her aunt's voice messages without feeling guilty and sad—but still, she stresses how lucky she's been over the past year and a half.
"It might be recall bias," she says, citing a concept she recently learned in class, "because I know I experienced loss and confusion, but I think the negative feelings have washed away. I'm grateful for everything."
Moreover, she has advice for anyone still feeling like they're struggling: "My suggestion would be to reach out. BU faculty and staff and everyone else at BU are so nice and supportive and so ready to help students. It's a loss to feel stressed by yourself when you have so many great resources."
---
"It's always going to get better."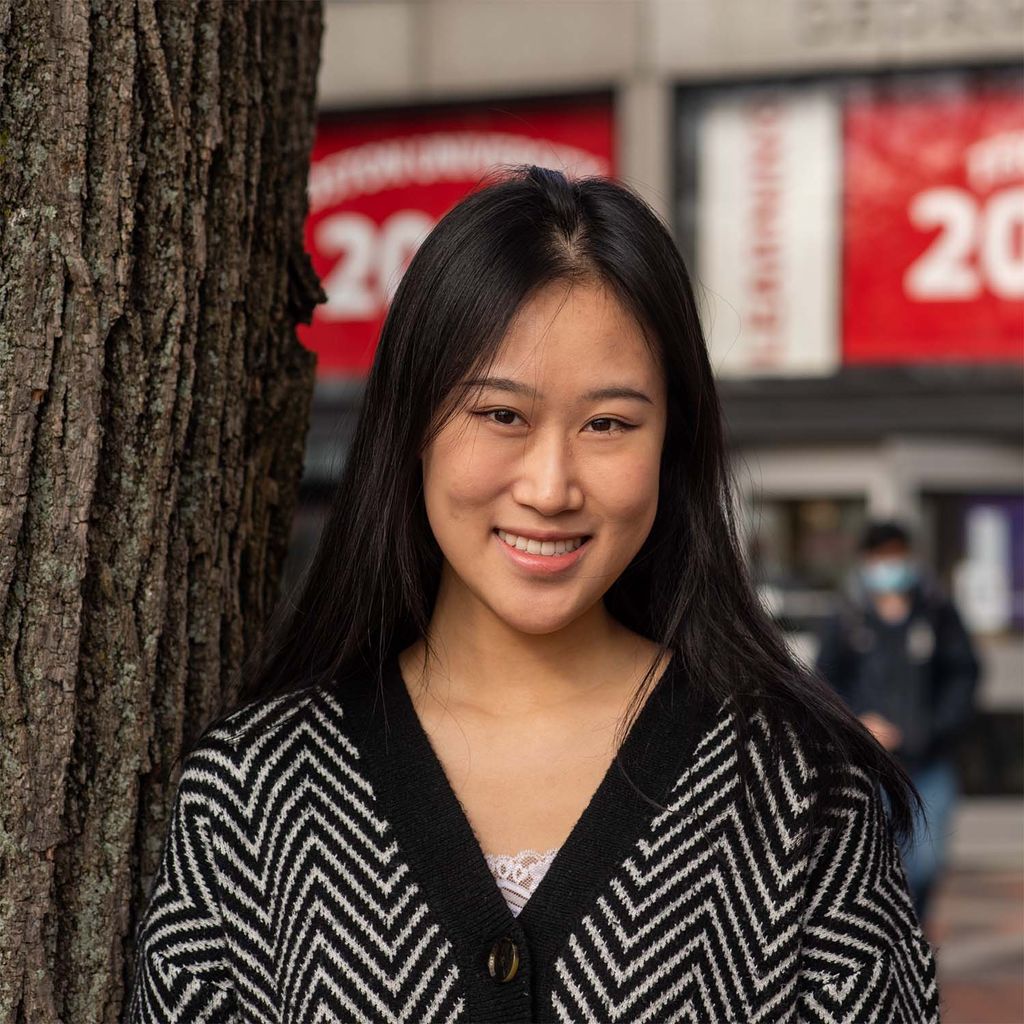 For Yuli Wen, staying in Boston during the pandemic was a family decision. At home in Beijing, her parents worried about the necessary quarantine period mandated by the Chinese government and the possibility of Wen catching COVID-19 on a plane. Wen worried about those things, too, but she also didn't want to take classes at midnight like so many international students ended up doing. "Day and night changing would have been suffocating," she says.
Instead, when BU closed up operations and moved to remote learning, Wen (CAS'23) and her friends booked an Airbnb on the Cape, reasoning that the seaside was a safer place to be than a crowded city. Eventually, she relocated to Cambridge, then moved to Brookline, where she currently lives.
Wen found most of her roommates through Chinese student group chats on Facebook and other social media sites. Everyone she linked up with became "really good friends," and she cites that as making a huge difference in her quarantine experience. "Some of my friends who chose to go back home [to China], I think felt really lonely because they were trapped in their homes and couldn't find anyone to talk to," Wen says. "For me, it was a great experience to meet new people."
For the most part, she was content in Boston during the height of the pandemic. She talked to her parents over FaceTime regularly. She bought a keyboard so she could practice piano at home. When things started to open up again in New England, she and her friends went hiking on the weekends and even fit in a ski trip over last year's holiday break.
Otherwise, Wen spent her days diving into her classes and homework. Her double major in economics and philosophy kept her busy—but it was the latter, especially, that kept her grounded when life felt overwhelming. "I felt like I grew more mature during quarantine, because I was trying to enjoy the time that I spent with myself," Wen says. "My philosophy readings helped me think deeper when I was alone and really gave me the power to keep going and be happy" during a complicated time.
Spending time by herself also helped her realize the importance of self-reliance. "One thing that came to my mind during the pandemic is that the only one who can save you is yourself," Wen says. "If you're depressed, parents and friends can't really give you the power you need to push yourself out of the mud. You have to save yourself, no matter what."
As the world approaches its second holiday season during the pandemic, Wen is sad she won't yet be able to return home, but she's hopeful that her parents will be able to visit her in Boston sometime in the new year. (In November, the United States lifted its international travel ban for travelers from 33 countries, including China, with proof of vaccination and a negative COVID-19 test,) Until then, she's finding comfort in the perspective gained from being away from home for so long.
"An idea that really helped me is realizing that nothing is going to stay the same," Wen says. "If you're in a state where you think everything's so bad and terrible no matter what—that's just temporary. But also, if you're in the happiest state you've ever been in, that's the time that something bad is going to happen.
"If you're happy, you have to be prepared for the downfalls. And during the downfalls, don't be too depressed because it's always going to get better. That's the faith I've inserted in my mind—it's going to get better."
---
Kristi Li "just wanted to go home really badly."
Kristi Li decamped for Dallas after 2020 spring break. She has family there, and it's where she went to high school. It made a lot more sense than trying to book a flight back to her parents' home in Shanghai, especially when they thought it was safer for her to stay stateside. So, off to her uncle's house she went.
In Texas, her mental state was all over the place, Li (COM'24, CAS'24) says. She kept herself busy during the early months of the pandemic, plunging into home workouts and taking naps after classes and homework. She also began cooking: "I have never been a big fan of takeout, so I managed to learn to cook the food I was craving," she says. Quick Instagram stories showing off her meal du jour eventually evolved into a full-blown food account, @chef.titi_.
"I still run this account and I appreciate how quarantine has helped me unearth a hidden interest," says Li, who uses the account to upload photos of homemade gyudon, breakfast feasts, couscous salads, and more.
By summer 2020, however, Li says, she was starting to lose it a little. She signed up for a full load of summer classes, which was a continuous source of stress. She says she "just wanted to go home really badly." Even though she was in constant communication with her friends and family, it wasn't the same. She missed her parents and her grandmother, who celebrated her 90th birthday right after Li left for Dallas. "I was raised by my grandmother, so we have a really strong tie," she explains.
Things started to improve when she flew back to Boston in September 2020. She was living off campus, in Allston, for the first time, and enjoyed having her own space to relax in and decorate. She also took advantage of her proximity to FitRec and developed a gym routine. Otherwise, Li spent her days trying new recipes and documenting the results on her Instagram. ("My favorite leisure activity was grocery shopping," she says.)
Now, more than a year later, her biggest lesson from her pandemic experience is learning to value spending time with herself. Even though life has at least partially returned to normal, Li says, she still tries to practice solitude every once in a while. "It really empowers me to become comfortable with who I am," she says. "The peace and mental solitude that I've experienced have allowed me to learn more about myself and find my own voice."
But she still misses her grandmother. Li's mom is probably going to visit Boston this summer, but it's unlikely that her grandmother could make that kind of trip. For now, she has the snapshots her mom sends to hold on to.
"It has always been reassuring to see her beautiful smiles in the pictures that my mom sends me," Li says. "My grandmother is doing well and even has a better appetite than mine!"