In His New Film, Reed Birney Finds the Role of a Lifetime
Portrayal of an anguished father is earning the actor, who studied at CFA, glowing reviews, awards buzz
Film & TV
In His New Film, Reed Birney Finds the Role of a Lifetime
Portrayal of an anguished father is earning the actor, who studied at CFA, glowing reviews, awards buzz
Veteran actor Reed Birney finally has the big-screen role he's waited for his entire career. His new film, Mass, is a wrenching chamber piece about two couples who come together six years after the death of their sons in a mass shooting at the local high school. The film, which opens today, October 8, in Los Angeles and New York before being released nationwide, is a meditation on grief, loss, and forgiveness.
Birney, who studied at BU's College of Fine Arts in the 1970s, plays Richard, a man in late middle age, who has traveled from his home in Baltimore to join his ex-wife, Linda (Ann Dowd), for a carefully arranged meeting with husband and wife Jay (Jason Isaacs) and Gail (Martha Plimpton) in a church hall in the town where they raised their families. The two couples are devastated by the tragedy, but in different ways: Jay and Gail have come looking for answers, for something that will take away the anger and grief they've struggled with since their son's death. Richard and Linda bear the devastating burden of being the parents of the killer, who took 10 lives before turning his gun on himself. Their pain is compounded by guilt and the fact that they were forced to hold the funeral service for their son in secret, because no church would memorialize him.
In many ways, Birney has the most difficult role: a man struggling with regret, but determined not to show his emotions. He is defensive, prickly, and haunted by the turn of events in his life.
"I think Richard is a guy who's trapped," Birney says. "I think he doesn't have the tools to help himself or others with the issue at hand. And so he's holding on so hard to try and make it through. He's one of those guys who's really determined to hang on to who he is and to the life he had, even though nothing around him supports that… He is one of those guys who says, 'My pain is none of your business.'"
The movie, written and directed by first-time filmmaker Fran Kranz, opened at Sundance last January to rave critical reviews—The Hollywood Reporter called it "a drama of searing intimacy" and The Guardian "an impressively bracing debut…anchored by four never-better actors"—and is generating lots of awards buzz for Kranz and his actors.
Birney says he's thrilled by the response.
"I don't think I expected that it would hit people as profoundly as it has," he says, "but that, of course, was our hope. In show business, more often than not, you're like, 'I'm in this great play and nobody likes it, or nobody's coming to see it.' And so, for people to be getting it exactly the way we intended them to get it, is incredibly gratifying and thrilling.
"I'm so proud of it," he adds. "I feel like if I never make another movie again, I've satisfied my movie-bug itch, because that's as good a part and as good a project as I think I could ever hope to be in."
After leaving BU before graduating to move to New York, Birney had early success on Broadway in the smash hit Gemini. But in the decades that followed, he struggled to find work off Broadway, appearing in small guest roles on television and teaching. By 2007, he was seriously contemplating leaving the profession.
"I had just done a play [Charles Busch's Our Leading Lady] at Manhattan Theatre Club, where I had seven lines. And I actually thought, I guess it's pretty much over. If this is the best I can get at 50-something, there's no reason to think anything's gonna shift. And then it did."
A year later, Birney was cast as a racist, misogynistic tabloid writer in the New York premiere of the Sarah Kane drama Blasted, an exploration of violence, degradation, and sexual assault. His critically lauded performance caught the attention of directors and playwrights, leading to a return to Broadway after a 30-year hiatus. He was in a 2012 revival of William Inge's Picnic and in Harvey Fierstein's 2014 drama Casa Valentina, which earned him a Tony Award nomination. He won the award two years later for his performance as another anguished father, in Stephen Karam's The Humans. Those roles led to more television appearances (The Blacklist, House of Cards). Still, the actor, now 67, had never had a starring turn in a feature film.
Kranz originally wrote Mass as a play and the part of Richard with Birney in mind—a first for the actor. The two had met through mutual friends. The play was inspired, in part, by the 2018 Parkland, Fla., school shooting, which occurred shortly after Kranz became a father. He was driving one day when he heard a radio interview with a parent of one of the students who died; he was so emotionally overcome, he had to pull over.
Birney read the script and thought it was terrific. When Kranz couldn't get it produced as a play, several people—Birney among them—urged him to adapt it as a screenplay.
Shooting for the film began in November 2019, just before the COVID pandemic struck, and cast and crew faced a daunting shooting schedule. Because they were shooting it in a Sun Valley hotel and had to be done by Thanksgiving, when the season started, the entire movie had to be completed in just two weeks.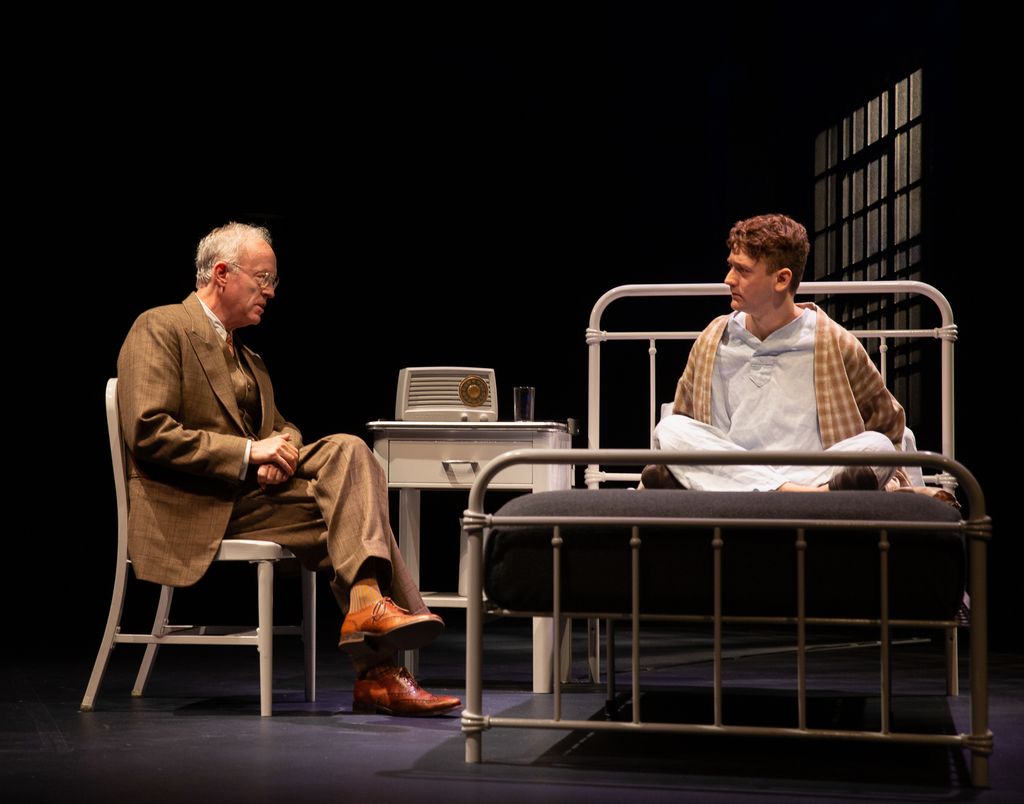 Birney had another meaningful experience this past summer, when he starred alongside his son, Ephraim, in a stage production of Joseph Dougherty's Chester Bailey at Barrington Stage Company in the Berkshires. Set in the 1940s, the drama is about a young man working in the Brooklyn Navy Yard who suffers a terrible injury and the doctor who cares for him.
"It was thrilling," Birney says. "We'd done the play two years before, and just to come back to it, after the worst of the pandemic—to be able to be on a stage after 18 months and see how the play had grown up and we had grown up—was wonderful. Ephraim was so beautiful in the play; he really mopped the floor with me. Meryl Streep came to the second show, and to see her throw her arms around Ephraim and tell him what a great actor he is—that was all worth it."
Birney hopes the production will find its way to New York. Meanwhile, he is already at work on another film, a psychological drama titled The Menu, currently shooting in Savannah, Ga. The cast includes Ralph Fiennes, Anya Taylor-Joy, John Leguizamo, and Judith Light, who plays Birney's wife. "It's a great script," he says, "a little Agatha Christie. And it's lots and lots of fun."
And he has high hopes for Mass as it starts rolling out across the country.
"I actually have a feeling that it's going to be pretty big."