In Animal City, CAS Historian Traces the History of Livestock in US Cities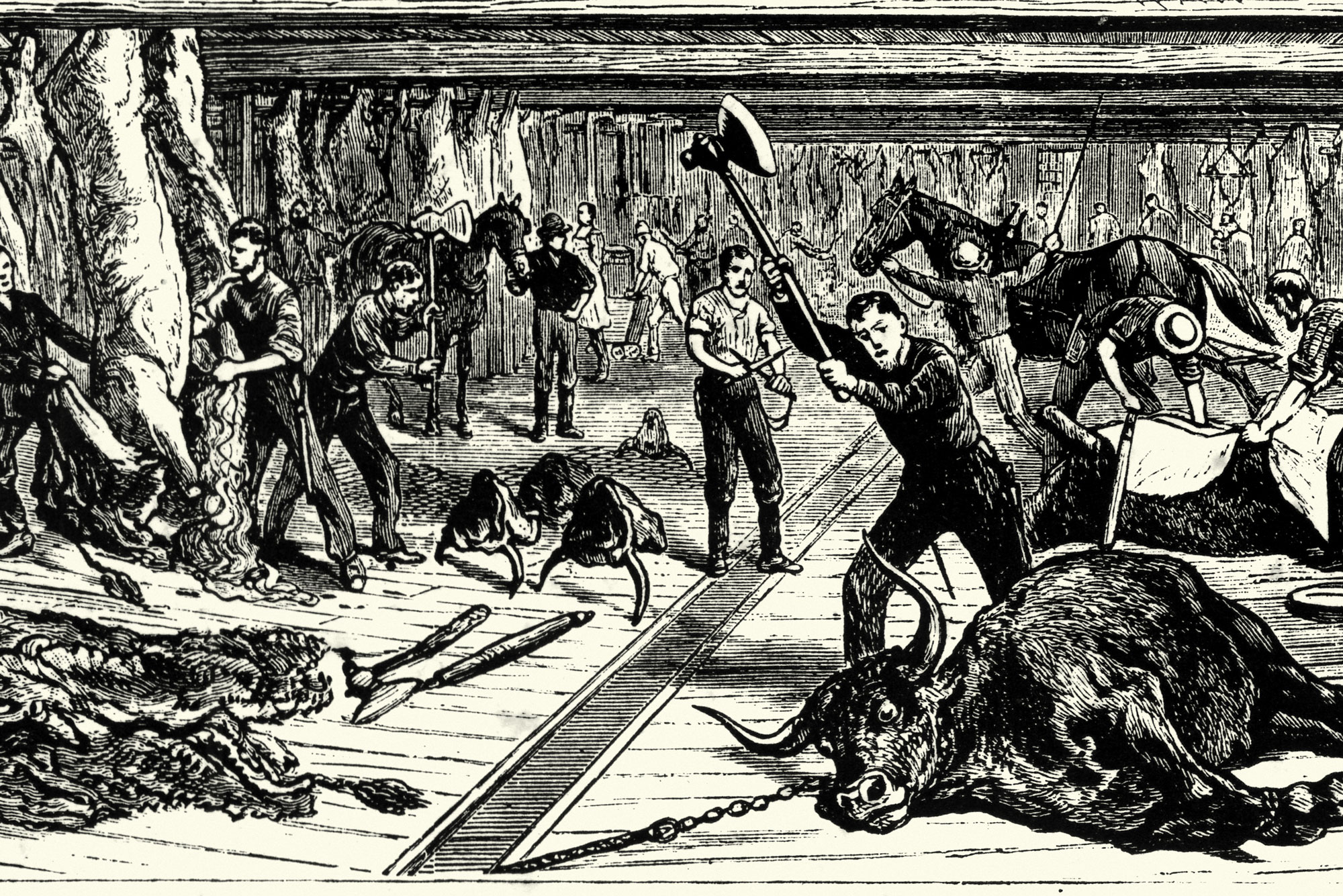 Books
In Animal City, CAS Historian Traces the History of Livestock in US Cities
Andrew Robichaud's book explores how raising and slaughtering animals was banished and replaced by pets, zoos, and children's tales
In 1842, the British novelist and social observer Charles Dickens toured America, recording for the British public accounts of daily life in American cities. New York City in particular fascinated him. He was at times amazed, amused, and horrified by the colorful dress of the wealthy, the filth of New York's working-class Five Points neighborhood, and the free-ranging sows and "gentlemen hogs" who walked Broadway and ate the city's garbage.
These last observations, of the city's animal population, were what most interested Andrew Robichaud, a College of Arts & Sciences assistant professor of history, and he includes the anecdote in his recent book, Animal City: The Domestication of America (Harvard University Press). In the book, Robichaud chronicles the evolving role of animals in 19th-century American cities. He takes readers on a journey through the daily life of cities bustling with both human and animal inhabitants, then describes the growing push to banish livestock and livestock businesses to the fringes of urban areas.
He shows how, by the end of the 19th century, most city residents' relationships with animals were similar to what they are today. The production of meat was out of sight and out of mind, the keeping of pets had become widespread, and a proliferation of zoos allowed the public to interact with animals in idealized settings.
In the early 19th century, the raising (and slaughtering) of livestock happened near the heart of industrializing cities. City inhabitants sometimes kept chickens and cows, grazing the cows in shared spaces such as the Boston Common. Slaughterhouses, hog farms, and rendering establishments rubbed shoulders with other downtown businesses, and cattle drives were common hazards on city streets.
But as the century wore on, a growing chorus of city residents and leaders wanted to reform the noisy, smelly, and sometimes violent animal world at their doorsteps.
"There is a push in the 19th century to cleanse cities of human-animal interactions that are unpleasant or seen as demoralizing or degrading in some way," says Robichaud. "That could mean seeing an animal beaten in the streets or seeing attractions that show animals that are deformed or freakish. Reformers were concerned that you would have children witnessing this in their daily lives."
There were other reasons, too, to rid downtown areas of animals (besides horses, of course, which were essential for transportation). It was widely thought at the time that animals, and their odors, carried or caused disease, and fear drove some of the most forceful regulations of animal life in the 19th century. In 1849 a devastating cholera epidemic hit Boston, New York, and other US cities, prompting greater public health action in the wake of this and other health crises on the issue of livestock and slaughterhouses in cities.
In cities across the United States, city planners and officials tried to create manageable pollution zones on the outskirts of town where the animal trades could be carried out. In San Francisco, slaughterhouses were built on piers so the waste would fall into San Francisco Bay. In Boston, parts of Brighton were designated for the animal trades, and the city government established strict rules for cleaning and processing animal waste. 
Railroads not only made this separation possible (trains could bring fresh meat to city dwellers), but eventually helped Chicago become a national hub of the meat industry, putting many local meat packers and slaughterhouses out of business.
At first, animal-welfare reformers tried to improve the conditions that animals lived under in these new managed zones.
"Many of the early animal-welfare reformers did want to transform or reform what they would call the inhumane practices of slaughterhouses and livestock industries," Robichaud says. "But they were highly limited in their ability to do that, and one of the reasons was this new geography. It's hard to enforce laws on railroad cars that are carrying animals hundreds of miles. It's really hard to enforce laws in slaughterhouse districts that are farther away from city centers."
Over time, the animal-industries districts became polluted and attracted other "dirty industries." Lower-income people lived there because they worked there or could not afford to live elsewhere, breathing the nearby industries' polluted air. Meanwhile, reformers came to focus most of their energy on what they could better control: the portrayal and treatment of animals, such as pets or zoo animals, that remained in the city center.
Societies for the prevention of cruelty to animals (SPCAs) and humane societies sprouted up, the precursors of today's animal-rights organizations. As Robichaud describes it, reformers who emphasized treating animals humanely aimed not just to reduce visible displays of violence or cruelty to animals, but also to improve human relations. Advocates for improved public morality believed that if children could learn to care for a pet, or for animals in general, they could learn values such as cooperation and respect for others. There was a proliferation of children's books in the late 19th century teaching children morality through interaction with animals—a common theme in children's books to this day.
Society's relationship with animals is very much a legacy of this late-19th-century historical moment, according to Robichaud. "There are deep contradictions in the ways we treat animals as a society," he says. "On the one hand, we have this massive culture of pet ownership and treating animals almost like people. And then we have this very invisible world in which animals on factory farms have these abysmal lives."
Robichaud, who teaches a seminar on animals in America and incorporates what he learned for the book into his courses on urban history and Boston history, says he was motivated to write the book because it dealt with an underexplored but intriguing area of US history.
"I was fascinated with it on a lived experience level," he says. "What was it like to live in a city where you had pigs roaming around, you had cattle drives, where your neighbor was slaughtering animals? And this was also an area that was underdeveloped in the scholarship."
What's next for Robichaud? He is currently researching a history of the ice industry in America. Before mechanical refrigeration, ice was harvested from ponds on a mass scale and shipped around the country (even to the Caribbean) for use in cooling homes and preserving food. Another topic opening a window onto a way of life that is now gone from the American landscape, and another book to look out for.
Andrew Robichaud discusses Animal City: The Domestication of America today, Tuesday, February 9, at 4 pm, during a virtual conversation with Catherine McNeur, a Portland State University associate professor of environmental history and public history, sponsored by BU's Initiative on Cities and the CAS history department. Find details and register here. 
"Animal City" was originally published in the spring 2020 edition of arts&sciences Magazine.