Honoring Martin Luther King, Jr. (GRS'55, Hon.'59) amid Tumult in America
MLK DAY
Honoring Martin Luther King, Jr. (GRS'55, Hon.'59) amid Tumult in America
BU's annual observance commemorates civil rights leader in virtual event Monday
This year, BU's annual Martin Luther King, Jr., Day observance arrives in the midst of a long racial reckoning in America. At the ugly end of a presidency that seemed to embrace white supremacy. And just days after a violent insurrection on Capitol Hill that saw the Confederate battle flag waved in the halls of Congress.
"For me, it makes MLK Day feel like more than just our annual celebration," says Katherine Kennedy, director of the Howard Thurman Center for Common Ground, which is hosting the event. "It's a true remembrance of what MLK stood for, fought for, died for. And, especially for those of us who have lived long enough to have been a part of that, it's a pretty emotional time."
Emotional? Ask Kenneth Elmore why the writer James Baldwin, who died in 1987, is a focus at Monday's event.
"Let me show you something," says Elmore (Wheelock'87), BU's associate provost and dean of students, during a Zoom interview. He steps out of the picture briefly and returns clutching a battered stack of pages that used to be a paperback copy of Baldwin's epochal The Fire Next Time, which pairs two passionate essays against racial injustice in America.
Elmore bought the book back in the 1970s, when he was a middle schooler in Brooklyn, and he's kept it close ever since, never forgetting the day he read the first essay, "My Dungeon Shook: Letter to My Nephew on the One Hundredth Anniversary of the Emancipation." Elmore reads aloud a paragraph:
---


It will be hard, James, but you come from sturdy, peasant stock, men who picked cotton and dammed rivers and built railroads and, in the teeth of the most terrifying odds, achieved an unassailable and monumental dignity. You come from a long line of great poets, some of the greatest poets since Homer.
One of them said, The very time I thought I was lost, My dungeon shook and my chains fell off.


---
"When I read that, my dungeon shook," Elmore says. "I was not a person thinking about college, I was not a person thinking about much more than 10 blocks of my world. And when I read that, it gave me the encouragement to go to college, to think about how college might be as important to me as hustling on the street might be."
In short, it changed his life.
Baldwin is the subject of Begin Again: James Baldwin's America and Its Urgent Lessons for Our Own (Crown, 2020), by Eddie S. Glaude, Jr., the James S. McDonnell Distinguished University Professor of African American Studies at Princeton University, where he is also chair of the Center for African American Studies and the African American studies department. Looking at the US history of inequality through the lens of Baldwin's life and works, Glaude's book tackles topics from the Black Lives Matter movement to Trumpism.
Begin Again hit home with Elmore, and now Glaude will join Ibram X. Kendi, director of BU's Center for Antiracist Research, the Andrew W. Mellon Professor in the Humanities, and a College of Arts & Sciences history professor, in speaking at Monday's virtual event.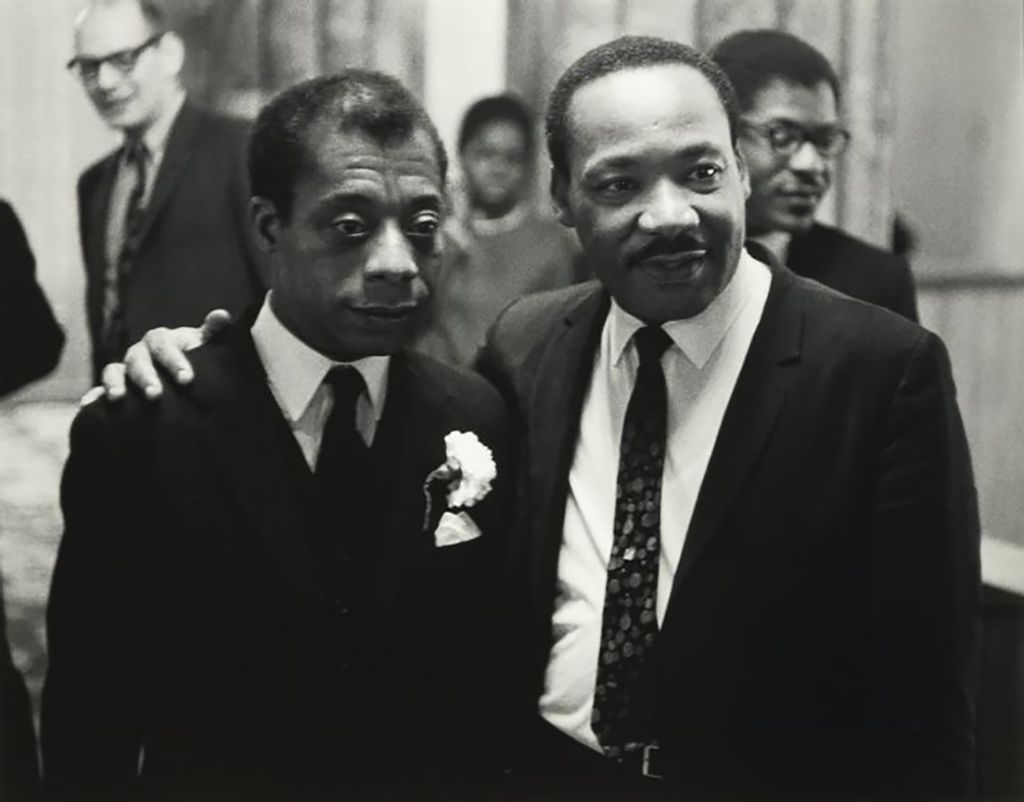 The program, which begins at noon, will also include Boston Mayor Martin J. Walsh; Boston ABC affiliate WCVB-TV director of public affairs Karen Holmes Ward (COM'77, Hon.'19), a University overseer and BU Black Alumni Leadership Council chair; Andrea Kalyn, president of the New England Conservatory, and musicians and singers from the school; BU's Inner Strength Gospel Choir; Jean Morrison, University provost and chief academic officer; and Robert A. Brown, BU president. The King commemoration is presented by the City of Boston, the New England Conservatory, and the Thurman Center.
This year's event also honors King's widow, Coretta Scott King, a civil rights leader, author, and activist in her own right, who graduated from New England Conservatory in 1954. Her passion for music remained throughout her life and played a role in her civil rights work, as she sang spiritual hymns at events where her husband spoke and conceived and performed the renowned Freedom Concerts, which combined music, prose, and poetry narration.
Other events will run through the weekend, including a Marsh Chapel service on Sunday; details are available here.
Kennedy says she "feels like I need a reeducation in what democracy is really supposed to be," that recent events "have me as a citizen really confused as to what is this true democracy that we say we're fighting for and working for and living for. Being old enough to have lived through the civil rights era and before the civil rights era, I just feel more fear now than I did then, because I don't see the leadership."
She hopes Monday's observance will offer at least a small antidote to the violence and disrespect and hatred that was on display last week at the Capitol and beyond. "It's even more meaningful to me this year," Kennedy says. "I hope I will feel renewed and be reminded that all is not lost, that there are still good, committed patriots who will continue the fight."
"Monday feels different because of what happened on January 6," Elmore agrees. "I keep going back to this: America has got to mean something. And I think now we are at a point where we all say, hell yeah, America has to mean something, but what? And we're having that conversation. I hope we're having that conversation. And if Monday sparks that conversation, I'll be happy." He and artist Gale Fulton Ross will discuss Baldwin's work Sunday at 5 pm on Zoom.
The King events on campus mean something different every year, "but every year we need to come together," Elmore says. "This year is going to be a hard one, because we will come together, but we won't be in the same space. I wish we could get together with masks on and physically distant, and take up miles if we had to. But we just can't do that."
He carefully packs the pages of Baldwin's book back into the cigar box where he keeps them. The box is covered with what look like autographs. They are the signatures of students in the Harlem Children's Zone, he explains, an education and anti-poverty project covering an entire New York City neighborhood, supporting its children from birth to college.
"The first set of students that were about to go to college, I got a chance to meet them," Elmore says, "and I asked them to sign my box where I keep my James Baldwin, because they inspire me the same way Baldwin does. This is really important to me. If there's a fire, my computer's going to burn, but not this."
Event Details
Martin Luther King, Jr., Day
An online event featuring Eddie S. Glaude, Jr., of Princeton University and BU's own Ibram X. Kendi.