Her Dad Went to BU and Died on 9/11. Now She's a Proud Terrier Too.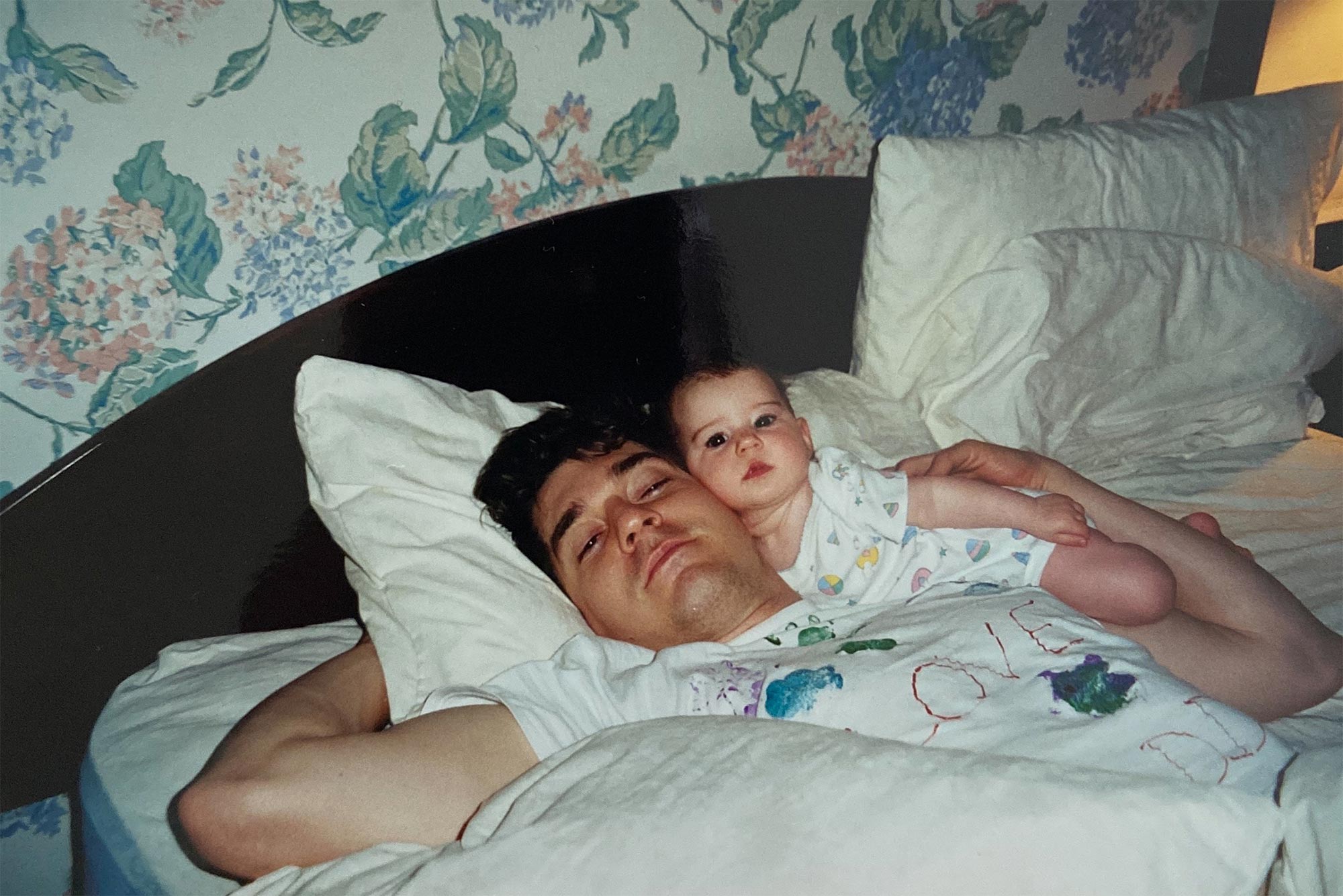 Remembrance
Her Dad Went to BU and Died on 9/11. Now She's a Proud Terrier Too.
Halie Metz (CAS'21) treasures her father's student ID. "BU connected me to my dad," she says.
Raymond Metz was 37 and working as a currency broker in the World Trade Center when he died in the 9/11 attacks. He and his wife, Patrice, and their two young daughters, Natalie and Halie, lived in Trumbull, Conn., close enough to Boston for him to occasionally catch a Red Sox or Patriots game. Metz (CAS'91) had grown up on the North Shore and studied economics at Boston University, and those ties never left him. In May 2021, 30 years after he graduated from BU, Halie Metz (CAS'21), who was just three years old when her father died, graduated as a Terrier, too. With the 20th anniversary of 9/11 approaching, she spoke with BU Today about her BU experience, what she has learned about her father, and the memories she leaves the University with.
My mom and my sister both went to Boston College. My sister is four years older than me. I remember taking the B Line through BU and thinking, cool campus, and I ended up applying. It was a great decision. I did know my dad went to BU. And it was meaningful to me, because I was obviously very young when he died. I was three and a half. To experience the same path that he did, even in a different time, I thought was really cool to have that connection.
I did as much poking around about his time at BU as I could, looking at old pictures. When my sister was at BC, she met up with some old colleagues of my dad's, and we were supposed to meet with them. But then the pandemic happened. I hope we can do that. I am just interested in what bars he went to, what else he did. That's a side of him growing up that I never gave much thought to, and to just hear about his college time is nice. I definitely knew of a few places he lived when he was off campus. He was an econ major. But that's sort of the extent of what I knew.
Regarding 9/11, growing up I really didn't know that much. When I was young, I thought he was a construction worker, because we would go and visit Ground Zero. I didn't really have any idea what he did or what happened, and just filled in the gaps on my own for a while. At school, teachers would talk to me on the day [9/11], but I didn't really know a lot about it until middle school.
When I got an iPod Touch in middle school, I googled 9/11. I was curious one day. I don't think I realized how many people died, how many people it impacted. I just googled 9/11 and then I googled my dad's name. That's when I found the Legacy page. It was a weird way to find out so many details. But I also understood why people didn't talk to me about it. I was embarrassed, I just wanted to have a normal family life. I kept it to myself. I didn't think about it too much.
After I googled it and started learning more, it was more a relief than scary. I am sure it was emotional. I find this kind of thing really interesting. It was interesting to read other stories. Seeing others in the same position as me gave me comfort. I also remember reading the comments on his obituary and seeing so many strangers saying stuff and how much it meant to them.
When I decided to come to BU, I think I wanted to follow my dad. I really didn't want to go to BC and follow my mom and sister there. I didn't even apply. I think it was really exciting that BU connected me to my dad. That was unique for me. All my friends thought it was so cool that he went there. I still have a picture of his student ID and it's nice to see how he looked. It's really special. I love looking at it. I see that and imagine what he was like on campus.
We don't really have any traditions for the anniversary. In the past, on the 9/11 anniversary, we have sometimes gone to the memorial at Ground Zero. We went for the 10th anniversary. That was the first time I went on the anniversary. I was in, like, eighth grade. When I was little, we played hockey in the driveway, because he was big into hockey. Sometimes we'll make a dinner that was his favorite. My sister lives in Ireland now. So it's hard for us to be together. I don't want it to be a sad day. I like not being sad on the day.
With everything happening now in Afghanistan, I have been trying to connect the dots. I didn't have an idea growing up about the context and the history and how it all fits together. I was in middle school when Osama bin Laden was killed. And I didn't fully understand why teachers came up to me and asked if I wanted to step out of class. I guess ignorance is bliss sometimes.
For me, graduation took five years. My dad also took extra time. I didn't even realize it was 30 years from when he graduated. Realizing that was special. As I get older, being in the same city as he was, it's cool to think about where he was at my age and what he'd be doing. Graduating brought up a lot of happy thoughts. Family and friends tell me stories about how we are similar, and how he was funny and I can be funny and how his personality is like mine. Both very outgoing, both funny. My aunt, the other day, said she didn't realize how much I look like my dad.
Find a list of all those with ties to the BU community killed on 9/11 here.