Terrier Star Hanako Kawasaki Headed to US Women's Amateur Golf Championship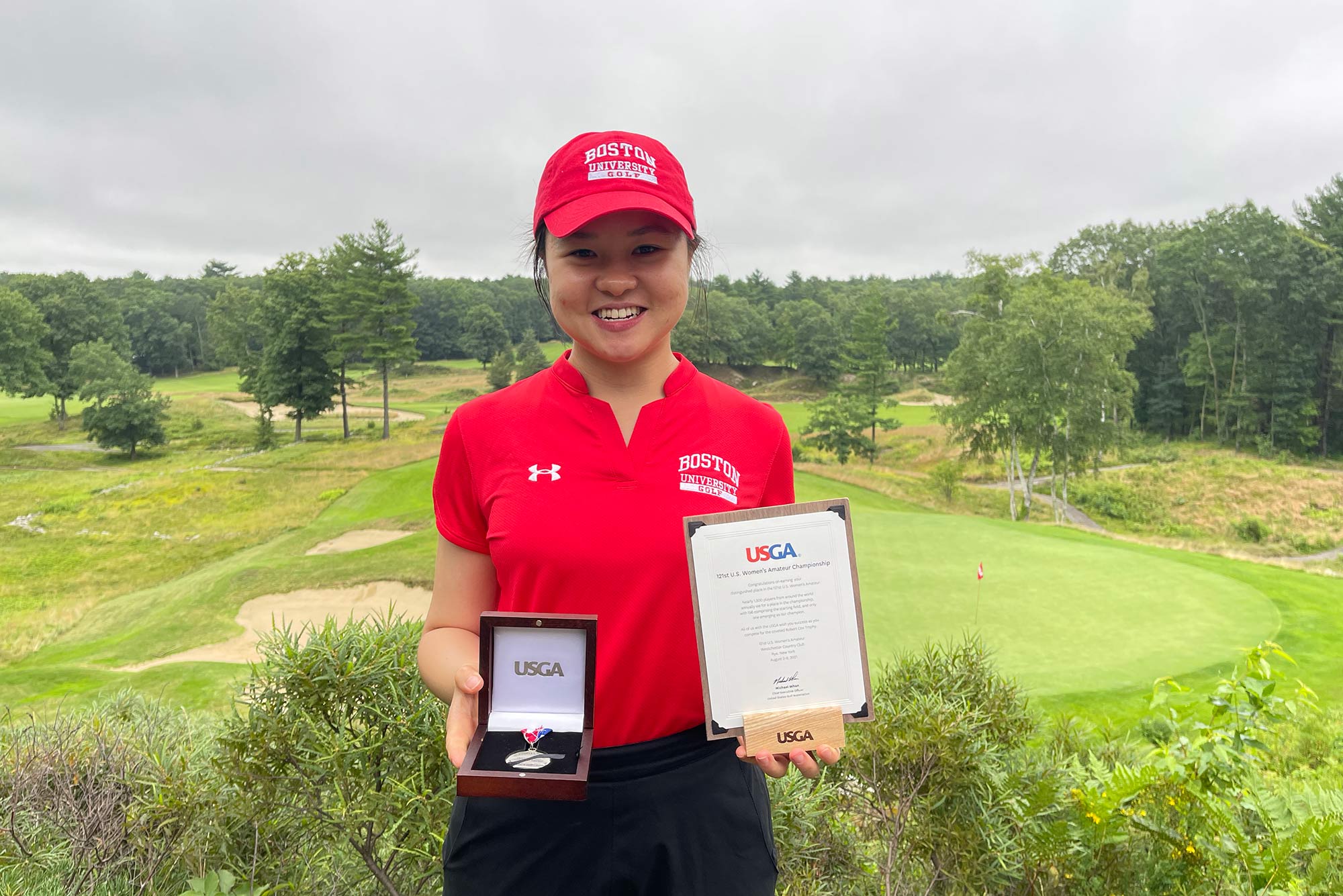 National Sports
Terrier Star Hanako Kawasaki Headed to US Women's Amateur Golf Championship
Questrom senior will play alongside the nation's best this week
When the 2021 US Women's Amateur Championship opens Monday, August 2, at Westchester Country Club in Rye, N.Y., Hanako Kawasaki (Questrom'22) will be teeing off and representing the Boston University women's golf team. The reigning Patriot League Scholar-Athlete of the Year earned her entry at her first-ever American qualifier at Boston Golf Club on July 12.
Kawasaki, a senior, posted an even-par 71, tying for the best score of the 30-player field, earning one of three qualification spots to the national amateur event, being held August 2 to 8.
After finishing her qualifying round, Kawasaki says she sensed it could be a special day right from the opening hole. "I started the day with a birdie, so I was like, 'Okay, I have that in me.' That birdie was a massive confidence booster going into the round."
Early confidence was key for a player who has spent her summer fitting golf around a full-time position as a Credit Analyst Intern at DBRS Morningstar. Despite having less practice time than usual, Kawasaki decided to participate in the qualifier on the recommendation of BU women's golf head coach Bruce Chalas—and the gamble paid off.
"Coach Chalas is always encouraging me," she says. "I was just happy to be out there, to be honest. I didn't really have any high expectations."
Kawasaki says Chalas has been instrumental toward her success, even in the college golf off-season. "He's really always there to motivate me and encourage me and challenge me, which I really need, because, coming from Vietnam, it's so drastically different," she says.
"During her time at BU, Hanako has always set high goals for herself, whether academically, athletically or otherwise, and this is another example of her continuing to achieve these high goals," Chalas says. "Since Hanako arrived on campus as a freshman, she's clearly helped drive the program to greater heights in all areas, and this is another example of how she continues to give our nationally acclaimed program even greater visibility."
Since arriving in the United States to attend BU three years ago, after playing in her homeland on the Vietnam National Team, Kawasaki has never played in a high-stakes tournament away from BU until now. She credits much of her growth as a golfer to her experience at the University.
"I think being on the BU golf team helped me realize my potential," she says. "BU in general has really given me an environment to flourish."
As she aims to continue her ascension in golf, Kawasaki says she is trying to keep everything in perspective ahead of the US Women's Amateur Championship.
"I want to set my goals very realistically and not expect too much out of myself," she says. "That's how I approached the qualifier, and it was really effective."
The championship will progress through the week, beginning with two rounds of stroke play on Monday and Tuesday, narrowing the field for a match play bracket that will culminate with a 36-hole championship on Sunday.
"My goal is probably to advance to match play, but after that, we'll see where the tide takes us," she says.
Fans can follow the action through the United States Golf Association's online channels, and watch the match play portion of the tournament on The Golf Channel and NBC's Peacock streaming service.