From High School Teammates to Patriot League Champions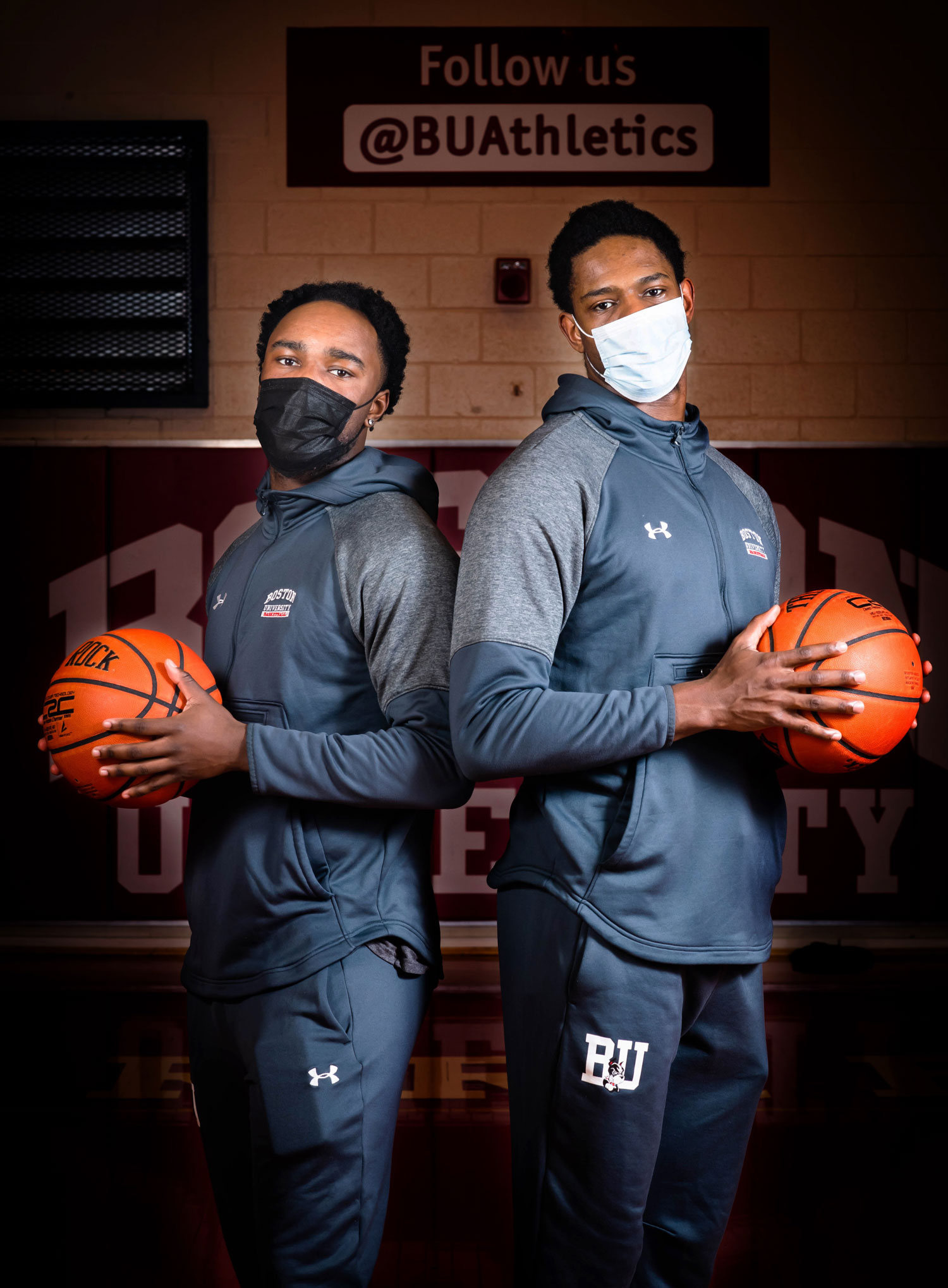 Varsity Sports
From High School Teammates to Patriot League Champions
Men's basketball Terriers Walter Whyte and Jonas Harper are best friends on court and off
Six years ago, Walter Whyte and Jonas Harper shared the court for the first time at St. Luke's School in New Canaan, Conn. They couldn't know then that they'd still be teammates six years later, on the reigning Patriot League champion Boston University men's basketball team.
"There's probably thousands of games we've played together," Whyte (CAS'20, SPH'22) says. "He's like a little brother to me."
Harper (CGS'20, CAS'22) was a freshman St. Luke's when Whyte transferred there as a sophomore in 2015. The brotherly banter began almost instantly.
"I met him in the cafeteria," Harper recalls. "I had some new shoes on, and let's just say, he didn't think they were pretty good shoes, so he made fun of me for them."
"He always swears I bullied him, and then we became best friends after that," Whyte says with a laugh.
Harper: "It was all love."
The duo quickly found success on the court, helping St. Luke's capture two New England Preparatory School Athletic Conference titles, in 2016 and 2017. Those victories helped cement their friendship. "I was just always near him, and we just always kept talking and talking," Harper says. "It was something that built over time, and then it just stuck."
When Whyte graduated and enrolled at BU, he and his teammate stayed in touch. Harper says they never planned to play together in college, but when the opportunity arose, he jumped at the idea of joining Whyte as a Terrier.
"We kind of joked around at first, and then it came true," he says. "He was extremely excited and really welcoming. He wanted me to be here, and I loved being here too."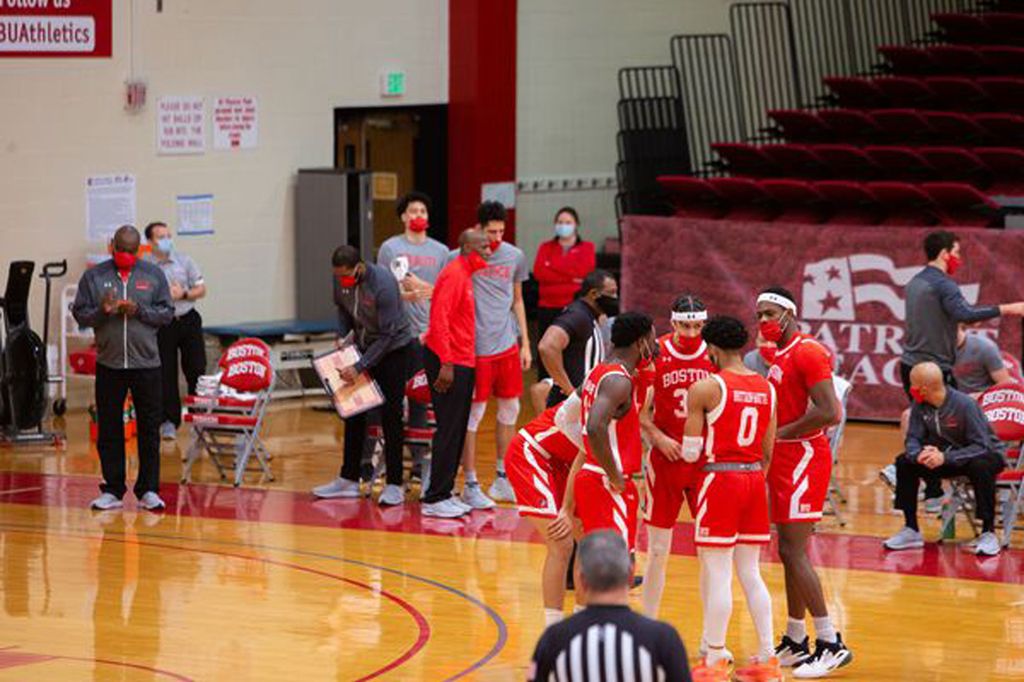 Whyte says he talked his friend up to men's team head coach Joe Jones. "Coach said, 'Should I take him?'" he recalls. "I was like, 'Most definitely.'"
Jones says Whyte was Harper's biggest advocate through the recruitment process. "We talked to Walt quite frequently about Jonas as a person," he says. "Walt thought Jonas was the right type of kid for our program, and he was spot-on."
The coach speaks highly of both Terriers, not just as players, but as people. "They were both raised the right way," he says. "They both come from great parents—they're terrific people, high-character people."
From sleepovers in high school to rooming together on the road when traveling for games, the teammates say their friendship extends beyond the court. "We work out all the time, play video games, we take the same classes," Whyte says.
Even though Whyte couldn't be on the court during a redshirt season, he still played a major role in Harper's first year at BU. "He was always in my ear, helping me out when I was down or had a bad game," Harper says. "He was helpful throughout the whole process."
They were able to suit up side-by-side again, this time in scarlet and white, at the start of the 2019–2020 season, never imagining it would end the way it did. The Terriers won their first-ever Patriot League title, thanks in large part to Whyte and Harper, who each scored 12 points in the March 11 championship game at Colgate, only to have the NCAA cancel March Madness the next day, another casualty of the COVID pandemic.
Winning their conference title "was an unreal moment," Harper recalls. "Sharing another championship with Walt just meant the world to me."
Now as upperclassmen, the two have become a focal point of the Terrier rotation. Whyte says their chemistry on the court has become second nature. "I know where he's going to be," he says. "I just know how he plays, and he knows my game like the back of his hand.
"I hate playing him one-on-one," Whyte says with a smile. "I know all his moves, so it's kind of a cheat code."
In addition to their on-court roles, Whyte and Harper are taking on more responsibility in the BU community. They are codirectors of operations for Student-Athletes of Color, a BU Athletics group formed last year to create an environment that ensures that the opinions of students are valued, respected, and empowered and to foster change both within and beyond BU Athletics.
"I just felt like I needed to do something and step up in some way," Harper says. "When [Whyte] joined the organization with me, I felt like I was more comfortable to say what's on my mind because I knew someone shared the same experiences that I did."
The organization has grown quickly since launching in the fall and is already making a difference, according to Whyte. "We're completely open, and that can impact society on a macro level," he says. "It's somewhere I can speak my mind and feel safe and feel heard."
Jones commends Whyte and Harper for assuming leadership positions. "I think they both understand that life's about how you impact other people," he says. "I think they have a genuine interest in the world and what is happening in our country right now. They want to do something about it, so I'm super proud of both of them."
Whyte says that their advocacy work has deepened their friendship and mutual respect. "I think it's made us a lot stronger," he says. "We talk about everything, because that's my brother."
Their coach sees that every day. "It's like coaching two brothers," he says. "I just kind of watch them in such enjoyment because they really love each other and care about each other so much. It's really cool to watch."
As the Terriers close out the regular season this weekend with a two-game set at Army West Point, Whyte and Harper are looking to lead the Terriers into the postseason—and hoping to add another chapter to their friendship by becoming back-to-back Patriot League champs.
"I'm so proud of what we've accomplished," Whyte says, "and I'm hoping that we can win another couple more while we're here."
The men's basketball team plays Army West Point on Saturday, February 27, and on Sunday, February 28; both games are at 3 pm and both are at West Point. Fans can watch the games on ESPN+ and listen for free on the Terrier Sports Radio Network.