Alum's Film Sheds Light on Rabbi Who Fled Nazis, Fought for Civil Rights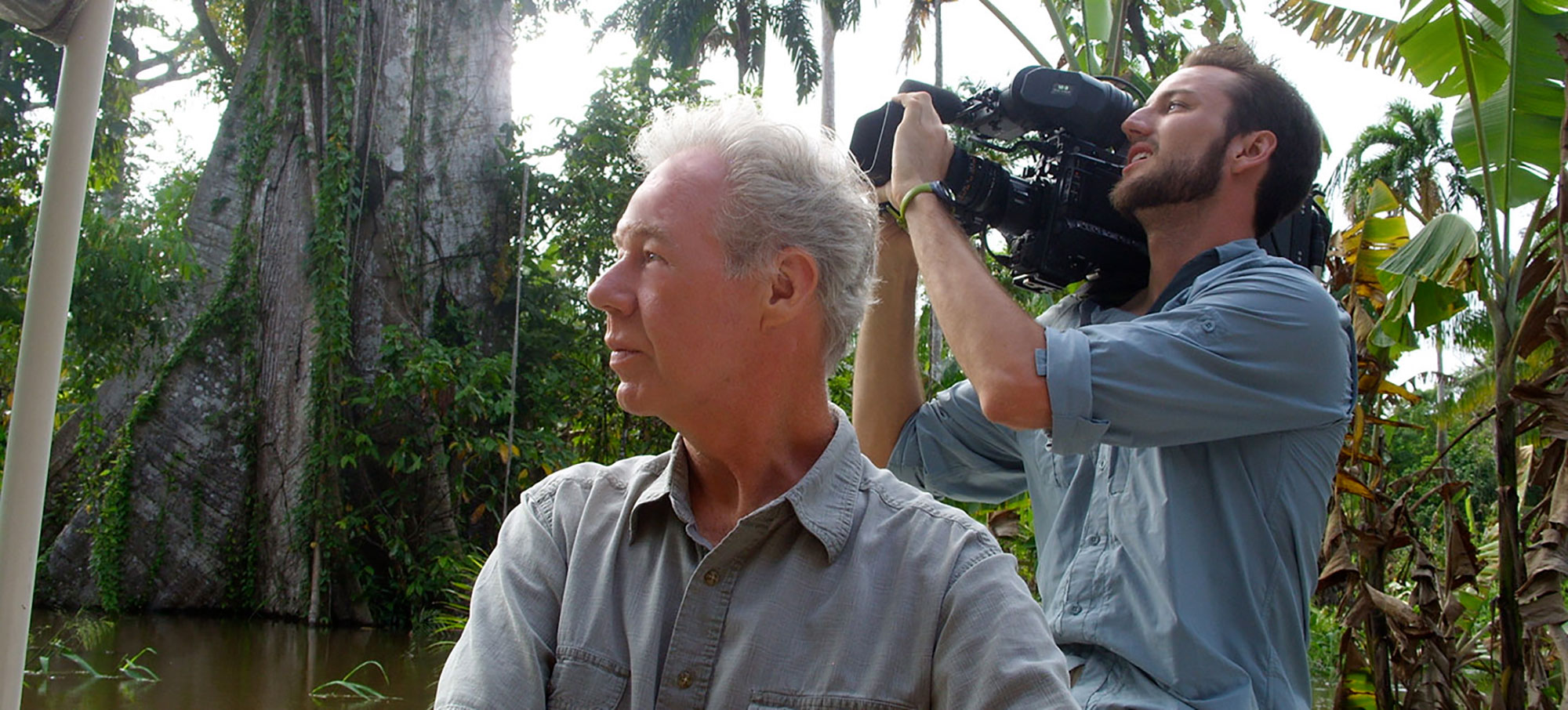 TV & Film
Alum's Film Sheds Light on Rabbi Who Fled Nazis, Fought for Civil Rights
Martin Doblmeier's latest documentary tells the story of influential Jewish theologian Abraham Joshua Heschel
Some filmmakers get catapulted into the business by a powerful Hollywood agent, others get spotted by festival judges. Martin Doblmeier, a longtime producer of public television documentaries, got his big break from an unlikelier source: Mother Teresa.
In 1980, the future saint was on her first trip to the United States, staying at the Missionaries of Charity convent in New York City. The sisters tried to keep the visit low-key, but Mother Teresa was already a celebrated figure—she'd won the Nobel Peace Prize a year earlier. Word got out: worshippers gathered in the streets, the press covered her visits to soup kitchens and to mass. But Mother Teresa granted only one interview—not to the New York Times or the Washington Post, but to Doblmeier (COM'80), then a rookie producer fresh out of graduate school. He landed the career-defining scoop after building a rapport with the sisters while scouting stories for a new magazine-style show on religion and society he was developing, Real to Reel. Soon after, one of them called him up and offered the extraordinary exclusive.
"I was way of out of my league," he says. "But I spent two days with Mother Teresa and made a little film."
He titled the 20-minute Real to Reel piece after a quote from their interview—a sentiment Mother Teresa often drew on—Works of love are works of peace.
During their time together, they talked about her care for the poor and the Nobel prize, but Doblmeier also asked Mother Teresa for some advice about his own life and career.
"I said, 'I want to start doing films on religion, I'm getting kind of serious about this. You travel the world, you hear these great stories, who would you suggest I might want to go and see?'" says Doblmeier. "She said, 'Go see a man by the name of Jean Vanier; he lives in France.'"
Vanier was the Catholic founder of L'Arche International, an organization supporting programs and homes for people with intellectual disabilities. A few years after his meeting with Mother Teresa, Doblmeier had raised enough funds to visit Vanier in France and begin filming his story. The Heart Has Its Reasons, Doblmeier's Gabriel Award–winning documentary on Vanier and his work, was released in 1984 and broadcast on television on both sides of the Atlantic.
Since then, Doblmeier has produced more than 30 films—most for public television and with a focus on religion, faith, or spirituality—and won dozens of awards, including three regional Emmys. His latest is Spiritual Audacity: The Abraham Joshua Heschel Story, which premiered on public television stations on May 5. Heschel was an influential Jewish theologian who fled the Nazis and became a key figure in the American civil rights and antiwar movements in the 1960s.
"We have found a niche with public television—it's our corner," says Doblmeier, founder and president of Journey Films. "They have confidence in us after so many years; we have confidence that they're going to give us the freedom that we want."
A Half-Finished Film
Like many creative endeavors—movies, plays, books, albums—Spiritual Audacity was almost sidelined by the COVID-19 pandemic. By spring 2020, Doblmeier and his team had interviews with the late Congressman John Lewis (Hon.'18), philosopher Cornel West, and other luminaries in the digital can and were about to begin editing: cutting footage and splicing in archival material. Then museums and archives closed.
"There's nothing in the world that's more useless than a half-finished film," says Doblmeier. Without the crucial archival footage, "we had giant holes in the film."
Eventually, the process stuttered back into life and the film inched toward completion.
Spiritual Audacity recounts Heschel's exceptional life, including his arrest by the Nazis in 1938 and his participation in the 1965 Selma marches alongside Martin Luther King, Jr. (GRS'55, Hon.'59). One of those featured in the film is Heschel's daughter, Susannah, now chair of Jewish studies at Dartmouth College.
"What she recognizes so clearly is how genuine the love and support continues to be for her father within the Civil Rights Movement," says Doblmeier, who also interviewed Jesse Jackson and Andrew Young for the film. "They had a lot in common, Heschel and King: they understood injustice, they understood the need to stand up against it."
In March, the Religion Communicators Council gave Spiritual Audacity—which is part of a series by Doblmeier that includes films on Howard Thurman (Hon.'67) and Dorothy Day—a 2021 Wilbur Award for best documentary.
Doblmeier had first pitched the film back in 2018—most of his films take about 18 months to two years to make, from green light to premiere. Before hitting record though, Doblmeier has to fundraise.
"The moment you put a television crew out on the road—with all the expenses, equipment, and everything else—you just can't do these films without funding," he says. Doblmeier approaches institutions and foundations to back his work. "You've got to build a network of support around it to actually go out and get it done."
That's become more pressing with the rise of streaming. In the past, Journey Films would receive significant additional revenue from DVD sales. Now, says Doblmeier, people don't tend to search much beyond their various streaming subscriptions. Many of his films are available from on-demand services—and also get theatrical and digital releases before their TV debuts—but those additional revenues from DVDs "have really, really diminished."
Shifting Religious Attitudes
It's not the only change he's grappling with. When Doblmeier started out in the business, he could count on broad public interest in issues of faith—and on a high religious literacy among his audience. Not anymore. Church attendance is tumbling. According to the Pew Research Center, the number of Americans describing themselves as religiously unaffiliated has jumped from 17 percent to 26 percent in the past decade.
"When people are not only ignorant of religions and religious terminology, but suspicious of it, have had personal experiences that disappointed them, a barrier goes up," says Doblmeier. "I have to get through that. I look to present the story right from the outset on a human level, to see the common denominators that we have as human beings beyond the religion question."
He says that addressing issues everyone faces—no matter their faith, or lack of—helps him continue to reach a broad audience. In 2016's Chaplains, Doblmeier interviewed chaplains from different religions, but investigated how they offer support to people who don't share their faith. His 2003 feature, Bonhoeffer, tells the story of a German theologian who plotted to assassinate Adolf Hitler—a resistance that costs him his life. The Washington Post called it a "story of bravery."
Doblmeier has also had personal experience of disappointment in a religious figure—and it goes back to one of his very first films. In February 2020, it emerged that Jean Vanier—the nonprofit founder some had tipped for beatification when he'd died in 2019—had sexually abused women for decades.
"He's now become a symbol of religious hypocrisy," Doblmeier says. He says The Heart Has Its Reasons has become a "portrait of a man who shamed himself by his personal behavior," and he expects the Vanier scandal to shape his approach to future interviews.
"For me, as a filmmaker, it's become a real eye-opening way of reminding myself that sometimes the things you see on the surface aren't what's really there," says Doblmeier. "You still have to be open to the fact that—just as with the story of Jean Vanier—you can be deceived."
But the experience hasn't dimmed his interest in telling stories of faith. Doblmeier majored in religious studies for his undergraduate degree and started his media career writing for the Catholic Church's Providence Visitor newspaper. A broadcast journalism master's degree from the College of Communication set him on his current path, but religion has "always kind of been my thing. It's kept me pretty entertained. And there's never been a shortage of good ideas."
He's tightlipped about his next projects, but is focused on promoting Spiritual Audacity. Typically, that would involve screenings and lectures across the country, but COVID means he's doing it all from home.
"It's not in person—I don't think it's as engaging—but people are showing up," says Doblmeier. "This is the way we're adjusting, trying to get the films out, get people aware of the films."
This article was originally published in COMTalk.