Field Hockey Hosts Patriot League Home Opener Saturday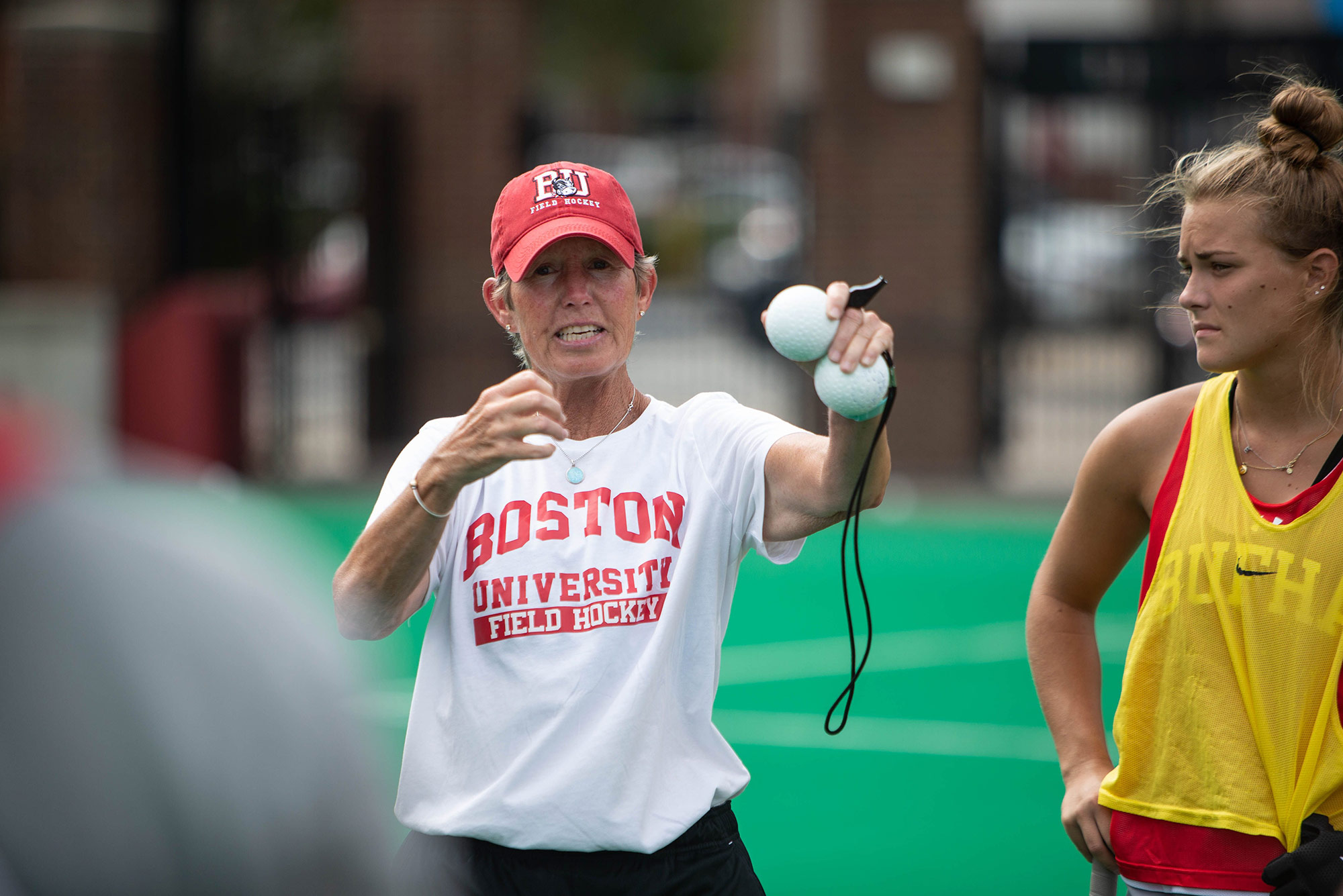 Varsity Sports
Field Hockey Hosts Patriot League Home Opener Saturday
Head coach Sally Starr nears 500th career win in her 41st season as head coach
Just six months ago, in a season ravaged by the pandemic Sally Starr guided the BU field hockey team to a Patriot League championship appearance. After coming up one goal short of her 18th conference trophy, Starr is aiming for yet another shot at a title this fall, her 41st year as the program's head coach. The Terriers launch their Patriot League season tomorrow, Saturday, September 25, when they host Bucknell in the conference home opener.
"We're improving," Starr says. "We absolutely have a team that can compete for a Patriot League championship."
The veteran coach is just a few wins away from notching 500 career victories, a milestone that has been reached by only five other active NCAA coaches. "I love my job," she says. "I'm fortunate to do what I do, and I'm fortunate to work at Boston University. I'm looking forward to this year, 2021, being a special year for our team."
In a 2020 season delayed by COVID, the Terriers played just eight games last spring, all against Patriot League foes. With a more familiar schedule this fall, Starr's squad has already been tested with a challenging set of nonconference matchups, including three meetings with ranked opponents.
Although BU concluded its out-of-conference portion of this season with a 2-5 record, four of those games were decided by two goals or fewer, and forward Miya Denison (COM'22) sees plenty of positives. "We're definitely a very skilled team," she says. "Our resilience has been really good so far, and I think that's going to take us a long way."
The Terriers kicked off conference action with a visit to Lehigh on September 17, falling by a final score of 2-1. Payton Anderson (CAS'25) scored BU's only goal, upping her team-leading total to four goals this season. She is also the only Terrier with a double-digit point total (10) and shot total (21).
Anderson is one of several recent recruits who have taken on bigger roles this fall. Denison is the lone graduate student on the roster, and one of just four remaining Terriers on the team that won the last Patriot League championship—in 2018. She says being a leader is a priority for her this fall.
"A big part of it is just leading by example," Denison says, "and treating every practice like it's a game."
Starr shares a similar ethos: "We want to get better in every practice opportunity, and we want to get better in every competitive opportunity, and I feel we have done that for sure."
As the season progresses and the team begins to take shape, key contributors have started to emerge. Offensively, Anderson, Denison, Rebecca Janes (ENG'22), Thalia Steenssens (CAS'24), and Casey Thompson (Questrom'22) have all recorded three points or more. On the other end, Caroline Kelly (COM'23) has started every game in net and has given up more than two goals in only two games.
One of the biggest challenges facing Starr and the program this year is the team's youth. Seven players graduated last May, making room for seven newcomers over the off-season. But Denison, now in her fifth season on the team, says she is confident that Starr will be able to pull a winning team together.
"She's one of those coaches that makes you want to work harder, because you know how passionate she is about the team," Denison says, "and I feel like that passion sort of radiates to the rest of the team."
Starr will lead the Terriers into their conference home opener at New Balance Field on Saturday, September 25, at 1 pm, in a rematch of the 2020 title game against reigning champion Bucknell. Admission is free. Fans can also follow the game remotely on ESPN+ and @BUGameday on Twitter.