Detangling the History of Black Hair
Books
Detangling the History of Black Hair
Alum Zenda Walker's picture book, Know Your Hairitage: Zara's Wash Day, aims to educate young readers about Black hair
For many children of African descent, waking up on a Saturday or Sunday morning meant one thing: wash day. The ritual went something like this: you'd run into the kitchen to see a chair pushed against the sink, a towel resting on the seat. For what seemed like hours, you would sit, your neck and back bent at an uncomfortable angle, as a female relative shampooed, rinsed, and combed your thick curls. Then, as you perched between her knees, she would detangle your hair and apply oils, leave-in conditioners, gels, and other products designed for textured hair. Finally, she'd style your hair for the week, or at least until the next wash day.
For Zenda Walker (CGS'98, COM'00), the weekly ritual has been an important way to stay connected to her Black heritage and African roots. It's also one reason she wrote a children's picture book about it, called Know Your Hairitage: Zara's Wash Day.
The book follows Zara, a young girl curious about the importance of wash day. The book is inspired by Walker's experiences growing up with, and learning about, her own textured hair.
"Not many people know that Black women with textured hair have had this story of wash day," she says. "It was like an event or a rite of passage that our parents passed down to us when we had to get our hair done for the week or month. I'll never forget those days—the kitchen washes, the detangling of the hair, then preparing the hair for the week."
The story was also informed by Walker's inquisitive daughter, whose name is Zara. "I remember her asking me, 'Mommy, why do I always have to wear braids?' or 'Why do you always have to put beads in my hair?'" Her questions led Walker to reflect on her upbringing and relationship with hair. "This is something that innately I grew up knowing—that it was just what we did as Black girls on the stoop, or the veranda, or the porch," she says. "We just would braid each other's hair. It was something that my mother and her mother did, and so on and so forth, but I also know it to be a part of what Black women have done for centuries with our hair."
In the book, Zara's mother takes her daughter on a cultural journey throughout Africa and the Caribbean, telling her about all of the different hairstyles worn by Black people.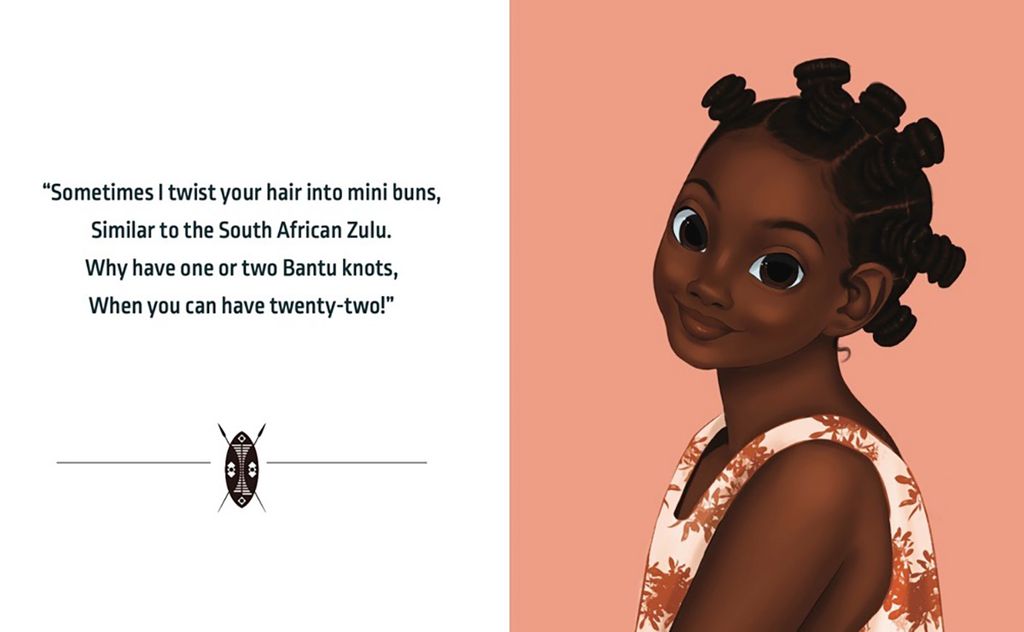 Walker says she put a lot of thought into which hairstyles to include, given how large and multicultural Africa is. Among them: a twisted hairstyle inspired by the Senegalese in West Africa and worn by Zara, and mini locks spun and woven like the Maasai from East Africa. "I wanted to make sure that I captured several different regions of the continent, and a lot of references in my own Jamaican background are from West Africa," she says. "But I also have a wide range of friends from East Africa and South Africa."
Some notable American styles are included as well, such as the rebellious Afro from the 1960s Civil Rights Movement and head wraps worn in the 1700s as a form of protest against American tignon laws, which required Creole women to cover up their hair.
Released in 2020, Zara's Wash Day has won the grand prize for the 2021 Writer's Digest Self-Published Book Awards.
Making Beauty Her Business
As a BU undergraduate, Walker always did her own hair. When other students noticed and asked her about it, she began doing their hair too. What started out as a small project with friends soon turned into a small on-campus business. "I ended up having a huge client base on campus that kept growing through referrals," she says. "It was something that I liked to do, but students would tip me with money, which I'd use for my books, tuition, or extracurricular activities."
As graduation approached, Walker found herself caught between her passion for cosmetology and the expectations placed on her as the daughter of Caribbean immigrants. She chose to enter the field of marketing, working in public relations for the Wang Center and then a supermarket chain. After earning a degree in small business entrepreneurship from Cambridge College (she wrote her thesis on the hair business and the work of setting up a salon), she worked as a hairstylist. She then joined Procter & Gamble, rising through the ranks and eventually becoming a marketing executive. She's now a district leader in cosmetics and services at Ulta Beauty.
Walker says Zara's Wash Day is not the end of her Know Your Hairitage journey. She has plans to publish other books, highlighting traditional hairstyles from other cultures. "I believe that everyone has a hairitage," she says. "I'm going to have a book for boys and men in African American culture. I want to stay in our celebration mode, but then I will follow very shortly with Native American hairitage, Latinx hairitage, and Asian hairitage."
She also intends to develop the books in a docuseries or an animated series: "How amazing would it be for all those characters to have a series where they do things that children do, and they play and experience life, but they're also teaching each other about each other's hairitage."