Hot New Music December 2021: Local Boston Concerts, New Album Releases
December lineup: new releases by Khalid and Moses Sumney, local appearances by Eddie Palmieri, and Kiss 108's annual Jingle Ball
Music
What's Hot in Music This Month: Local Concerts, New Releases
December's lineup has new releases by Khalid and Moses Sumney, local appearances by Eddie Palmieri, and Kiss 108's annual Jingle Ball
In our new column, "What's Hot In Music This Month," we bring you a list of don't-miss concerts coming to town, as well as new releases you'll want to hear. So this month take a break from studying for finals with some relaxing nature-infused folk from Moses Sumney, celebrate the upcoming holidays with Jingle Ball's annual lineup, and get nostalgic with Garbology, the latest album by Aesop Rock, aka Ian Bavitz (CFA'98).
New releases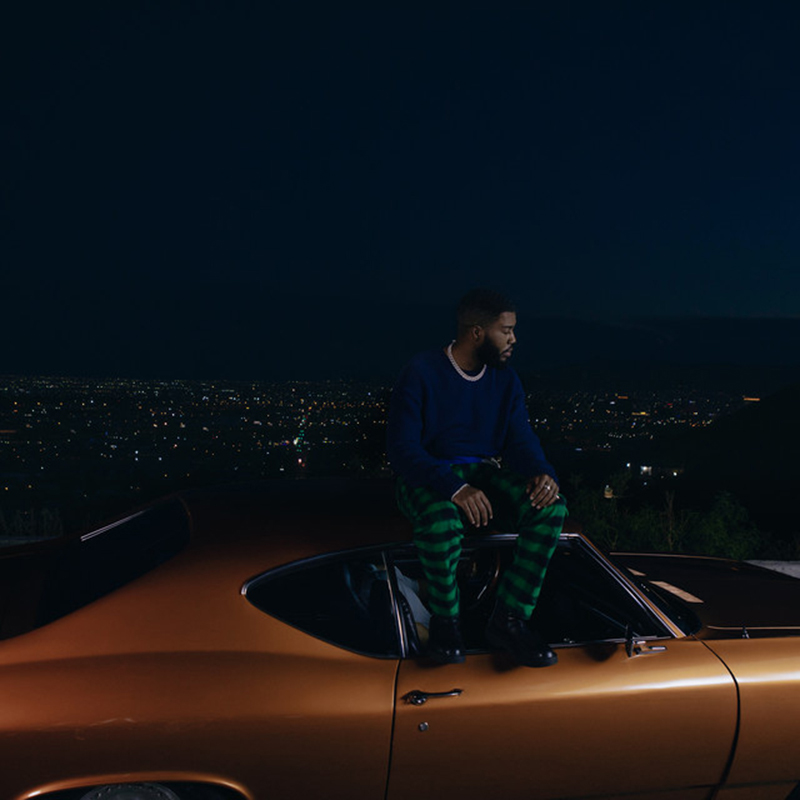 A force to be reckoned with since the day he joined the R&B scene, Khalid has returned with a new EP, Scenic Drive. The nine-track project includes features from big-names like Alicia Keys, 6LACK, Lucky Daye, Kiana Lede, Ari Lennox, and Smino, but make no mistake, Khalid's distinctive voice is unmistakable. Scenic Drive is a whole different ball game compared to the artist's wildly popular American Teen, which held the 2017 music scene in a trance. The new Khalid is much more mellowed-out: this time he settles comfortably into his lower octaves. His voice meshes beautifully with his fellow collaborators. Longtime fans of the "Location" singer may be surprised at the new direction he's taken, but upon closer inspection, the same honest and heartfelt elements that marked his earlier work are still present, just repackaged into a sleeker, more suave form.
---
Born Laura Pergolizzi in Long Island, N.Y., LP is a composer and singer-songwriter with an extensive résumé. Best known by their stage name LP, they made a breakthrough with their songwriting career, having penned songs for A-listers like Rihanna, Cher, the Backstreet Boys, Celine Dion, and Christina Aguilera. LP's latest album, Churches, however, tells the story of a songwriter with decades of experience under their belt. The album feels experimental, switching between genres like rock 'n' roll, country, pop, and R&B. Here, LP shows off their impressive vocal range and skillful lyricism. Standout tracks include One Last Time and Safe Here, with LP hitting notes on the latter that feel almost sacred.
---
Powerful composer and vocalist J-pop duo Ayase and Ikura make up YOASOBI, the musical duo that has taken Japan by storm. Their concept of creating "music from novels" has landed them chart-toppers, starting with their debut single, "夜に駆ける" (Yoru ni kakeru), which dominated the number one spot on Billboard Japan Hot 100 for weeks. Their latest seven-track EP, The Book 2, is full of energy, with dance-pop bangers that make you want to get up and boogie or sing your heart out. Bright and delightful, their latest songs explore the importance of not taking love for granted and of living in the moment, all while making sure to put a smile on your face.
---
Ian Bavitz (CFA'98), known professionally as Aesop Rock, met friend and fellow artist Blockhead during his college days in Boston. Blockhead ultimately decided to pursue production over rapping, and the two formed a business relationship, with Blockhead producing most of Aesop's earliest work. Nearly a decade later, the two have reunited for a collaborative album, Garbology. And what an album it is! Aesop's spur-of-the-moment, hard-hitting lyricism is reminiscent of his late underground rapper peer MF Doom. Blockhead's beats complement the verses so adeptly, it's as if the rapper had produced the album himself. The closing track, "Abandoned Malls," best sums up the somber feeling from which Garbology was born. Aesop threw himself into the project following the death of a close friend, Kurt Hayashi, and the track reveals the grief and pain the artist felt. "Oftentimes the body spits the spirit out and carries on/To engineer some semblance of a normal life, yours and mine/Then of course it's normalcy where paranormal's normalized." Other must-listen tracks include the three-song run "Legerdemain," "Difficult," and "All the Smartest People."
---
Live From Blackalachia, Moses Sumney
The Ghanaian musician's newest release is an attempt at preserving time as the world falls to pieces. Live From Blackalachia is a mix of new singles and new versions of old songs. The album is an exploration of Sumney's relationship to nature. Hoping to make the best out of a bad situation, the singer and his musical team spent two days recording 14 songs in the Appalachian Mountains after their international tour was abruptly canceled by the COVID-19 pandemic. A single off the live album, the music video for "Bystanders (in space)," offers a sneak peek into Sumney's communion with nature, restoring a sense of peace and balance to a world that needs it like never before.
Upcoming concerts
Eddie Palmieri
Scullers Jazz Club, December 10 and 11
A 10-time Grammy Award winner, Eddie Palmieri is masterful at weaving his Puerto Rican heritage, Latin American pop music, and salsa influences into his love for jazz piano. Raised in the Bronx, he founded the band Conjunto La Perfecta in 1961 and created the popular trombanga sound, which prominently features trombones and flutes rather than trumpets. Palmieri soon won the first Grammy Award for Best Latin Recording for his 1974 album Sun of Latin Music. The pianist turns 85 this year and will be performing four birthday shows at Scullers this weekend.
Eddie Palmieri will appear at Scullers Jazz Club, 400 Soldiers Field Rd., Boston, on Friday, December 10, and Saturday, December 11. Showtimes are 8 and 10 pm. Purchase tickets, ranging from $40 to $120, here. Proof of vaccination or a negative COVID-19 test within 48 hours of the event and valid ID required.
Mipso
The Sinclair, December 12
This North Carolina–based band, featuring four friends who met during college at UNC Chapel Hill, made waves when their debut album, Dark Holler Pop, hit number eight on Billboard's Bluegrass Albums chart. True to the genre, the group's sound continues to focus on heavy banjo strumming and fiddle arrangements. The band found even bigger success with their follow-up sophomore album, Old Time Reverie, in 2015, this time securing the number-one spot on the Bluegrass chart. The band is currently on its North American tour for the self-titled album Mipso. Catch them this weekend in Cambridge at The Sinclair.
Mipso is at The Sinclair, 52 Church St., Cambridge, on Sunday, December 12. The concert begins at 8 pm (doors open at 7 pm). Purchase tickets, ranging from $19 to $21, here. Proof of vaccination required; ages 18 and older only.
Kiss 108's Jingle Ball
TD Garden, December 12
Kiss 108's annual Jingle Ball is back. This year's festivities kick off with a star-studded lineup featuring Doja Cat, Saweetie, the Jonas Brothers, Black Eyed Peas, Tate McRae, Bazzi, Dixie D'Amelio, and Tai Verdes. The radio station is hosting on-air ticket giveaways, so tune in Friday, December 10, at 8:10 am for a chance to win a pair of front row tickets to the show.
Kiss 108's Jingle Ball is at TD Garden, 100 Legends Way, Boston, on Sunday, December 12, at 6 pm. Purchase tickets, ranging from $26.50 to $506.50, here. Attendees 12 years or older must provide proof of vaccination or a negative COVID-19 test within 48 hours of the event for entry. Proof can be displayed on your smartphone, by presenting a physical copy, or by using a mobile app.
Polo G
Big Night Live, December 15
Just 22, Taurus Tremani Bartlett, known professionally as Polo G, began his career on Soundcloud and gained notoriety with his hit single "Pop Out," featuring rapper and singer Lil Tjay, which peaked at number 11 on the Billboard Hot 100 chart in 2019. Signing a deal with Columbia Records, the rapper subsequently pushed out three albums and founded his own record label, Only Dreamers Achieve (ODA). He was featured on the Forbes 2021 30 Under 30 list and is on tour for his latest album, Hall of Fame 2.0, the deluxe follow-up project to the last installment of his album trilogy. You can hear him locally when he headlines at Big Night Live on December 15.
Polo G performs at Big Night Live, 110 Causeway St., Boston, on Wednesday, December 15, at 9 pm (doors open at 8 pm). Ages 18+ only, with valid form of ID. Purchase tickets, starting at $54.50, here.
Jordan Davis
House of Blues, December 19
Louisiana native Jordan Davis cemented his place in contemporary country with the release of his debut single, the 2017 hit "Singles You Up," which reached number one on Billboard's Country Airplay chart the following year. The emerging artist quickly dominated country charts with his first album, Home State, which debuted at number six on Top Country Albums in 2018, a feat made more impressive by the fact that Davis cowrote every song on the album. His latest album, Buy Dirt, features eight tracks, one a duet with country giant Luke Bryan. Davis is currently on tour for Buy Dirt, with the first part of the North American leg set to wrap up in Boston before he returns in 2022.
Jordan Davis performs at the House of Blues, 15 Lansdowne St., Boston, on Sunday, December 19, at 8 pm (doors open at 6:30 pm). Purchase tickets, ranging from $28 to $45, here.
This Series
Also in
February 28, 2023

February 3, 2023

December 6, 2022