City Archaeologist Joe Bagley's New Book Digs Deep into Boston's Oldest Buildings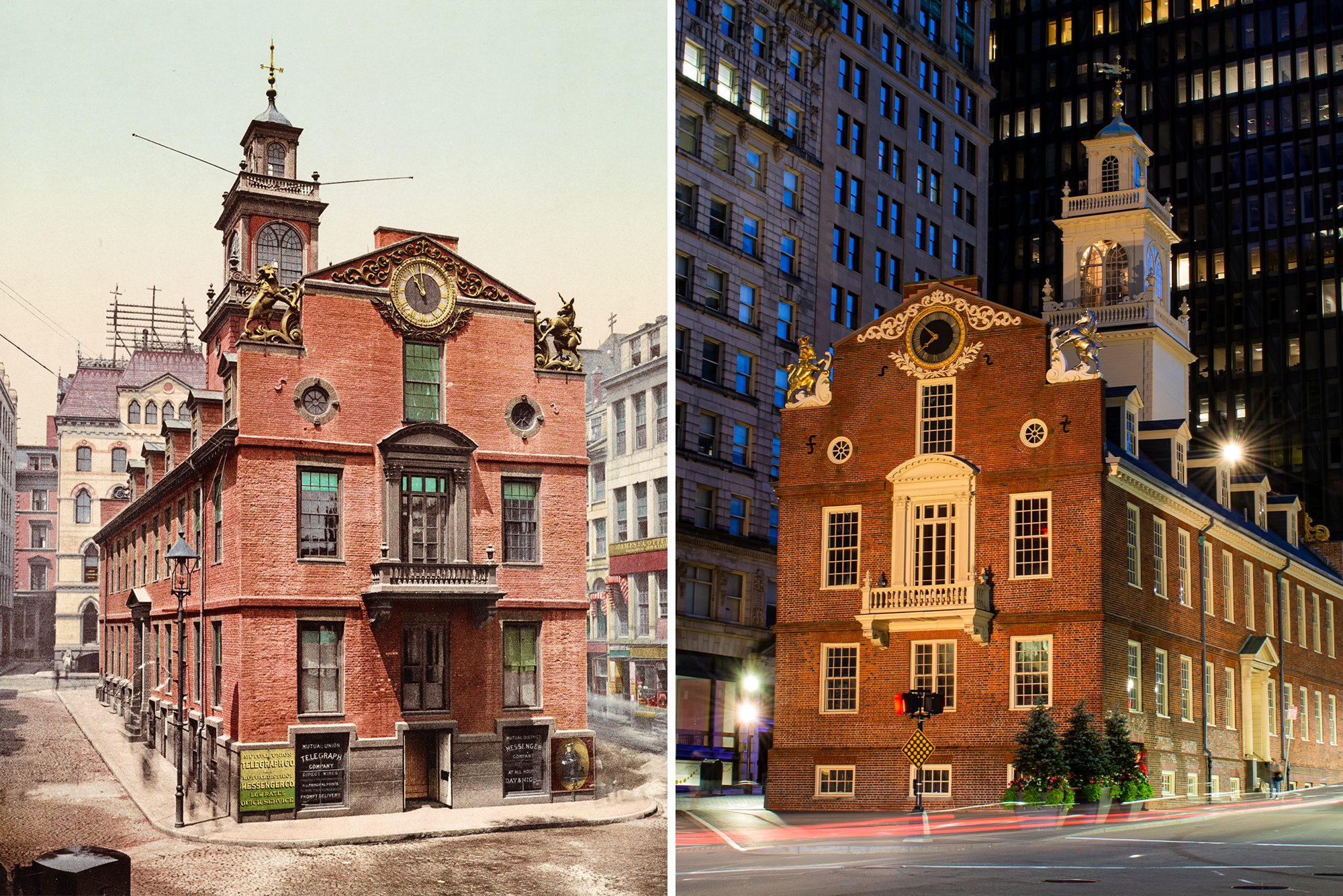 Books
City Archaeologist Joe Bagley's New Book Digs Deep into Boston's Oldest Buildings
In Boston's Oldest Buildings and Where to Find Them, BU alum takes readers on a tour of 50 sites
Did you know that in the 1800s, a Roxbury house hosted the first-ever Japanese-American student exchange program? Or that a Chipotle now occupies the downtown site where The Scarlet Letter was published? Those are just some of the historical tidbits city archaeologist Joe Bagley reveals in his new book, Boston's Oldest Buildings and Where to Find Them (Brandeis University Press, 2021).
"Much of my research ahead of digs is establishing the chronological history of a property, from the time it was first built to the present," Bagley (CAS'06) writes in the book's preface. "My goal in archaeology is to tell an interesting story, not just list every artifact found. That is the goal of this book, too."
The 50 buildings were constructed from 1661 to 1794. Reading through each listing is like strolling through the city with a friend who happens to be really into random facts about buildings and has a talent for stringing them together into a narrative.
There's the Glapion-Middleton House (number 34), which was built in Beacon Hill in 1786 by two free Black men, Colonel George Middleton and Louis Glapion, soon after Massachusetts abolished slavery, helping to create what is a historically Black neighborhood. There's also Charlestown's Salem Turnpike Hotel (number 50), built in 1794 and once owned by a Navy Yard foreman who led postcombat repairs on the USS Constitution.
As for pre-Revolutionary construction? That includes the circa-1661 Blake House (number one) in Dorchester, as well as downtown's Old Corner Bookstore (number 12), which housed the publishers who gave us Uncle Tom's Cabin and The Scarlet Letter and now holds a Chipotle. Plus, of course, plenty of buildings that played a significant role in the war itself, from the Old North Church (number 13, circa 1723) to the Old State House (number 7, circa 1713).
For Bagley, who became the official city archaeologist in 2011, tracing Boston's history is a "dream job." He estimates that a third of the research he did for the book is original—he spent a large portion of 2019 trawling through building registries, historical deeds, artifact collections, and photo libraries to construct each building's narrative. And in doing so, he knew he didn't want his finished product to look like other archaeology books about old buildings.
"In Boston, it's too easy to fall into celebrating the most dominant stories of Boston's history, which are almost always the stories of wealthy white men. But I just don't find those stories as interesting as the other stories that aren't written down," Bagley says.
"I was getting really frustrated looking at books from the 1800s and 1900s because you only see the nicest houses in them, and there's always a wealthy guy in front of it in the portraits. I deliberately chose not to include any photographs of men in the book—except for one—just because I wanted this book to be different.
"Frankly, archaeology should always be contributing something new to the story. And the folks that are the least recorded in history—native peoples, enslaved peoples, and women and children—still left artifacts in the ground, and we can use them to figure that part of the story out."
Bagley talked with Bostonia about his new book and why archaeology in Boston is the best.
Bostonia: What inspired you to track down the oldest buildings in the city?
Joe Bagley: I wrote another book before that, A History of Boston in 50 Artifacts (University Press of New England, 2016). While that was coming out, I was trying to think of other things that could work as a list-style thing. Massachusetts has a list of historical buildings across the whole state, and I bumped into the ability to download the files as a spreadsheet. So I downloaded all the buildings in Boston, which is something like 20,000 buildings, and I sorted them by date, and instantly created a rank list. I posted it on the History of Boston Facebook page, and a lot of people got interested in it, and it was being shared a lot. People were like, "I didn't know about that building." And I thought, there might be something here.
How do you take 400 years or so of a house's history and turn it into a two-page narrative?
Well, I had to write a much longer book first, basically. I submitted that to the publisher, and their reaction was, "That's nice—but you agreed to this length of a book." So I tightened it quite a bit.

I'm not a very succinct person, so that was challenging. I just really had to focus on what the interesting stories were from a building and jump around from those. It's totally fine to jump 70 years in the history of a house—nobody cares if it was passed to 47 owners in that time who bought and sold it a year or so apart. The book wasn't meant to be a complete history of these 50 buildings, but rather, why are they interesting?
What's your favorite building in the book?
Number 36, the Elijah Jones House, from around 1786. It's not the most architecturally beautiful building, and it's one of the smaller houses in the whole book. It shouldn't be there—it's one of those buildings that I argue people forgot to tear down, essentially; it was small and out of the way, and not really doing anything. It just kind of snuck under the radar for 300 years, and it's still sticking around. And I don't know, I kind of like that.
I think the meme verbiage for that would be, "You're doing amazing, sweetie."
Yes, exactly.
What's something cool or unknown you uncovered during your research for the book?
The Dillaway-Thomas House (number 22, circa 1752) in Roxbury hosted the first-ever Japanese-American exchange program in the 1870s. For the longest time, Japan had a closed-country policy. In the late 1800s, Charles Dillaway was part of a group that went to Japan after it opened, and he set up an exchange program for students to come to America. In the book, there's a photograph of Dillaway with the Japanese students he taught in the house.

In the collection of artifacts from the site, there's a really strange looking piece of porcelain, and we [the city archaeology department] later realized that it was Japanese porcelain from that time period. Now we think that the students came to Roxbury with a vase that unfortunately broke and ended up in the ground. But—and I'm not exaggerating—that would have been the first piece of Japanese ceramic to come to America in hundreds of years. Archaeologically, I just think that's a really cool story.
What's something the public gets wrong about archaeology?
For one, that archaeology even exists in New England. I think a lot of people don't realize that native archaeology and historical archaeology is a thing in the Northeast.

Then, too, I think people don't realize how much of it is building up a knowledge of [dinner] plates. That, and looking at, for instance, 1895 Sears catalogs to learn what [household] objects looked like back then, because when you dig up a site from that time period, you're going to find all of those things smashed into tiny pieces. So, if we find a piece of ceramic that we know is from a teapot, we can interpret it as a teapot without needing to find the rest of it. The pieces can be just as valuable as the whole thing.

We're trying to write a story based on the artifacts that we find. When we put everything together, those pieces are like pages in a book. We write the book from the pieces, assembling all the little bits of the story together into a narrative.
What's special or unique about archaeology in Boston?
The biggest thing that makes Boston unique is that I never, ever have to tell people that what we do is worthwhile, because nobody questions that. Everyone's just like, "Yeah, that makes sense—you do archaeology because the city is old." Folks just accept the fact that there is a city archaeologist, and that what we do is important, because Boston history matters. I think if I was doing the same job in New York City, which has a similar history, it would be a lot harder to convince the people of New York to care about the history of New York because that's not what the city is about. But people who live in Boston understand that the city is old, and history is its brand.