CFA Students Headline Apollinaire Theatre's Bilingual Production of Romeo and Juliet
Theatre
CFA Students Headline Apollinaire Theatre's Bilingual Production of Romeo and Juliet
Mishka Yarovoy (CFA'24) and Emma Laird (CFA'22) star as Shakespeare's star-crossed lovers; Alan Kuang (CFA'24) plays Juliet's cousin, Tybalt
Chelsea Square will come alive starting next week when the Apollinaire Theatre Company's production of William Shakespeare's Romeo and Juliet begins a three-week outdoor run. The play will weave through the square's streets and park, as the cast brings one of the Bard's most famous plays to life.
Romeo and Juliet tells the story of two young star-crossed lovers whose tragic deaths bring about a reconciliation between their warring families, the Capulets and the Montagues. Written between 1591 and 1595, Romeo and Juliet has been adapted for stage, film, and television, and has inspired numerous operas, ballets, and works of fiction.
But the Apollinaire Theatre Company's free production, which takes place August 14, 21, and 28, promises to offer audiences something fresh and distinct. Not only is it immersive, but it's also bilingual (dialogue is in both English and Spanish). And it's notable, too, because it stars two BU College of Fine Arts students as the romantic leads: Mishka Yarovoy (CFA'23) plays Romeo and Emma Laird (CFA'22), Juliet. Also among the cast of 25 is Alan Kuang (CFA'24) in the key supporting role of Tybalt, Juliet's cousin, who sets much of the play's action in motion. (The ensemble includes Gayane Kaligian (Pardee'22), Makhamahle Kekana (CFA'24), and Dylan Wack (CFA'18).
"Mishka was originally cast to be in our production of The Importance of Being Earnest, which unfortunately was delayed due to COVID and is now scheduled for this fall," says Danielle Fauteux Jacques, the play's director and artistic director of Apollinaire Theatre Company. "He is such a creative, generous actor that he immediately came to mind for Romeo, and I cast him before we began formal auditions. Emma was a standout at the auditions from the start. Her present acting, ease with the language, and playful spirit make her a very compelling Juliet. When it came time for callbacks and we saw how Mishka and Emma played off of each other, the choice became obvious. And Alan's audition really blew us away. It was one of the most memorable auditions I've ever seen. He's such a multifaceted talent, and his combination of dance and rapping skills, and his strong, creative acting choices, made him a must-cast as Tybalt."
BU Today sat down with the three actors to talk about what makes this production of Romeo and Juliet special, and what they've discovered about their characters and themselves during the rehearsal process.
Q
&

A
With Mishka Yarovoy (CFA'23), Emma Laird (CFA'22) and Alan Kuang (CFA'24)
BU Today:
What makes this production of Romeo and Juliet different from other versions of the play?
Yarovoy: I'm very excited about this play because I'm a big advocate for accessible theater, and this is, by far, the most accessible play I have ever been a part of. It is outside in the park, it is completely free. And even when we're rehearsing certain scenes outside, you'll see that people will start gathering. There will be kids running around with their parents, and they'll just start looking and paying attention to our rehearsals. So, it really does feel like something for the community of Chelsea.

Laird:The bilingual aspect does bring a different element that not a lot of Romeo and Juliet productions have. I think that when people hear of a bilingual production of Romeo and Juliet, they assume that the languages are divided like the houses are in the story, but in our production, that's not at all what it's like. There are a lot of characters who are bilingual on both sides to show that these enemies have a lot more in common than normally perceived. I feel like it's a great production because it encourages connection and participation.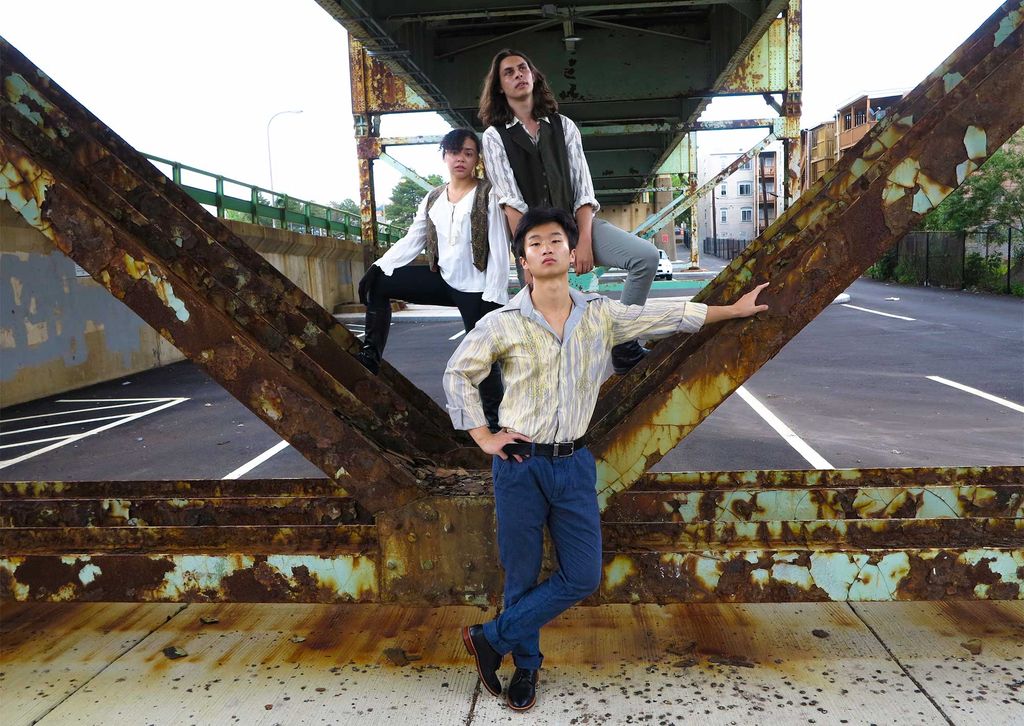 Kuang: The audience isn't going to be just sitting there looking at the stage. We're going to close down the streets, and the park, and the audience is going to be immersed into the world of our story. And they're going to be following us and joining us, such as in a party scene—they're going to become the members of the party. And you know, every story is different depending on who's in it, and who's telling it, and who the director is. And I think for this one, the cultural aspect of having Spanish and English will be a big part of it, as well. And having a diverse cast, I think, is also going to play into it.
BU Today:
What was the audition process like for each of you, and what was your reaction when you learned you had landed your respective parts?
Yarovoy: Before the pandemic, I was working with the Apollinaire Theatre Company on The Importance of Being Earnest. We were halfway through rehearsals when everything got shut down because of COVID, so Danielle had sort of known my work from that. She asked me to record a little monologue essentially reading for Romeo and I did—I just made a self tape from home. When I was making the videos for Danielle, I was visiting my family in Russia. So, it was like such a bizarre thing because there was this crazy time difference. And then we were doing callbacks with all the Juliets on Zoom, and I was in Russia, so it was like two in the morning for me.

Laird: This past school year, I was introduced to working with Shakespearean texts. And after that class, I was aching to have experience within a Shakespeare production—I hadn't done a Shakespeare show in my entire life. So, when I saw a post for the Apollinaire production of Romeo and Juliet, I went out on a whim and was like, "I don't have much to do this summer," so I submitted an audition tape. I heard back within a week about callbacks and they sent me lines for Juliet, as well as some of the characters. I later got a call from Danielle when I was on the phone with my sister, so I hung up on my sister and answered the phone call. She offered me the role of Juliet, which was baffling to me, because I went into the process thinking that this was just me going out on a whim and that I'd be an ensemble member.

Kuang: The first step was to send in pre-screens, which is basically just like videos of you doing a monologue. I sent two videos to them and they gave me a callback. And they were like, okay, here are the dates that we're auditioning in person in the theatre. About 24 hours before the in-person audition, they gave me a couple of scenes to do and also said, "If you have any special skills, bring them." So, I brought a little original rap I wrote and I also break danced. I thought it was really great because it was one of the first in-person things I'd done in a while because of COVID. I auditioned in the afternoon and Danielle actually called me at 7 pm that night and said, "I'm giving you the role of Tybalt." I was very happy. I told my mom and we celebrated. It was very exciting.
BU Today:
Do you have any preshow rituals that help you get into character?
Yarovoy: I really love listening to music. I find that it really gets me into this story's world. I've been mostly listening to Prokofiev's Romeo and Juliet, from the ballet. I've been listening to that to find the character and stuff like that. So, probably music is the most helpful for me.

Laird: I'm still developing what helps me access these parts of myself for Juliet, I have been experimenting with activating my body through things like spine activation exercises and centering of my body. I also find images with Juliet that kind of bring her to life for me, like imagining that Juliet had wings like a bird: that helps me find that part of myself and act from that kind of childlike energy and curiosity and explore and see things from a different point of view. These images transform throughout the play as well, since it's not a static thing.

Kuang: I think for me, it's really getting into my body, so like stretching. We actually have a preshow, where the audience is going to be watching us and that's kind of like a warm-up. People will be doing all sorts of things. For me, I'm doing rap, like a character rap that has to do with Romeo and Juliet, and it's written from the perspective of my character. So, I think that will really vocally warm me up, and physically put me in the mood. Plus, drinking lots of water.
BU Today:
What have you discovered about yourselves and your characters during rehearsals?
Yarovoy: I think Shakespeare's characters can sometimes feel larger than life, they can seem and feel so dramatic and so huge. Even for me, going into this I definitely paid some judgment to Romeo for his actions and how impulsive he is. But when I actually got to explore the world through his eyes, I noticed I'm a lot more similar to him than I thought I was. Generally, these characters are people with very real, valid feelings and problems that we can all connect to.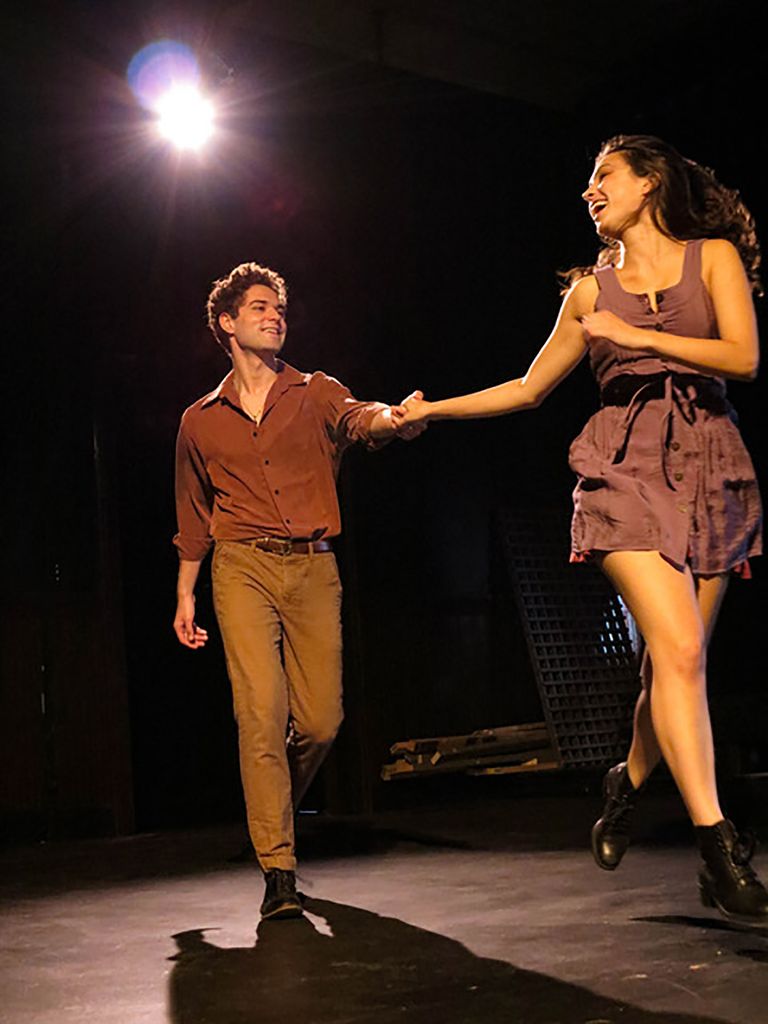 Laird: As an actor, I've discovered how essential it is to work from the ground up. I think sometimes I go with an initial impulse on how to create a character and I get stubborn about it to a point where I'm like, "I don't need to explore this anymore." But I've been pushed by my directors, by my colleagues, and my cast members to challenge that return back to the technical approach to Shakespeare, as well as the technical approach to being an actor. Even though it's sometimes a tedious process, I have found it so worthwhile to understand the emotional journey of my character.

Kuang: Tybalt is a very angry and impulse-driven character. I've found, throughout this journey, I've been asking myself, how can I find empathy for this person that I'm playing without judging him? How can I understand why he is the way he is? And how can I truthfully, with my best effort and best work, put him in the spotlight, and let people watch him live his life?
BU Today:
Romeo and Juliet was written nearly 450 years ago. Why do you think the play continues to resonate with audiences?
Yarovoy: It's a play that has so much love—even if most of it is tragic, and at times unrequited, it is just so driven by love. And I really, really believe that human beings are primarily driven by love. It's a huge part of our lives. So, seeing and hearing a story about people who are just so wildly in love that they will forgo anything to be able to be together, I think is inspiring and beautiful and moving.

Laird: It has a lot of high-stakes situations within the story. Like people, I think, get excited to watch it just because it's such a whirlwind of what passion can lead to in terms of love and hatred. I feel like there's some pocket for everyone within Romeo and Juliet to relate to whether it has to do with family, or romance, or friendship or loss.

Kuang: I think that just on a basic level, it's a very entertaining story. There's fighting, there's romance, there's spectacle, you know, and it touches on deeper human emotions and desires. I also think it's the inspiration. I've seen productions and movies of Romeo and Juliet, and I think, as an actor, you're always a viewer first. And I think you watch it, and you get inspired. And you're like, "Oh, let me try it and let me try to put my own style on it."
Apollinaire Theatre Company's production of Romeo and Juliet is Saturday, August 14, Saturday, August 21, and Saturday, August 28, at 7:45 pm in Chelsea Square by Chelsea Theatre Works, 189 Winnisimmet St., Chelsea. In addition to the main show, there will be a preshow consisting of skits, live music, and more at the BearMoose Brewing beer garden starting at 6 pm. All performances are free, no registration required. Rain dates are August 15, 22, 29, and 30. Find directions here, and a list of nearby restaurants here.