Celebrate Pride Month with These Books, Podcasts, Movies, and TV Shows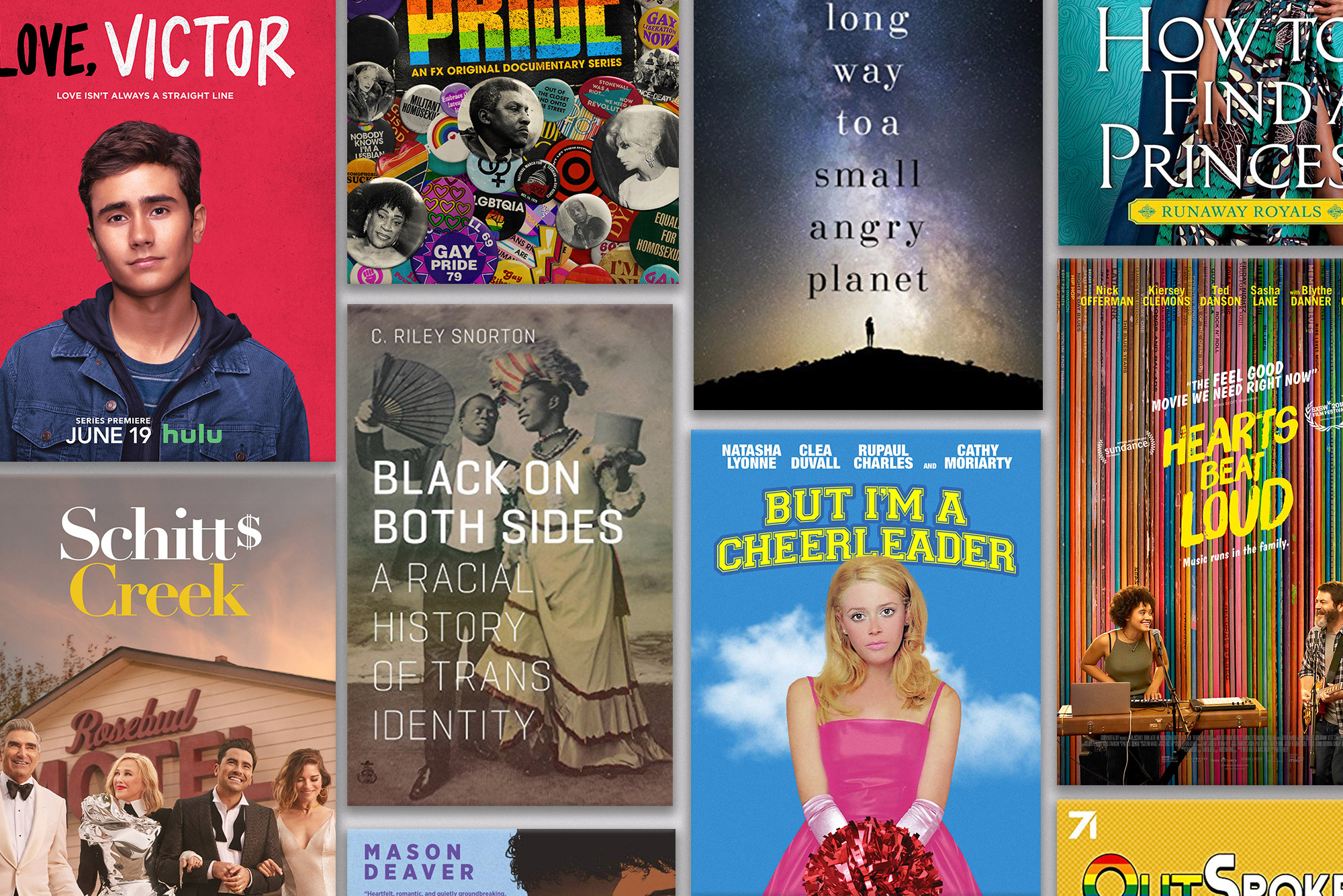 Pride
Celebrate Pride Month with These Books, Podcasts, Movies, and TV Shows
Our picks for what to watch, read, and listen to
June is LGBTQ+ Pride Month, and this year, to celebrate its diversity and inclusiveness, BU Today has put together a list of podcasts, books, television shows, and movies that feature LGBTQ+ culture and achievements. Fiction, history, documentaries, comedies—we've got something for everyone. Looking to buy a book on our list? Consider purchasing it from a LGBTQ-owned bookstore.
Podcasts
True Tea, hosted by Kat Blaque
(available on Spotify, Apple Podcasts, and Google Play)
YouTube personality and activist Kat Blaque is known for her no-nonsense, straight-to-the-point videos discussing her life as a Black, polyamorous, transgender woman. In May, she moved her True Tea video series, where she discusses gender, race, sexuality, and more, to a podcast format. True Tea explores topics such as the nature of privilege, the complexity of sexuality and gender, and more. During her "call-in" episodes, she invites special guests such as YouTuber and author Lindsay Ellis to discuss past episodes and offer their perspective on the podcast host's opinions.
OutSpoken, hosted by Sam Collins
(available on Spotify, YouTube, Audible, and Apple Podcasts)
Sam Collins is a transgender YouTuber who posts videos and podcast episodes about gender, sexuality, antimaskers, and more. On OutSpoken, he celebrates the LGBT+ community while debunking and poking fun at transphobic, homophobic, and misogynistic people online. OutSpoken brings a down-to-earth perspective on identity and humor.
Trials and Trebuchets
(available on Spotify and Apple Podcasts)
Fans of Dungeons and Dragons will love this whimsical fantasy adventure actual play podcast starring YouTube personality Sarah Z and her friends. Embark on an adventure of magic, danger, and study halls as four friends try to navigate their way through Wildcliff, School of the Arcane.
Books
The House in the Cerulean Sea by T. J. Klune
In this feel-good urban fantasy, named one of Amazon's Best science fiction and fantasy books of 2020, Linus Baker is a 40-year-old Case Worker at the Department in Charge of Magical Youth (DICOMY), where he observes the well-being of magical children in government-sanctioned orphanages. When Linus is instructed by Extremely Upper Management at DICOMY to take on the classified task of observing Marsyas Island Orphanage, he thinks it will be like any other job, but he soon finds that the orphanage houses six dangerous magical children, all under the care of the enigmatic Arthur Parnassas. But as Linus gets to know the children, and grows  closer to Arthur, he has to decide between his career and his heart. Klune is the Lambda Literary Award–winning author of Into This River I Drown.
The Chosen and the Beautiful by Nghi Vo
In this reimagining of F. Scott Fitzgerald's The Great Gatsby, socialite golfer Jordan Baker, one of the characters in the Fitzgerald book, takes center stage. Here, Jordan has been adopted from her native Vietnam by a wealthy American couple. She has to learn to navigate being a queer Asian woman amongst New York City's elite, who tend to treat her as an exotic attraction. Something else that sets her apart from her peers? Her ability to bring paper silhouettes temporarily to life. Jay Gatsby, Daisy Buchanan, and Nick Carroway are all here, but it's Jordan you'll remember long after you've finished this spellbinding tale.
I Wish You All the Best by Mason Deaver
In this YA contemporary debut, Ben De Backer finds themself homeless after they come out as nonbinary to their parents and are subsequently kicked out of the house. They have no choice but to move in with their estranged older sister and her husband. Reeling from their parents' rejection and having to start at a new school, Ben finds comfort in the friendship of their classmate, Nathan Allan. Soon, their relationship begins to turn into something much deeper.
How to Find a Princess by Alyssa Cole
In the second book of Cole's Runaway Royals series (don't worry, the books can be read out of order), Makeda Hicks is still reeling from losing her job and her girlfriend in one fell swoop, and she definitely doesn't have time to listen to her grandmother's stories about her torrid love affair with a runaway prince from the fictional kingdom of Ibarania. But then Beznaria Chetchvaliere, an investigator from the World Federation of Monarchies on an assignment to find Ibarania's missing heir, crashes into Makeda's life, believing that she is the missing heir and determined to get her to return to Ibarania. She reluctantly agrees, and soon finds herself on a trip full of lovable eccentrics, a fake marriage, and yes, romance.
Black on Both Sides: A Racial History of Trans Identity by C. Riley Snorton
Trans history is rarely, if ever taught in schools, and stories about BIPOC transgender people are taught even less frequently. In this nonfiction book, the history and relationships of Black transgender pioneers, like Lucy Hicks Anderson and James McHarris, are explored in depth. Snorton also discusses the multiple intersections between Blackness and transness from the mid-19th century to today.
The Long Way to a Small, Angry Planet by Becky Chambers
When Rosemary Harper attempts to run away from her past by signing up to be a certified clerk on the small spaceship Wayfarer, she finds herself a coworker on an eccentric and diverse crew. When the team is offered the job of a lifetime—tunneling wormholes through space to a distant planet—Rosemary has to learn to lean on her crew of oddballs to survive. Along the way, she finds out that a family isn't always something you're born to, but something that you can discover in the strangest places.
Film and Television
Hearts Beat Loud (available on Hulu)
In this musical dramedy, Nick Offerman (Parks and Recreation) plays Frank Fisher, a former musician and widower who owns a failing vinyl shop called Red Hook Records. His daughter, Sam (Kiersey Clemons), is determined to move to the West Coast to study premed and spend the summer with her girlfriend. When Frank convinces Sam to join him for a jam session, she reveals that she has written a song, which the two spend an evening recording and mixing. Frank secretly uploads Sam's song, "Hearts Beat Loud," to Spotify, and it becomes an overnight hit. Frank tries to convince Sam to start a band with him, but she's reluctant, fearing that it will get in the way of her dreams to become a doctor, causing a rift in their relationship.
She-Ra and the Princesses of Power (available on Netflix)
This GLAAD Media Award–winning Netflix hit proves that cartoons aren't just for kids. A reboot of the popular 1980s animated series, She-Ra:Princess of Power, the animated streaming series features numerous LGBTQ+ characters, including Huntara, voiced by Oscar winner Geena Davis (CFA'79, Hon.'99), and the show's protagonist, Adora, a soldier in the evil Horde army who happens upon a magic sword that can turn her into the powerful She-Ra. After meeting Princess Glimmer and the kind archer Bow, Adora decides to use her new powers for good and to fight against the Horde, putting her at odds with her best friend and fellow Horde soldier Catra. Will love prevail? Will evil be vanquished? Tune in to find out.
But I'm a Cheerleader (available for rent or purchase on Amazon Prime)
In this 1999 satirical comedy, Megan, a stereotypical all-American cheerleader (winningly played by Natasha Lyonne), finds herself shipped off to a conversion camp after her parents, friends, and boyfriend start to suspect that she is a lesbian. Initially, Megan tries to follow the program in an effort to become straight, but she starts to fall for Graham (played by Clea DuVall), another girl in the program. Mixing satire, comedy, and romance with thoughtful criticisms of gender performance, homophobia, and intolerance, But I'm a Cheerleader is an underrated classic.
Pride (available on Hulu)
FX's six-episode docuseries (currently available on Hulu) follows the struggle for queer rights over six decades. Starting with McCarthyism in the 1950s, which ended the careers of many talented LGBTQ individuals, and ending with the increasingly mainstream acceptance of people in the LGBT+ community, each episode covers both well-known events in the fight for LGBTQ rights—the Stonewall Riots and the AIDS crisis—and activists like Christine Jorgenson, Madeleine Tress, and Bayard Rustin, whose contributions to the movement have been largely forgotten.
Schitt's Creek (available on Netflix)
This popular Emmy-winning comedy series is the story of the wealthy Rose family, whose members suddenly find themselves completely broke after their business manager embezzles their fortune. Their only tangible asset? The down-to-earth town of Schitt's Creek, which may be a little too down-to-earth for them. The family tries to adjust, hoping to leave as soon as they can get their wealth restored. Things begin to change, however, as they start to build a life for themselves in Schitt's Creek. The show is notable for its portrayal of LGBTQ+ people, among them son David, played by cocreator Dan Levy, who won acting and writing Emmys for his work on the series.
Love, Victor (available on Hulu)
Fans of Becky Albertalli's hit YA contemporary novel Simon vs. the Homo Sapiens Agenda and the book-to-film adaptation Love, Simon will enjoy this sequel series on Hulu. Victor Salazar (Michael Cimino) is a new student at Creekwood High, struggling with adjusting to a new school, dealing with his parents' fights, and trying to come to terms with his sexuality. To cope, he reaches out to Simon Spier (protagonist of Simon vs. the Homo Sapiens Agenda and Love, Simon) for advice.