Can't Get a COVID-19 Shot? This BU Mathematician Can Help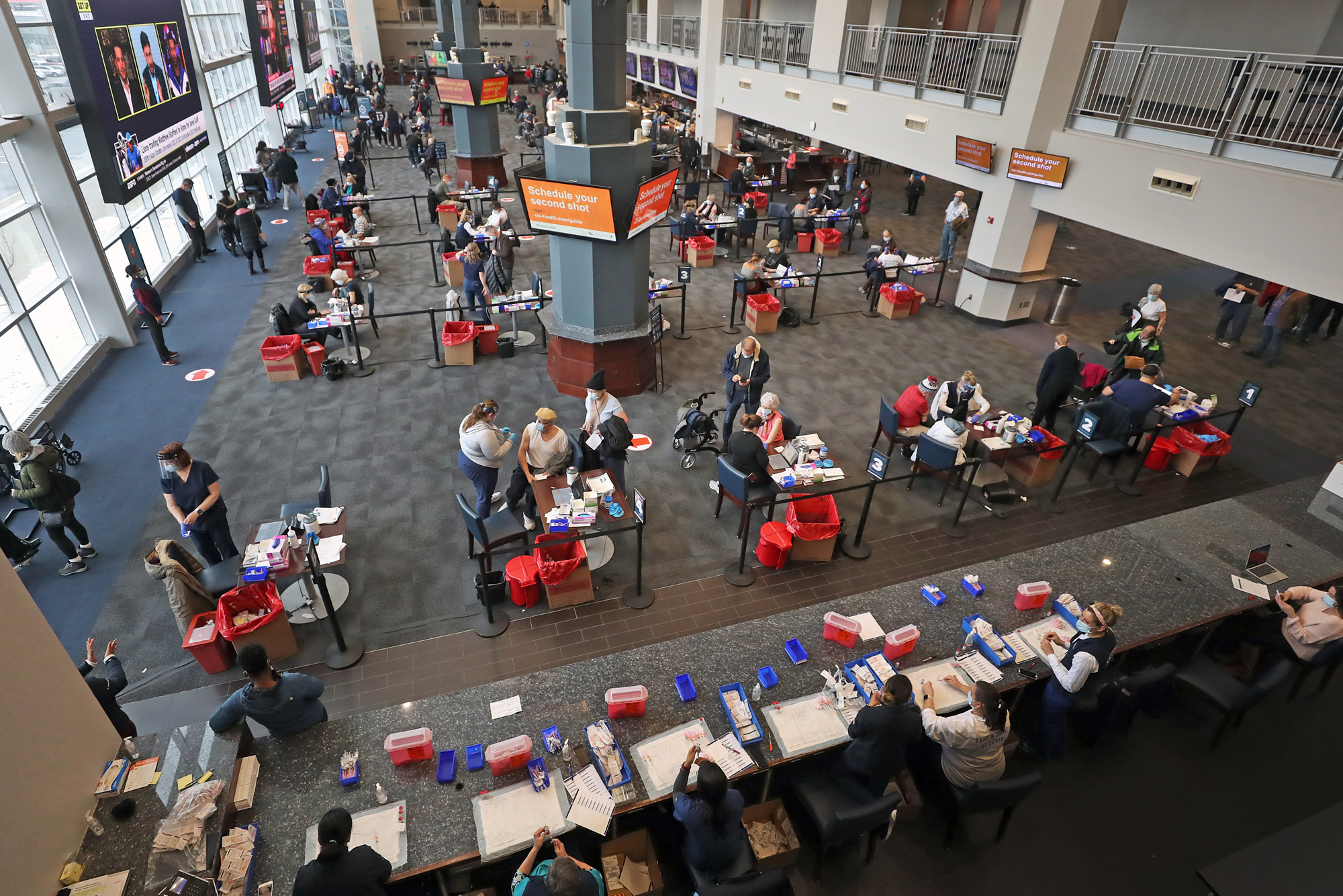 Public Health
Can't Get a COVID-19 Shot? This BU Mathematician Can Help
Jonathan Huggins' new site books appointments, navigating the Massachusetts logjam
BU's Jonathan Huggins creates website that books COVID-19 shots
System relies on volunteers to monitor openings at vaccination sites statewide
Hundreds helped amid the state's troubled vaccination rollout
At 67, Stephen Lambert became eligible for the COVID-19 vaccine in February under Massachusetts protocols. But it seemed the Woburn resident might need an unusually lengthy lifespan if he wanted to book a shot through the state's online registration system.
On February 18, a Thursday morning, the semiretired educator says, "I logged onto the state site at 7:50. I answered a few questions, and at 8, the site crashed." Armed by a friend with the phone number of a vaccination site in Needham, he called there the next day; the receptionist took his info and suggested he call back for an update Monday. "On Monday, I was informed that this Needham site did not have any vaccines."
Patience fraying, he logged on to a website that had just gone live that weekend: Massachusetts COVID Vaccination Help, designed by Jonathan Huggins, a College of Arts & Sciences assistant professor of mathematics and statistics, and his wife, Diana Rastegayeva. Lambert submitted his information that same Monday; the next day, a volunteer named Allison called. "She couldn't have been nicer," Lambert says. She took more information, then called Wednesday to say she'd booked him a shot Thursday at Fenway Park's mass vaccination site.
"I was in awe," says Lambert, who has shared the link to Huggins' site with others, who've reported similarly gratifying results.
From Cape Cod to the Berkshires and points in between, more than 9,650 shot-seekers have sidestepped the Massachusetts initial vaccination logjam courtesy of Huggins, Rastegayeva, and the 300-plus volunteers they've recruited via social media for Massachusetts COVID Vaccination Help. The problems those people encountered went beyond website crashes resulting when operators weren't alerted to a coming traffic surge from expanded vaccine eligibility.
Massachusetts only recently took a step towards West Virginia's lauded centralized system, creating a preregistration tool for appointment slots at seven mass vaccination sites run by different private companies. The state notifies registrants when there's an opening, eliminating the current need for people to constantly refresh their computers in search of open slots, hoping to beat out thousands of others doing the same thing.
"This week the mass vaccination sites only have 12,000 appointments," Huggins said in early March, "and everyone is clamoring for it today. It's just sort of this Wild West lottery for whether you'll get it."
Up till now, he says, "there wasn't [just] one website initially that you could go to and find out where there was availability across all [vaccination] sites." Rather, the state had relied on multiple websites scheduling appointments at sites.
---

It's not that we have some special set of secret vaccines. It's just that our volunteers are actually knowledgeable about how to use these systems—they know all the different websites.

---
"There are so many people that are eligible, the spots are getting filled very quickly, and who's getting appointments? It's people who are the most tech-savvy, the ones who have the most time to spend" hitting their refresh button, Huggins says. "If you're over 75, many of these people are not super tech-literate. Maybe they don't even have internet." Appointments are daunting "if you're someone who doesn't speak English, has to work long hours and doesn't have time to spend doing this, is a caretaker of someone who needs a lot of attention and can't do this."
While Massachusetts is in the top half of states for vaccination rates (16 percent of residents are fully inoculated), newly eligible vaccine recipients, including those over 60 who became eligible to be vaccinated March 22, will add to the flood seeking shots.
Huggins' site flips the usual wisdom about cutting out the middleman. Residents requesting assistance at macovidvaxhelp.com are contacted via email or phone by one of the volunteers, who collects the resident's relevant information while monitoring appointment openings at vaccination sites. Once volunteers find an opening, they book an appointment and alert the resident.
"We're using the same websites and the same sources of appointments as everyone else," Huggins says. "It's not that we have some special set of secret vaccines. It's just that our volunteers are actually knowledgeable about how to use these systems, they know all the different websites. The big advantage we have, honestly, is just the collaborative, where [volunteers] share information: oh, there's a big dump of 500 appointments out in Worcester. Does anyone have people from Worcester that need appointments?"
He cites a woman helped by his wife: "Her husband, who she cares for, has really severe lung, breathing issues. She stayed up for basically three days straight trying to get him an appointment. She finally got him one, and then she stayed up for another eight hours trying to get herself one, trying to get through these [multiple] websites and trying to get booked. My wife was able to get her booked in less than an hour."
He doesn't believe that the state's new preregistration system, while theoretically sound, will scrub the need for his own site. Preregistration "will be first-come, first-served, which will likely lock out many of the very people we are trying to help," and while the state hopes to expand its use to more than just mass vaccination sites, Massachusetts Governor Charlie Baker is encouraging residents to try to book appointments on their own, Huggins says.
His volunteers do more than booking, juggling duties from technical maintenance to translating the site's intake forms for non–English speakers (Spanish, Portuguese, Chinese, and Russian are available, with more languages in the works). Huggins and the volunteers are part of a tech-savvy corps of Bay Staters who've developed tools to help fellow residents bypass the bureaucratic bungles to get vaccinated.
Macovidvaxhelp.com is looking to partner with community groups to sign up Net-challenged people unable to reach the site online. For rugged individualists preferring the do-it-yourself approach, the site includes a resources page with information on self-booking appointments.