BUPD Investigating Thefts, Lewd Exposure at South Campus Dorms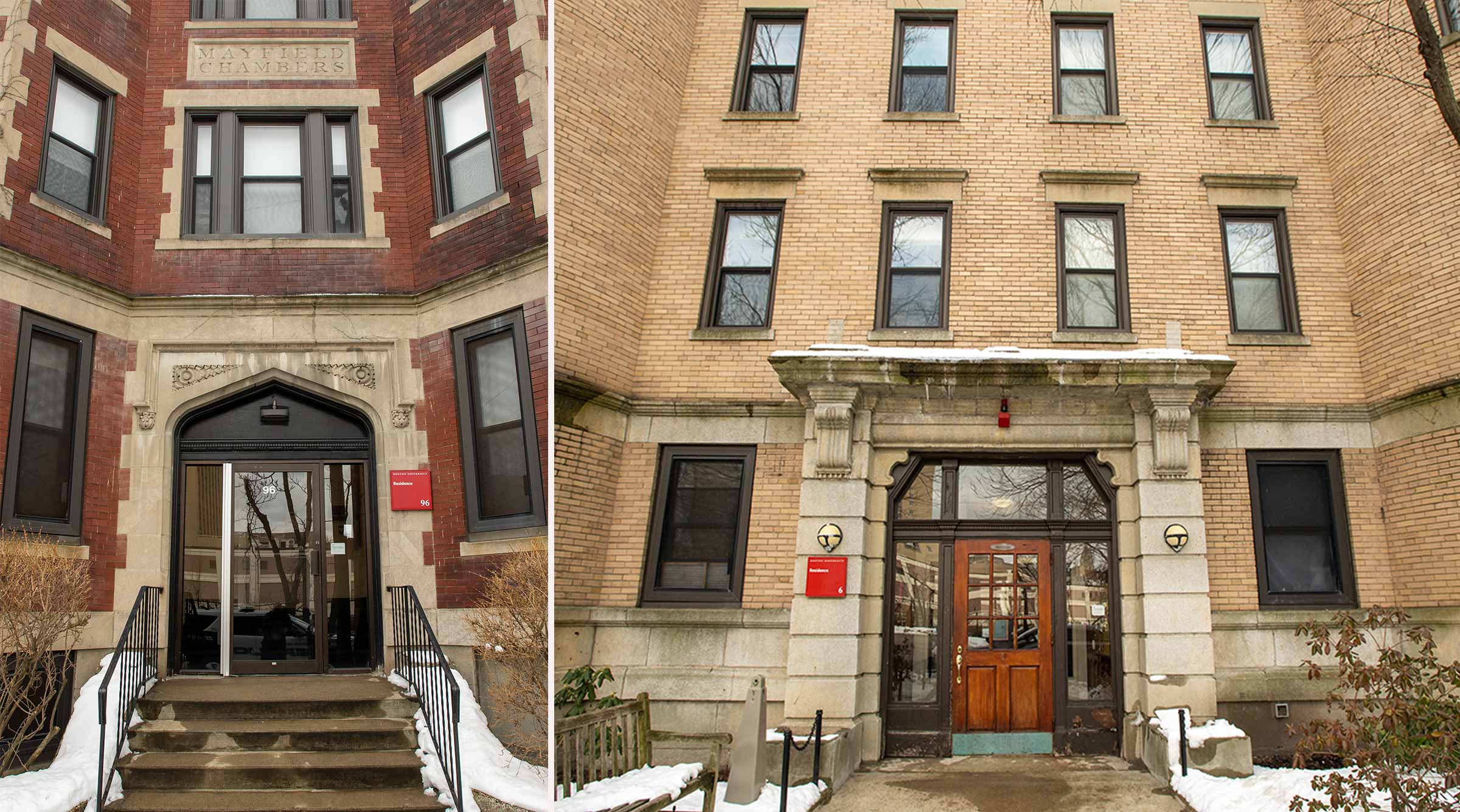 Safety
BUPD Investigating Thefts, Lewd Exposure at South Campus Dorms
Tips to protect yourself and your belongings
The Boston University Police Department is investigating a string of thefts and an instance of lewd exposure at student residences on Mountfort Street and Buswell Street.
There are no suspects yet in the half dozen incidents that have occurred between January 28 and February 10. However, a person of interest was caught on video at another residence, 722-726 Commonwealth Avenue, after "piggybacking" into the building behind a student who'd entered, BUPD Detective Lieutenant Kelley O'Connell says.
While "there's no reported theft from that building," BUPD Deputy Chief Robert Molloy says, the person on video fits the description given of an intruder seen February 10 at 96 Mountfort St. In that incident, a student reported the intruder in her room shortly after midnight. The man fled the room, but was seen by another student exposing himself in a hallway before fleeing in the direction of Arundel Street. The suspect was described as being in his late 20s or early 30s, with a medium complexion, facial hair, dark clothes and backpack, and possibly a green baseball cap.
The BUPD requests that anyone with information call the department at  617-353-2121. You can also send anonymous tips to the Crime Stoppers Tip Line at 1-800-494-TIPS or by texting the word "BU" to TIP411 (847411). 
It's uncertain whether the same person or persons are responsible for the spree. "We have no evidence to show that that's the case," O'Connell says. "It could be more than one individual, and that's something that we're trying to flush out now through our investigation."
"We're working with Brookline and Boston [police] on trying to develop a suspect," Molloy says, "but at this time…we're not prepared to make an arrest imminently."
The other incidents occurred January 2, between 1 and 8 am, and the evening of January 30 or early January 31 at 46 Mountfort St.; two incidents the evening of February 2 and the wee hours of February 3 at 6 Buswell St.; and February 6 at 34 Buswell St.
In those incidents, an intruder or intruders entered unlocked apartments and took clothing, and at 34 Buswell, a wallet, and opened mail, O'Connell says. "Some of these were jackets, clothing items, which can be rather expensive—name-brand jackets," she says.
Eliot Usherenko (CAS'21), who lives at 844 Beacon St., says the string of incidents is troubling for students like himself, who live on South Campus near the affected residences. "It puts the safety and well-being of South residents in danger," he says.
In light of the incidents, the BU Emergency Alert system has emailed safety tips, including:
Don't confront a thief yourself.
If you notice damage to your door, especially around the door handle, don't enter the room. Go somewhere safe and call the BUPD.
Lock your door and any window with access to a fire escape.
Close any common doors into the building.
Know your neighbors so that you can know an unfamiliar intruder.
Program your cell phone with the BUPD emergency number (617-353-2121), available 24/7. If you are off campus and need help, call 911. Text BUPD anonymously by texting "BU" to 847411.
Alexander Puri (COM'21) contributed to this report.