A Title in Their Sights, BU Women's Basketball Focuses First on Semifinal Foe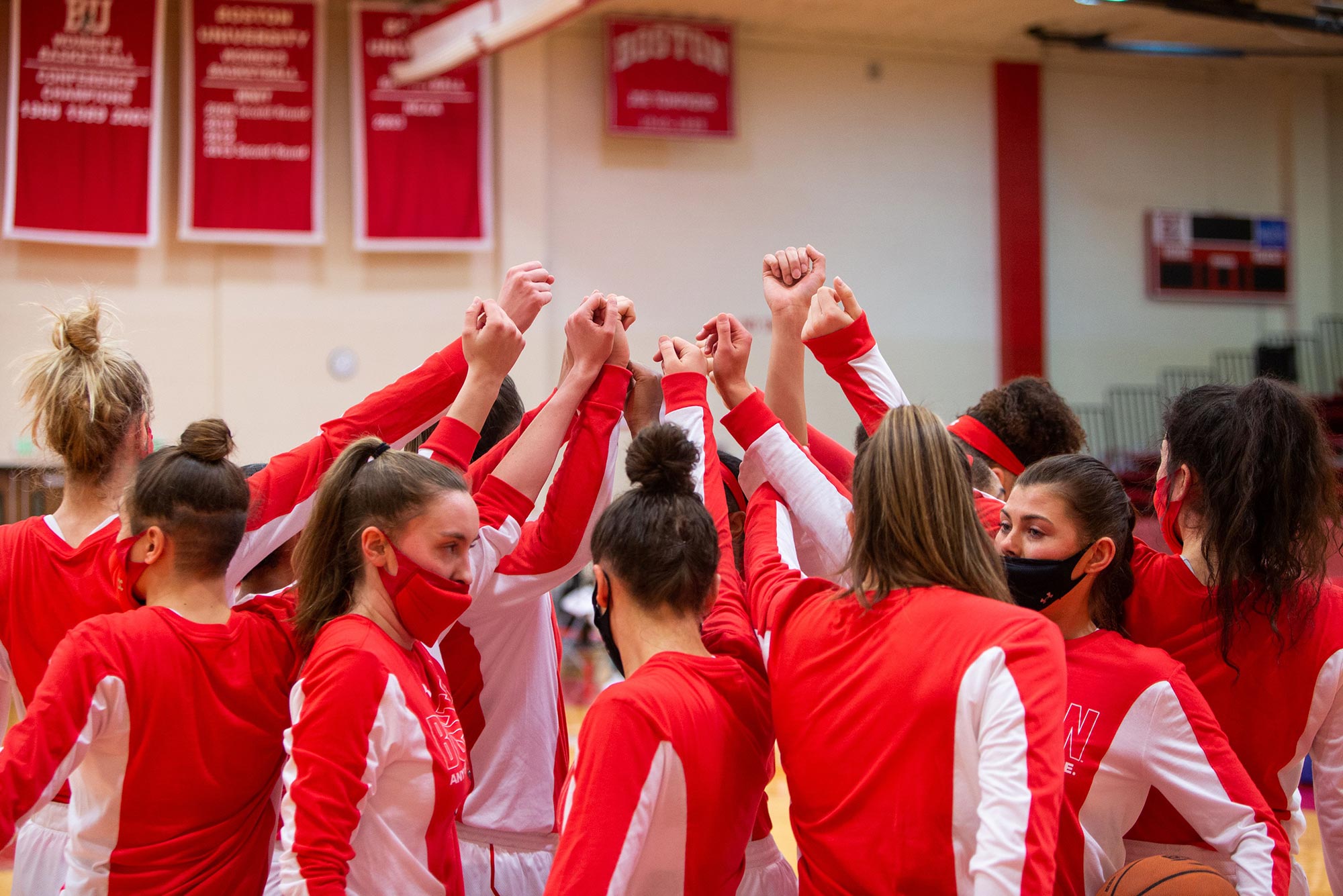 Varsity Sports
Updated: A Title in Their Sights, BU Women's Basketball Focuses First on Semifinal Foe
After COVID-canceled 2020 Patriot League semis, Terriers see 2021 as "unfinished business"
UPDATED FRIDAY, MARCH 12: The BU Women's Basketball team won its semifinal game over American, 72-51, Thursday night. The Terriers will now host Lehigh for the Patriot League championship game on Sunday, March 14, at 4 pm, with the winner automatically advancing to the NCAA Tournament. The game can be seen on the CBS Sports Network.
The Boston University women's basketball team tore through the 2021 regular season, posting a 10-2 record, for the best winning percentage in team history. After a quarterfinal victory last Sunday over Lafayette, the Terriers will play in their second-ever Patriot League semifinal game when they host American Thursday night.
The Terriers have now reached the semifinals in each of their last two seasons, but their 2020 semifinal game was canceled by the COVID-19 outbreak last March. One year later, Sydney Johnson (CAS'23) says the Terriers are hoping to make the most of this long-awaited opportunity.
"It kind of feels a little bit like unfinished business, because of what could have been last year," Johnson says.
A year ago, the Terriers knocked off American University in the quarterfinals, 46-44. A rematch is in store, as the Eagles are back after overpowering Army in this year's quarterfinals by a 20-point margin. American, at 7-3, is seeded third, and is led by First-Team All-Patriot League honoree Jade Edwards.
Should the Terriers get past the Eagles, they will make their first-ever appearance in a Patriot League championship game. BU won Seaboard Conference titles in 1988 and 1989, and took the America East trophy in 2003, but has yet to win the Patriot League since joining in 2013.
Possible championship opponents are the first-place Bucknell Bison, undefeated through nine games this season, or Lehigh, the fourth seed in the Patriot League playoffs, with an 8-5 overall record. The final will be held at the home of the higher seed, so if BU advances, the Terriers would either visit Bucknell or host Lehigh for the title game.
If the Terriers claim the 2021 Patriot League crown, they will reach their second-ever NCAA Tournament—the first appearance came in 2003, dropping a first-round contest to UConn.
"Coach has been telling us all week, you can dream and aspire about something as big as the NCAA Tournament, but you have to think about your next opponent, that being American, and you have to take care of business there first," Johnson says.
Sophomore standouts
Johnson is one of three standout sophomores who came up big for BU in their quarterfinal win. She led the team with 19 points, 9 assists, and 7 rebounds, while Maggie Pina (CAS'23) hit a team-high five 3-pointers en route to 17 points, and Maren Durant (Sargent'23) dominated the paint with 17 points and 7 rebounds, including 6 on the offensive end.
Third-year head coach Marisa Moseley (CAS'04), who was a core member of BU's 2003 NCAA Tournament team, says the versatility and depth of scoring exemplified by her team's sophomore trio is exactly what she likes to see from her team.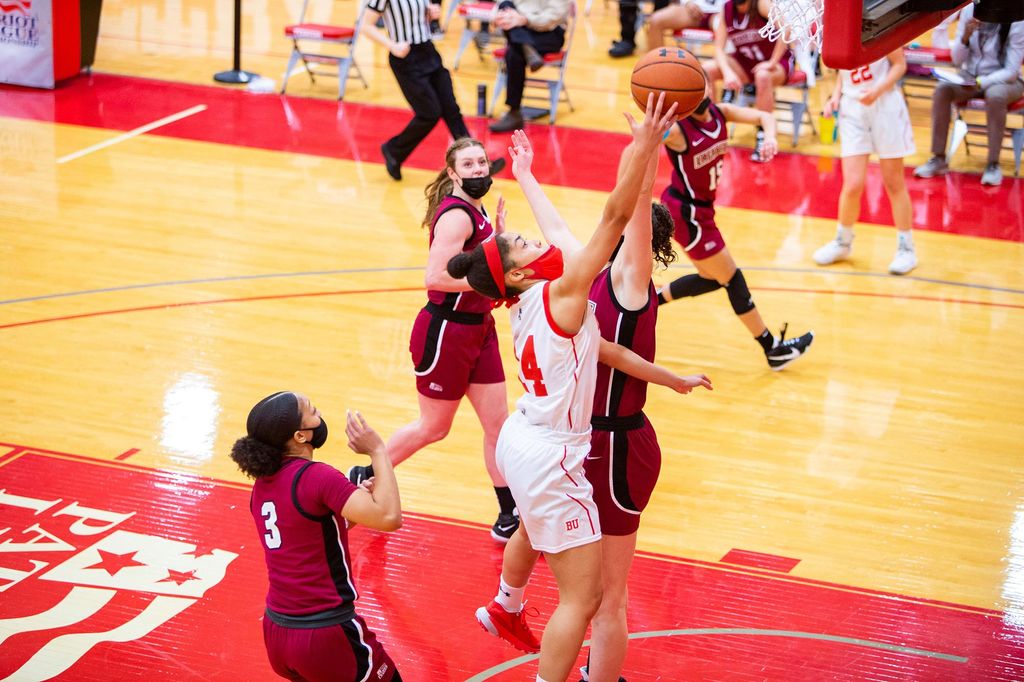 "We want five people on the floor at any given time that are able to pass, dribble, and shoot," Moseley says. "If you've got five weapons in there at any given time, [opponents] can't key in on just one player."
In just their second year with the team, Johnson, Pina, and Durant have become mainstays in the BU starting five. As they enter uncharted territory in the late rounds of the Patriot League postseason, Johnson says she and her fellow sophomores are trying to learn as they go.
"We're still so inexperienced, only being sophomores, but we have such a large role," she says. "Just getting that experience is always great for us, because we can continue to build off of that."
Offense clicking
BU was tested in the quarterfinals, as Lafayette, led by Patriot League MVP and Defensive Player of the Year Natalie Kucowski, took a double-digit lead in the first quarter. The Terrier offense came alive in the second quarter, outlasting the Leopards the rest of the way.
"Our offensive game was just really clicking, especially in that second half," Johnson says. "There were a lot of runs, a lot of threes, Maren scoring a lot of buckets in the paint, and it just kind of got away from Lafayette there."
Moseley says she was proud of how her players stuck to their strengths as the game progressed. "They understood our game plan, and that's what this time of year is about," she says. "Understanding how to execute in these situations is really where we're going to be able to thrive and continue to advance."
The Terriers have seen four opponents this season, going up against Army, Colgate, Holy Cross, and Lafayette in a pandemic-condensed 12-game regular season schedule. BU's 10-2 record was good for second seed in the Patriot League playoffs, giving the Terriers home court advantage through at least the semifinals.
Playing during a pandemic has presented a long and difficult road for the Terriers and every other team this season. With the championship in view, Johnson says, the Terriers have a chance to make all the challenges fade away.
"This is what we've done all this for," she says. "This is the moment where we need to make it count."
BU welcomes American at Case Gym on Thursday, March 11, at 6 pm, with live coverage on ESPN+. If the Terriers win, they will advance to the title game, against the winner of Thursday's Bucknell-Lehigh game, on Sunday at 4 pm, televised on CBS Sports Network.