BU School of Medicine Adds St. Elizabeth's Medical Center as New Teaching Hospital
University News
BU School of Medicine Adds St. Elizabeth's Medical Center as New Teaching Hospital
The agreement will bring more medical training and research opportunities for BU medical students and faculty
St. Elizabeth's Medical Center in Brighton will become a Boston University teaching hospital under an agreement reached between the University and Steward Health Care, announced on Monday.
The five-year partnership, which goes into effect July 1, when the University begins its academic year, deepens and expands an existing relationship between BU and St. Elizabeth's Medical Center (SEMC) that the parties say will benefit BU students and faculty, as well as patients of the Steward Health Care system. The deal will not impact the BU School of Medicine's relationship with Boston Medical Center, its primary teaching affiliate.
The affiliation will bring more opportunities for BU medical clerkships for students to practice clinical rotations at SEMC's 308-bed hospital, located about five miles west of the BU School of Medicine (MED) campus and less than two miles from the heart of BU's Charles River Campus. Approximately 170 MED students seek clerkships during their third year of studies (third-year medical students begin their academic year in May). For faculty, the partnership is expected to lead to more collaboration on clinical research.
"I am very pleased with the new affiliation between SEMC and our medical school," President Robert A. Brown says. "The commitment by Steward Health Care to enhance SEMC as an academic medical center aligns well with our goals in medical education and clinical research."
Karen Antman, MED dean and Medical Campus provost, says the agreement with SEMC means more MED students—including those working to become physician assistants and mental health and genetic counselors—will be able to do clinical rotations at a nearby hospital committed to quality education.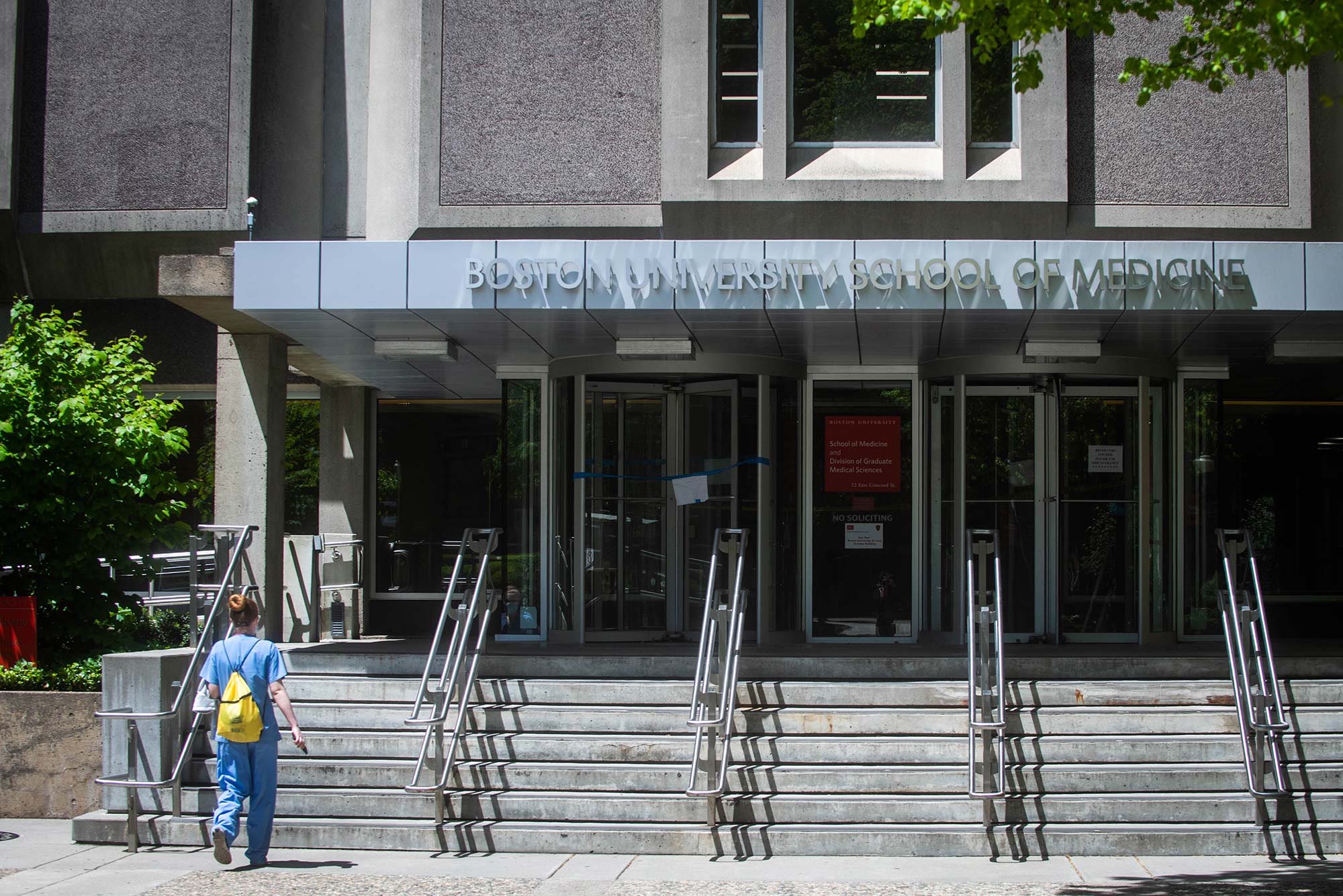 "Medicine for future physicians, physician assistants, and mental health and genetic counseling requires hands-on patient care experience, one-on-one, or at most, small-group learning," Antman says. "Ideally, each student is part of the team that cares for a number of patients, with increasing levels of responsibility under close supervision. This requires a large number of faculty and experiences with a large number of patients."
This year, nine MED students at a time participated in clerkships at SEMC—in obstetrics and gynecology, psychiatry, and neurology—in rotations that last four to six weeks, depending on the specialty. MED plans to expand the number of these rotations at the Brighton hospital over the next three years and add clerkships in internal medicine, surgery, and radiology. The additional specialties and clerkship slots would mean a significant number of MED students would be studying at SEMC at any given time.
The agreement also means new clinical rotations for physician assistant and mental health and genetic counseling students—critical opportunities for professionals who must learn to collaborate, Antman says. "Optimal care requires a team of providers, not just doctors with different specialties, but also pharmacists, nurses, PAs, too. It takes a village. Students need to work in these teams," she says.
As of the 2020–2021 academic year, MED students participate in a range of clerkships at 27 hospitals, led by Boston Medical Center (BMC). MED students also learn at more than 30 community health centers and group medical practices in Massachusetts, Maine, and New Hampshire.
"This is an exciting development for MED students and faculty," Ravin Davidoff, chief medical officer of BMC and associate dean for clinical affairs at MED, says. "This academic affiliation offers students and faculty immediate opportunities for teaching and research collaborations and sets the stage for mutually beneficial opportunities across all of MED's affiliates, especially BMC."
For St. Elizabeth's, the agreement with MED represents an opportunity to affiliate with one of the top medical schools in the country that champions quality, affordable care to all, says Harry Bane, president of Steward Health Care's North Region. (Bane was previously the president of SEMC.)
"As a physician-led organization, Steward is committed to excellence in graduate medical education and training the next generation of physician leaders," Bane says. "Our partnership with Boston University is the latest example of Steward investing in local communities, as St. Elizabeth's serves as a top destination for patients throughout eastern Massachusetts who need highly specialized care at a sustainable price."
Bane says MED's commitment to community-based care and to vulnerable populations, demonstrated by the school's long-standing relationship with BMC, was a big draw for Steward. "They serve patient populations that desperately need high-value care," he says. "And that's something we at St. Elizabeth's have always been committed to, which is serving the underserved and the communities where we live and work."
Physicians at SEMC also can enjoy broader clinical collaboration with MED, Bane says, that could lead to career and teaching opportunities. At the same time, MED students who study at SEMC will experience a setting where doctors are in leadership positions across the organization.
---

Optimal care requires a team of providers, not just doctors with different specialties, but also pharmacists, nurses, PAs, too. It takes a village.

---
Bane says that while the agreement pertains to medical students now, SEMC is open to including educational opportunities for students in affiliated fields, such as occupational therapy and physical therapy. "Certainly over time we want to grow this relationship to bring enhanced, innovative education and clinical experiences to St. Elizabeth's that will optimize patient care," Bane says. "And that certainly has the potential to go to other schools and programs over time to further strengthen and mature this relationship."
About 25 clinicians who teach MED students during their rotations at SEMC already have MED faculty appointments, and the school expects that number to grow under the agreement. SEMC faculty will not become part of the Boston University Medical Group. Instead they will hold appointments similar to clinicians who teach MED students at Veterans Affairs (VA) hospitals and at Kaiser Permanente's regional campus in California's Silicon Valley.
As for medical research, Antman says, the affiliation with SEMC will strengthen clinical and research collaborations with BU's Medical Campus faculty. "Collaboration on clinical research trials will allow us to answer research questions more quickly, and expanded research collaborations are possible in, for example, genetics, heart disease, Alzheimer's disease, and sports medicine, including chronic traumatic encephalopathy," Antman says.
Since 1957, SEMC has been affiliated with Tufts University School of Medicine, and will transition its affiliation through this agreement, Bane says.
For BU, SEMC's Brighton campus adds to a diverse mix of healthcare environments that benefit the training of tomorrow's doctors.
"Students need to see medicine provided in different settings," Antman says. "They have BMC, where they see global diseases in patients who speak many different languages. At the VA they see deployment medicine. At St. Elizabeth's hospital they will see a large urban hospital, and at our affiliates in Maine and in the Berkshires, they will experience rural medicine."