BU School of Dental Medicine Celebrates Completion of Three-Year $115 Million Expansion, Renovation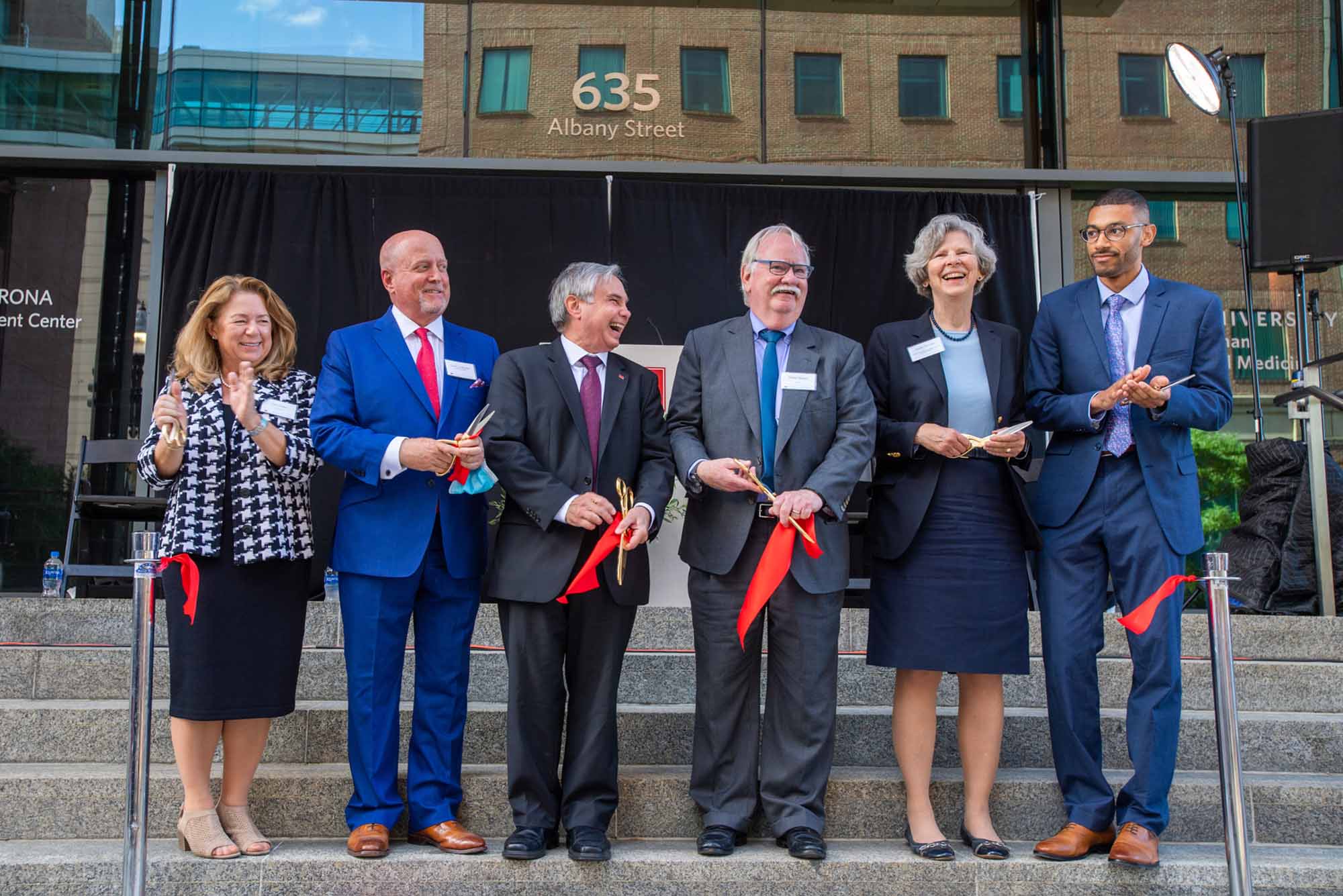 University News
School of Dental Medicine Celebrates Completion of Three-Year $115 Million Expansion, Renovation
Ribbon-cutting ceremony marks opening of new facilities for patients, students, faculty, and staff that will modernize education programs and the dental health care offered
Boston University held a ribbon-cutting ceremony on Tuesday, September 21, to celebrate the opening of the redesigned and expanded Henry M. Goldman School of Dental Medicine. The event, held under a cloudless sky at the school's newly designed 635 Albany Street patient entrance, was attended by approximately 100 people, including University leaders, faculty, alumni, donors, students, architects, and construction executives. The ribbon-cutting marked the capstone of a three-year $115 million project designed to incorporate state-of-the-art technologies in both the education programs for future dentists and the treatment facilities they use to provide care for patients from nearby Boston neighborhoods.
"Today's opening is the culmination of over a decade of work, seven years of careful planning, and three and a half years of construction. As much as any construction project I have seen, this physical addition was driven by a careful program aimed at keeping dental education at Boston University at the forefront of the field," said President Robert A. Brown at the ceremony. "In physics, a quantum jump is an abrupt change in energy level. In common usage, a quantum leap is a big change. This new building is a quantum leap in the quality of the facilities for our great faculty and students."
The event included the announcement by Cataldo Leone, SDM dean ad interim, of support from Dentsply Sirona that has allowed the school to equip its newly updated and expanded patient treatment center with state-of-the-art technology, including new dental chairs in 100 patient treatment spaces, digital radiography equipment, and a team of lab technicians to assist faculty and students. In recognition of this support, the school is naming the patient treatment center after the company.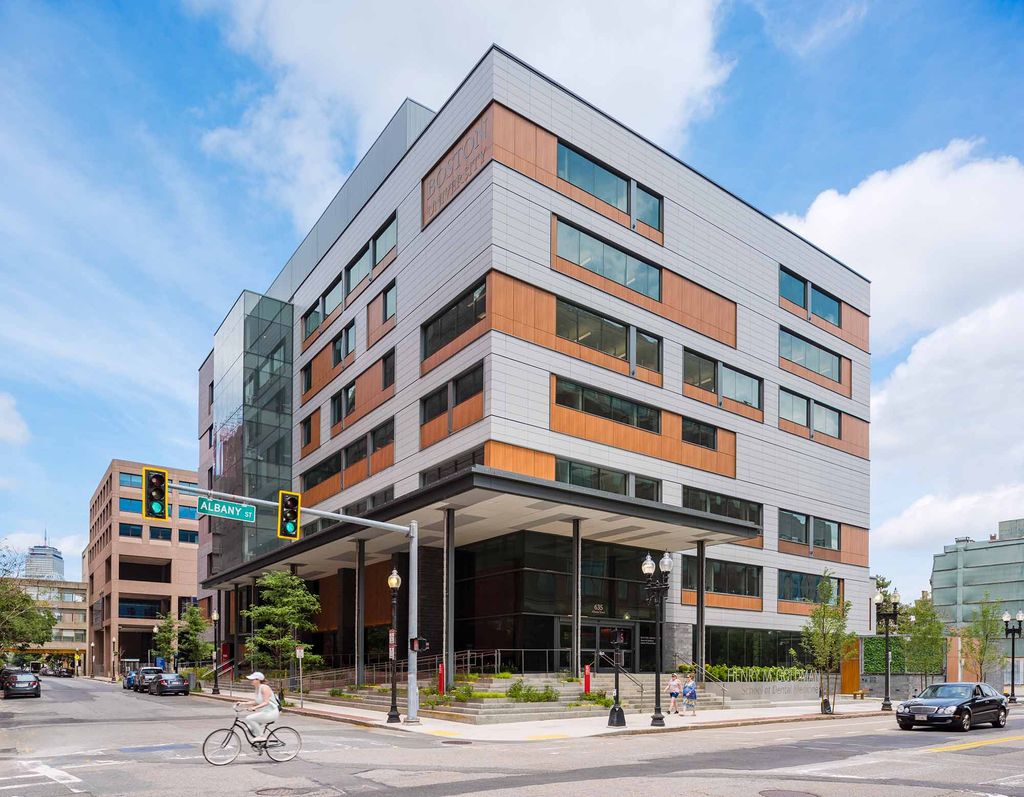 The advanced equipment that predoctoral students use in the Dentsply Sirona Patient Treatment Center will benefit both the students and patients receiving care, Leone says. "This allows us to provide our patients—who are often among the most underserved populations in Boston—the best oral health care possible, and will help position our school as a global leader in dental education." Terri Dolan, Dentsply Sirona chief clinical officer, says that the company shares common goals with SDM to support education and dental health care. "We believe it is our social responsibility to focus on initiatives and collaborations that aim to improve oral health care. This often starts in the classroom, which is why we are dedicated to supporting high-quality dental education like that offered at GSDM."
While the school has long been a familiar presence at the corner of East Newton and Albany Streets, in the heart of the BU Medical Campus, the changes to the seven-story structure are dramatic. Two additions—one seven stories high on the west side and the other two stories on the north side—have added 48,000 square feet, increasing the building's space by approximately 49 percent. The project also included renovation of 63,000 square feet of existing space.
The newly designed and renovated building, overseen by the international architectural design firm SmithGroup, touches every aspect of the school for its approximately 800 pre- and postdoctoral students, as well as faculty, staff, and patients.
There are now two entrances, the new one for patients on Albany Street provides a path for them separate from that used by faculty, staff, and students. Every floor features light-filled spaces with large windows, where there used to be little sky visible. Spaces for casual student gatherings and conference rooms for smaller group meetings provide new opportunities for both spontaneous interactions and team projects. The project also includes a new 140-seat auditorium for lectures and presentations.
Among the most important changes are new spaces where predoctoral students practice their dental techniques and treat their first patients.
A new state-of-the-art Simulation Learning Center (SLC), where as many as 117 students can practice using dental instruments on manikins, is now in the same building, a point faculty and students cite as a major upgrade. (The previous SLC had been at 650 Albany Street.)
In the SLC, students gain experience using technologies they will see in the clinical setting both at SDM and when they begin their own practices, says Alexander Bendayan (SDM'05), restorative sciences and biomaterials department chair ad interim and associate dean for digital development, technology, and innovation.
The new third-floor center offers a number of modern features that the old SDM facilities lacked, including a water system that simulates saliva for students to practice using suction. The new technologies provide students an opportunity to practice manipulating electric handpieces and intraoral scanners to capture digital images that they can use to design a crown or a dental implant.
"It simulates all the technologies that they will have in the clinics. In order for you to create a seamless transition, it needs to be the same. The only difference is that the patients are not real," Bendayan says.
On the three floors above the Simulation Learning Center is the Dentsply Sirona Patient Treatment Center, where predoctoral students treat patients. Each floor includes a patient reception and waiting area.
To mirror trends in general dentistry care, the treatment center uses a group practice model, where student teams care for a set of patients. In total, the center now has 100 dental chairs, a 28-chair increase from the previous setup, which will allow the school to serve more patients.
The emphasis on natural light extends to the treatment center, making the environment appealing for both patients and the student dentists serving them, says John Guarente (SDM'89), an SDM clinical professor of general dentistry and associate dean for clinical affairs.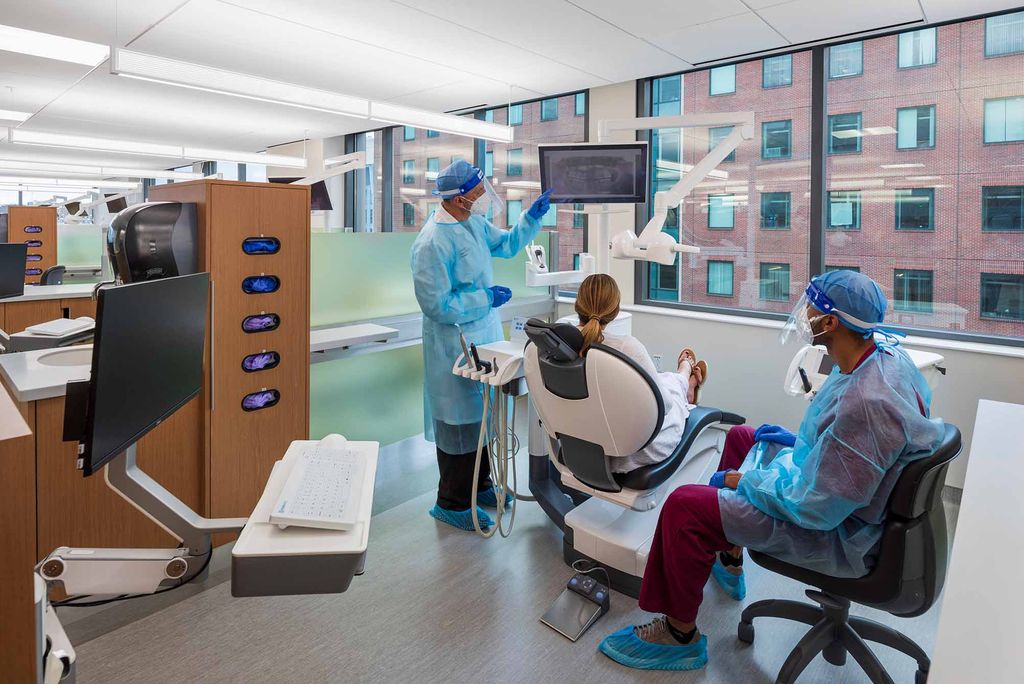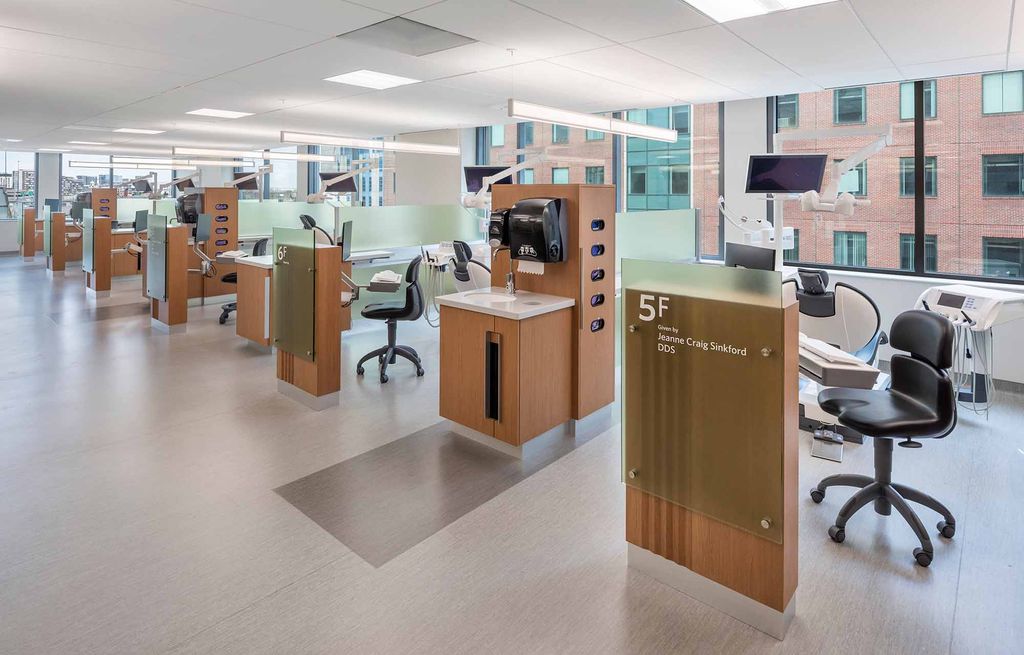 An additional critical feature is the open design of the treatment center, which gives faculty supervisors clear sight lines to monitor students' performance from a careful distance, without intruding on their space. This is a major improvement over the previous high-walled environment, Guarente says. "Right now, you can take a look, and you get a good vision line, a good view as to how the student may be doing," he says.
The revamped building represents a historic milestone for the school. Established in an East Concord Street brownstone in 1963 as the BU School of Graduate Dentistry, the school moved to its current location in a three-story, Brutalist-style concrete-clad building designed by the Architects Collaborative, in 1970. Three years later, an additional four stories were added to the original building.
Planning for the current renovation and expansion began in 2009, under the vision of Dean Emeritus Jeffrey W. Hutter, who retired this past spring (a search for a replacement is underway). The goal: to provide a facility that made BUSDM a premier academic dental institution. After an April 2018 groundbreaking, construction was done in four phases, with an interruption at the onset of the COVID-19 pandemic to comply with state mandates. In addition to the student- and patient-facing upgrades, the renovation also replaced mechanical systems and installed energy-efficient insulation and new exterior surfaces of wood and glass, and landscaping improvements were made.
The SDM treatment centers continued to treat patients during construction, which required some faculty, staff, and students to relocate within the building to avoid work crews. In-person coursework and meetings were also modified to comply with BU's COVID-19 guidelines, and as of this summer, when students returned to classes and the Simulation Learning Center, they are now back to pre-COVID 19 status.
Karen Antman, dean of the School of Medicine and provost of the Medical Campus, says the project signals a renaissance for SDM.
"It's like a new beginning for the dental school. You can understand that people want to come. Clearly, nice new modern clinical and educational spaces will facilitate not only the recruitment of a dean, but also outstanding faculty and students. And patients certainly will appreciate the upgrade as well," Antman says.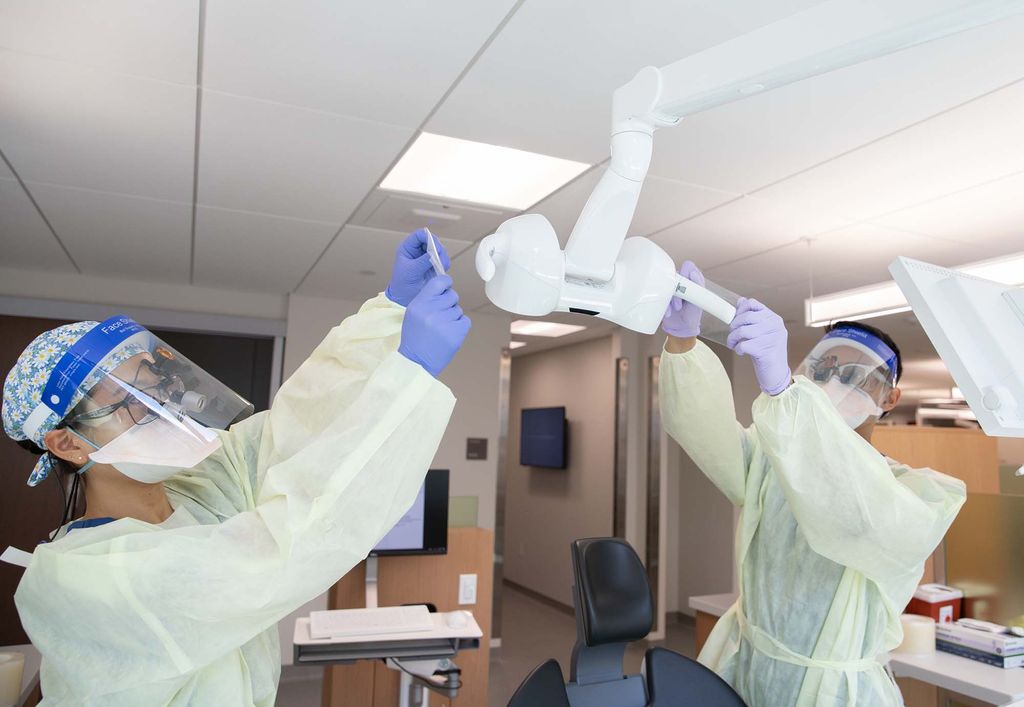 Students, like Manavi Nagai (CAS'17, SDM'22), and Benson Delos Reyes (SDM'22), say the new facilities represent a major enhancement to the school.
The open floor plan design makes teachers more accessible, says Nagai, a fourth-year dental student from Lexington, Mass., who plans to pursue a prosthodontics residency. "The clinic itself is also very open, in that you can see faculty walking around. So it's really easy to grab help. In the old clinic, there were so many walls, like a big maze and it was all very closed off," she says. "It's really nice to see the new clinic is so open and airy, the design of it is pretty relaxing and calming, with lots of windows."
Delos Reyes, a fourth-year dental student from Tulare, Calif., who is applying for endodontics residency programs, says he's appreciated practicing root canals with an endodontic microscope in the Simulation Learning Center as it provided much greater magnification than standard eye loupes. He says the combined design aesthetic and technologies in the new facilities make a positive difference for patients in the clinic. "Everything's like, bright. They just feel like they could relax a little easier," he says. "And the chairs have massage functions; the technology like that they put in just for patient comfort has really helped them just feel more at ease. They tell me they feel more relaxed."
Chris Purdy, a SmithGroup vice president and higher education practice director, and a lead architect on the project, says the SDM renovation project is emblematic of the latest thinking in designing spaces for educating health care professionals that cater to the well-being of both patients and students.
"There's just a much greater awareness across the health sciences about the importance of physical and mental health and well-being," Purdy says. "So creating both the clinical spaces themselves as well as the right kind of supporting space to foster their growth, their learning, their health overall was definitely part of the goal design."