BU Musicians to Host Dynopalooza, a Virtual, Livestream Concert to Support Boston Youth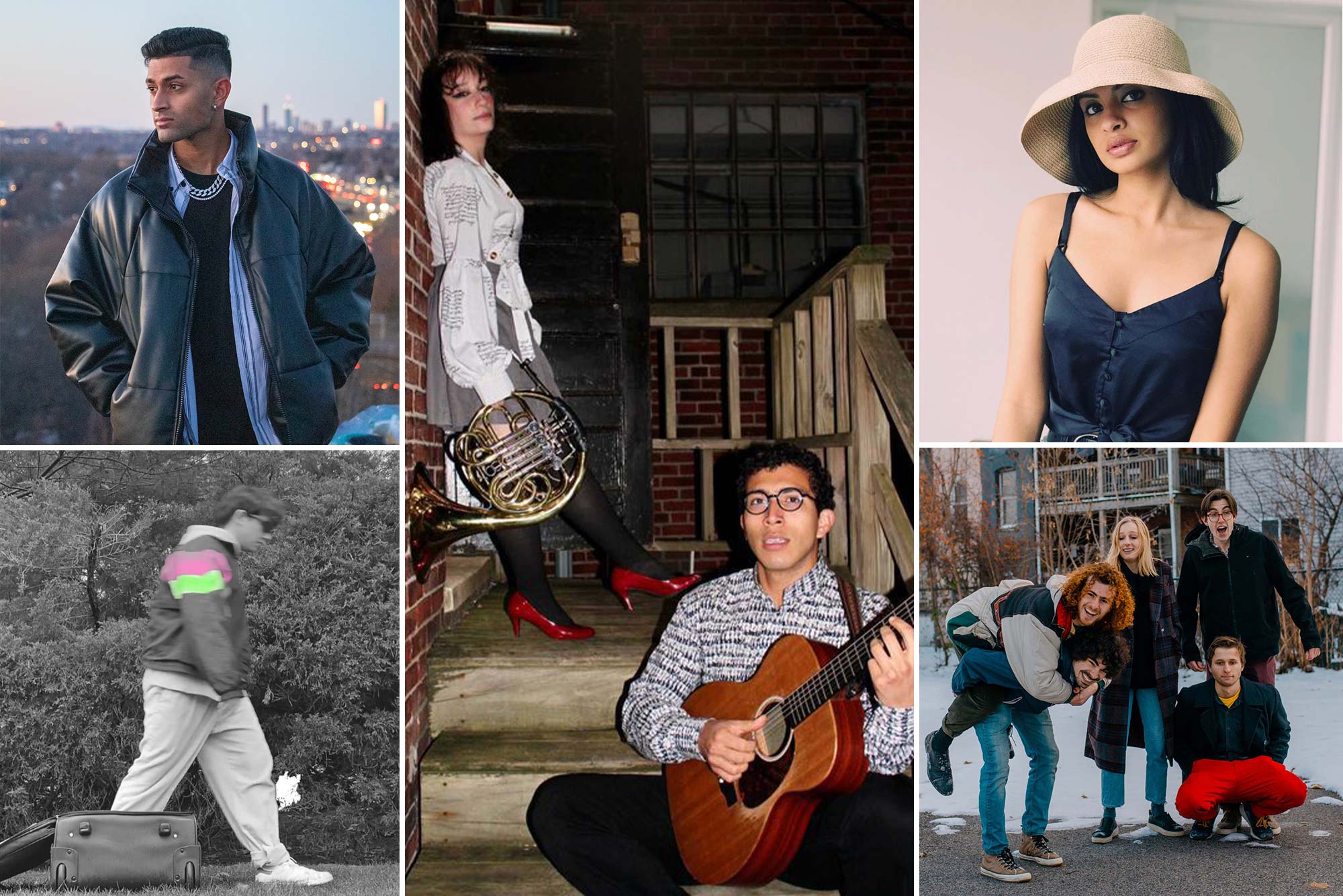 Music
BU Musicians to Host Dynopalooza, a Virtual, Livestream Concert to Support Boston Youth
Event this weekend will raise money for Hyde Square Task Force
Abhinav Penumudi is used to giving live performances for small groups of friends. Since he began writing and composing original music last April, he has been riffing his hip-hop and melodic trap under the shining light of the neon "Boolin' Hours" sign that hangs over the television in his friends' off-campus apartment.
This weekend, however, Penumudi (Sargent'21) will perform for his largest audience ever, when hundreds of viewers tune in for the virtual concert Dynopalooza, organized by Boston University students and featuring performances by five up-and-coming musical acts. The concert will support the Boston-based Hyde Square Task Force, which assists low-income youth living in Roxbury and Jamaica Plain.
Penumudi, whose stage name is AyBV, had been rehearsing one of his new songs for classmates Mikey Rocha (COM'21) and Amal Ivaturi (Questrom'21), when the three of them started talking about how they missed performing live shows. Penumudi started making music at the beginning of the pandemic and has yet to perform in front of a large live audience.
"We were like, 'Oh man, it'd be dope to actually have a concert,' just messing around the whole time," Penumudi says. "But then we were like, 'Why don't we actually try to make something of this?'"
So, they did.
Rocha, a College of Communication film and television major, set out to organize a virtual live concert backed by his production company, Dynomike Prods. With roommate Ivaturi, he then reached out to other student musicians—most from BU—asking them to take part.
In addition to Penumudi, the other acts on tap to play include singer-songwriter Radha Rao (Questrom'21), who goes by the stage name Radha; indie-folk duo, SLAM, featuring guitarist and singer Sebastian Ortiz (Questrom'21) and French horn player Alicia Donlon (CFA'24); Virginia-based alternative artist Dan Legare (aka Leggs); and local indie-rock band Faxi Moto.
Creating an event that both highlights young artists and gives back to the community was extremely important to Rocha, who has done charitable work in the past.
"Since we're featuring local young artists, it made sense to pick a charity that assists children and teenagers of a similar age," he says. "It has been great working with [Hyde Square Task Force]. Their organization does amazing things."
The nonprofit organization, based in Boston's Latin Quarter in Jamaica Plain, works with Latinx, immigrant, and first-generation college youth through various college preparation programs and community-based Afro-Latin arts enrichment programs.
Dynomike Prods hopes to raise $5,000 through the concert. All of the proceeds will support Hyde Square Task Force.
In addition to creating an event that raises money for a great cause, Ivaturi, Dynopalooza's producer, says he's excited about working on something that builds community on campus during a year when everyone has been separated.
"It's about getting that sense of community and connection back on campus, because for the last year and a half that has been missing," Ivaturi says. "As we're slowly coming out of the pandemic, it just felt very important to have something more dynamic—something that doesn't feel like a Zoom meeting with music in it."
To create an experience that feels closer to a live, in-person event, Dynopalooza will be livestreamed. The event will be emceed by Rocha's good friend Tharun Somasundar (CAS'21, MED'24). Three of the five artists, AyBV, Radha, and SLAM, will perform live from Somasundar's family home in Rhode Island, which allows for adequate social distancing for the musicians and crew. Leggs will stream from his dorm at the University of Virginia, and Faxi Moto has prerecorded a video in Boston's North End to play on Saturday night.
Ortiz says he is excited about the chance to play in front of a live audience and to meet other artists. "To be with musicians, to hear music, to be music for other people—it's going to be a lot of fun," Oritz says.
Somasundar concurs, saying he's looking forward to emceeing Saturday's event: "If we're having fun, then hopefully other people watching this will be having fun."
For Rocha, Dynopalooza is his last hurrah at BU before he graduates May 16.
"I really want this to be my legacy at BU," he says. "I want this to be something to leave behind. What better way than by giving back, showcasing talented artists, and working with my friends?"
Dynopalooza will livestream on Twitch on Saturday, May 8, 2021, from 5 to 6:30 pm. It is free, but donations to support Hyde Square Task Force are encouraged. Make a donation here.