BU Golfers Defend Their Patriot League Title This Weekend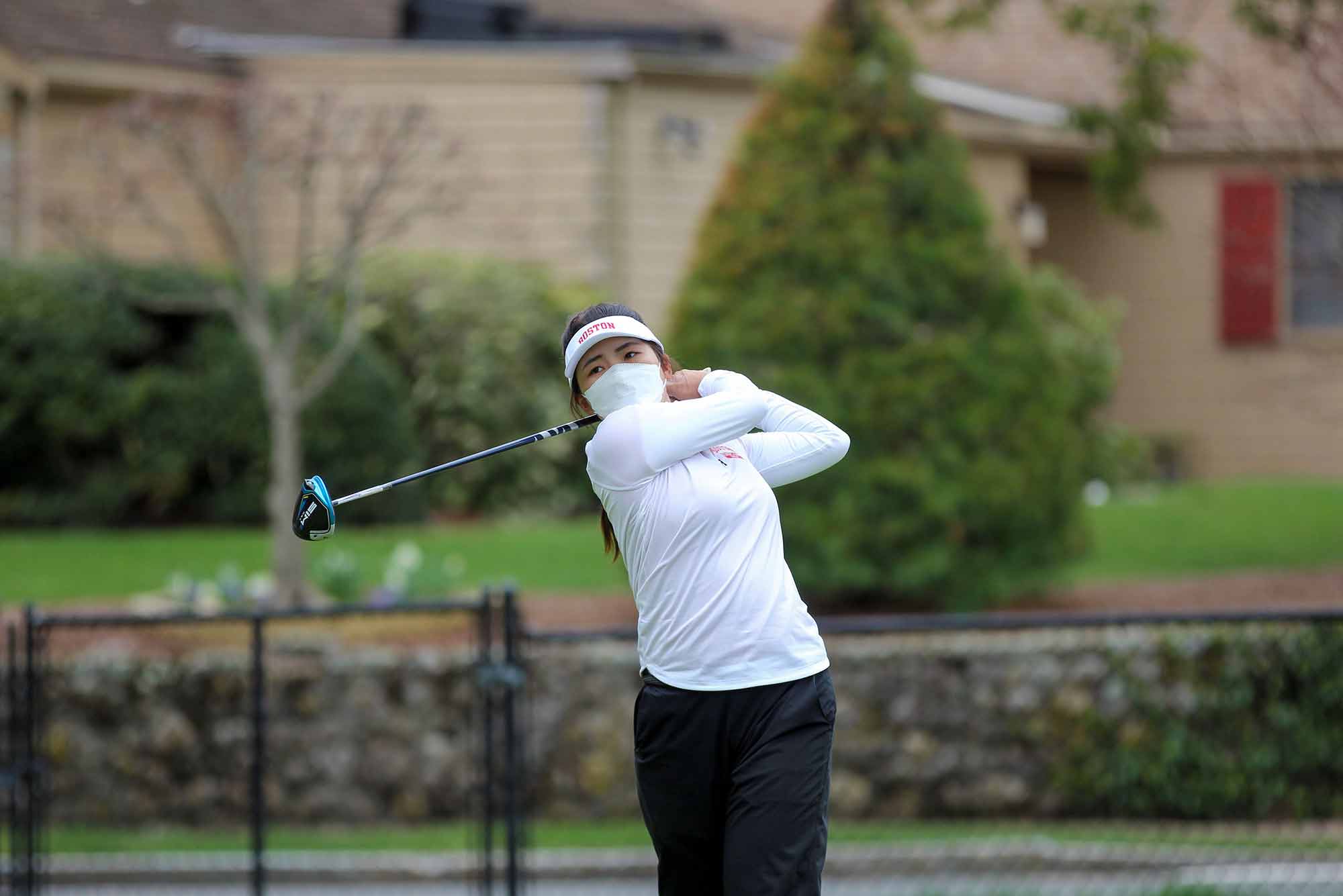 Varsity Sports
BU Golfers Defend Their Patriot League Title This Weekend
Terriers have posted four wins in this season's five tournaments
The BU women's golf team has been the reigning Patriot League champion since April 2019. Two years later, the Terriers will have a chance to keep the title for another year at this weekend's 2021 Patriot League Championship at Saucon Valley Country Club in Bethlehem, Pa.
"We always set the bar high," says head coach Bruce Chalas. "Our goal is to win the Patriot League and advance to the NCAA regionals. I actually think we have a group this year which could even go past the regionals and get to the finals."
Chalas has been the Patriot League Coach of the Year for that same two-year time span, earning 2019 end-of-season honors alongside Hanako Kawasaki (Questrom'22), then a freshman and the first player in conference history to be named both Rookie of the Year and Player of the Year.
Kawasaki joins graduate student and team captain Zhangcheng Guo (ENG'21) as the team's lone upperclassmen. With three sophomore and one freshman player, Chalas says, Kawasaki and Guo have played a major role in bringing the team together this season.
"Our captain and Kawasaki really welcomed the new girls and brought them into the fold quickly," he says. "There really wasn't much of a learning curve or time to get acclimated to BU culture and BU golf."
It hasn't taken long for the newcomers to make an impact on the golf course. Alice Fan (CAS'23) owns four top-five finishes in five events, while Kristen Min Ju Kim (COM'23) and Flair Kuan (Questrom'24) each have three top-10s. Monica Yu (COM'23) has two top-10s, and Kuan and Kawasaki have each finished first overall once this season.
Guo says that despite the pandemic, being captain this year has proven relatively easy thanks to her fellow players. "The team is so self-driven, I don't really have to worry about what my teammates are doing," she says. "As the oldest, I've been actually pretty relaxed because of my dependable teammates."
At the team level, the Terriers own four wins this season, with one third-place finish in a 12-team event, where BU shot just 11 strokes off the lead. The program has never had such a strong start to a season, and Guo says this year's results mark an encouraging trend.
"The team is doing better and better, and being more competitive every year," she says.
The squad has also been successful away from the greens. Their 3.70 team GPA in the fall semester was the best across BU Athletics. Chalas says some of his student-athletes took their fall classes from their homes in Asia, often requiring them to attend virtual classes in the middle of the night.
"Every one of the six players has a strong will to succeed, academically and in competitive golf," the coach says. "They expect a lot out of themselves. I think that's a major common denominator."
The team finally reunited this spring, getting back on the course for the first time in March. Chalas says none of his players have missed a single practice this semester, and he credits their work ethic for the team's success during an anything-but-normal season.
"It's really a fantastic group to be working with," he says. "I'm really lucky as a coach."
The Terrier golfers will shoot to become back-to-back Patriot League champions this weekend when they take on Bucknell, Holy Cross, Lehigh, Navy, and Richmond in a 54-hole tournament at Saucon Valley Country Club in Bethlehem, Pa. Spectators are not permitted at the event, but fans can follow the action through GoTerriers.com and @BUGameDay on Twitter.