BU Class of 2021 Parents Watch Commencement from Everywhere—Cafés, Couches, Cars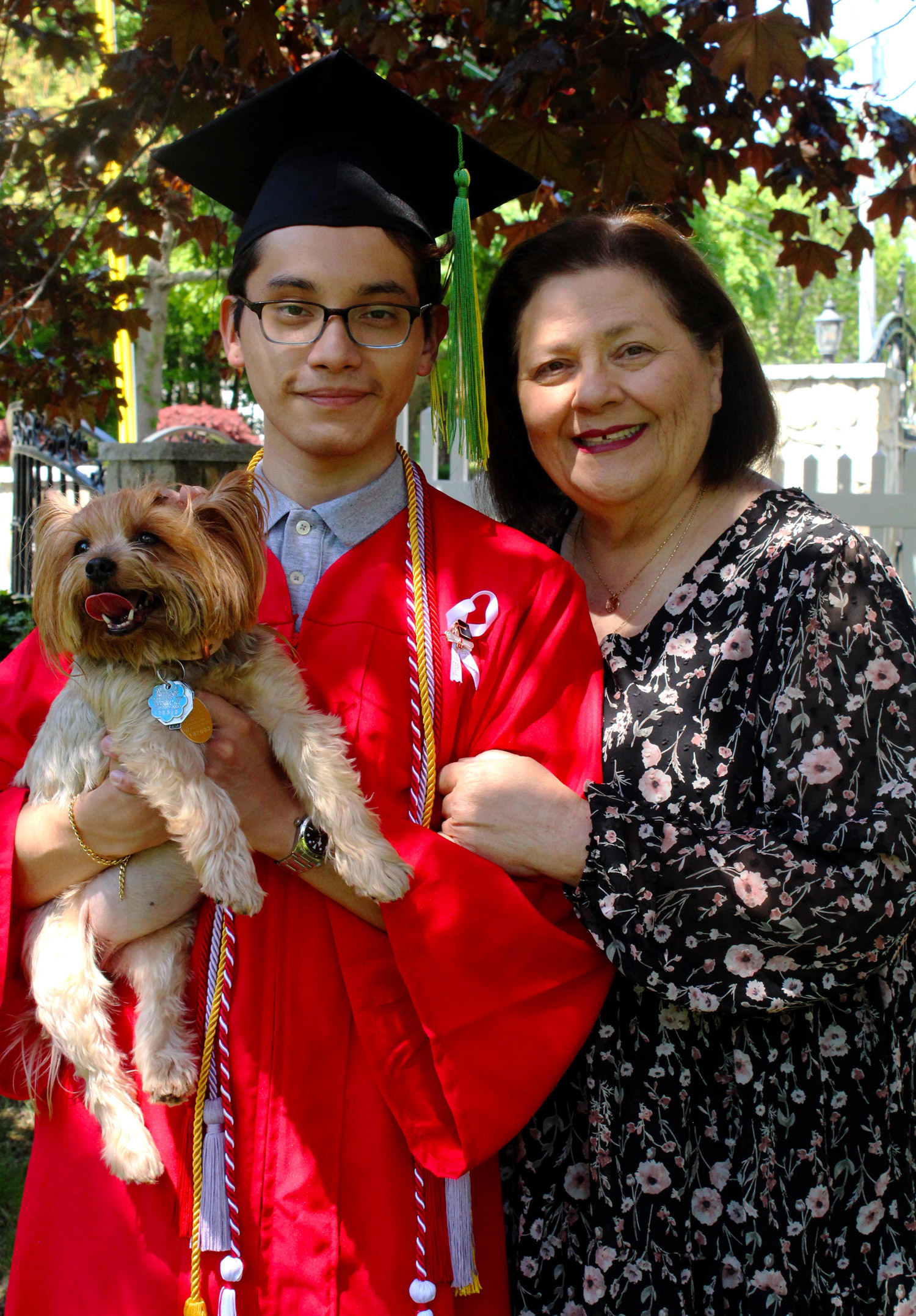 Parents
BU Class of 2021 Parents Watch Commencement from Everywhere—Cafés, Couches, Cars
Graduates adapted to the pandemic's hybrid learning, parents to the long-awaited graduation ceremony
On Sunday afternoon, Alberto Rodriguez sat on a bench in a bus shelter on Commonwealth Avenue, a block from Nickerson Field, holding a bouquet of yellow, pink, and red roses for his daughter Danielly, who was about to graduate from BU Wheelock College of Education & Human Development. He had his cell phone tuned to the livestream link for the University's historic, socially distanced 2021 Commencement. It was 1:45 pm, 15 minutes before the ceremony he'd been dreaming about for years.
"I want to try to get closer—just to hear what they're saying," said Rodriguez, who grew up in Puerto Rico and had driven up that day from Medfield, Mass., with Danielly's mother, Johanny. "This is a very important day for me. I dropped out of college in Puerto Rico. My daughter is finishing. Wow."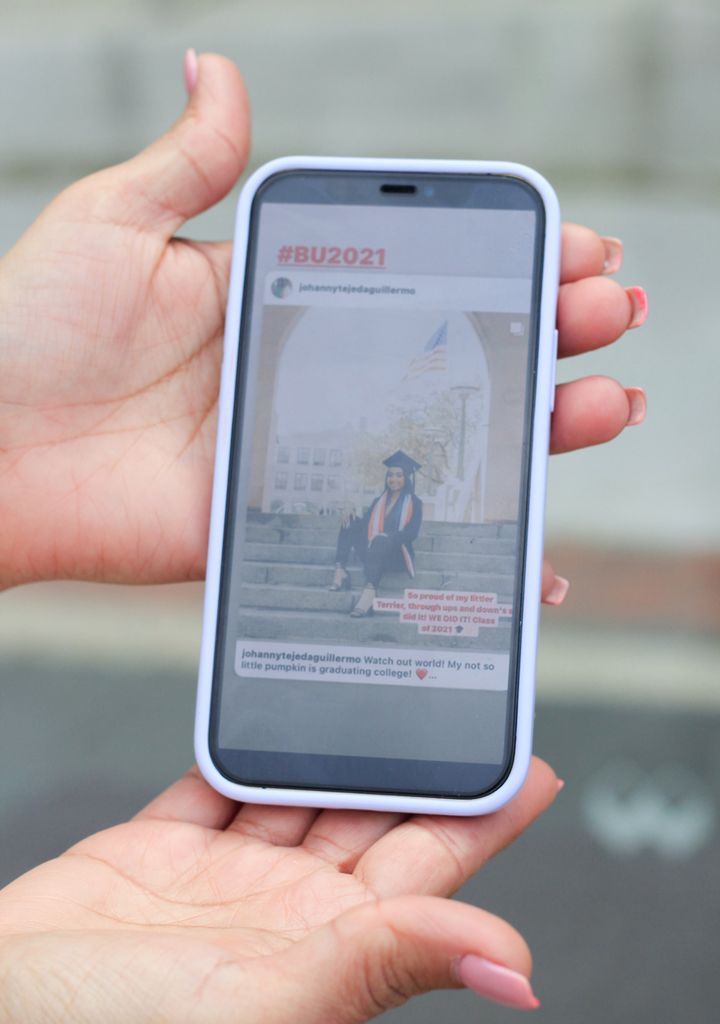 Because of city and state COVID-19 guidelines and public health concerns, BU's Commencement message to families: watch the Nickerson Field ceremony via livestream, but not from campus or in the Nickerson stands. So parents tuned in from wherever they were, in Boston or around the world, from sidewalks, restaurants, living room couches, backyard decks, even from their cars. Many gathered on Comm Ave, perching on ledges outside FitRec, on chairs outside Chipotle and Life Alive, and inside Caffe Nero. Everyone's phone was set to the same frequency—the graduation livestream. With Comm Ave closed to traffic, it felt like a giant Commencement block party.
"Of course I'm disappointed I can't be on the field with her, " said James Granberry, who had taken photos of his daughter, Coretta Granberry (CAS'21), on the BU Beach before the ceremony. "But I'm less disappointed than I am happy that she's graduating."
The sentiment was echoed by parents up and down Comm Ave. Ash Alvares had driven up from Connecticut and parked in a BU lot, planning to watch from her car on the laptop her daughter Shasha Alvares (Sargent'21) had programmed to the livestream. As Plan B, Shasha had also set her mother's cell phone to the livestream.
"There are millions of parents everywhere whose kids are graduating who can't be there," Ash Alvares said. "I'm just happy she got through this year."
From near and far, many other parents found a way.
Peggy and Rob Karman, who had driven more than 900 miles from Louisville, Ky., tuned in from TimeOut Market, near Fenway Park. The last of their three sons, Ian Karman (CAS'21), was graduating. They toasted him over cider and beer. "I got teary-eyed just watching on my phone," Peggy Karman said afterward, driving back home with her husband.
Sure, it would have been nice to be on the field—or even to have caught a glimpse of Ian on the livestream—but this graduation, like so many other things during the pandemic, was about adjusting expectations. "As a parent, you have to constantly adapt," Peggy said. "We were talking on the ride up about how one of the hardest things is parenting in the world they really live in, not the world you wish they lived in."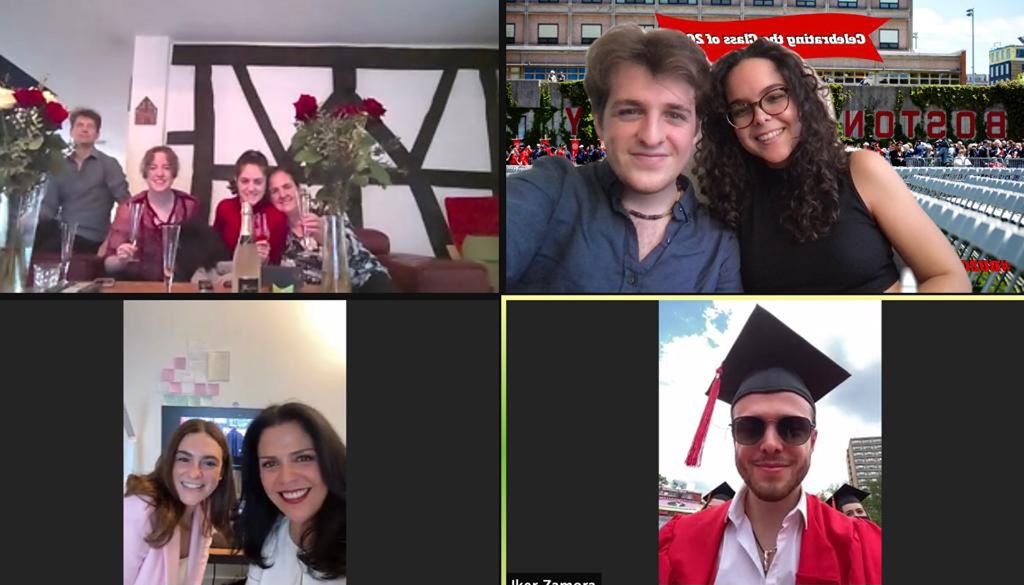 The Class of 2021, of course, had had an academic year like no other. Thousands of graduating seniors across the city, the state, the nation, and around the world had to adjust. At BU, that meant frequent COVID testing and the University's LfA (Learn from Anywhere) hybrid teaching and learning model. These graduates had become masters of Zoom, President Robert A. Brown told them at the Commencement ceremony. Sunday was their parents' turn.
Tania Cowart's daughter Bailey Cowart (CAS'21, GRS'21), graduating with a BA and a master's in biology, decided she didn't want her mother making the trip from her home in Huntsville, Ala., and springing for an Airbnb or a hotel just to watch the livestream. "She said, 'I just want to come home and watch it with you,'" Tania Cowart said.
So Bailey flew home to Alabama Saturday. Wearing her BU shirt, Terriers mask, and graduation cap, she watched her convocation on her phone at Logan International Airport while waiting to board her flight. "I got some congratulations—and strange looks—at the gate," Bailey emailed, along with a selfie.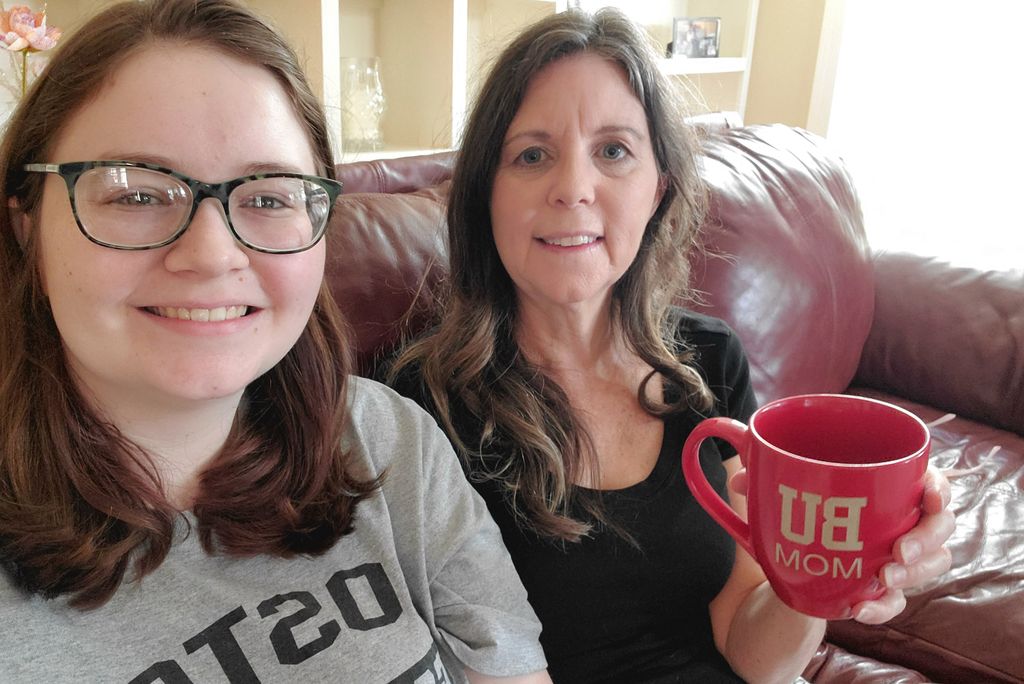 On Sunday morning she and her mother got up to watch the 9:30 am advanced degree ceremony while feasting on Tania's homemade lemon blueberry scones. Then they dressed up for the 2 pm livestream undergraduate ceremony, and Tania hosted a second feast: she made Southern pulled pork sandwiches for Bailey and seven of her friends who had graduated from schools closer to home (everyone had been vaccinated). Mother and daughter plan to drive to South Carolina this coming weekend to watch the livestream again, with Bailey's grandparents.
"I thought, well, okay, I can sit on Nickerson Field with my buddies feeling sad my family can't be there to watch," said Bailey, who has three older siblings and is the first to graduate from a four-year college. "I've had four years hanging out with my buddies. I knew it was going to be weird anyway without guests there. I thought, if I'm going to have a weird graduation, then I want it to be the best weird graduation. I said, 'Mom, I'll fly home, we'll watch it together."
---

You're celebrating the accomplishment, and it doesn't have to be celebrated at BU, or at Nickerson, or at a restaurant in Boston. You can celebrate anywhere.

---
And, Bailey said Sunday after the ceremony, it was the best weird graduation.
"We're good with it," said Tania, who has handled her own pandemic educational challenges as a preschool teacher. "You're celebrating the accomplishment, and it doesn't have to be celebrated at BU, or at Nickerson, or at a restaurant in Boston. You can celebrate anywhere. It's about recognizing the graduate. If she had said, 'Mom, fly to Boston,' I would have flown to Boston."
Tina Cole had planned to celebrate the graduation of her son Jack (CAS'21) by projecting the graduation livestream onto the back of the family's house in Boston's Hyde Park neighborhood, but at the last minute she realized that the afternoon sun would make outdoor viewing impossible. She, too, devised a Plan B: gathering her family (they'd all been vaccinated) around a big TV under the gazebo they'd hauled out from the garage and set up on the deck. In the evening, with Jack home—he's the youngest of three brothers and the last to graduate from college—they celebrated outside with dessert and s'mores.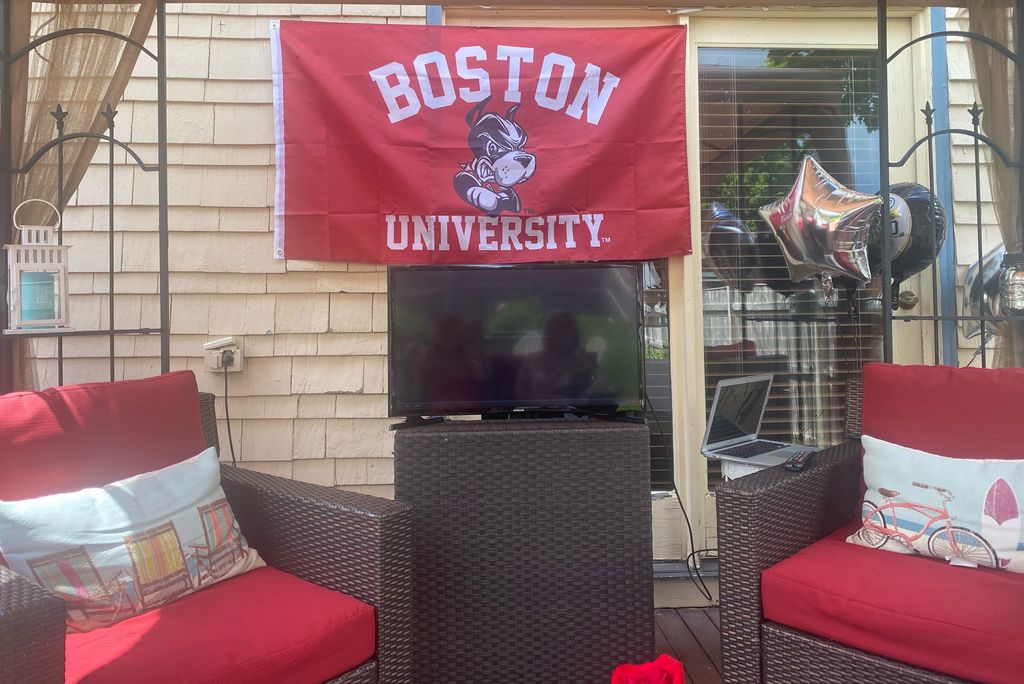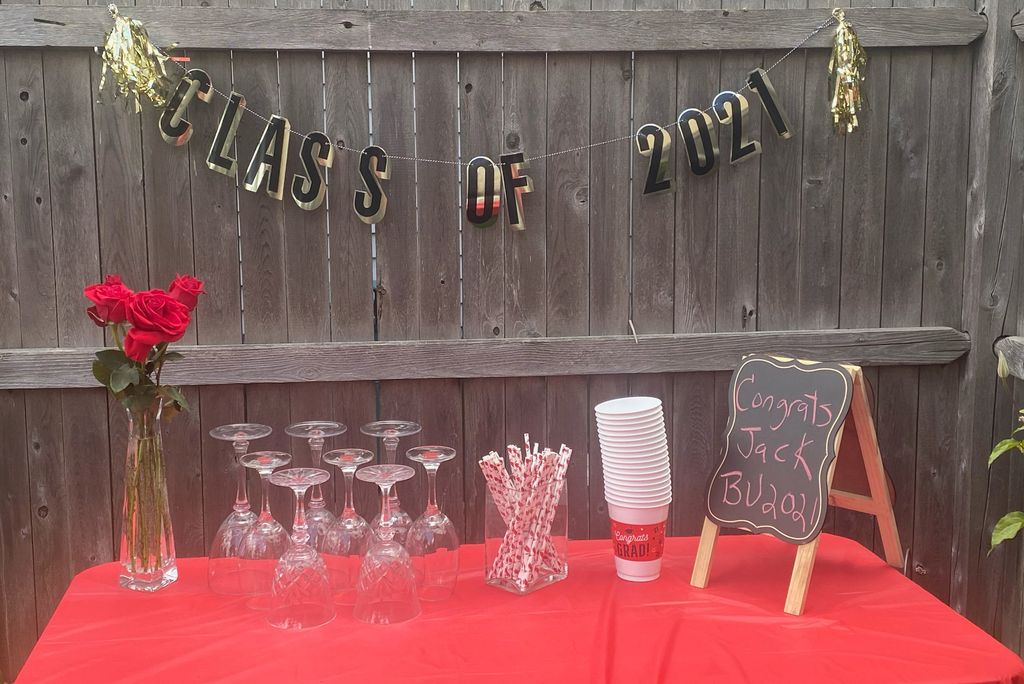 "These children have been through so much," said Cole. "As a mother, you try to make it as normal as you can. I owe it to Jack."
Gary and Claire Gelfman, whose daughter Tamara Gelfman (CAS'21) was graduating, flew in from San Diego and watched the livestream from their Doubletree Hotel room, overlooking the Charles. "BU hits a grand slam," Gary Gelfman texted after the ceremony. "Loved every minute of it."
Adrienne Quirolo drove to Boston from Manhattan and watched the Commencement of her son, Alexander Puri (COM'21), from Caffè Nero on Comm Ave. "I'm just very happy Alexander was able to be on campus for his senior year with his friends and that they are having graduation for the students," said Quirolo.
So much suffering has gone on for the past year, Quirolo said. "We live a block from a hospital. At this time last spring, there was a refrigerated morgue right down our block. The death was right there. We were scared. My father, who is 80 years old, got COVID, but he never went to the hospital. My significant other got it, but he's recovered. Alexander and I were so lucky we didn't get it."
On the opposite coast, in Seattle, Neal and Shireen Singh, parents of Suhail Singh (CAS'21), viewed the graduation livestream at home, with Suhail's younger sister, Anya, and the family's mop-haired Shihpoo, Milo.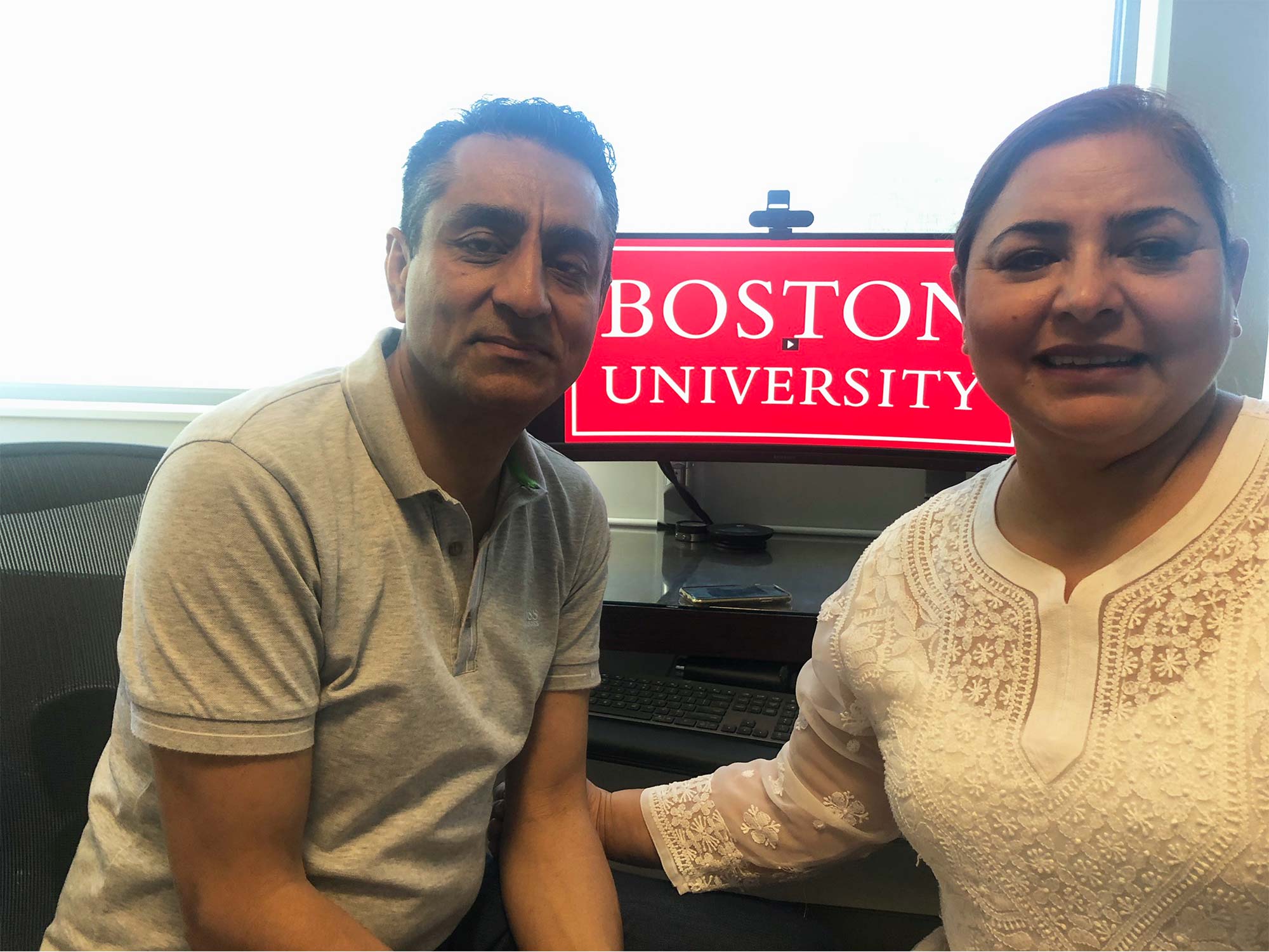 "We loved the ceremony—the bright red gowns, the energy, the speakers," Shireen Singh said. "I kept texting Suhail: 'Where are you, we can't see you.' We didn't see him in the sea of kids. That was the only thing I missed."
The Singhs sent the livestream link to his father and her mother, who both live in New Delhi. It was close to midnight in India, but Suhail's grandparents stayed up late for his Commencement. "It meant a lot to them to watch the ceremony, filled with so much hope for the future, given the COVID-stricken despair surrounding them," Shireen said. "Our parents both had shots, but what's happening in India, the deaths—it's a constant worry. I lost my first cousin. The number of family members our friends have lost—it's relentless."
And yet, she continued, "COVID has taught us to celebrate each day, each moment, the little joys of life."
And so on Sunday, Suhail's family celebrated his graduation.