His App Won an Emmy. His Movie Wrapped. October Was Good to BU Alum Steve Vitolo
The app, called Scriptation, saves time and paper and is used by staffers on thousands of movies and TV shows, including Saturday Night Live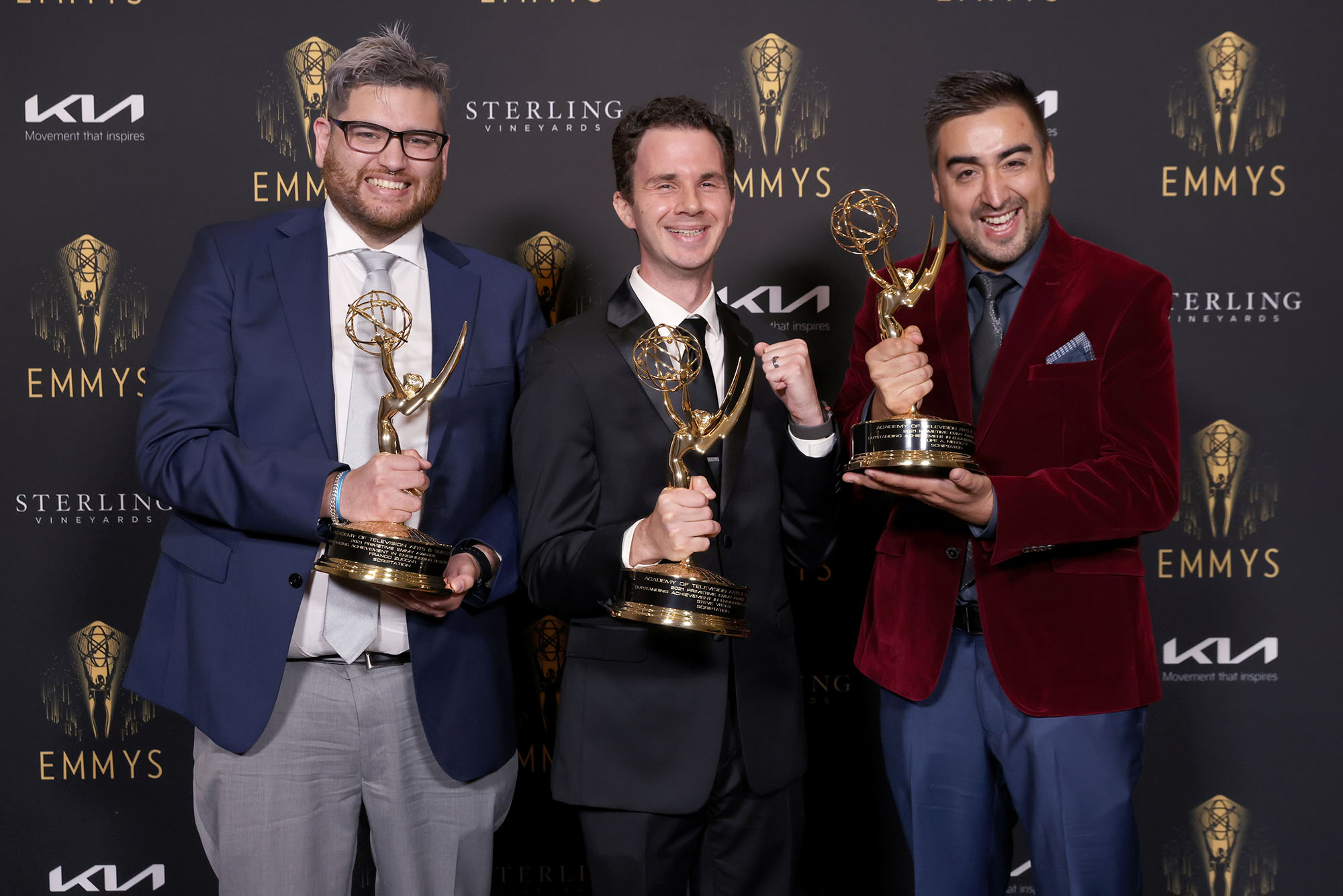 TV & Film
His App Won an Emmy. His Movie Wrapped. October Was Good to BU Alum Steve Vitolo
The app, called Scriptation, saves time and paper and is used by staffers on thousands of movies and TV shows, including Saturday Night Live
Screenwriter Steven Vitolo had a really good week just before Halloween.
On October 21, the Television Academy bestowed an Engineering Emmy Award on Scriptation, the script-annotation app used on many TV shows and movies. Vitolo (COM'05) is CEO and cofounder of Scriptation LLC.
The same day, by coincidence, shooting wrapped on The List, an indie film comedy Vitolo cowrote with his best friend since childhood, Rob Lederer. The two were also the film's executive producers. It's Vitolo's biggest success in a writing career that also boasts TV credits for episodes of black-ish and other shows.
"I wanted to be a TV writer, and I've had a little bit of success in that, but I never thought I'd win an Emmy for engineering," says a smiling Vitolo via Zoom from Los Angeles, the trophy on a shelf behind him.
The engineering awards were given out at a ceremony at an L.A. hotel, and the host, actor Kirsten Vangsness (Criminal Minds) even belted out a full-throated Scriptation song, to the tune of Alanis Morissette's "Ironic."
The app was created by Vitolo, Zakary Selbert (Questrom'05), Scriptation's chief investment officer, and Felipe Mendez, its chief technology officer. Alexandra Diantgikis (COM'15) is the marketing and social media manager.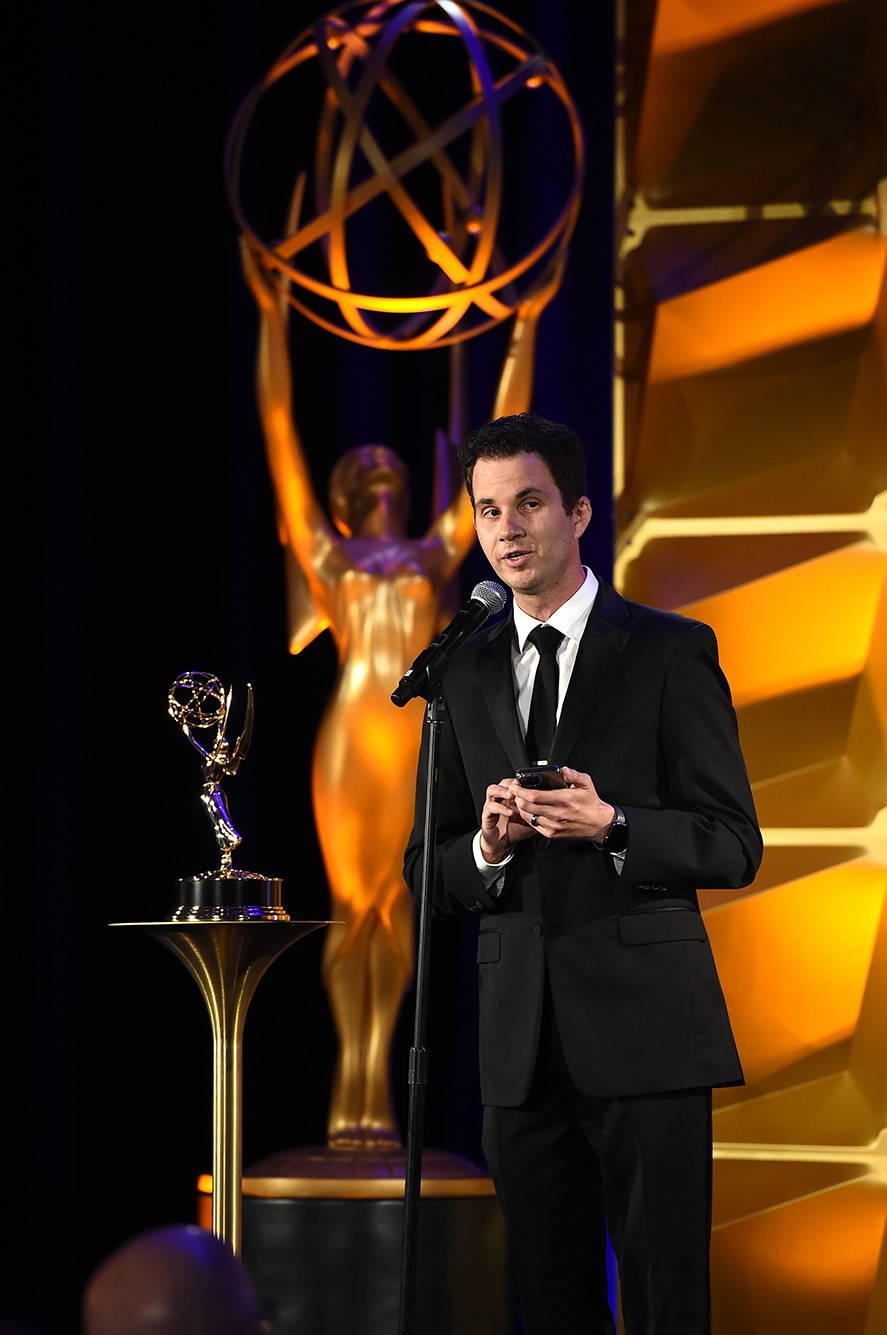 The time-, labor-, and paper-saving app for phones and tablets has been used by staffers on thousands of shows and movies, by actors including Vangsness, Kevin Bacon, Fred Savage, and Rob Morrow (an early investor), and by behind-the-scenes workers whose names appear in the fine print at the end of the credits. It has been downloaded more than 100,000 times. Productions that have bought it for their whole teams include the current Foundation series and Saturday Night Live. Game of Thrones was a customer.
A few years ago, Vitolo was working as script coordinator for the ABC hit comedy black-ish and marveling, not in a good way, at all the paper Hollywood as an industry wastes with nightly script revisions—pages upon pages that have to be distributed to everyone in the cast and crew of every show and movie.
Beyond that sustainability issue, there was a workflow problem. Everyone from movie stars and directors to cinematographers and costume designers scribbles notes all over their scripts. And every time there's another revision, they all have to copy over their notes. Hollywood was already moving toward distributing scripts electronically, as PDF files. But even on electronic copies of scripts, everyone had to hand-copy those notes from each version to the next.
With Scriptation, it's easy to transfer all those notes to every new PDF of the script with a couple of clicks; the app puts the notes in the right places even if the scene or page numbering has changed. And with each iteration of the app, Scriptation adds features, like the one that allows, say, the person in charge of props to share their notes only with the people in their department.
"Most of our enterprise clients are larger shows that can afford that line item," Vitolo says. "We met with Saturday Night Live early on, probably 2016-17, when they were thinking about redoing their workflow. It didn't work out…and then the pandemic happened, and they had to do things differently.
"They do a lot of write-ins, where it's seconds before going on air, and they're changing stuff really quickly," he says. "And during COVID they weren't in the studio, people were working remotely, so they couldn't change something at the last minute on paper and then run it over to Colin Jost and Michael Che at the "Weekend Update" desk. So they said, 'Hey, that thing we were talking about? Can we do that?'"
Scriptation, one of eight Engineering Emmy winners this year, received this citation: "Scriptation automates the tedious process of transferring handwritten notes, annotations, and verbal comments to a script and redistributing to all departments…. Scriptation has become a popular application, adding efficiency through environmentally conscious workflows and clear communication in today's production environment."
---

I wanted to be a TV writer, and I've had a little bit of success in that, but I never thought I'd win an Emmy for engineering.

---
Americans, of course, are fairly blasé about engineering awards, Vitolo says with a smile, but Mendez and lead software engineer Franco Zuccar became celebrities in their native Chile, where the win was widely covered in the media.
As Scriptation continues to grow, Vitolo is in postproduction on The List, which stars Halston Sage (Prodigal Son) as Abby, a woman who is about to get married and finds out her fiancé has slept with a celebrity from his "free pass" list. So Abby and her best friend, Chloe (Chrissie Fit), decide Abby should pursue a celebrity from her own list.
"I wrote scripts, really bad stuff, with my best friend, Rob, starting in middle school," Vitolo says. "We were huge Seinfeld fans, huge comedy people, so everything we wrote we made it funny, and it never worked at all, and the scripts were terrible. But we kept going."
Their idea for The List came in 2008, from the concept that your partner or spouse would give you a free pass to sleep with anyone on a short list of your favorite celebrities, should the occasion arise. "And our idea was, what if somebody actually went through with it? Is that really allowed? Is that actually OK if somebody did this? Can the partner get mad? And then what happens?
"We were like, OK, that's a funny idea, and we just kept working on it. But we would go long periods of time without touching it. We each got married, he started having kids, and I was working insane hours on this TV show. But by 2018 or 2019, I was working in TV writers rooms and getting better at breaking stories. And we thought it was pretty good."
When they tried to sell it, though, Vitolo says, "everyone said no, except this one producer," Tobias Weymar. Soon director Melissa Miller Constanzo and Sage were onboard. Now The List awaits release in mid-2022.
"It's unbelievable how this happens and we get this thing made from this crazy idea we had like, 15 years ago," Vitolo says.
"I had a good month."